MicroPets: P2E Runner Game Celebrated First Anniversary with Giveaways, Burns, and Updates!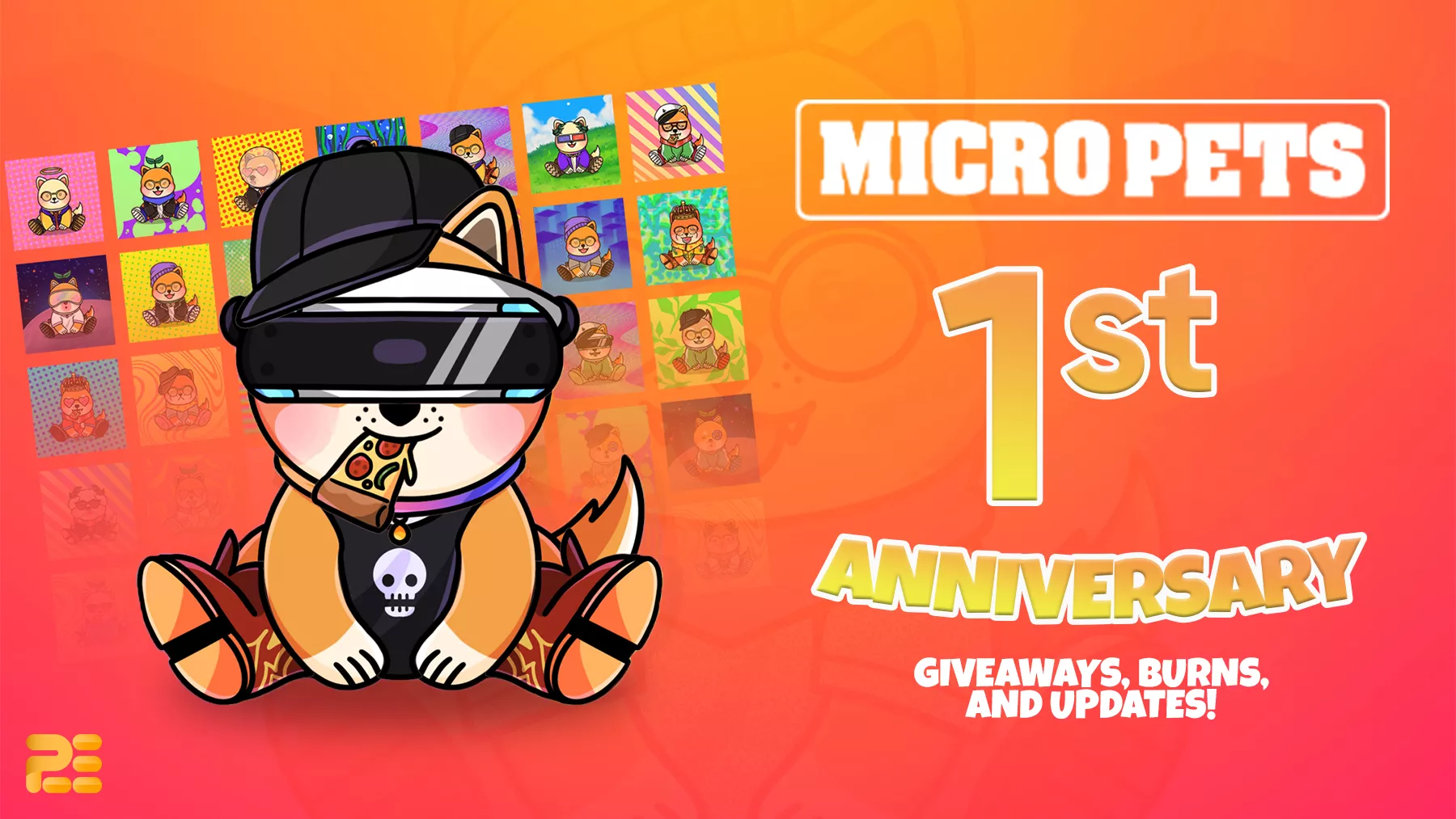 The world of web3 is currently on its infancy stage as the space is just starting in terms of growth and development. Hitting milestones in this space certainly deserves some kind of celebration and that's what MicroPets did! MicroPets recently celebrated their first anniversary through many surprises that surely invigorated their growing community.
ATTENTION!

We are happy to remind you that the FIRST ANNIVERSARY party will be held TOMORROW – October 18th 11am EST🤩

Mandatory dress code: Festive mood! 🥳

In our menu: Lots of fun, NFT burning and supply & Giveaways

Come and share this amazing day with us 😊

MicroPets ❤️ pic.twitter.com/vjGv1LAhbT

— MicroPets 🐶 (@MicroPetsBSC) October 17, 2022
In case you have missed learning about MicroPets in their first year, do not worry! Let us have a look at what the team behind MicroPets was able to accomplish during their first year and what will be in store for the project in the coming future!
What is MicroPets?
MicroPets is a classic side-scrolling runner game wherein players are tasked to dodge obstacles and monsters along the way. As time goes by, players will need to adapt to increasing speeds as they run through various maps while collecting as many coins as they can. There are also several powerups that can help your run which you can collect along the way or you can purchase immediately before the game in the in-game shop.
The runner game has the following powerups available:
Snail – Player slows down the time.
Magnet – Player attracts coins from a distance.
Shield – Player can avoid any obstacle encountered.
The game also features the following maps:
Snow
Desert
Jungle
City
Factory
Space
The MicroPets runner game is now available for both Android and iOS devices.
What's unique about MicroPets is that the game features the hottest and most popular memes in the web3 space as 3D NFTs. Imagine having Doge as your pet!
In order to have an NFT pet, users must purchase MicroPets tokens from PancakeSwap and then, purchase a crate through their dApp. Inside of the purchased crate is a random 3D NFT pet with its own unique rarity.
The acquired NFT MicroPet can then be used in staking, P2E gaming (runner game), and in the future metaverse of MicroPets called Petropolis!
To know more about acquiring a MicroPet and being onboarded in the MicroPet ecosystem, kindly proceed to this official Getting Started document created by their team: https://micropets.gitbook.io/game-dapp-getting-started/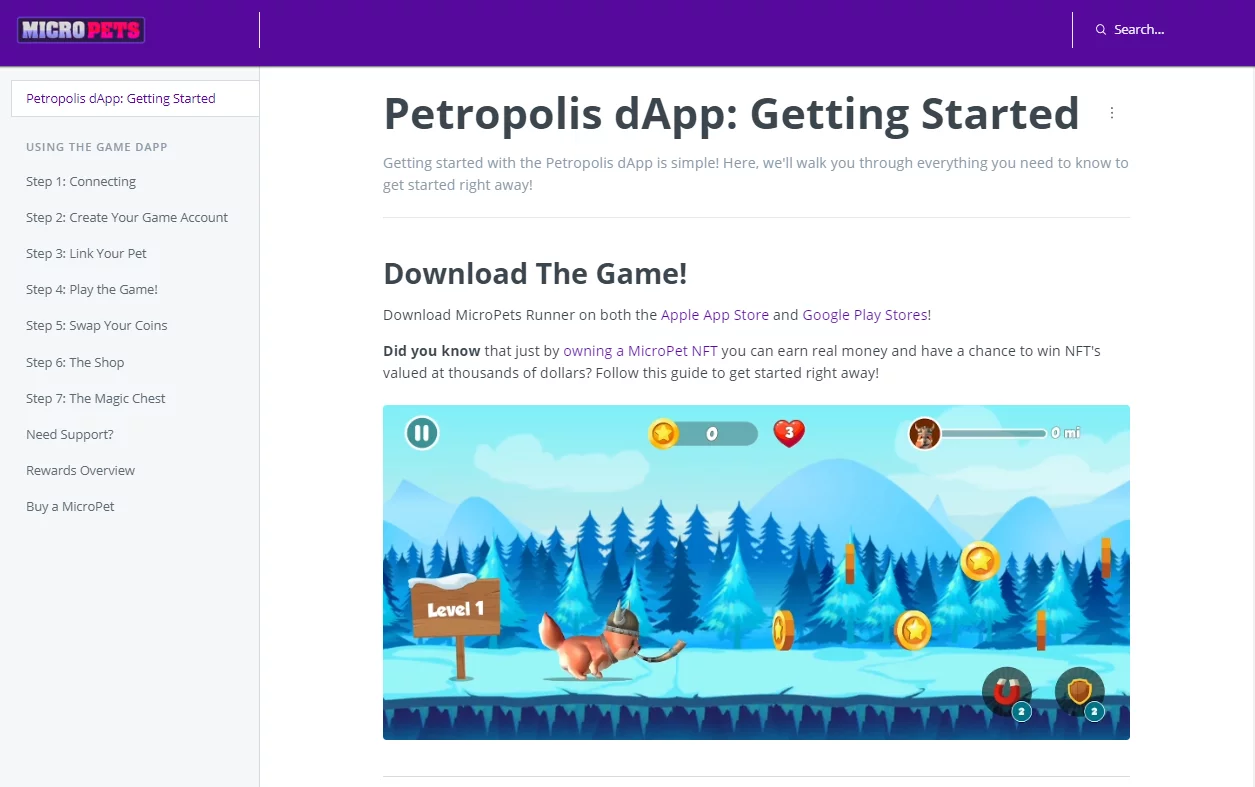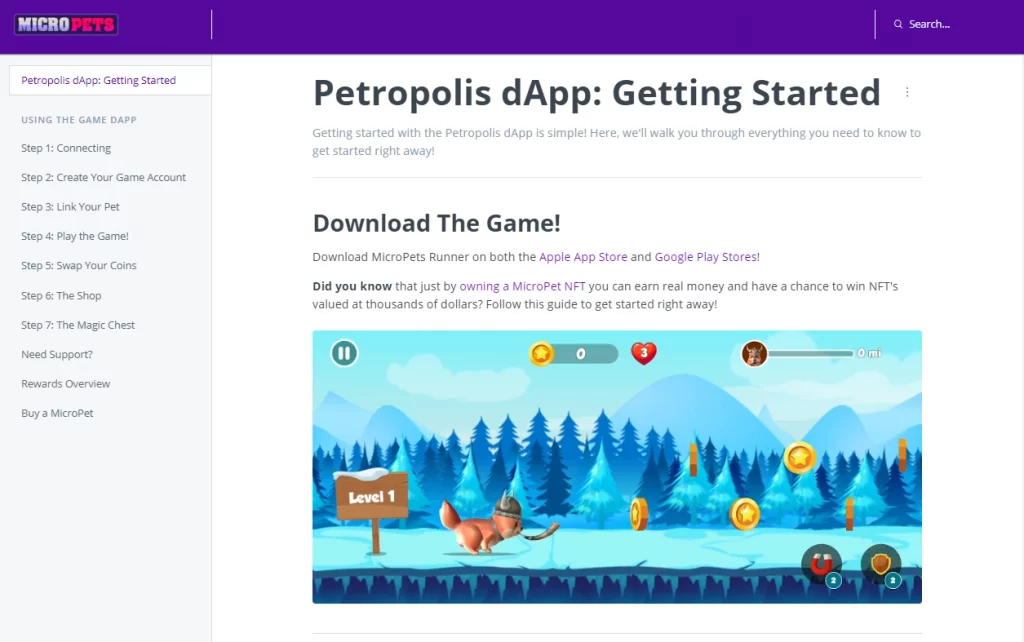 First Year Accomplishments
During the project's first year, the team behind it has accomplished the following milestones:
Successful Public Presale
Multiple CEX Listings
Release of Holiday-themed NFTs and Crates
Release of Baby Crates
Marketing Campaigns
Cubix Game Development Partnership
P2E Runner Game Launch
Team and Advisors Growth
Engine House Animation Studio Partnership
Celestis Partnership
Petropolis Metaverse Vision and Development Started
Complete Website Revamp
Launching of Affiliate Program
Staking dApp UI & Marketplace Enhancements
Magic Chest Partnership Program Launch
Launchpad Development
First Year Anniversary Party
Many other notable launches, releases, and improvements were done by the team, and to know more about those, kindly view this updated roadmap of the MicroPets project!
Future of MicroPets
If you think that the MicroPets team was able to accomplish high milestones during their first year, the upcoming years for the project is certainly even brighter!
The team is confident in continuing to grow their Magic Chests Partnerships and consequently, their innovation and product development. The community will also witness more utilities for their acquired NFTs as the team is also looking to add more on those based on their current roadmap.
Last but certainly not the least, the team is also looking forward to finishing their Petropolis game design document by the end of year 2022! Petropolis is looking to be the metaverse of MicroPets wherein the community will be able to interact with each other and acquire their own respective lands!
🎉 Happy 1 Year B-Day MicroPets Family! 🎉

We wanted to share something special today and release the visual for the Petropolis lands. Our vision and game documents are being wrapped up and coming quick. Thanks for your patience with our long term vision for the future!

💜💜💜 pic.twitter.com/0RSC8JQpLc

— MicroPets 🐶 (@MicroPetsBSC) October 18, 2022
The future of MicroPets in web3 is bright and surely anyone who wants to be part of this kind of community does not want to miss this. See you in Petropolis!