What is MIR4?
MIR4 is a free-to-play open-world Asian-fantasy Massively Multiplayer Online Role-Playing Game (MMORPG). You can gather, hunt, craft, and join powerful clans to participate in large-scale PVP battles with other players. The game launched on August 26, 2021, in 170 countries and 12 languages.
Who founded the game?
WeMade Co Limited founded MIR4. WeMade is a South Korean video game developer. Established in 2000, WeMade started with its first hit title, "Legend of Mir 2," which has reached over 200 million online PC gamers worldwide. The game is actually a sequel: from Legend of MIR 2 to Legend MIR 3, which shut down in February 2012, and now we have the MIR 4.
How does it work?
The game allows its players to collect DRACO tokens which users can exchange for an in-game resource called 'Darksteel.' Darksteel can be mined by spending time in the game and completing tasks. You should know that you have to reach Level 40 first to enjoy the play-to-earn feature of the game.
Users can obtain DRACO through 'Smelting' – which is a process of turning the total required number of Darksteel based on the day's DERBY into DRACO. You will need 1,000 Darksteel for each DRACO smelted.
DERBY (Daily Exchange Rate By Yield) identifies the exchange rate of Darksteel per DRACO, and it is calculated based on the Fixed (100,000 Darksteel) + the Yield (total cumulative Darksteel mined up to the day before the exchange). The daily smelting limit is 1,000,000 DRACO coins. DRACO has a supply limit of 1,000,000,000. Click here to get the updated values for DRACO and DERBY.
How to download MIR4?
The game is available on both PC and mobile. You can download MIR4 direct to your PC or from Steam, Google Play, App Store, and the Galaxy Store.
How to Download and Install MIR4 on PC
Before installing the game on your PC, you have to know about the MIR4 system requirements: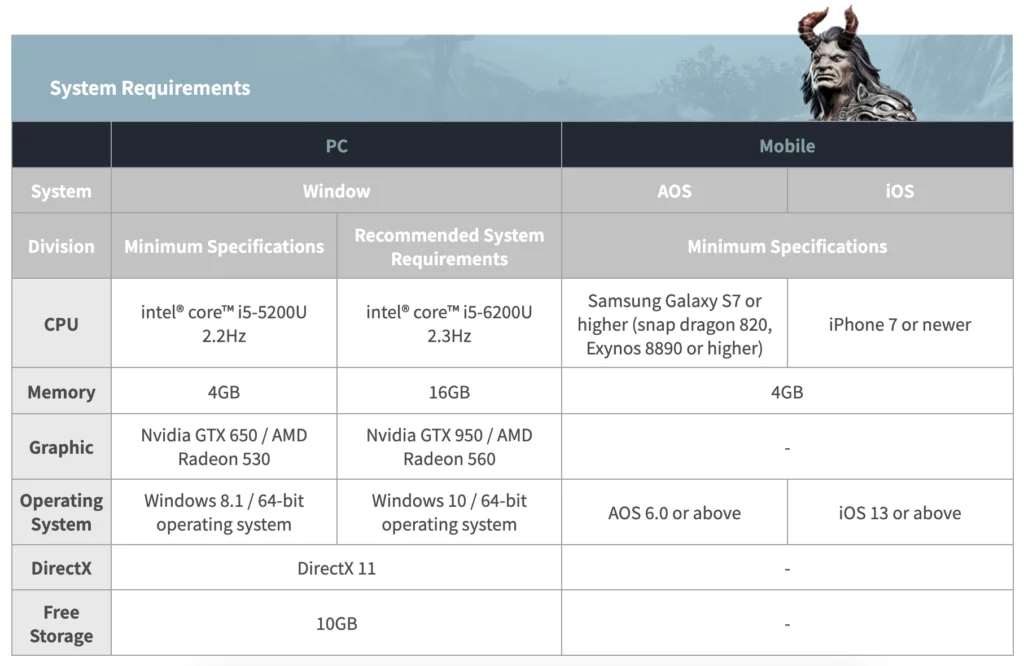 If the game fits your PC, then you may proceed to the following steps:
Go to mir4global.com and click "Windows," found towards the bottom part of the game banner. The MIR4 installer will automatically start to download.

Install the game.

Once installation is complete, click the game icon to start the game, and you may now enjoy playing MIR4 on your PC
How to download MIR4 on Steam?
First, you will need to install Steam on your Desktop. Refer to the above photo. This time, click "STEAM." Then you will be redirected to the page where you can see a "Play Now" button. Then this box will pop up:




If you already have your account on Steam, click the left button. If you are new to Steam, click the right button. You will be asked to install Steam and create your account. Click

here

to learn how.

Click

here

to see detailed steps on how to download and play games on your Steam account.
How to download MIR4 on Google Play
Grab your android phone and open the Google Play Store.

Search for MIR4 and click "Install." The game will then start to download.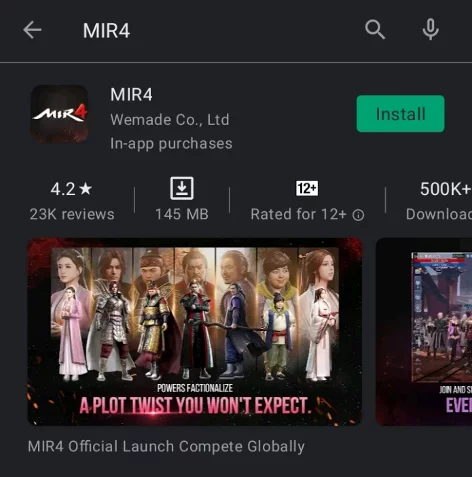 How to download the game from the App Store
Get your iPhone and open App Store.

Search for MIR4 and click "GET." Click open once installed, and you can now enjoy the game on your iPhone.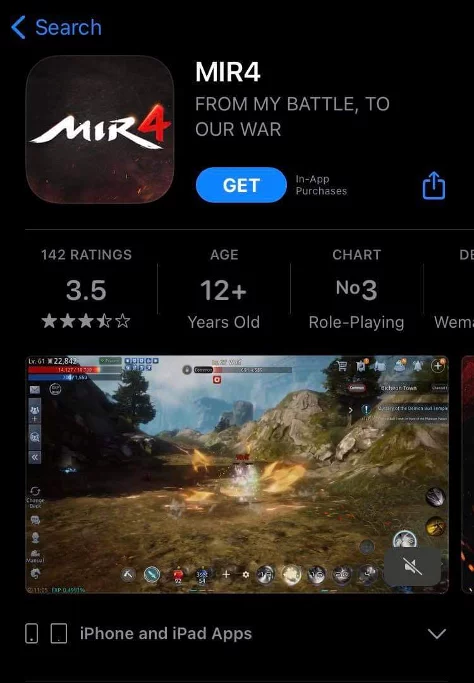 How to download MIR4 from Galaxy Store
Open Galaxy Store and search for MIR4.

Click "Install," and installation of MIR4 will begin. Open the game and start playing.
Important: Playing the game on your mobile device requires an additional patch of 2,508MB to download after installation. This notification will show once you open the game. If your phone can accommodate this size, then you are good to proceed and start playing.
How to start?
Link your game account with your socials.

You may link your Google, Apple, or Facebook to preserve game data. Linking multiple accounts is allowed. However, if you connect the game using a guest account, some game features will not be available.

Select Guest Account and obtain a transfer code.

Transfer codes

enable you to preserve game data on a guest account. However, the code will not keep your data if the game is reinstalled or the device is changed. To obtain a transfer code, click "Menu" and then go to "System." In "Account," click "Link Account," then tap on "Transfer Data." You can then copy the code created and store it in a note. Set your password and click "OK."

Create your character.

There are four character classes you can choose from: The Warrior, Sorcerer, Taoist, and Lancer. The

Warrior

pulverizes enemies with a great heavy sword; The

Sorcerer

wields magic with the power of the elements; the

Taoist

supports party members with divine recovery spells; the

Lancer

is a specialist that can attack and defend simultaneously using a long spear.
You can fully customize your character from the face shape, eyes, hair color, styles, outfits, and many more! Once you are done with the customization, tap or click the "Create Character" button, name your character, and confirm to complete the creation.
How to play MIR4?
Now that you have set up your account and character, it's time to play the game! First, you have to know the fundamentals. Let's start with the hotkeys. Head to Settings and go to the PC System to identify them all.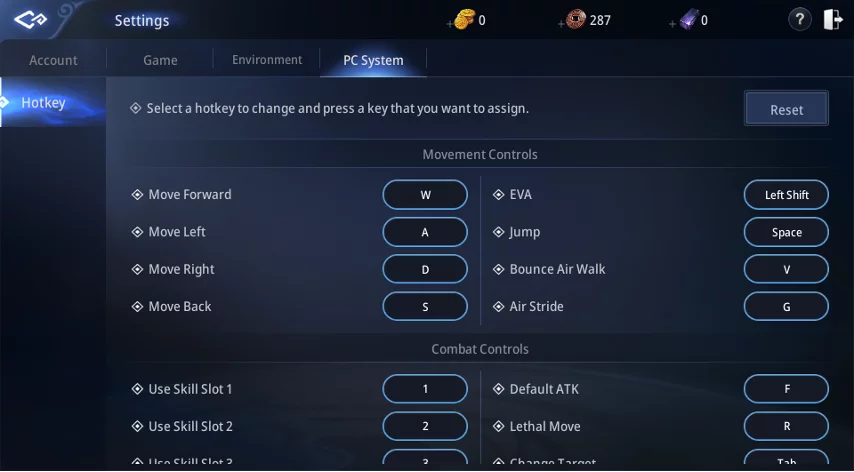 You can use Air Walk by tapping the icon found on the bottom right of the screen. If you are a PC user, use the space bar. Tapping it twice enables your character to perform a double jump. If you want to land your character, tap the land icon while using the Air Walk.
You can also evade by tapping the Roll icon on the bottom right of the screen. Rolling during combat reduces incoming damage. Use the left Shift key to roll if you use a PC. Note: there is a 10-second cooldown between uses.
Tapping the movement key on the left moves your character. You can use the w, a, s, d keys to move your character forward, left, back, and right directions accordingly.
Now here is a step-by-step guide on how to target
Click the Target icon to open a target list that you can use to look for targets. (Tab key on a PC)

Tap an enemy on the list to get your character to attack it automatically.

Tap the target icon to set your target.

You can press X to remove the target window.
How to battle with other players
Tap Auto-combat to engage your character with nearby enemies in combat. You can use skills and potions in quick slots. Use combo skills according to the situation to inflict severe damage on your enemy. Follow a Debilitation skill with a combo skill to deal extra damage.
How to assign quick slots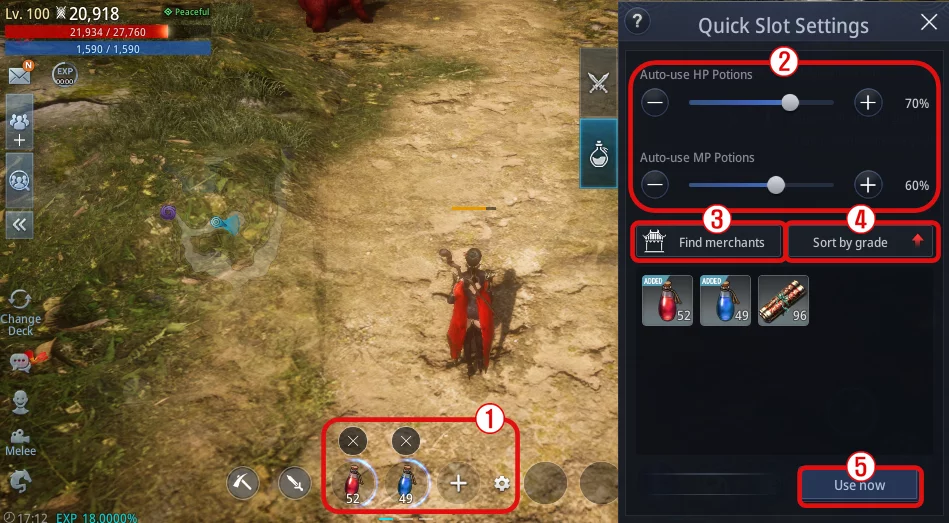 Tap the gear-shaped icon and then tap the potion icon to assign it to a slot. If you use a PC, press C. You can immediately use items in the quick slots by tapping them. If you use a PC, use them manually by pressing the correlating number keys 8, 9, and 0.

Set the usage frequency of HP and MP potions on the quick slots.

Click on "Find Merchants."

Click "Sort by Grade."

Tap on "Use Now" to use a selected item instantly.
How to attack enemies?
Tap the Attack icon on the bottom right (F key on PC) to attack nearby enemies. If you want to activate a skill, simply tap on it. You can change the skill from auto to manual or vice versa by pressing down and dragging it up or down.
How can I level up my character?
As you play, you will gain experience, gifts, boosters, and unlock valuable items which you can use to upgrade your character. The following are some activities to complete in the game:
Follow the questline.

Click "Secret of Life Leech" (Go find another clue). Your character will now automatically move to another quest.

Claim valuable items.

Don't forget to open your "Missions" and go to "Requests." Requests become available when specific requirements are met. As you progress in the game, you earn valuable items that you have to claim to upgrade your character.

Offer items or weapons in the "Codex."

The Codex tells you which items you should offer to gain upgrades, such as attack damage boosters, monster damage reduction, spell attack boosters, defense boosters, and many more.

Conquer stages in "Conquest."

Accomplishing stages allows you to progress your character's level.

Cooperate in Clans.

Cooperating in clans allows you to unlock Treasure Chest or Sealed Relic Box and other gifts.
How do I exchange my DRACO for real currency?
Unlike other play-to-earn games, MIR4 will not require you to connect a Metamask Wallet; instead, you need a WEMIX Wallet. Currently, DRACO is not listed on any exchange. That is why we need to use the WEMIX Wallet to exchange your DRACO to WEMIX and then WEMIX to other cryptocurrencies. There will be close to zero gas fees in the process! Here are the steps:
Go to WEMIX Wallet

Go to the WEMIX DEX (Decentralized Exchange)

Put a sell order for DRACO to get WEMIX CREDIT

Exchange WEMIX CREDIT with WEMIX Token (1:1 swap ratio plus a small exchange fee)

Transfer WEMIX to listed exchanges. Currently, the WEMIX token is listed on Bithumb exchange and BiKi exchange.

Swap WEMIX to KLAY

Send KLAY tokens to your Binance

Convert KLAY to BNB

Trade your BNB to real currency
From free-to-play to play-to-earn to zero gas fee when cashing out, WeMade Co Limited's two-decade experience in providing us the best MMORPG in Asia assures us that MIR4 will be our next favorite play-to-earn game.