Track Your Scholars with MetaCache! | MetaCache Review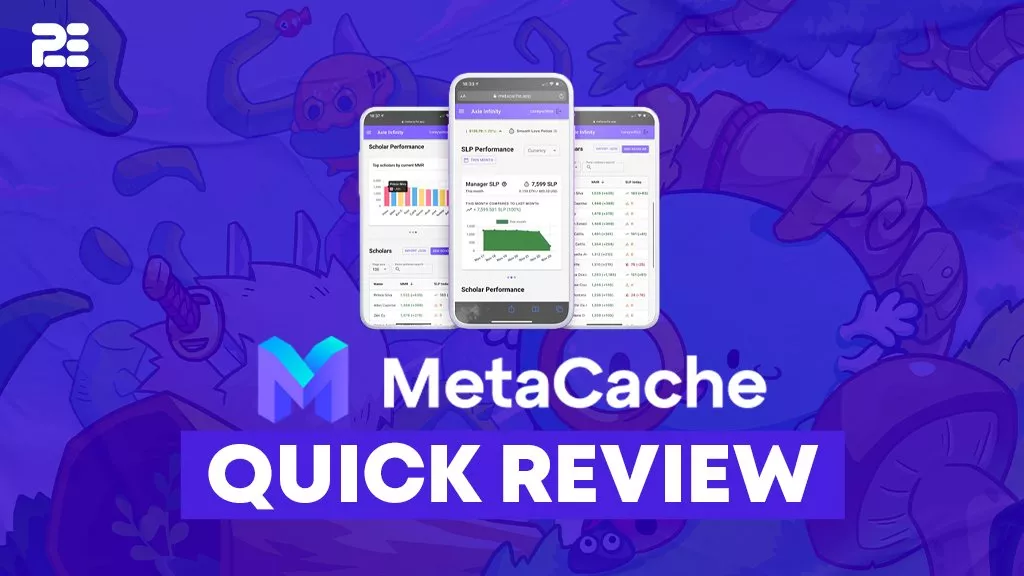 MetaCache, an earnings and tracking hub application designed for P2E managers, has released its public build in the past few days. Here are some quick thoughts on the aggregated earnings tracker app!
About MetaCache
MetaCache aims to be an application that would allow owners and managers to manage and track their earnings in the play-to-earn (P2E) space in real-time.
Thus far, the current build only supports two P2E titles: Axie Infinity and Pegaxy. Currently, owners and managers can only track their earnings in USD, EUR, and PHP (as well as BTC). However, other currencies and projects may be added in the foreseeable future.
There are around 10,000+ users of the app at the moment.
How to Get In?
It's pretty simple. Upon clicking the registration link, just type a valid username and a proper alphanumeric password (plus click a CAPTCHA challenge). Afterward, the app will automatically redirect you to the login page. Here you just have to repeat all the above steps!
Once you're in the app, you will be able to see a dashboard. You can either add solar info via a JSON or CSV file. Or you can manually add them through the app's form.
On the settings page, you can add your wallet addresses, integrate them with MetaMask, set the app's display settings, and tinker with the information that the scholar can see on his/her interface. It also has a link to the official Discord of the app.
The Goods
The earnings tracker app contains:
Running market ticker.

Table that shows total portfolio value.

Tab to track scholars' performance.

Table that breaks down one's overall portfolio.

Table that shows one's total earning history.
It's good to mention that registration is simple and effective. Also, the design is pretty streamlined and easy to understand. Everything is reachable within one or two clicks within the app!
Most importantly, it's seamless and quick on mobile. This is a huge boon for managers and owners on the move!
Still in Development!
Here are some of the not-so-fun parts of MetaCache; it surely has its own teething issues.
There's no way to visually preview the password when one tries to log in. This feature is a standard for many applications nowadays.
In addition, there's no way to recover lost accounts so far, which is a complete bummer in itself (considering they're pretty much part and parcel of every website app out there).
Finally, it's possible to take someone else's username: I tried to make an account on my laptop (and purposely bungled my password), then proceeded to create an account with the same username on my phone – and it worked. Whoops!
However, given that MetaCache is pretty new, it should be able to fix these issues in a short period of time.
Conclusions
MetaCache is a great tool for managers and scholars to consider. With the team willing to add new games, it should see more adoption beyond the Axie Infinity and Pegaxy communities in the coming weeks and months. With P2E titles being produced left and right on different platforms such as Solana, Avalanche, and the like, the team should seriously consider upgrading its backend to allow for the seamless integration of these projects within the MetaCache ecosystem. As already mentioned, it's smooth and easy to use (and it is optimized for mobile devices), so it's certainly an appealing application.
Would you use MetaCache? 
__________
DISCLAIMER: This is an opinion piece. None of the writings on the website constitute financial advice: P2E News is intended to be a P2E gaming news and updates portal, discussion hub and content/opinion/review aggregator. Please do your own research before investing in any NFT/P2E game out there. Better yet, consult someone within the profession to form an informed stance on your possible investments. For more leaks, news, and tutorials, always check in at P2ENews.com and follow us on social media.