Here's What Happened During the Season 3 of Berserk
Vulcan Studios, the game development company behind Berserk, aims to fortify the foundation of their games during the first quarter of 2023. In pursuing this goal, the studio would like to prioritize their games with lots of potential.
Following the culmination of Berserk's Season 2 last year, the Berserk community witnessed a new and revitalized Berserk for its Season 3 launch. The game received multiple and massive updates to shake things up and unleash its further potential.
Alongside the Season 3 launch was the release of the New Beginnings set that contains 24 new cards. This added a huge amount of viable new strategies and deck building potential. This card set became free for all during the entire season. Once the season concludes, the card set will be locked and minted to NFTs.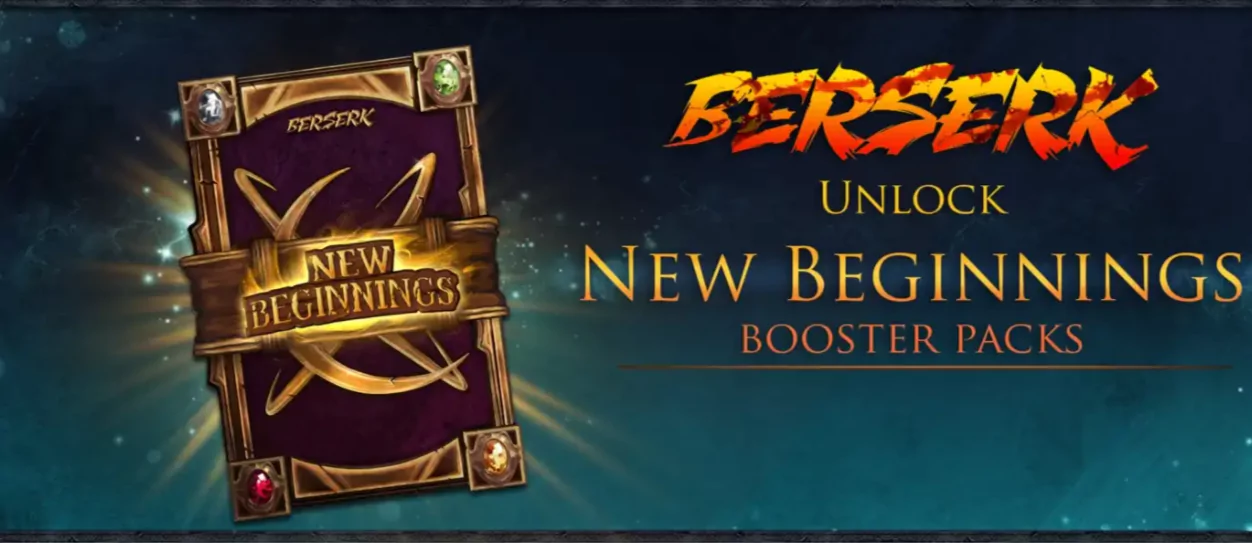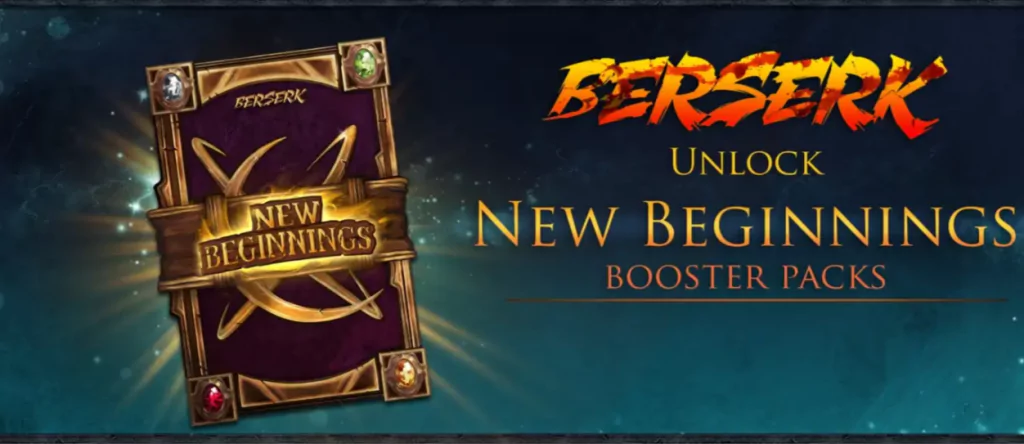 Free 1-Day Pass
In Season 3, Vulcan Forged also launched the initial version of the Berserk subscription pass. As a form of celebration, all active players received a free 1-day pass to try the new subscription pass system.
Initially, the pass provided access to a list of NFT cards and a 10% EXP boost for every game played during the period. Players with the pass also received exclusive cosmetic items at a later stage of the release.
Balance Improvements
Just like every other video game, new season would mean new balance changes to shake things up and make the meta fresh once again. In Berserk Season 3, card draw rate has been changed to encourage more and deeper deck building strategies. Card draw was reduced to 1 per turn and increasing to 2 per turn from Turn 7 onwards.
The introduction of new cards also resulted in a better balance with more comeback opportunity and reduced the frequency at which players deck themselves out and take long matches to conclude. This change made slower strategies more viable and increased the importance on deck building.
MMR and Matchmaking Updates
In the previous seasons, high ranking players were discouraged from playing after reaching a certain rank because of higher risk compared to the possible reward. As the seasons drew closer to their ends, less and less players played which made the risk much higher. This resulted in a negative feedback spiral for high-ranking and most active players.
For Season 3, Berserk implemented a daily MMR decay. This new rule prevented players from essentially "parking" on their rankings and avoiding matches. Furthermore, the MMR gain per match was reduced and a new 'uncertainty' variable was also added to the system. This means that at first, MMR gains will be relatively low, but strong players on consistent streaks will start to gain momentum in gaining MMR due to the uncertainty variable.
New Prize Structure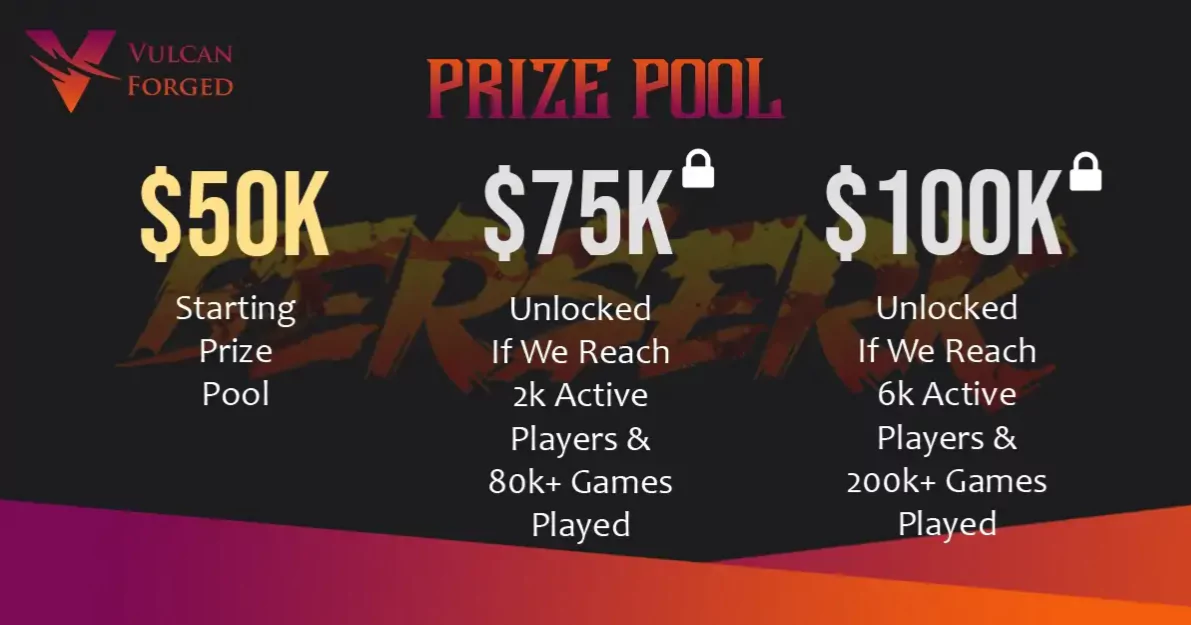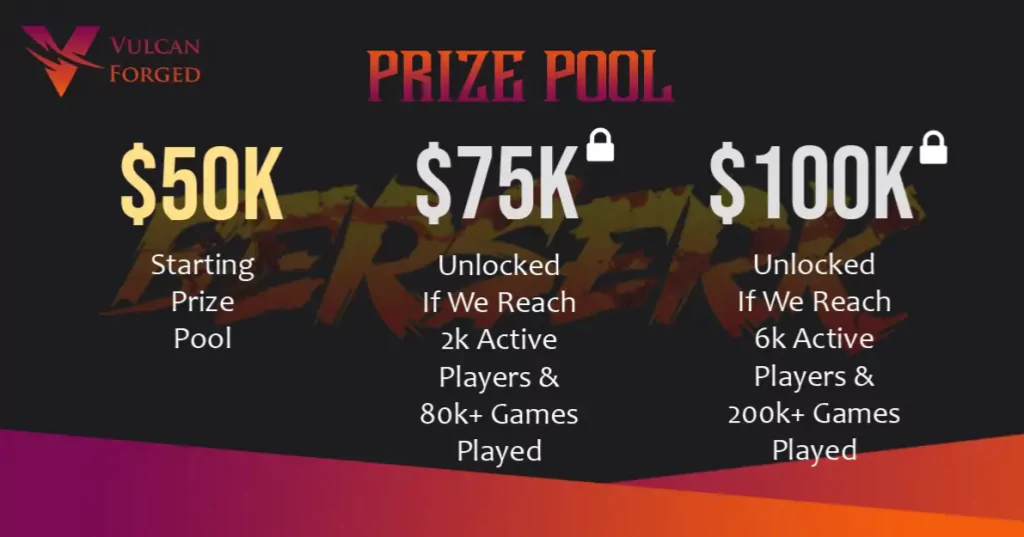 In season 3, the leaderboard prize pool started at $50,000 and players were given the chance to unlock higher prizes. As the image above shows, higher prizes will just be unlocked if certain milestones were met by the active community during the season.
The system featured a $75,000 prize pool to be unlocked upon reaching 2,000 active players and 80,000 total games played and a $100,000 prize pool to be unlocked upon reaching 6,000 active players and 200,000 total games played.