What is Metastrike? | P2ENews MetaRadar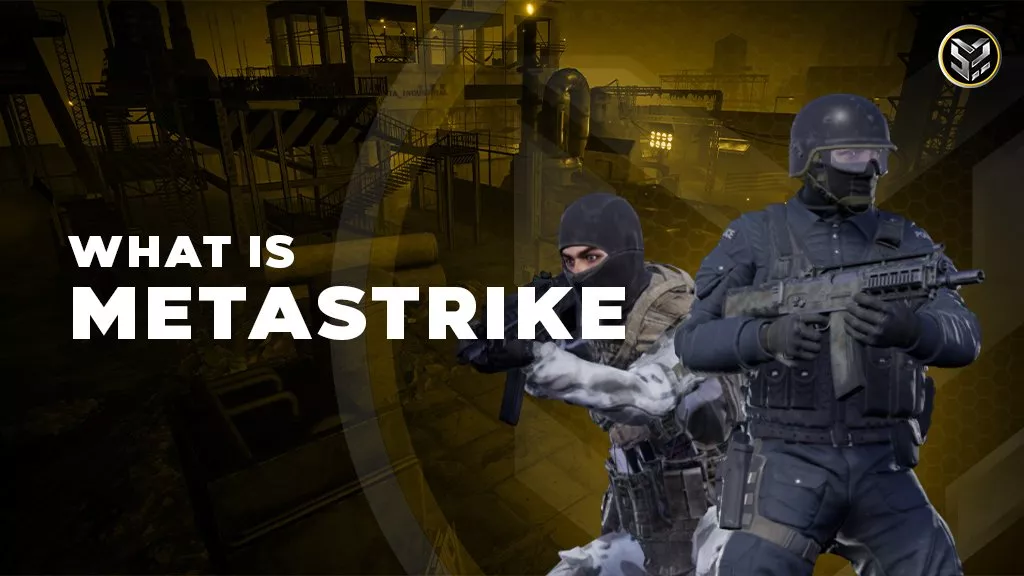 Have you ever wanted to see a first-person shooter (FPS) in the metaverse? Do you imagine yourself handing out headshots at will? Can you imagine getting an ace or winning a 1v5 clutch inside a blockchain FPS game?

Metastrike, an FPS multiplayer blockchain game project, plans to bring the genre into the P2E and NFT gaming spaces in a big way. Yes, you've read it right, folks. They're trying to bring one of the world's most popular gaming genres and make it an integral part of the blockchain gaming sector.

Metastrike Features

Their features are rather interesting. It includes F2P, P2E, and even the classic "build your map to earn" element. Yes, you're right once again; it's time to build Dust 2 inside the metaverse!

Their goal is to become an immersive FPS game. With an added focus on virtual reality (VR) integration features. Considering that there are already FPS games right now that are native to VR, this shouldn't really come as a surprise.
The game plans to have multiple modes integrated into its ecosystem:
PVE: zombie mode in multiple stages.

PVP: deathmatch, casual, and "classic" demolition.

Clan Wars, and;  

Tournaments: aka Esports. 
This provides many points of interest for all kinds of FPS players out there. Some may excel at PVE, while others may love the competitive nature of other modes.
Given that it is an FPS game, Metastrike also plans to have an NFT marketplace for weapons, character skins, etc. Furthermore, they plan to give players and creators the ability to mint their own designs and sell them on the marketplace.

Players will even have a ranked system, similar to the likes of CS:GO and Valorant. Does that mean that there will also be BMs? That's going to be an interesting angle to explore in the metaverse. On another note: will Metastrike prove a great ground for players to prove their FPS skills, similar to other well-established gaming franchises out there?

Another thing that comes to mind is the concept of "easy to learn, hard to master" in games like this. Will the game be able to deliver this promise in a definitive way? After all, competitive FPS players want a playing field that is both well-balanced and fun to play! Whether it is in terms of weapons, map design, movement, abilities/utilities, etc.

Many of the mechanics are extremely familiar to millions of FPS players out there. So hopefully this means that game received a warm welcome to the space. 

Coins

Finally, the game will have two coins: MTS and MTT.

MTS will apparently be the game's governance token and the main tournament reward for the competitive portions of the game. Its owners can also stake tokens to gain rewards and earn more currency. In addition, holders can vote in key community decisions. This means MTS holders have a chance to determine the game's future.

Meanwhile, MTT is the token that players could earn in-game. It's a utility token that can unlock new maps, allow players to participate in-game modes and special events, purchase regular consumables, and upgrade weapons. That's a lot of things that players can potentially do with MTT!
On top of all of the above-mentioned uses for the utility token, players can convert a set amount of MTT to MTS as well. 

Players can also earn tokens through completing in-game tasks, special events, and limited edition in-game modes. Thus showcasing that there's a lot of replayability and incentives for regular players!

Roadmap and Thoughts

As for their roadmap, they intend to develop their game in various stages throughout the year. Full release of the game will be in the 4th quarter of 2022. Even now, they are planning for four main milestones over the next few months: an IDO round, a marketplace release, a closed beta version, and an NFT sale.

Of course, Metastrike being an FPS game in the metaverse brings its own set of pros and cons. After all, it's one of the few first-person shooter titles that are being developed in the P2E/NFT gaming space right now. Still, the project looks to be an interesting one to follow by any measure.
With Metastrike completing its private round recently, having the likes of GD10 Ventures, Jump Capital, and Kucoin Labs onboard (for a total of $3.3 million), it seems that the project is about to move forward pretty soon.

Are you excited to play an FPS game in the metaverse?
__________
DISCLAIMER: None of the writings on the website constitute financial advice: P2E News is intended to be a P2E gaming news and updates portal, discussion hub and content/opinion/review aggregator. Please do your own research before investing in any NFT/P2E game out there. Better yet, consult someone within the profession to form an informed stance on your possible investments. For more leaks, news, and tutorials, always check in at P2ENews.com and follow us on social media.