2022: A Brighter Year For Play-To-Earn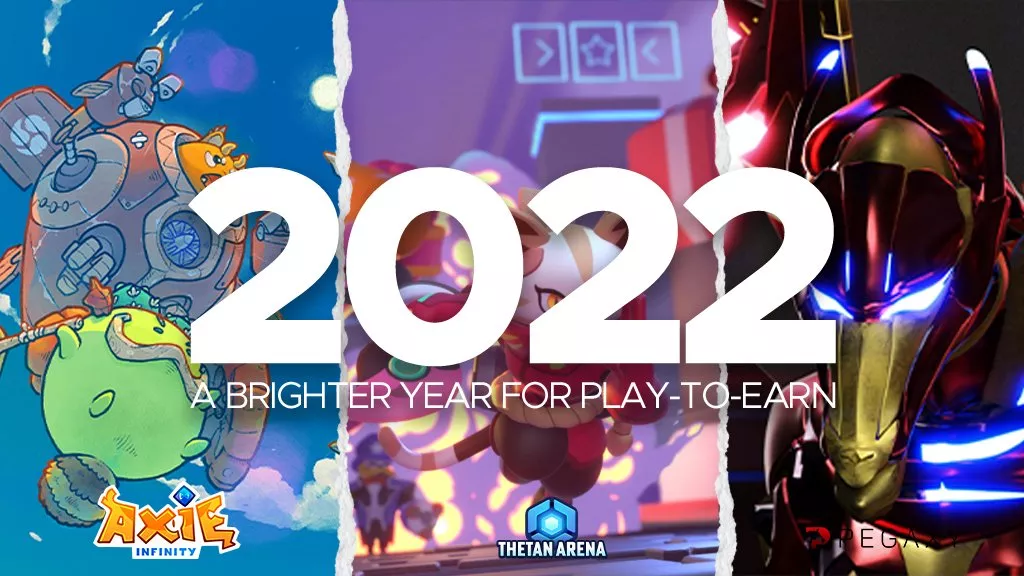 2021 was an amazing year for Blockchain, play-to-earn (P2E), and non-fungible token (NFT) games. Even after factoring in the relative unpredictability and volatility that is inherent in the sector. Yes, it's been a wild ride – just look at what happened to SLP!
This year, we have seen P2E games like Axie Infinity, Illuvium, CryptoMines, and MyDefiPet reach new heights, enabling tens of thousands of users all over the world to experience the wonders of the blockchain. Meanwhile, games like Pegaxy, The Crypto You, and Thetan Arena begin their respective journeys in a space that becomes increasingly more popular by the day. 
This does not include the many NFT games also rapidly gaining popularity these days. We may call them different names such as "collectibles," "art in a game," and "pay-to-play," but they all share the same ideal. They represent the new frontiers of art, and they present new ways to interact with a certain game.
Together, the possibilities that these play-to-earn and NFT games can create are boundless!
There is no better time to dive in. They are just going to get bigger as the years come. Especially as "metaverse" is now becoming a mainstream term. That, and the fact that the concept of cryptocurrencies is gaining rapid acceptance everywhere.
Of course, we can't deny the fact that there may be some risk involved. From abrupt rugpulls to developers simply abandoning the game. To challenges in promoting stability, economic sustainability, and viability. As such, there are times when everything in the P2E space can become messy and unnavigable. It's clear that we are facing different hurdles here.
Still, when we look at the actual positive social and economic impact that P2E and NFT games have in the lives of people like you and me, we can see why we are all excited about the opportunities in the upcoming year.
These games have enabled people to earn additional income during troubled times. Online play-to-earn and NFT gaming communities are thriving and wholesome. And venturing into an entirely new world that may play a key role in our digital futures is empowering!
Mark our words here at P2E News: 2022 is going to be a brighter, bigger, and hype-filled year for our beloved blockchain games out there. And yes, while these phrases are going to be cringy and corny: we will WAGMI (we all gonna make it) – and we will all go to the MOON (hopefully in a sustainable, safe, and happy way)!
__________
DISCLAIMER: None of the writings on the website constitute financial advice: P2E News is intended to be a P2E gaming news and updates portal, discussion hub and content/opinion/review aggregator. Please do your own research before investing in any NFT/P2E game out there. Better yet, consult someone within the profession to form an informed stance on your possible investments. For more leaks, news, and tutorials, always check in at P2ENews.com and follow us on social media.