Imperium Empires Tokenomics | Will it Change The Face of P2E?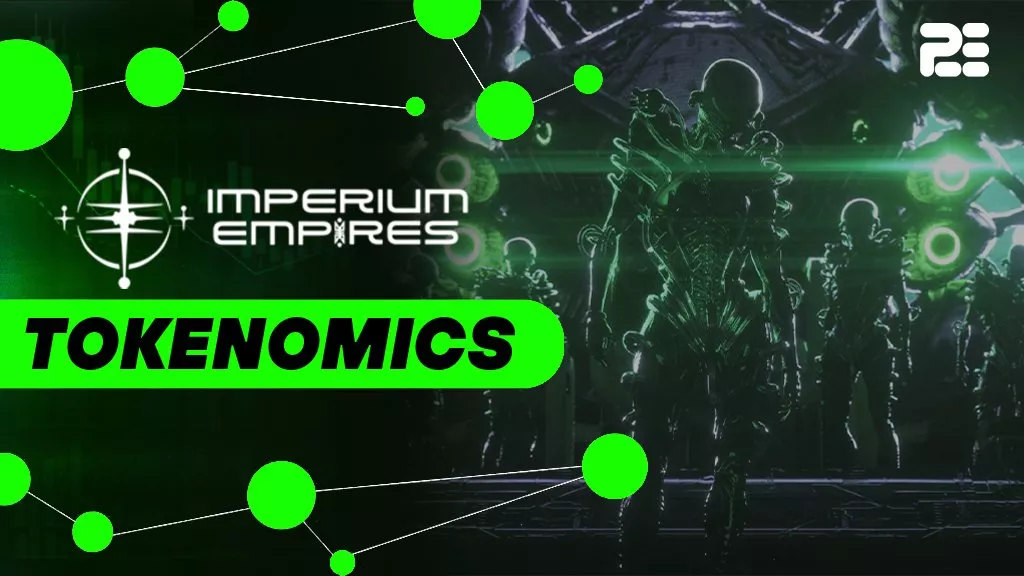 As a planned AAA game on Avalanche, Imperium Empires is already making waves in the P2E gaming space! And with all this attention being garnered, the tokenomics of the game has now become of interest. 
Given the size and scope of it, Imperium Empires is planning to release two types of coins: IME (i.e., the main market/governance coin, similar to Pegaxy's PGX) and IMC (i.e., the in-game utility coin, which could be easily equal to Pegaxy's VIS).
Imperium Empires Tokenomics
What is IME?
IME is the governance token of Imperium Empires, with a capped supply of 10 billion. Here is the intended division of the token:
Community:

 16.85% (1.685 billion)

Seed & Strategic Sale:

 6.73% (673 million)

Team & Advisors: 

20% (2 billion)

Liquidity: 

10% (1 billion)

Public Sale

: 2.22% (222 million)

Play-to-earn & Staking:

 45% (4.5 billion)
The token distribution is mostly in line with current market standards and practices in the P2E gaming space.
Players can earn IME through seasonal tournament rewards. The rewards earned by each player will align with the level of influence achieved at the end of the season. To elaborate, the determining factors include: 
The area of territories occupied, 

Guild members' kill counts, 

Head-to-head records, and so on. 
Players can also gain IME by looting spaceships destroyed in battle and selling gained components on the marketplace. 
Meanwhile, you can spend IME to buy spaceships, components, blueprints, crew members, and the like, as well as through trading the coin on the open market (and thus gain liquidity in the process). IME is the main coin used for guild-related staking, which gives teams access to a new technology tree and provides access to exclusive perks in the game.
In short, IME is structured so that guilds who show their loyalty by spending more time in the game get more rewards in the long run. As already mentioned, this is a clear showcase of Imperium Empires' intention to become a standout space MMORPGs in the P2E/NFT gaming space.
What is IMC?
IMC is the game-currency token of Imperium Empires. This token has an uncapped supply to match the growth of players. You can earn IMC through individual mining of in-game minerals and through the rewards systems implemented by the guilds. In the first instance, players must refine ores mined from asteroids in guild-owned refineries. After this, you can sell them for IMC in the guilds' star-base. 
Players can use the in-game coin IMC three ways:
To repair damaged starships (and tow them back to friendly territory). 

Gain access to vital buildings in the game. 

To help expand the guilds' presence in the game. Players will construct guild buildings collectively, thus requiring lots of IMC to allow their respective guilds to thrive.
Endnotes
It is clear that, unlike most games, the tokenomics and the utilities that Imperium Empires' tokens provide guild-focussed. These mechanics are already a familiar sight to players of classic space MMORPGs out there. As such, it wouldn't take long before prospective players of Imperium Empires would become familiar with the game's complexity.
Hard to learn, hard to master, yet immense in reward. This is what this project offers to its audience.
Inevitably, the real-life guilds who pour the most resources into this game will be the ones in power. In effect, Imperium Empires aims to be as brutal and multilayered as EVE Online. While smaller retail investors and guilds could eke out a "living" or make some form of history within the game, the majority of the action would be done by large guilds who will either bring their real-life rivalries into the game… or as in the case of EVE, create completely new ones.
In light of all this, it will be exciting to see how Imperium Empires Tokenomics unfold. And to watch the effect on both the gameplay and the real-life market movement. After all, it is one of Avalanche's potential big-name titles. So there's going to be a lot of action happening in the foreseeable future!
__________
DISCLAIMER: None of the writings on the website constitute financial advice: P2E News is intended to be a P2E gaming news and updates portal, discussion hub and content/opinion/review aggregator. Please do your own research before investing in any NFT/P2E game out there. Better yet, consult someone within the profession to form an informed stance on your possible investments. For more leaks, news, and tutorials, always check in at P2ENews.com and follow us on social media.