Panzerdogs: PvP Tank Brawler Game Dropped Big Content Updates!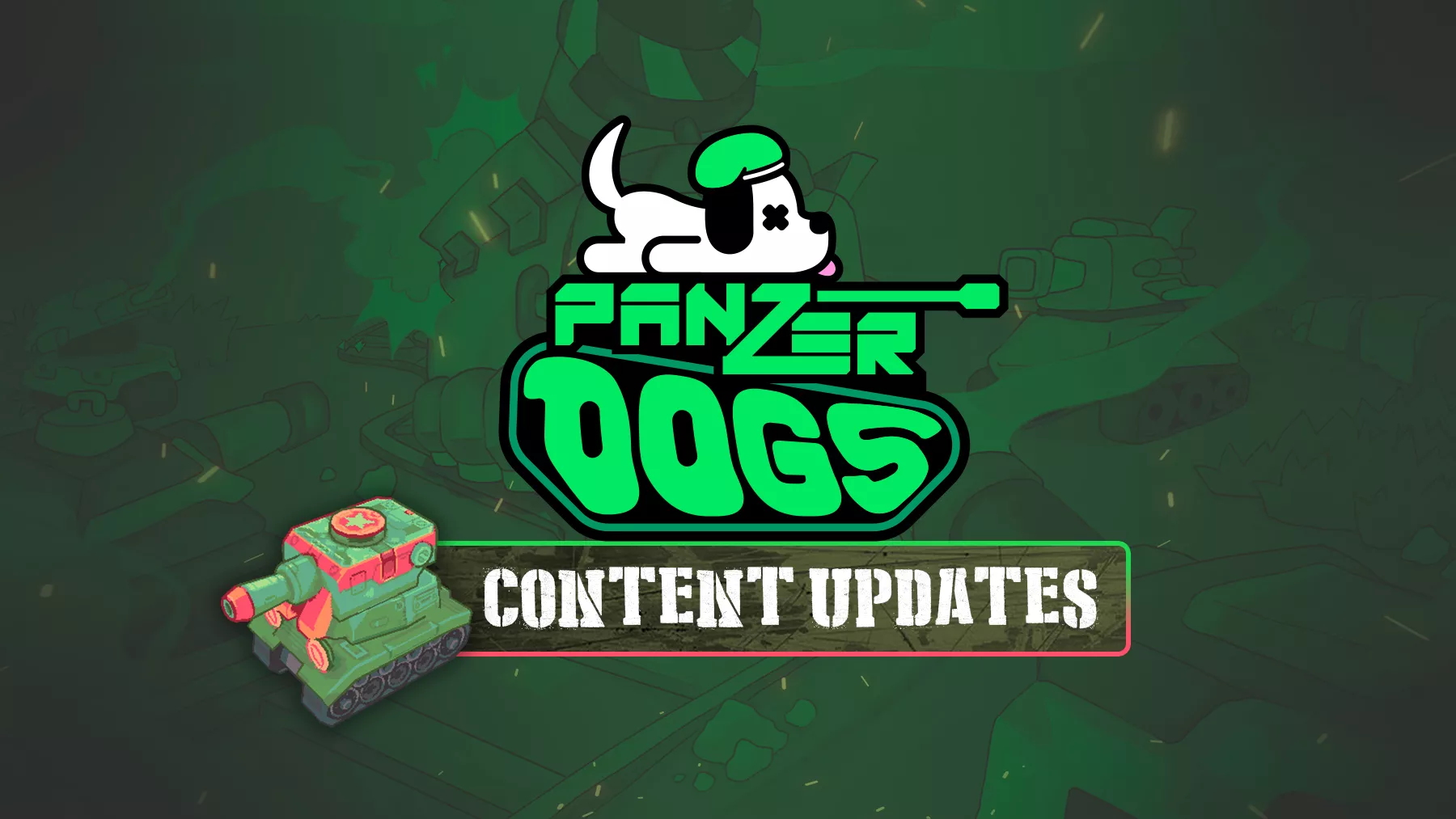 Last September 26, 2022, Panzerdogs dropped an update containing new content that captivated the attention of players. The update is one of the game's biggest content updates currently and it contains a new game mode, new features, and a new weapon added to the game!
If you have tried playing Panzerdogs before, surely this is a good time to try out the game again alongside new players and veterans. Let us dive in the new update!
What is Panzerdogs?
Panzerdogs is a play-and-earn PvP tank brawler game built by Lucky Kat Studios in Solana. The game resembles the game Brawl Stars but in Panzerdogs, you play as tanks and players will experience play-and-earn features just like other blockchain games.
The team focused on delivering the gameplay itself first before focusing more on the blockchain side of things. The team believes that through blockchain technology, players will be interacting with gaming in a new different way.
The gameplay of Panzerdogs is skill-based as the game requires players to constantly look out for enemy attacks and dodge them while trying to shoot them down as well. The game also has crafting and tank construction/deconstruction elements to further elevate the depth of its gameplay and engagement. Crafted items and tanks have different tiers and to know more about its details kindly view their designated whitepaper section here.
Before the update, the game had three modes such as the following:
PvE

PvE mode offers the players to play missions against AI enemies and accomplish objectives. The mode is free to play for everyone and for sure a good way for onboarding and tutorial for the game's main mode.

PvP

PvP is the main game mode of Panzerdogs wherein players will have to test their skills against human opponents. The PvP mode consists of sub-modes such as Team Deathmatch, Free for All Deathmatch, and Capture the Flag.

Tournament

In the tournament mode, players are allowed to further test their skills against other in a tournament setup wherein top players are able to earn more rewards.

Other Future Modes (such as Idle Mode)

Idle Mode gives holders of dog avatars to stake their avatars and earn rewards automatically over time.
Of course the game has a new game mode added by the recent update!
What is the Update About?
The update contains five main things:
New Game Mode: Escort

The new game mode "Escort", just like what the name suggests, is similar to the traditional escort game mode in popular shooter games. Players will have to escort a vehicle towards a particular location in the map and the opposing team will have to prevent the other team from doing that.
The new game mode will surely shake things up and give players more ways to test their skills against others.

A New Friends Feature

The new feature for adding friends is certainly a good way to make the game more interactive as players will now be able to add their friends to their friends list and elevate the social features of the game.

Emote Wheel

The new emote wheel adds more social features to the game because players will now be able to interact with other plays during the game itself.

A New Weapon: Shock Cannon with the following stats

Slow-moving
Deals 30 shock damage per tick by zapping nearby enemies
If it hits an enemy directly, it deals 150 shock damage
4 shots of ammunition
Introducing the 'Shock Cannon'! ⚡️ A brand-new weapon:

• Slow moving;
• Zaps enemies it passes near, dealing 30 shock damage per tick;
• Hurts enemies it hits, dealing 150 shock damage;
• 4 shots of ammunition;
• Fantastic area denial and anti-gank weapon. pic.twitter.com/TNMKc63TPZ

— Panzerdogs 🐶💊 (@panzerdogs) September 28, 2022
How Can I Play Panzerdogs?
Good news! Anyone can start playing Panzerdogs even if you do not own Tanks Parts or a Dog Avatar. Anyone can start trying out the game and start blasting!
However, in order for players to fully experience and participate with the game's play-and-earn economy, players will need to own Tanks Parts and Dog Avatars.
Tanks Parts are used to construct Tanks through the game's crafting system. The Dog Avatars are used for unlocking extra rewards in-game that depends on the avatar's rarity. Dog Avatar holders also had early access to the Panzerdogs' alpha and beta versions.
If you do not have a Tank Part or a Dog Avatar yet, do not worry! You can still go ahead and try out their game for free and see if you like it. Simply head over to the Panzerdogs official website and start battling!
Final Thoughts
Panzerdogs provides players in the blockchain gaming industry an experience that reflects that of the addicting traditional genre of brawls and shooters. The team behind Panzerdogs surely knows what they are doing as they prioritize delivering the quality of the game first before focusing more on the blockchain side of their work.
Panzerdogs will certainly be among the ones which will pave the way towards their chosen genre of gaming and we are here to witness history. Let us start blasting in Panzerdogs!