So… What Happened to Plants vs. Undead?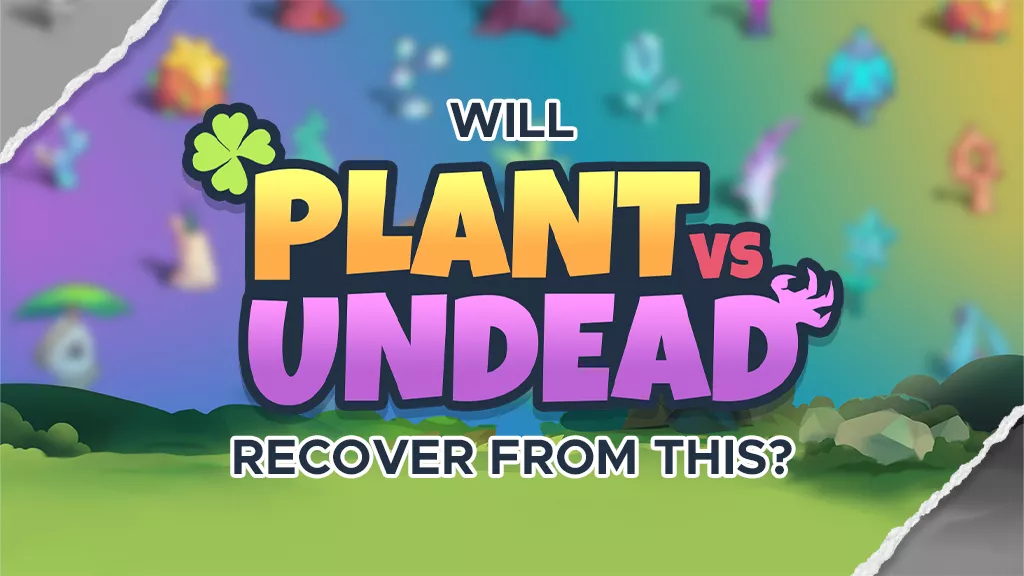 What happened to Plant vs. Undead? Is the game's end approaching, or will they recover from their downfall? Find out in this article!
What is Plant Versus Undead (PVU)?
Plant vs. Undead (PVU) is a play-to-earn blockchain game. Combining tower defense and farmer simulation, gamers who've played Plants vs. Zombie will find themselves right at home! Assets in the game are tradeable on the marketplace, and players can exchange acquired game tokens for fiat currency.
What happened to Plants vs. Undead?
Currently, PVU is struggling to sustain economic stability. The cause is said to be directly linked to its single-token game origins. Let's explore this further!
PVU token has been the game's currency since day one. It has a fixed lifetime total supply of 300M. Initially, players used this single token for marketplace purchases. At the same time, users could also earn the token in the game as a reward.
The game functioned on a reward pool system. So when more users entered the game, the reward pool decreased together with the $PVU token value as a consequence. Moreover, there were no limits on how PVU users took profit from the game.
Players earn Light Energy (LE) by completing daily quests and caring for plants in the game. Once accumulated, players can convert LE to $PVU.
The users then convert $PVU to BNB using Pancakeswap, send it to Metamask, and from Metamask, they will send the BNB to Binance. From Binance, they can trade their BNB to USDT and then sell their USDT for fiat currency.
The CEO added 1 million PVU to their token contract instead of the reward pool – resulting in 1 million burnt PVU. The resulting FUD (Fear, Uncertainty, and Doubt) in the community pushed the PVU team to take action.

In an attempt to recover some stability, they made significant changes to the reward system.
Changes to Recover Economic Stability
Initially, players could convert 100 LE = 1 PVU. This has since changed.
They released the LE Conversion Chart on the 1st of October, which displays the LE = PVU rate from week 1 to 5. Week 1 is set to 550 LE = 1 PVU, and by week 5, 805.26 LE = 1 PVU.
These significant adjustments to the game's earning system frustrated users. In addition to this, the value of $PVU dropped from $20 to $0.74 in just 1.5 months.


The PVU team took drastic additional action in hopes of seeing some recovery to the economic system. And on the 2oth of October, all user assets were cloned from Binance Smart Chain (BSC) to Factory Chain (FAC Chain) for PvP mode.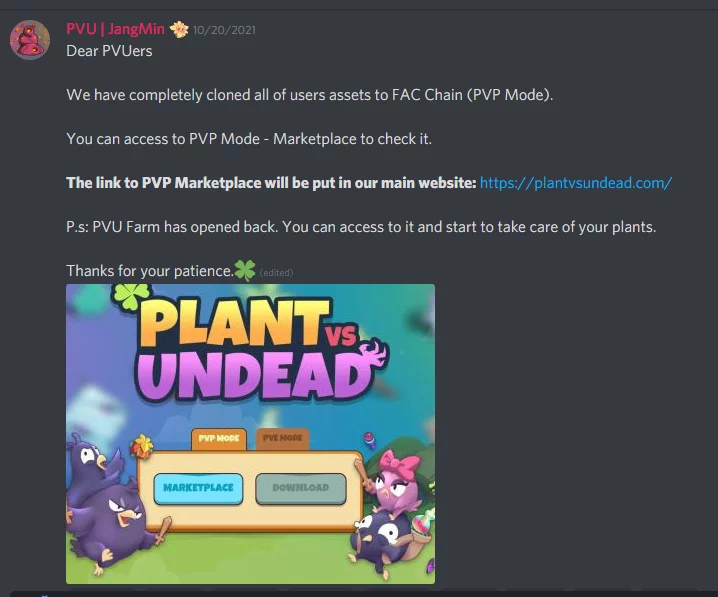 The following day, they launched FPVU (Factory Plant vs. Undead) under FAC Chain. FPVU will now serve as their primary token, and PVU will serve as the utility token – switching from a single-token system to a dual-token system.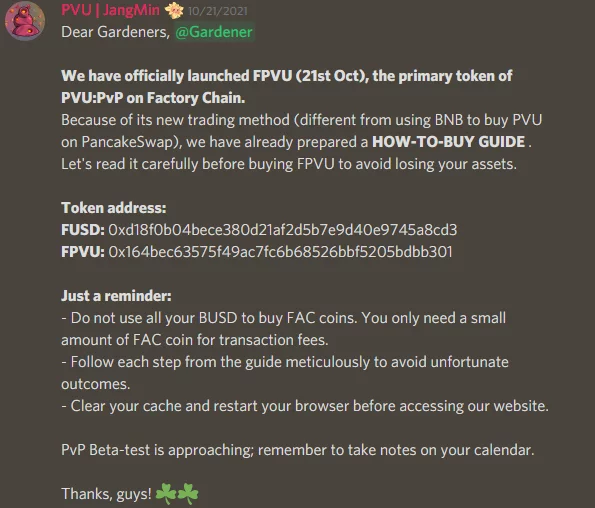 And finally, the PVU: PvP Beta test was announched. This is scheduled to launch on the 26th of October for Internal testing and Whitelisted players. By the 30th, the PvP mode should hopefully be open to more players. Those who have owned NFT assets on Farm mode will have more chances to get into the PvP Beta test. The team assured their users that update 3.0 would be the most significant update for this game.
Will these changes help the game recover? Please share your thoughts on our social media! If you want real-time updates, tutorials, news and leaks about your favorite play-to-earn game, always check in at P2ENews.com.
PVU Extras & Links
Click here to learn more about PVU's latest progressions.
Click here to join PVU's official discord server:
Follow their Facebook page here.
Click here to see their tweets.
Source: Plant vs. Undead Official Discord Server