Register Now for Alien Worlds' Battledome Tournament 2022!
The Alien Worlds team encouraged their Twitter followers to register for the Battledome Tournament because registration is about to close. Big rewards await the top players, so don't miss out!
Fight for your Syndicates honor! ⚡️

Register for the Battledome tournament today! 🏹

Dates: December 1st -15th 📌

Prizes: 500k Trilium 🎁

Find out more: https://t.co/XnCUFUx37j pic.twitter.com/IB8QX6B4y7

— Alien Worlds Official (@AlienWorlds) November 28, 2022
The Battledome tournament
The Alien Worlds Battledome tournament will happen on December 1-15, 2022. You need to register before November 29, 1 pm UTC. Players who fail to register between November 24th, 2022, 14:00 CET, and November 29th, 2022, 14:00 CET cannot participate in the Tournament.
Restack LLC, Lviv Ukraine in cooperation with Dacoco GmbH, in Zug organized the Tournament. The organizer is generally responsible for the tournament and enforcing the tournament rules. Dacoco will provide the Prizes to the winners.
The tournament is split into several 60-minute phases. The phases correspond to the Element Types and revolve in the following order: AIR > FIRE > GEM > METAL > NATURE. In each phase, players can participate in the battle with a selection of Player NFTs consisting of one Avatar NFT, one Minion NFT, and one Weapon NFT, as well as one Order and one Planet Alignment. Each such pick must be validated by signing the relevant transaction using the relevant Player's associated Wax Cloud Wallet. If you want to learn more about the game rules, read here.
Who can join?
To participate in the tournament, players must own Wax Cloud Wallet and have at least one Alien Worlds NFT in each of the following categories: one Avatar NFT, one Minion NFT, and one Weapon NFT.
Also, make sure to remember the following rules: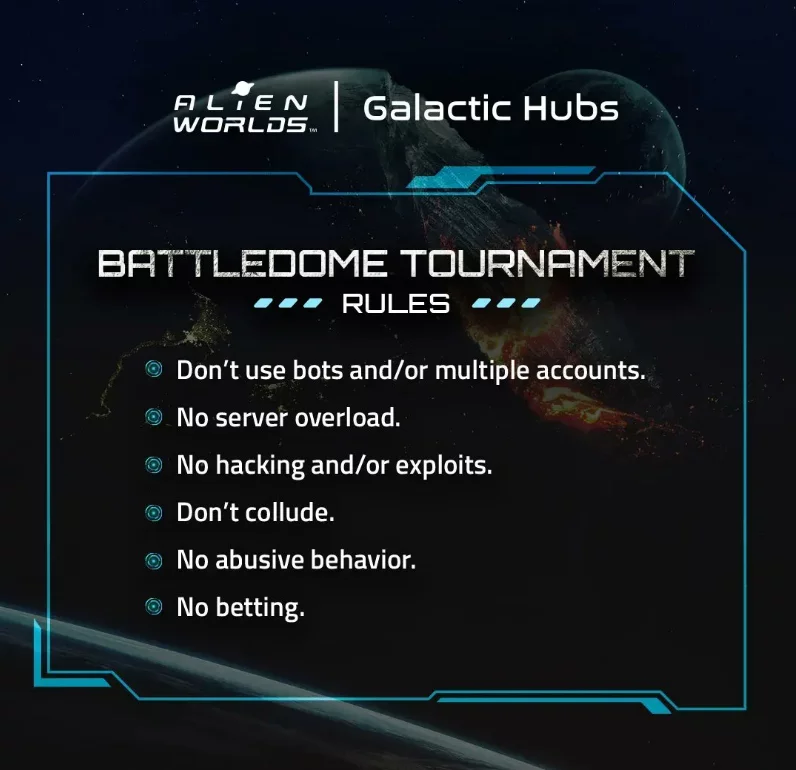 How to register?
If you want to register, click here. You have to provide your username and wallet address. You must also sign up by connecting your Wax Cloud Wallet. The organizer will use their discretion to check information supplied during registration in order to avoid bots and other types of fraud.
The Prizes
The total value of the prizes is 500k Trilium! The prizes will be awarded to the top ten players. 90% of each prize will be deposited into the wallet address provided by the relevant Player after registration. The remaining 10% of each Prize will be sent to the treasury of the corresponding Player's Syndicate.
If you play Alien Worlds, then grab the chance to enjoy the Battledome tournament and win prizes! Want to learn more about the game? Don't worry, we got you! Read our complete guide to Alien Worlds.