Crazy Defense Heroes March NFT Giveaway!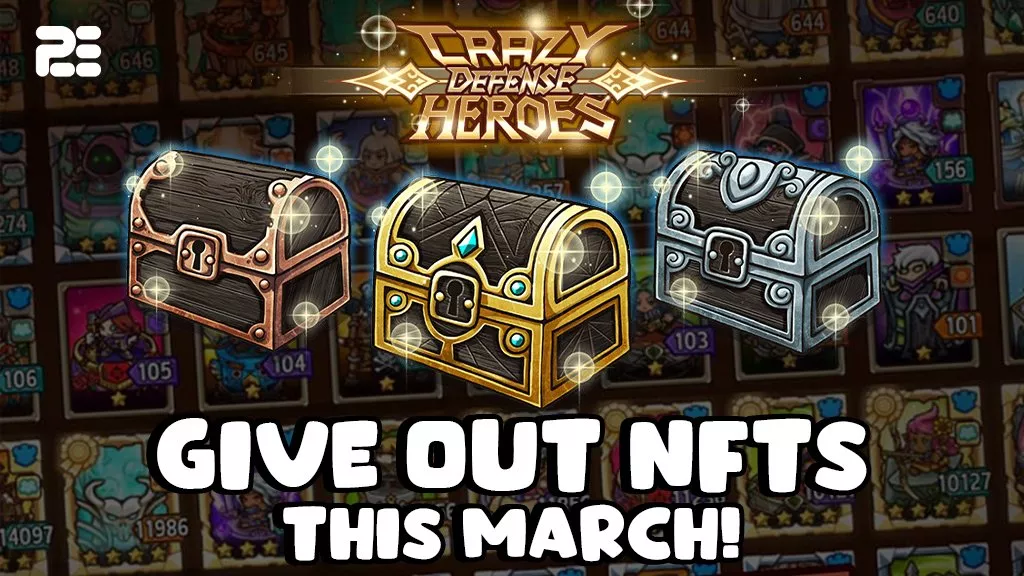 If you haven't jumped yet into Crazy Defense Heroes, now might be the right time for you. Here's why – the game will giveaway NFTs on top of the usual TOWER tokens for their play-to-earn (P2E) campaign this March and April!
A Quick Primer
Crazy Defense Heroes (CDH), a heroic tower defense game, is one of Animoca Games' projects in the Crazy Kings metaverse. Certified and audited by no less than CertiK, one can find it on both Google Play and the App Store.
CDH is renowned for having a solid community even before being on the blockchain. As a result, it is popular among enthusiasts of the genre, and the fact that it is easily playable from a variety of mobile devices makes it more appealing to its fans.

Changes to the experience-based rewards pool
Beginning this month, CDH players will be able to share a total of 1,800,000 TOWER (worth ~$41,400 at the time of writing).
Here's the basic computation:
Tier 1: A total pool of 900,000 TOWER (~$20,700) for players who reach 315,000 to 450,000 experience points. This is the super-casual tier, designed for players who don't play many games per day.
Tier 2: A total pool of 600,000 TOWER (~$13,800) for players who reach 450,001 to 600,000 experience points. This is the "minimum player" tier, designed for players who do the daily Raids.
Tier 3: A total pool of 300,000 TOWER (~$6,900) for players who reach 600,001 experience points and beyond: This is for hardcore fans as well as competitive players in the game.
Given that a casual player would play around fifteen battles a day with an average of 1000 experience points (total: 15000), anyone who plays the game every day would be able to reach Tier 2 without breaking a sweat. We can also see that while CDH wants to give everyone a fair chance at getting rewards, they also wish to reward dedicated players with more incredible blessings as far as the EXP pool is concerned.
Crazy Defense Heroes NFT Giveaway!
CDH has announced that players can earn varying levels of NFTs on top of their daily TOWER token rewards gained from the Star Chest for the month of March.
To get a Star Chest reward, players should do the following:
Play battles until you get 16 stars. Note: the maximum number of stars a player can get per battle is 3.

Open the Star Chest on the game's Chests tab.

Claim the rewards for the day. To do this, a player should have connected the in-game account with Metamask on the official website.
Here is the list of potential rewards that players could get this month:
First Week: 26 TOWER and 1 Common NFT
Second Week: 77 TOWER and 1 Rare NFT
Third Week: 126 TOWER and 1 Epic NFT
Fouth Week: 175 TOWER and 1 Legendary NFT
We can see that a player can potentially have a set of NFTs upon completing the daily reward tasks for this month. In addition, we should also note that players only need to complete 28 out of 31 days to get all four NFTs!
Other Details and Wrapping Up
Here is the fine print regarding the above rewards campaigns:
Players have access to both events as long as they play the game.

The TOWER token rewards can be claimed via the TOWER Reward System on the TOWER website by the end of April 2022. This contrasts with previous practice, where the team had to manually airdrop the rewards to their players.

In April, they will airdrop Map NFTs to eligible players' wallets. The NFTs may be usable in the new Crazy Kings title set for launch later this year.

These NFTs could be staked and utilized in games to gain more rewards down the line!
Truth be told, we could potentially consider this one of the biggest in-game rewards schemes in the P2E gaming space right now. 
Are you excited to play CDH? What do you think of this update?
__________
DISCLAIMER: This is an opinion piece. None of the writings on the website constitute financial advice: P2E News is intended to be a P2E gaming news and updates portal, discussion hub and content/opinion/review aggregator. Please do your own research before investing in any NFT/P2E game out there. Better yet, consult someone within the profession to form an informed stance on your possible investments. For more leaks, news, and tutorials, always check in at P2ENews.com and follow us on social media.