Guild of Guardians: A Big Overview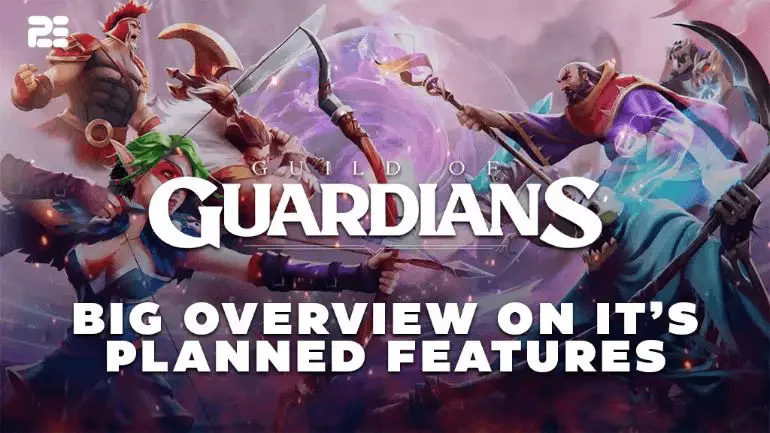 With Immutable getting more funds and riding on the success of their other titles (Gods Unchained surely does come to mind), it seems that everyone is now excitedly waiting for Guild of Guardians (GOG).
Without further ado, here's an overview of the game based on what has been laid out so far!
Guild of Guardians: Summary
Already in development since March 2021, Immutable and Stepico's joint NFT/P2E gaming project is a mobile RPG where players have to set up a team of heroes and compete in guilds to gain various in-game and P2E rewards. There are over 150,000 pre-registered emails already at the time of writing, with the Founders' Sale already done way back in May 2021.
According to the game's developers, they envision GOG as a highly accessible game. The game will combine high-quality gameplay, graphics, mechanics, and a sustainable P2E rewards system alongside an active, contributing community.
Android and IOS releases will be later this year. And from what we've seen, it'll likely be a cross-platform P2E gaming title. Selected individuals have received invitations to test the pre-alpha version of this game this month, which means that the projected development timeline is right on schedule!
If everything turns out as expected, then GOG could potentially become one of the biggest titles in the space.
The Whitepaper
If you see a properly-written executive summary within a whitepaper, then you know that you're in for a big treat.
GOG argues that NFTs add value to mobile RPGs because of the introduction of total ownership, innate scarcity, and baseline value (i.e., all NFTs will always have a market-based price), thus ensuring that there will be trade and interaction between the players of the game. It also mentions that the concept is already a proven model across different RPGs, and as such, it would be an attractive way to get players from all over the world into playing P2E games.
Interested in reading the Whitepaper? Click here.
Guild of Guardians Game Roadmap
Here is a summary of what the game would look like later down the line:
1st half of 2022: pre-alpha gameplay with limited features

2nd half of 2022: alpha gameplay with limited features and the start of blockchain interaction

1st half of 2023: beta gameplay with core features

2nd half of 2023: full game launch
GOG also notes that they already have collected $4.6 million worth of revenue from guild NFT sales.
Mechanics
Like many other RPGs, team composition matters in a fight. Players would have to produce different setups based on synergies, skill usage, and any bonuses that they could get from the hero characteristics themselves.
In addition, GOG plans to introduce combo systems. With this, players could rack up massive amounts of damage by pressing the correct sequence of keys in a given situation. Sounds familiar, no?
At its core, one can easily imagine seeing the mechanics of World of Warcraft, Diablo, Ragnarok, and RAN Online within this game.
Given that it will be your standard RPG with an NFT flavor, GOG plans to add more modes in the foreseeable future. These include:
Guild Raids

Guild PVP

Land gameplay

User-generated challenges

Esports gameplay

Chances for socializing and trading

Other spaces that would expand the RPG experience
Tokenomics
GOG aims to release a cap of 1 billion Gems within 48 months of release. Here's the breakdown: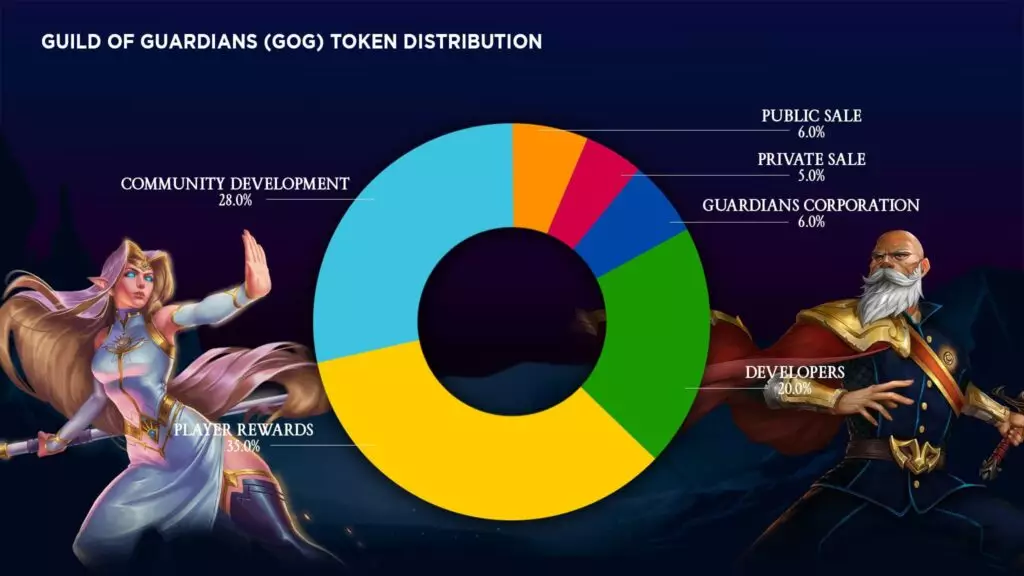 As for their respective distribution, here are the details:
Both the Public and Private Sale tokens are intended to encourage the active use of the token and allow the community to vote for new in-game features.

The Team Share tokens are of the usual flavor: they will be unlocked within a 48-month period to incentivize the long-term growth of the game.

The Player Rewards would be pre-set every day and based on in-game activity.

Community Development tokens will reward:

In-game creators

Community moderators

Referrals

NFT purchases

Liquidity mining

Media outreach

3rd party development (i.e., game expansions and spin-offs)

Competition and tournament rewards

Community participation

Partners and advisors

22% will be opened up on Day 1, with the remaining 6% to be distributed according to the game's needs.

Corporation tokens are to be used in the following way:

50% for liquidity pools and other financing mechanisms

50% to be unlocked over a 48-month period
This is a very detailed and transparent tokenomics breakdown by GOG. One can clearly see the basic outline of how the game's economy will take shape in the months and years to come.
Also, there's a great focus on community. GOG aims for the community to be an active party that does not just take away from the game but a party that invests and helps the game grow in a positive cycle.
Backers, Developers, and Partners
The game is developed by Stepico, a mobile games development studio, with a massive team of developers and artists who have worked on different titles in the past.
Yield Guild, Sandbox, NRG, and Ubisoft are among Immutable's backers and partners for this particular project. Given that Guild of Guardians is among the most awaited things in the P2E gaming space, it would be sure to attract institutional investors and guilds of all stripes and sizes.
Social Media Presence
Just like any other game out there, Immutable has invested in a robust footprint for GOG. These include an official website (and whitepaper) as well as Medium, Twitter, Discord, and Facebook handles. The game's social media team could also crosspost with Stepico and Immutable's social media handles, thus ensuring that anything related to the game would have a huge organic reach.
The game has already done multiple marketing pushes and collaborations with different games and people. This is expected to continue even after the game launches later this year.
Final Thoughts
Just get the game out. Seriously, we'll be playing it once it's out in the open!
Do you plan to play Guild of Guardians when it comes out on mobile later this year?
__________
DISCLAIMER: This is an opinion piece. None of the writings on the website constitute financial advice: P2E News is intended to be a P2E gaming news and updates portal, discussion hub and content/opinion/review aggregator. Please do your own research before investing in any NFT/P2E game out there. Better yet, consult someone within the profession to form an informed stance on your possible investments. For more leaks, news, and tutorials, always check in at P2ENews.com and follow us on social media.