Anito Legends $LARO Token Pre-Sale Sold Out in 2 Hours!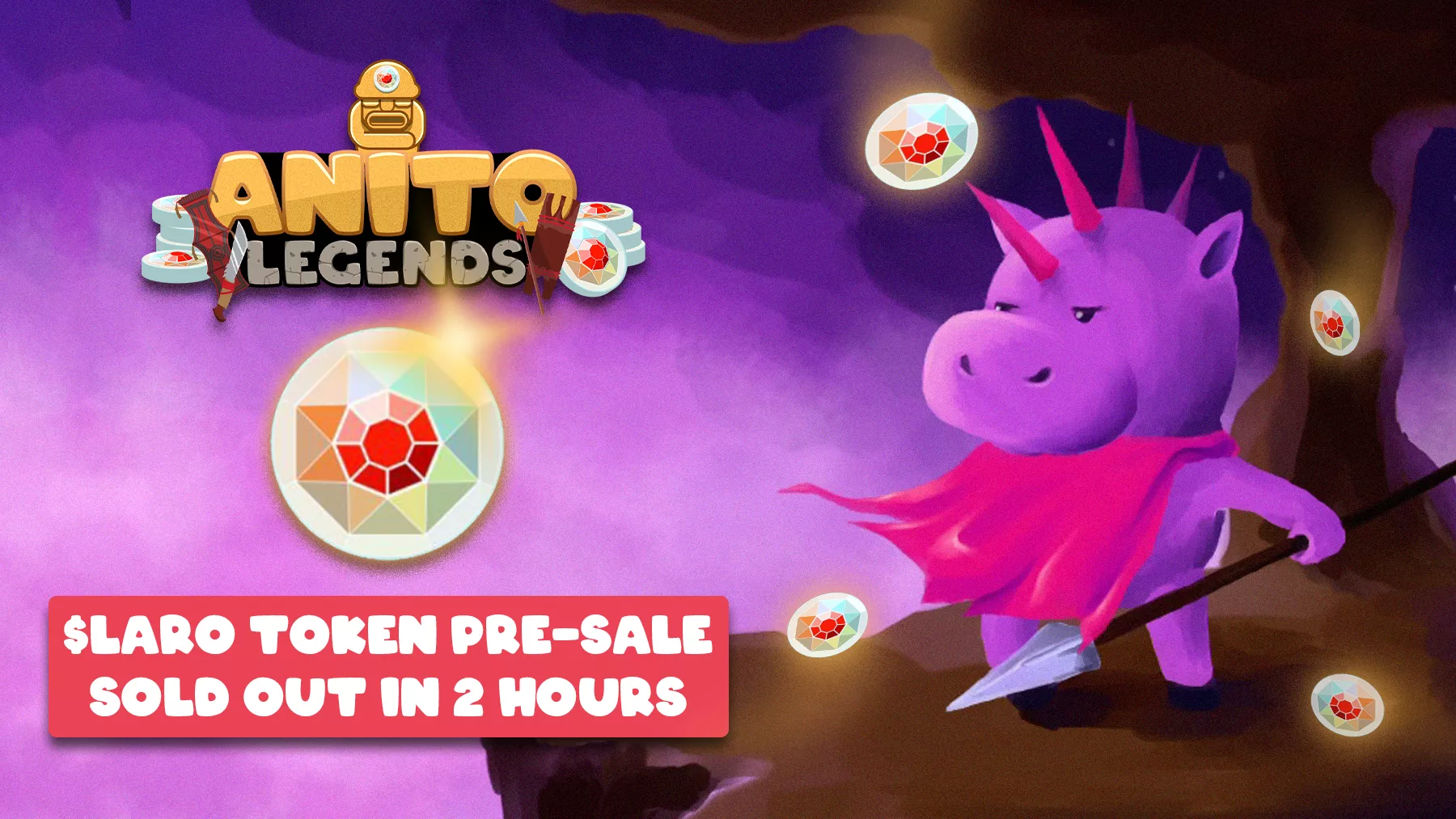 Anito Legends held an IDO for $LARO token via BSClaunch on October 26, 2022,12 PM UTC. In two hours, $100,000 worth of $LARO was sold!
🔥🔥🔥 SOLD OUT IN 2 HOURS 🔥🔥🔥

Both ✅Ranked and ✅Community pools for $LARO sold out in 2 hours with @BSClaunchorg

Our game is already live with an active player base since August 2022. Thank you to everyone for your support! #IDO #GameFi #AnitoLegends #CryptoPH #Web3PH pic.twitter.com/Jte9KGNju2

— Anito Legends | $LARO PRESALE NOW (@AnitoLegendsNFT) October 27, 2022
What is $LARO token?
$LARO is a BEP-20 token that serves as Alien Worlds' governance token. It can be used for summoning, gaining special tower access, nerfing and buffing equipment in Arena Mode, acquiring beta pass access, and buying and selling Anitos in the future.
$LARO has a total supply of 100M. 40% of the total supply is allocated to Ecosystem and Incentives, 15% to team and development, 10% to marketing, 7.5 to reserves, 7% to advisors, 5.2 to liquidity pool rewards, 5% to seed round, 8% to private sale, 1 % to strategic sale, and 0.3% to DEX Token Generation Event.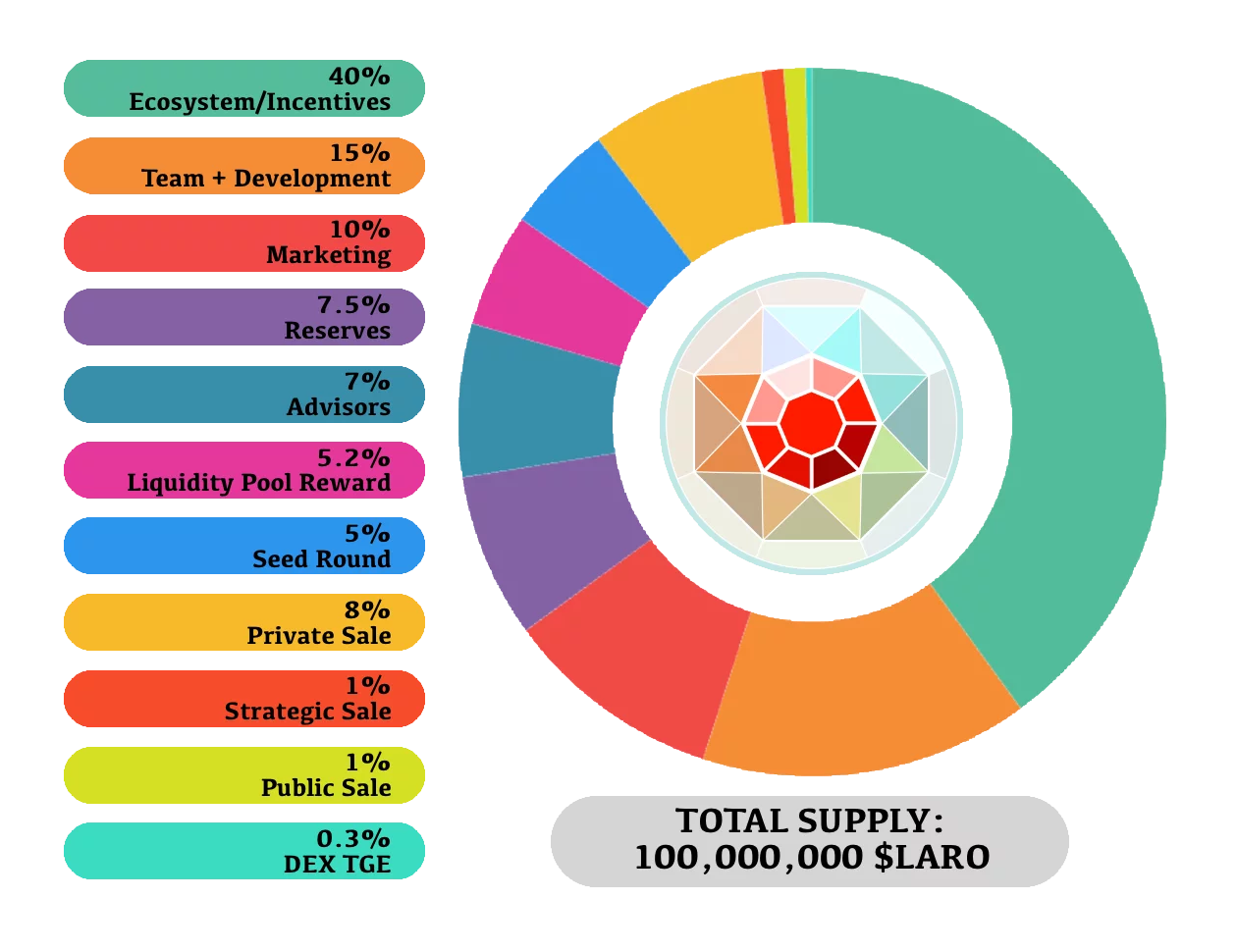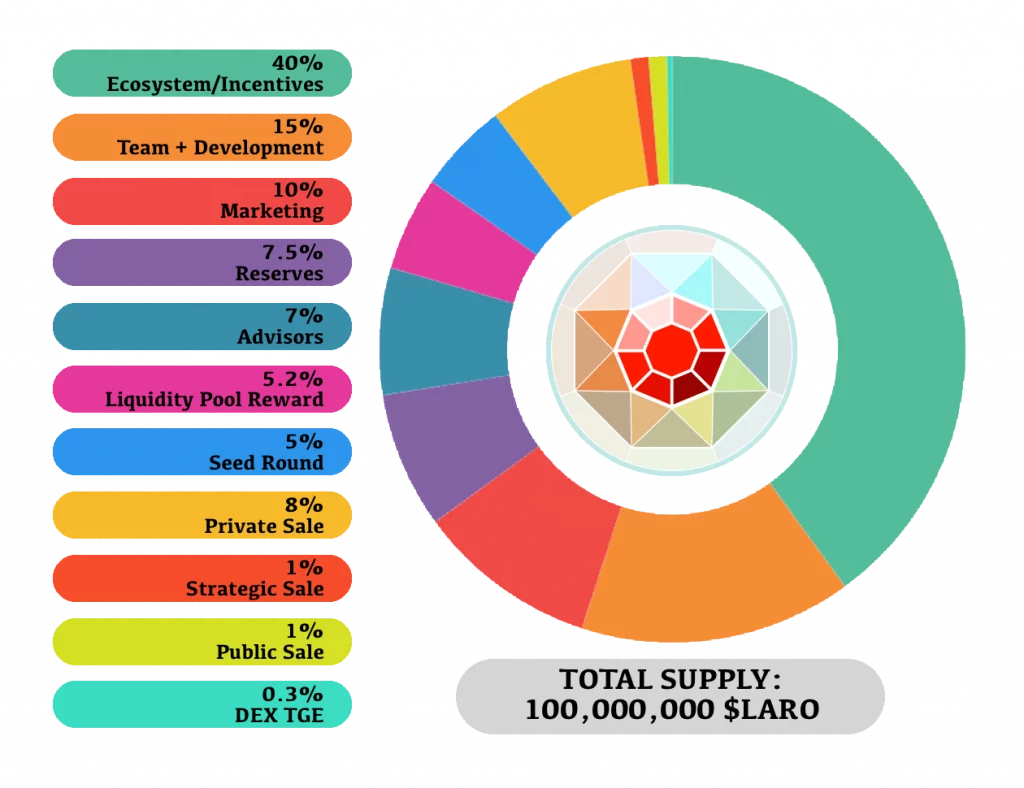 $LARO Token IDO Summary
Anito Legends reached 30k Whitelist Signups for $LARO IDO. The community had to complete the following tasks to get whitelisted:
(1) Follow @AnitoLegendsNFT & @BSClaunchorg on Twitter and join our Telegram Community
(2) Retweet this tweet on Twitter with the hashtags "#BSClaunch #AnitoLegends #IDO $BSL $LARO" and tag 3 friends on our post.
(3) Leave a comment on our group chat and react with an Emoji to the event announcement
(4) Fill in your registration information in this FORM.
$LARO was available for 1 BUSD per 3.3333333333333335 LARO on a First Come First Serve (FCFS) basis. The IDO was divided into 2 rounds: Community Round and Ranked Round. The Community Round was held at 12:00 pm UTC on October 26th. This round was set to last for 1 hour. Whitelisted members in this round could participate by contributing their allocation in this round. The Ranked Round was held at 1:00 pm UTC on the same day. Investors whitelisted in the community round were able to purchase up to 300 USD worth of tokens.
Each round had 166.6667 tokens sold totaling 333,337 $LARO tokens or $100,000 which is the 0.3% of the total supply.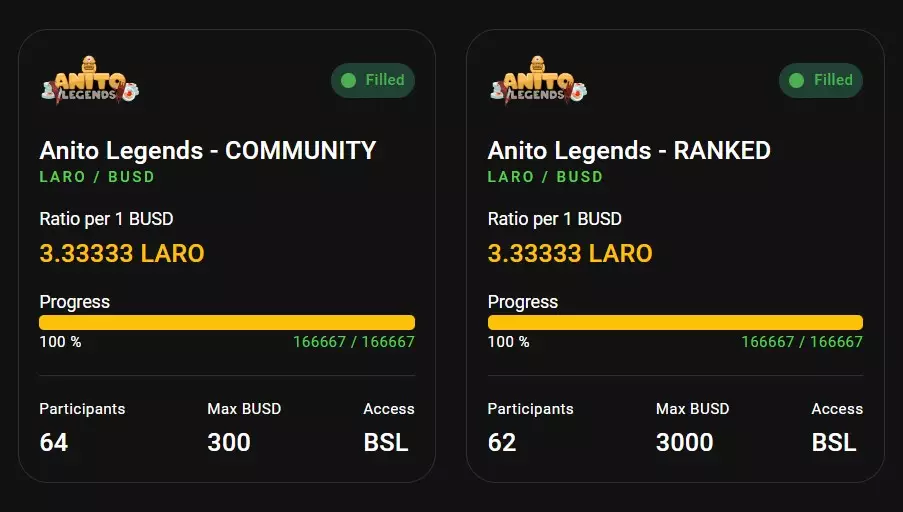 The tokens purchased in IDO will be vested in 3 months, 25% were available at IDO.
The Future of $LARO
$LARO will be listed on Bitrue and PancakeSwap on November 7 – November 15, 2022. Bitrue is a cryptocurrency trading and investment company that provides cryptocurrency services such as an active trading platform, a futures trading platform, loans, and high-yield farming and staking. PancakeSwap is a decentralized exchange that runs on BNB Chain and holds a clean reputation for security. To be listed in these exchanges will surely build trust and confidence in Anito Legends users.
$LARO just had another IDO via PinkSale on October 29th, and another one upcoming via DAOStarter on November 2nd. PinkSale is another decentralized launchpad protocol that helps projects to create their own tokens and token sales in a few seconds. DAOStarter is a Web3.0 crypto incubator built on Binance Smart Chain. DAOStarter aims to make funding easier for blockchain innovators and to pioneer a new type of crypto financing.
🔔REMINDER🔔

⚠️When making purchases, please make sure that these are on our official channels shared by the Anito Legends Team.

🌐Official Website: https://t.co/OOBfVCtgZh

📅Upcoming IDOs:
💎Oct29 – PinkSale https://t.co/sygnvGzRMR
💎Nov2 – DAOStarter https://t.co/P8K0o4zQmQ pic.twitter.com/1a0Bis1YGo

— Anito Legends | $LARO PRESALE NOW (@AnitoLegendsNFT) October 28, 2022
About BSClaunch
BSClaunch is a Binance Smart Chain-based investment platform that helps projects raise funds in a decentralized manner. BSClaunch offers the following key features:
B-Launch
B-Insure
B-Farms
B-Tools
B-Swap
B-NFT
To learn more about BSClaunch, go to their website.
About Anito Legends
Anito Legends is a strategic auto-battler where players build a team of three Anitos and complete towers, assemble different types of equipment, and beat another team in a battle.
Anito Legends runs on BSC chain and it went live on August 31, 2022. The game is currently open for early access, requiring you to purchase their NFTs before playing. Anito Legends is available on PC, Mac, Android, and iOS devices.
Read more news about Anito Legends here.