What is KaraStar?
KaraStar is a play-to-earn pet collecting game wherein players in the world are able to collect creatures called Kara. Karas will be the players' companion all throughout their journey around the KaraStar universe.
In the game, players can also buy land, raid other players' lands, participate in PvP battles, and depart on adventures to gather some tokens and resources. The game operates on the Binance Smart Chain and revolves around two cryptocurrencies such as: $UMY and $KARA.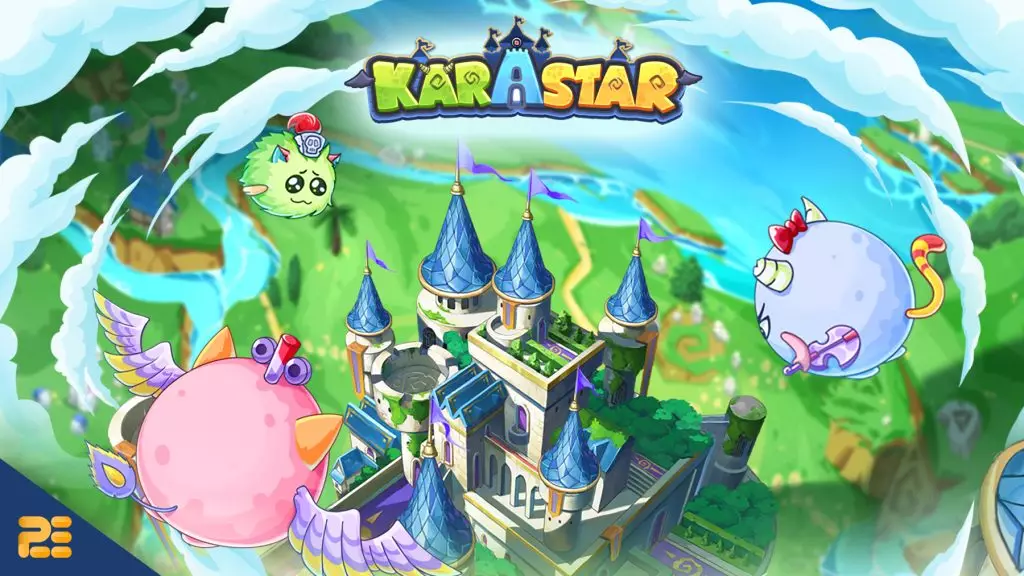 How to Get Started in KaraStar?
To get started with the game, first you will need to create an account and bind a wallet address such as MetaMask. To create an account, simply follow the steps stated below.
Launch your device's browser and proceed to the KaraStar official website to create an account. Click on "Sign in" to access registration page.
Next, click on "Log in with MetaMask".
After registration, click on "Bind Email".
Finally, download and install the game through the download links present at the official website.
To be fully immersed with the game's play-to-earn ecosystem, you must have at least three Karas. There are two ways obtain Karas and start playing:
Buy Karas through the official marketplace.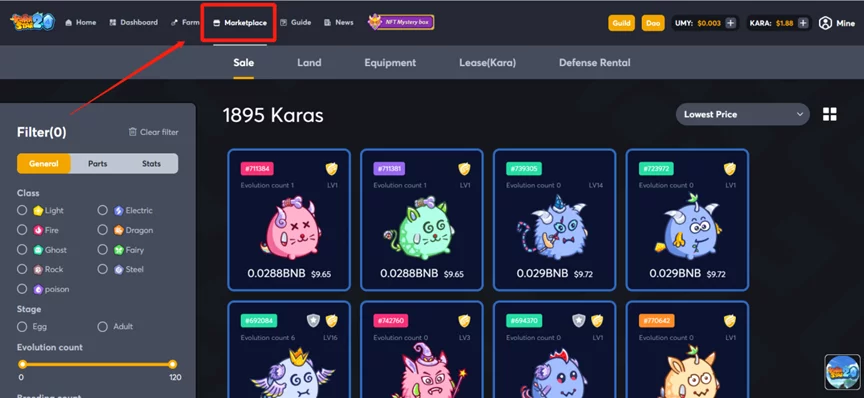 Rent Karas through the marketplace rental system.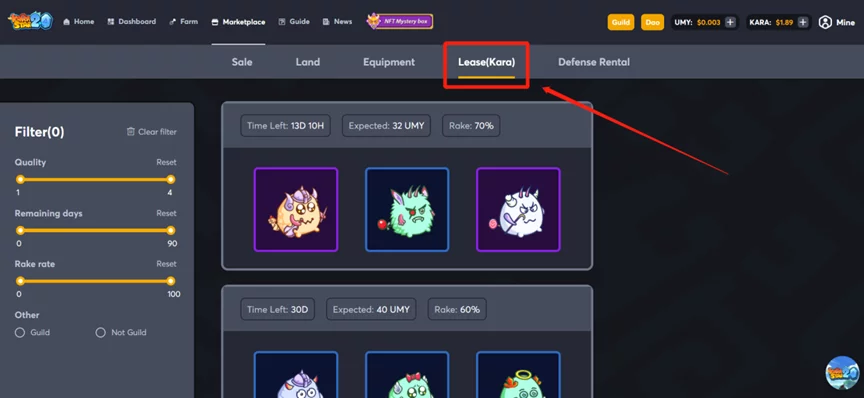 How to Earn in KaraStar?
To help stabilize the economy of the game, KaraStar runs on a dual-token ecosystem. First, the $UMY, the fuel of the entire game's ecosystem and the foundation token of the game. $UMY is also the fuel for KaraStar's staking pools and can only be created by in-game activities such as PvP and PvE.
$KARA, the governance token of KaraStar, is the token which community users can use to participate in the governance voting of the platform. Besides that, $KARA is also used for in-game payments. Additionally, those users who hold $KARA can earn more rewards by staking $KARA in the farm pool.
Players can earn the game through the following avenues:
Dungeon Exploration (PvE)
Arena Battles (PvP)
Kara Breeding
Trading
Staking in Farm Pools
DAO Staking
Land Gameplay
Slot Games
Galaxy Mode
Airdrops (Community Contributors Only)
UGC Rewards
Referral Rewards
KaraStar Breeding
Just like real world creatures, Karas can also be bred to produce more Karas! Take note that Karas have a maximum breeding count of 7 to take account for the chance of overbreeding. Generally, breeding can be done through the help of two parent Karas who both have less than 7 breeding count.
When successfully bred, it will cost $UMY and $KARA to hatch the egg. Kindly note that breeding is a risky process and must be done with thorough research. In order to breed, the following steps must be followed:
First, through the Marketplace, go to the Inventory and click on one of the Karas you want to breed and then click Breed.
Next, carefully select the Kara that you desire to be the first one's mate.
Simply click the "Let's Breed" option and confirm the wallet transactions for the breeding process to start. Take note that it will require you $UMY and $KARA in order to successfully breed.
Once done, a hatch countdown for the egg will appear and all you need to do is wait for it to mature.
The following are the breeding costs required in terms of $UMY and $KARA:
| | | |
| --- | --- | --- |
| Breeding Count | N&R | SR |
| 0 | 1.5 KARA + 200 UMY | 3 KARA + 400 UMY |
| 1 | 5 KARA + 300 UMY | 10 KARA + 600 UMY |
| 2 | 10 KARA + 500 UMY | 20 KARA + 1000 UMY |
| 3 | 20 KARA + 1000 UMY | 40 KARA + 2000 UMY |
| 4 | 40 KARA + 1500 UMY | 80 KARA + 3000 UMY |
| 5 | 80 KARA + 3000 UMY | 160 KARA + 6000 UMY |
| 6 | 160 KARA + 6000 UMY | 320 KARA + 12000 UMY |
Breeding Cost Table for KaraStar
FAQs
Is KaraStar legit?
As of November 23, 2022, the KaraStar game is considered to be legitimate and the game has no reports of rugpulls or other unethical actions. The game, however, suffered a significant downtrend similar to the other projects in the cryptocurrency industry.
How to bind email in KaraStar?
You will be able to bind your email immediately right after the registration process of the game. After registering for the game, a popup will show that says "Bind Email" and simply click the button to proceed with your email.
How to get KaraStar free pet?
Players were only able to obtain three free Kara pets in KaraStar until November 18, 2021. Currently, there are no available free Karas to be obtained when starting to play the game.