Trade in Pesos on New BloomX Exchange!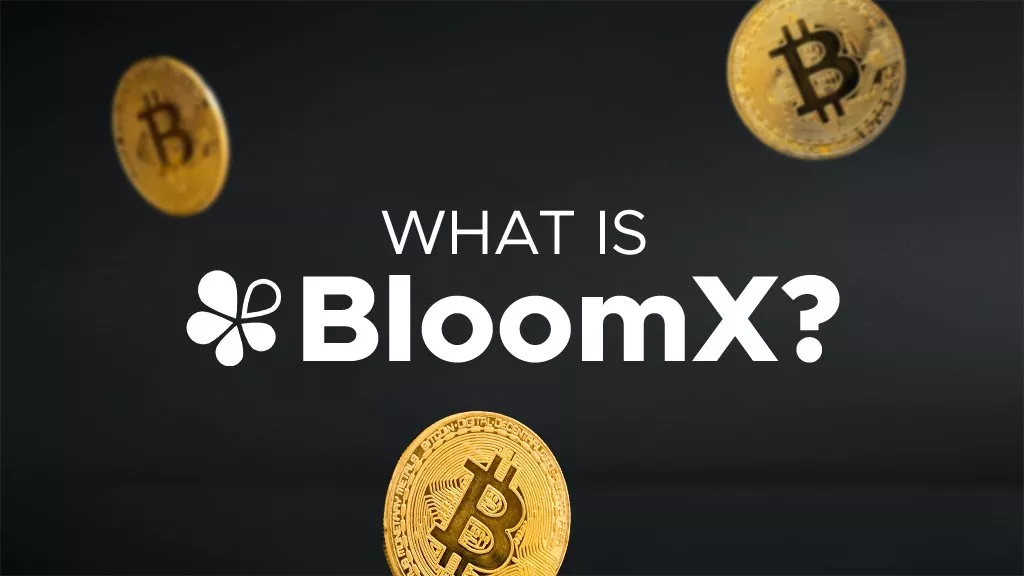 Have you tried buying cryptocurrencies using Philippine Peso? Today, we are introducing to you a new crypto exchange, BloomX, that will make this possible! Find out how in this article.
What is BloomX?
BloomX is a new trading platform that allows Philippine residents to trade over 250 cryptocurrencies in exchange for pesos. Bloom Technologies, Pte. Ltd. aims to reduce the cost and improve cryptocurrency trading experiences.
When it comes to legitimacy, you have nothing to worry about. BloomSolutions Inc. is a financial services provider licensed by the Bangko Sentral ng Pilipinas. In addition to this, the exchange's technology is provided by Binance. This means your funds are safe and in good hands!
Who are the founders of BloomX?
Singapore-based BloomSolutions and global cryptocurrency platform Binance partnered to produce this app.
Israel Keys is the Chief Executive Officer and Founder. He is a graduate of Harvard University and an entrepreneur with a background in technology startups and international humanitarian aid.
Luis Buenaventura II is the Chief Strategic Officer and Founder. He is a graduate of the University of the Philippines. Buenaventura has presented at the World Crypto Economic Forum in San Francisco, the International Money Transfer Conference (IMTC) in Madrid, the Latin American Bitcoin Conference in Bogota, and the Brookings Blum Roundtable in Aspen.
Ramon Tayag is the Chief Technology Officer and Co-founder. Having graduated from Ateneo de Manila University, Tayag built his first startup in 2006. He is also a web application developer, a blockchain entrepreneur, and project manager of large-scale website campaigns.
Justin David is the Chief Operations Officer and Co-founder. He holds an LLB from the University of Melbourne, a BA from Monash University, and a BCOM from the Australian Catholic University. He also has experience and knowledge in commerce and law.
How does BloomX App work?
Currently, BloomX is in early access and is not open to the public just yet. However, you can join their whitelist here and invite your friends to move up the list and get an earlier slot.
BloomX is a user-friendly and easy-to-navigate exchange. Following login, you will redirect to the Home page. Here you can see your total account value. On the upper part of your screen, you will see its other features: Exchange, Explore, Deposit, Withdraw, Settings, and Help. Let us take a quick tour of each category!

Exchange
250+ cryptocurrencies will be supported on BloomX. This includes popular trading currencies such as Bitcoin, Ethereum, Litecoin, and more. You can select the currency you wish to receive in exchange for your peso in this category. Set the values and click "Buy."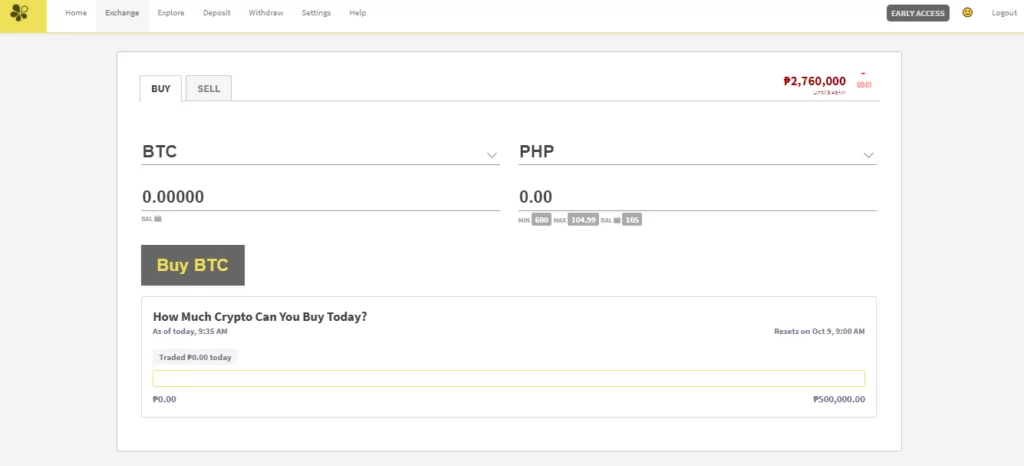 Explore
Explore will give you the current value and the total market cap in PHP and USD of different cryptocurrencies.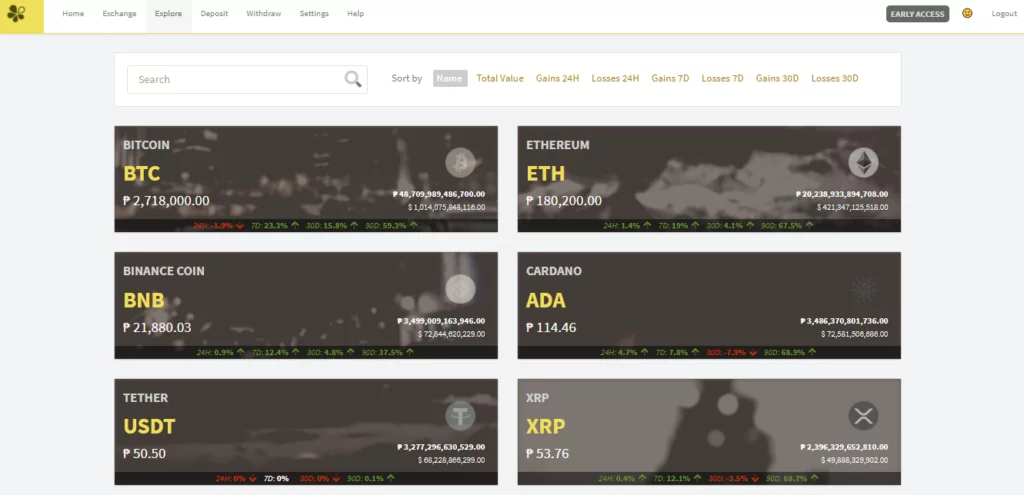 Deposit
This feature allows you to deposit cash in your BloomX. Click here to learn how!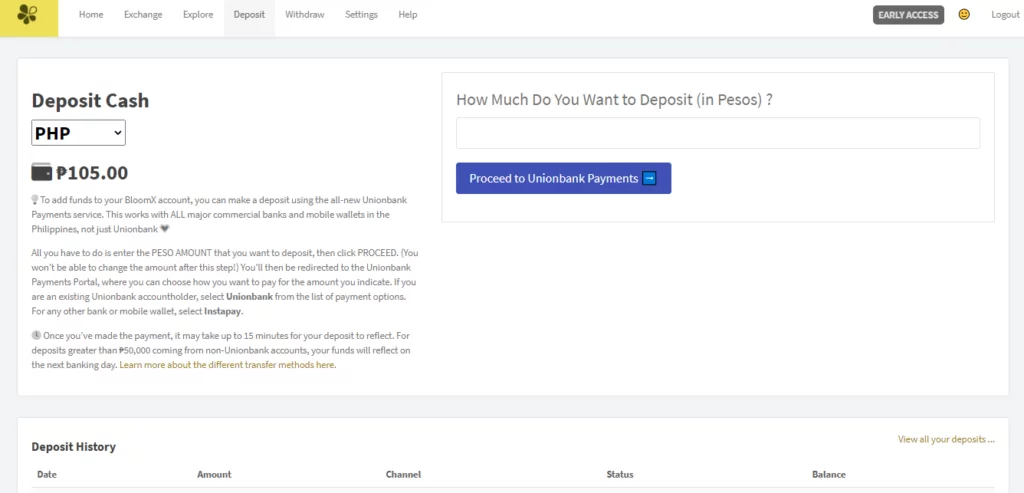 Withdraw
Here, you will be able to withdraw your funds to your bank account. Just enter the amount you wish to withdraw, select your preferred bank, and enter your bank account number. Note that you must withdraw a minimum of PHP1000 and a maximum of PHP250,000. All withdrawals will have a PHP40 fee deducted.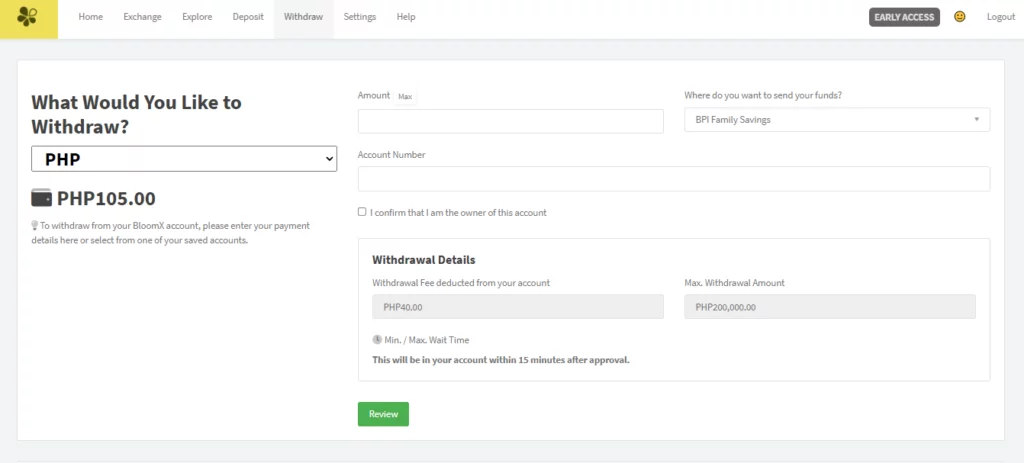 Settings
Settings will show your details and an option to change your password.
Help
In Help, you can find the answers to frequently asked questions.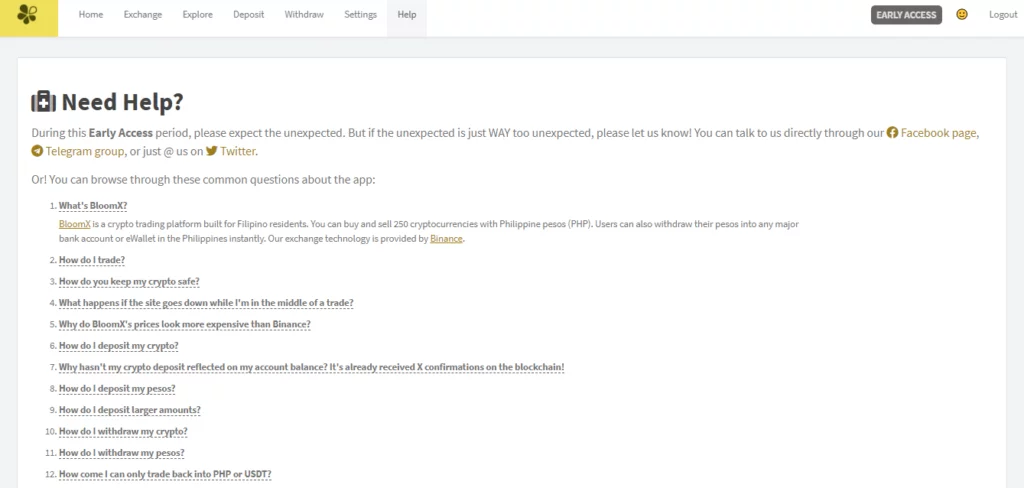 As mentioned, BloomX is currently in its early access period. They may implement changes and updates in time. However, this article provides you with good insight into the app and its current features.
For more tutorials, news, and leaks about your play-to-earn games, make sure to follow us on social media and check in at P2ENews.com!