What is My Defi Pet and Why is it Getting So Popular?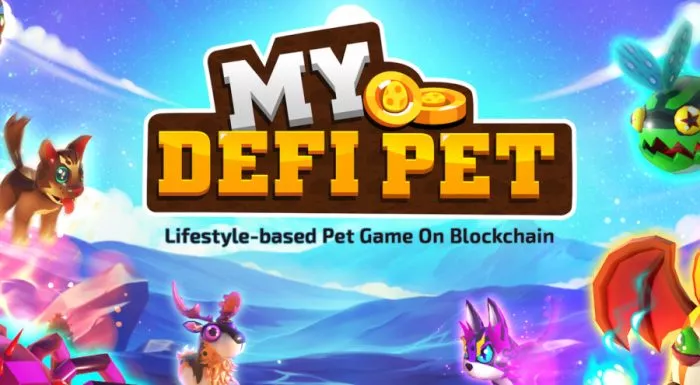 Along with the trend of Axie Infinity, My DeFi Pet is soaring in popularity.
Within just two months of releasing the beta version of the game, My DeFi Pet now has more than 100,000 holders of it's native token DPET, more than 1 million eggs purchased, and its token just keeps conquering peak after peak with a series of new all-time-high ATH milestones. It's standing side by side with many of the biggest blockchain projects as the most trending coin in Asia.
Will it take over Axie Infinity? Find out everything you need to know about My Defi Pet below.
What is My Defi Pet?
My DeFi Pet is a virtual pet game that combines DeFi (decentralized finance), collectibles and your personality. The goal of MDP is a mass-adoption blockchain game. The name encompasses the three characteristics of the game: "My" personalization, "DeFi" features integrated, and "Pet" raising game.
The game revolves around engaging gaming activities such as collecting, breeding, evolving, battling with, and trading/socializing for pets. It uses the concept of Seasons to break down the game progress into smaller parts. This complements the human tendency for short-term rewards and intends to create a very addicting game.
When was it launched and who is the team behind it?
The first decentralized, interoperable blockchain platform in Vietnam and South East Asia called KardiaChain, launched My DeFi Pet in May 2021. It was developed in coordination with TopeBox, a game developer in Vietnam whose previous releases, like Sky Dancer and Thief Rivals, had millions of global downloads.
The team consists of experienced individuals in blockchain and mobile gaming including the game creator Liem Thai, the Product Lead at Gameloft which is the number 1 mobile video games developer.
How does it work?
DPET token is the native digital utility token of the MDP game, and it serves as the in-game currency. It is used for trading, exchanging, improving the Pets and their special qualities and more. DPET may also be spent by players to significantly enhance their progress and experience in-game.

How much will it cost to buy pets?
According to CoinGecko, a DPET token is equivalent to $5.18 (P260.17) as of July 16, 2020. The game records a $14,331,258 daily volume as of today. One egg (pet) costs 3 DPET and you need at least 3 pets to play the game . You can also breed your pets to produce more eggs.
Where can I buy eggs?
You can purchase eggs on their website: https://mydefipet.com/. Make sure to connect to Binance Smart Chain or BSC Wallet. Upon purchase, eggs will break to reveal your pets.
Overview of the Gameplay
My DeFi Pet gives off Facebook's Farmville vibes.
To play, you will need pets. Pet eggs can be bought using DPET tokens. Once you have your pets, you can start to increase their stats and level by feeding them. To provide food for your pet, you have to grow fruits and vegetables on the farm field. Harvest the vegetables and feed your pets to make them bigger and stronger.
You can have as many pets as you wish, either through egg purchases or breeding. Repeat the process that suits you until you build your own army of strong pets.
How do you earn from the game?
There are two ways to earn in My DeFi Pet: (1) Selling earned DPET tokens from in-game quests or fights against other pets or pet masters, which can then be converted via PancakeSwap; and (2) auctioning pets you have been feeding and/or breeding. If you have a high-level or rare pet, you can sell it to other players that may want it.
Another way, but a difficult one, to earn from the game is by trying out their Season Rewards. In Season Rewards, the game will set a list of tasks and requirements for you to meet in which you will then be rewarded from a pool if all are completed.
Want to give it a go?
You can play the game on their website. Currently, they do not have a mobile app, however eventually will be primarily based on mobile. Here's a small guide to get you started: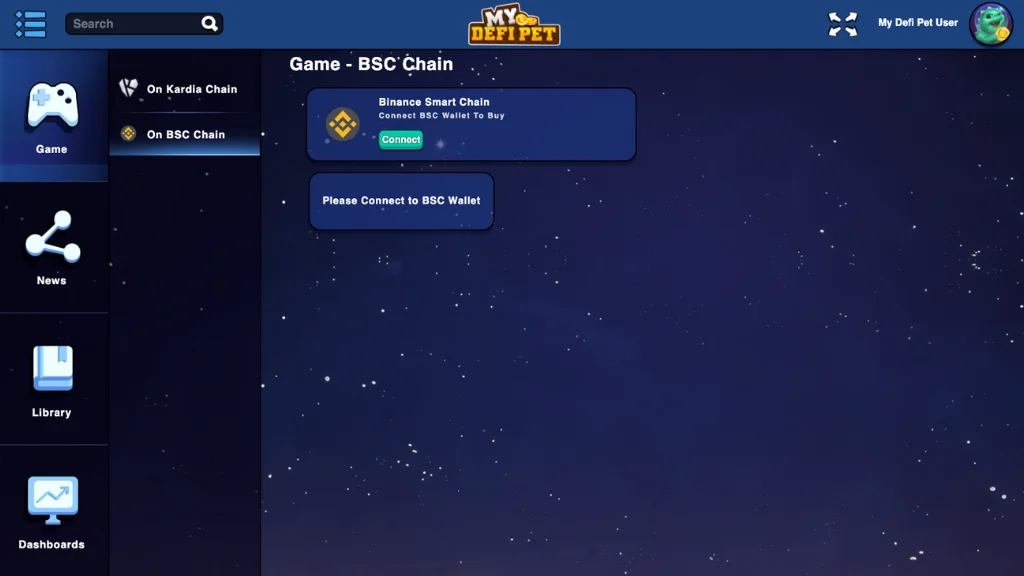 Download MetaMask.
Create a Binance account for the purchase of BNB coins.
Add the Binance Smart Chain to your MetaMask wallet.
Transfer the purchased BNB coins to your MetaMask.
Swap your BNB coins to DPET tokens using PancakeSwap.
Go to My DeFi Pet website on https://mydefipet.com/ and click "Connect" under Binance Smart Chain, then connect your MetaMask and hit "Refresh".
Keep updated on our website for a more detailed tutorial on how to play My DeFi Pet. For now, if you are considering playing the game, you have to read the risks that the team listed on the last part of their whitepaper HERE.
Take a speak peek at their official roadmap: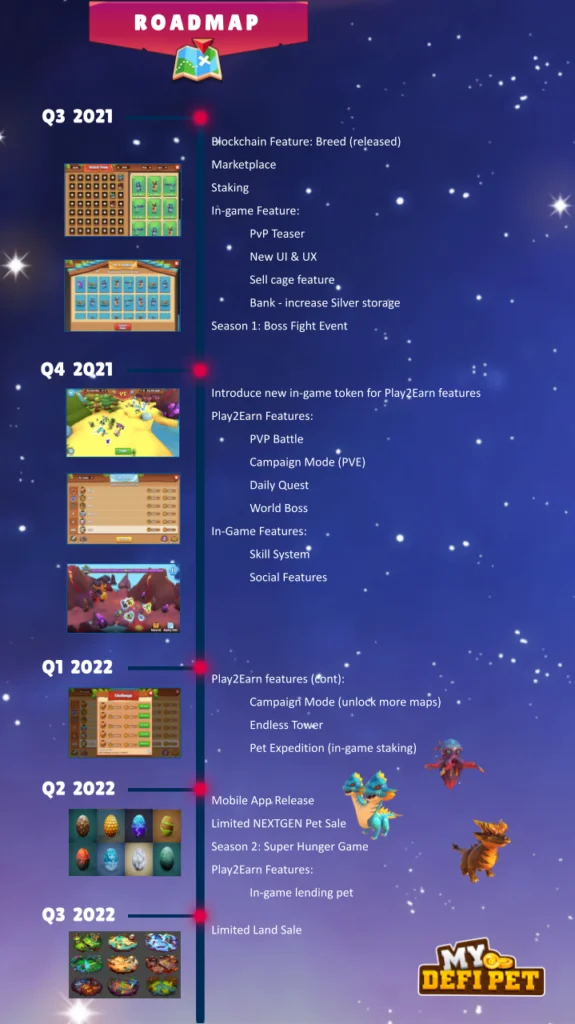 As you can see, the game will launch its Play-to-Earn features in Q4 of 2021! Will this go smoothly?
After all, our recommendation to you would be only invest what you can afford to lose. This will help you protect your assets from risks and volatility that can be experienced in any crypto currency.