Octoblades Event Is Live With 6x More Rewards and Fee Discounts! | Cryptoblades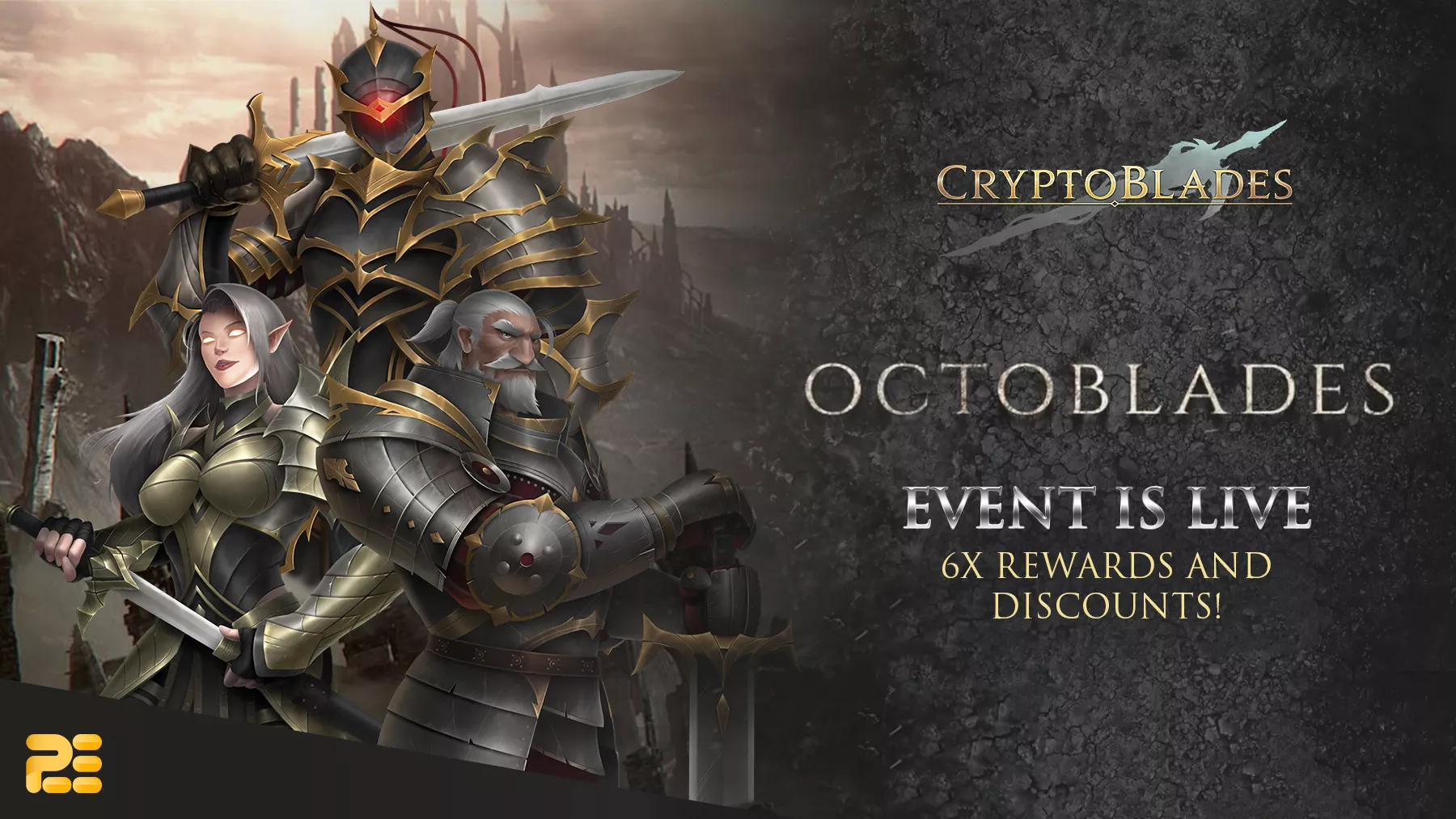 Cryptoblades recently launched their Octoblades event! Find out in this article why this event is gaining a positive effect on the blockchain.
What is Octoblades?
Octoblades is a month-long event where the Cryptoblades team prepares various updates, rewards, and fee discounts! And guess what, the event has just started Cryptoblades is ranking #1 on dapp for games on BNB!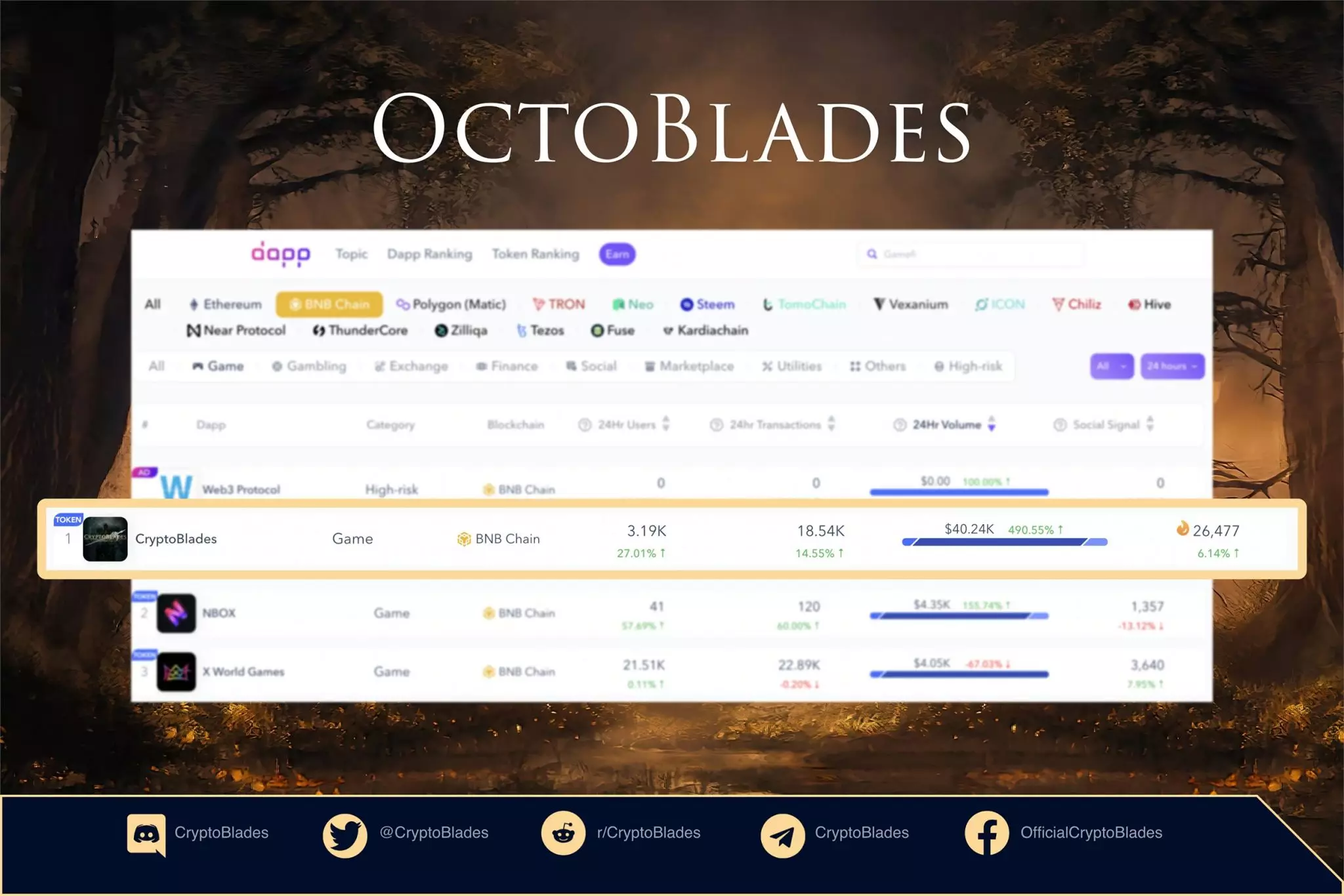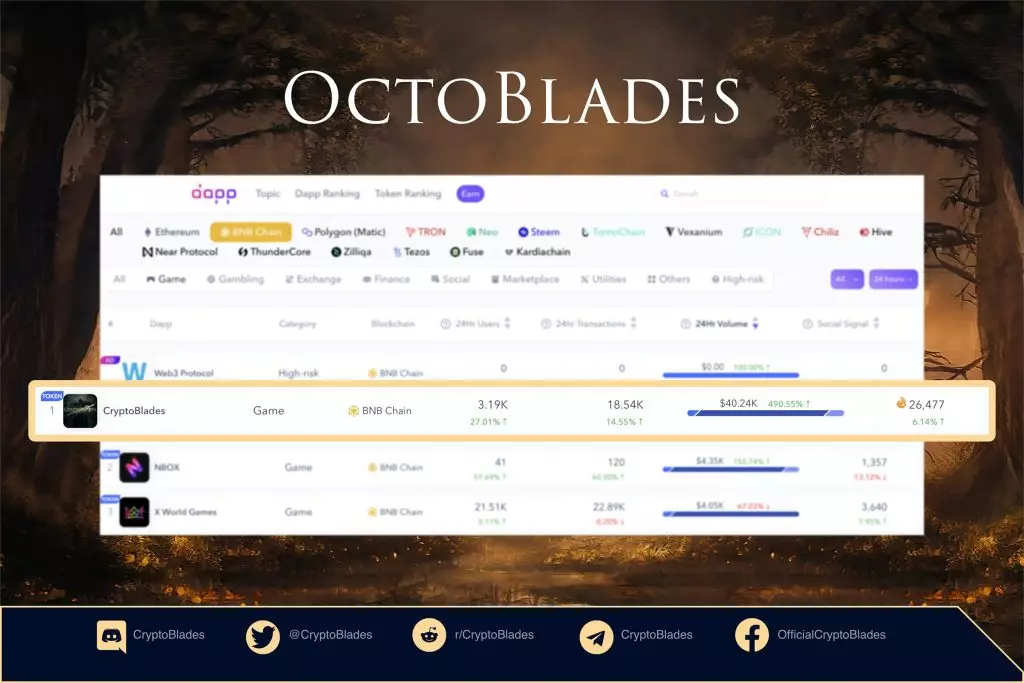 In the Octoblades event, the team is proud to be launching the Village Builder!
What is Village Builder?
Village Builder is a game that allows you to stake land, KING, SKILL, CryptoBlades characters, and CryptoBlades weapons to earn KING, obtain instant prizes in Village Builder, and unlocks in CryptoBlades: Kingdoms upon launch. To participate, you must stake a land NFT (village). To advance your village, use KING, SKILL, CryptoBlades characters, and CryptoBlades weapons in incremental steps, but only land, KING, and BNB for gas are required to begin.
Village Builder has twelve different buildings, including the Barracks, Clay Pit, Farm, Forest Camp, Headquarters, Hidden Stash, Market, Smithy, Stone Mine, Storehouse, Town Hall, and Wall. The KING staking path is how you will level up these buildings, but staking SKILL, characters, and weapons is how you will win unlocks and rewards. Completing all four staking paths in Village Builder will result in a mysterious and exclusive reward.
Here's the trailer for Village Builder:
Octoblades Event Highlights:
1. Generation 2 characters are released across all 7 chains.
Generation 1 characters are the first NFTs created for CryptoBlades. The ability to mint generation 1 characters ended with the release of generation 2 characters, indicating that they are now deflationary.
What is a Generation 2 character?
Generation 2 characters are the latest wave of character NFTs in CryptoBlades, and they function very identically to their generation 1 counterparts. They serve the same purpose in Combat, PvP, Raids, Plaza, Garrison, and Quests. They may also be listed, purchased, and sold on Bazaar. They do, however, have a few key distinctions. Most notably, gen 2 characters have a new look and earn "unclaimed VALOR" instead of "unclaimed SKILL," as well as access to a different set of treasury multi-farms. They exist on all 7 chains, although they are not yet bridgeable.
2. VALOR is launched.
VALOR is now available as a token earned by Generation 2 characters across all seven chains, and it may be traded for SKILL/KING as well as staked on the BNB chain.. This token provides an extra earning possibility for CryptoBlades generation 2 characters while simultaneously lowering the barrier to entry for new users. Generation 2 characters must participate in the adventure mode by engaging in combat with powerful opponents to win VALOR. Staking for VALOR will only be available on the BNB-chain.
3. Increased reward pool.
The reward pool on the BNB chain has been increased by 6x! Note that the increased rewards are only on BNB chain and not on other platforms such as Avalanche, Polygon, OEC Chain, Aurora, Skale, and HECO Blockchain.
4. You'll earn 2x experience in-game.
Experience is required to increase your level in the game. Character levels impact how much power a player has during combat calculations, as well as the SKILL payout on a win. Now take advantage of the event to increase your experience!
5. All characters are set to be profitable.
All characters are set to be profitable including newly minted characters.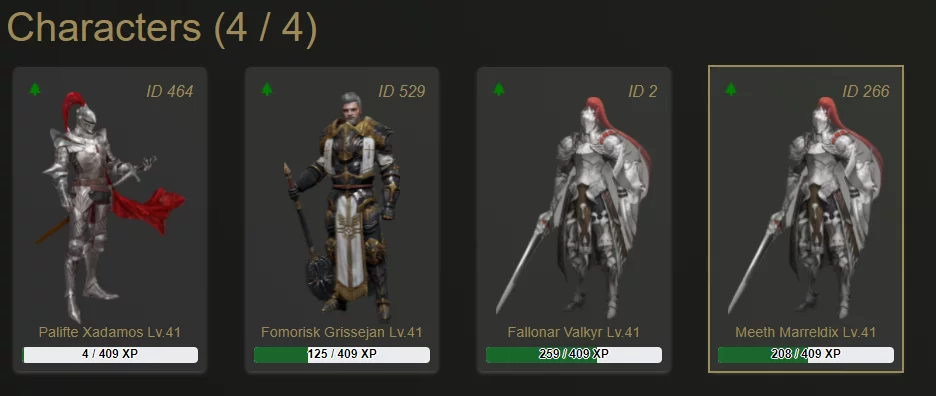 6. Staking pools (Revenue Share Pool)
The revenue share pool will only be the 60 Day SKILL for SKILL. Users can stake their SKILL and gain a share of the income earned by the phase 9.3 fees. Funds are locked for two months and can be unlocked once that period has expired. Once funds have been staked, the user can stake additional funds; but, after November 30th, no additional funds can be added.
Exactly 25% of all phase 9.3 fees will be allocated to this pool's prizes, which will be distributed according to the user's position in relation to the pool as a whole.
7. There will be weekly PvP tournaments with an increased reward pool!
The team will add an additional 250 SKILL to the rewards pool each week. It doesn't stop there! The team just added over 2000 SKILL to the Generation 1 Reward pool, from all of the recent Generation 2 purchases. The more SKILL that is added to the reward pools, the higher the multipliers will go.
8. Entry cost to raids is being reduced to nearly free.
Raids are similar to boss fights where all players combine their combat power in an attempt to beat the current raid boss.
9. Combat fees as part of phase 9 are turned off.
The 25% generation 1 native gas fee on rewards has been turned off to reduce gas fees.
10. There are new limited quests for highly leveled characters and weapons as well as those making NFTs earned through raids.
Aside from these event highlights, Octoblades will also release a special edition sword and a series of Discord events! There is nothing more exciting than these surprises.
About Cryptoblades
CryptoBlades is a strategic NFT roleplaying web-browser game launched on the Binance Smart Chain, Avalanche, Polygon, OEC Chain, Aurora, Skale, and HECO Blockchain. The game is brought to existence by the talented team at Riveted Games. Riveted Games is owned and operated by Philip Devine since 2014, releasing multiple award-winning titles on Steam, the world's largest game marketplace. CryptoBlades allows its players to acquire amazing characters and weapons and improve them in order to defeat the opponent and earn SKILL tokens as a reward.
Find more info about Cryptoblades here.
About SKILL token
SKILL serves as the native currency for CryptoBlades. Players use SKILL to get characters, create and reforge weapons, and purchase and trade items on the CryptoBlades marketplace.
About KING token
KING replaced SKILL as the native token of the CryptoBlades franchise when CryptoBlades Kingdoms was launched. The token is built on the Binance Smart Chain. There is only one way to spend KING. Players can spend it to acquire gold, which then becomes the in-game token.
About Phase 9.3
Phase 9.3 update includes the addition of native token fees on combat, increased reward pools, and increased rewards on combat.
Make sure you won't miss this event! Go to Cryptoblades Discord for more updates.