Rebel Bots Xoil Wars Beta Testing is Coming in October 2022!
After many months of preparation, Rebel Bots will finally begin Beta Testing in October 2022! Are you one of the gamers excited to test out the Rebel Bots Xoil Wars gameplay? Then you should read this article!
The Rebel Bots team revealed on their Discord server two weeks ago that they would launch the Xoil Wars Beta version for testing in October, enabling a few hundred of their loyal supporters to play and battle on Xoilium with 3 fighting bots. The exact date has yet to be announced, so let us all wait and see!
The team has been working on the game for the past 14 months. Opening beta testing is very important to see the initial product of their hard work. However, the beta testing will be limited in several aspects. As to what features are those, there are no details yet.
What is Beta Testing?
Beta testing is the final phase of testing before releasing a product to a large audience. The goal is to find as many bugs or issues as possible, and fix the same before the official public release of the game.
Aside from reporting bugs and issues, privileged beta testers may help the team by providing feedback on the game, whether it is entertaining, boring, easy, or difficult.
If you're one of the testers, you'd love to win some rewards! Rebel Bots also announced their tester rewards system.
Rebel Bots Beta Tester Rewards
You will not just play the game and remain silent about the feedback to obtain the rewards. You must share them on your social media profiles and tell your friends what you like about the game. If you adhere to these terms, you will be rewarded with up to 500 RBLS tokens. These tokens will be vested for a period of six months. Full details will be released soon.
What are the ways to get a beta pass in Rebel Bots Xoil Wars?
You should stay active on their Discord server! The team conducts activities inside their server where winners are awarded beta passes. Sometimes, they choose the most active and helpful community members as measured by Discord points.


If you are active on Twitter, Facebook, and Telegram, it's your time to shine to earn your beta pass! The rebel Bots team monitors the followers that often share posts about the game.
The team has allocated more than half of the beta passes so do your best to be the first to try Xoil Wars by being an active community member!
What are the areas in the game that are completed so far?
The Rebel Bots team has completed the battle logic, which includes the cards' art assets, abilities, passive skills, battle rules, and logic. The meta-game aspects are nearly complete. Buildings, leagues and seasons, user profiles, leaderboards, and challenges are all part of it. Structure, configuration, and validation in-game economics are also nearing completion. The battle scene is currently being worked on by the team. PvE and PvP gameplay, matchmaking, attack, and defense animation, and AI are all part of the battle scene.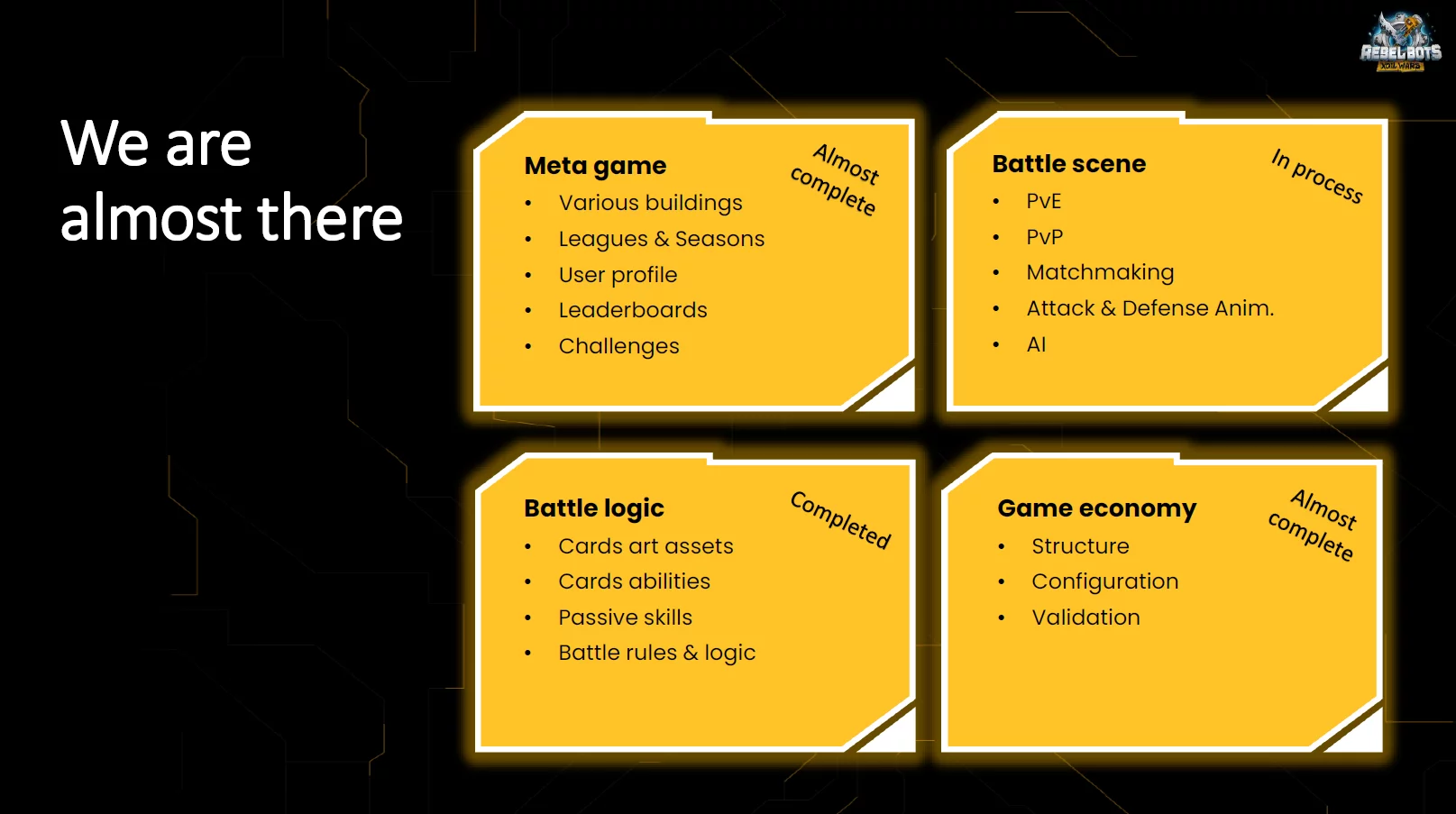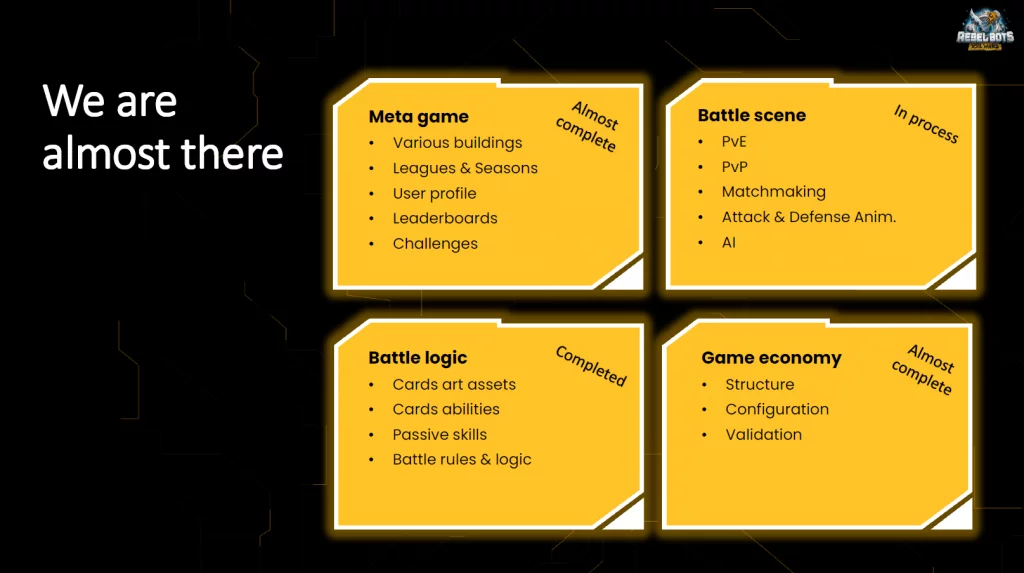 The team apologizes for the beta launch being delayed because the game development is taking longer than expected. This is common in a variety of gaming projects. The chief factor for this is that the objective is not only to release a game so they can say they accomplished it but to offer something truly exceptional.
To give you a glimpse of the gameplay, here's a game teaser from the team!
About Rebel Bots
Rebel Bots – Xoil Wars is a cross-platform card battle game in which players could play, progress, and earn in a single-player or multiplayer sci-fi-inspired game set in outer space. Players may form extraterrestrial kingdoms, raise armies of fighting robots, and compete for Xoil resources with other players.
Rebel Bots will also have a scholarship system. Yes, you read that correctly! Several Rebel Bots guild partners are looking forward to the scholarship feature. So, before the official game is released, be sure to secure your spot in your favorite gaming guilds!
Follow Rebel Bots on their social media and join their Discord to get real-time updates about the game.