Anito Legends: What's Interesting About This Filipino NFT Game?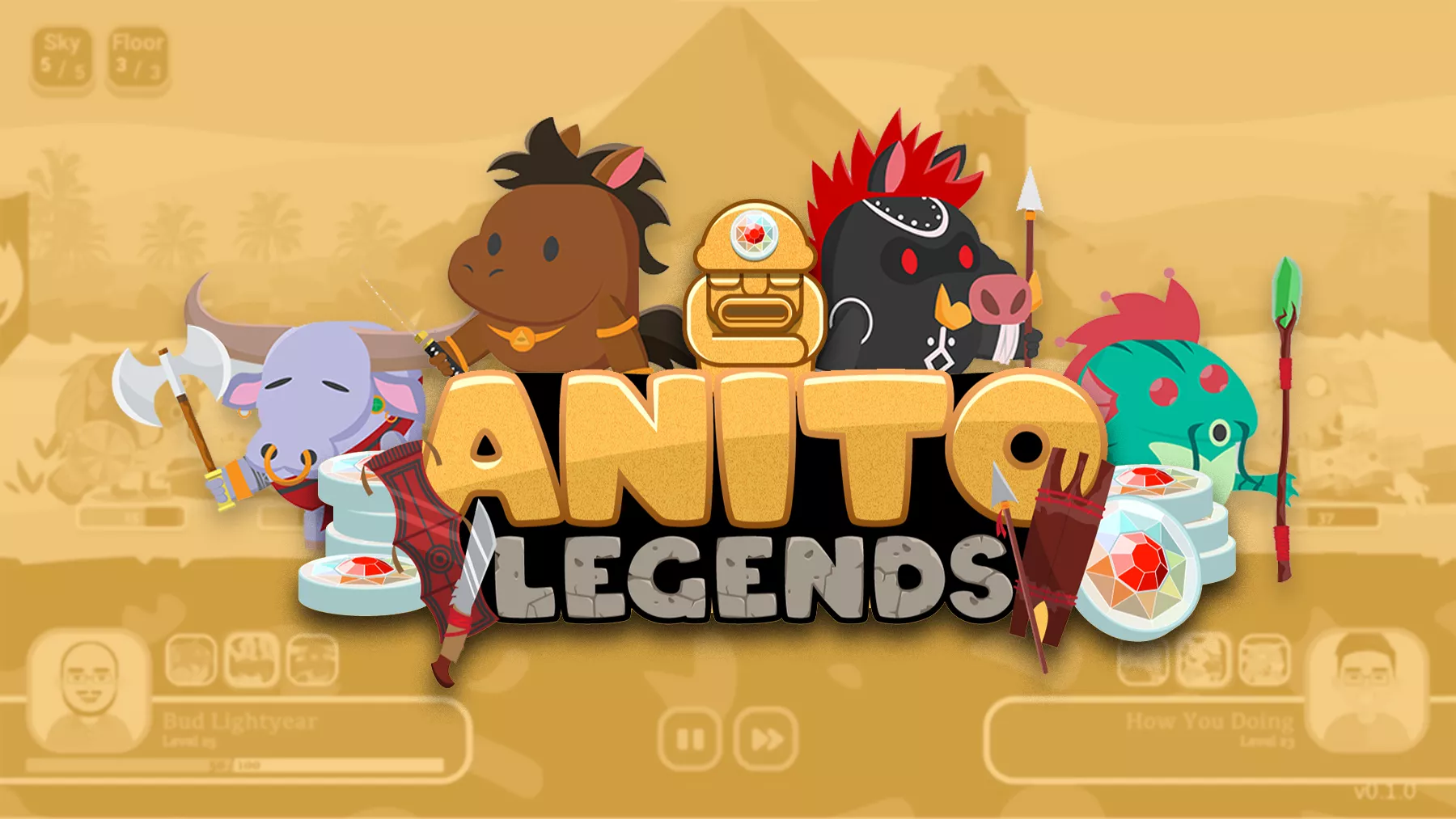 Anito Legends is a new Filipino-created NFT game that promotes Filipino folklore through its storyline, NFTs, and gameplay. If you enjoy adventure, fights, team building, and Philippine mythology, then this game is for you! Through this article, we will learn everything there is to know about Anito Legends and what makes it so interesting.
What is Anito Legends?
Anito Legends is a strategic auto-battler where players build a team of three Anitos and complete towers, assemble different types of equipment, and beat another team in a battle.
Anito Legends runs on BSC chain and it went live on August 31, 2022. The game is currently open for early access, requiring you to purchase their NFTs before playing. Anito Legends is available on PC, Mac, Android, and iOS devices.
Anito Legends' Entertaining Lore
A great game must have a very good storyline. Anito Legends is here to give us one!
Anitos live on land called Lupa. Lupa is a land of lush forests, crystal-clear sources of water, and huge mountains with deep caverns. Lupa was then filled with the serenity and riches that the Anitos enjoy.
However, certain selfish Anito leaders known as Dilim devastated the land by stealing its treasures and attacking their fellow Anitos, resulting in a massacre. The Dilim then stole the treasures and locked them away in towers constructed in the most dangerous places of the land. These towers are indestructible and are defended by soldiers.
But hope did not stop there. The remaining Anito natives established tribes in an attempt to reclaim what had been stolen from their ancestors. They formed a group and began training as fighters, magicians, and thieves before attacking the tower where the Dilim leaders held their treasure. They never gave up hope that Lipa was theirs.
Anito NFTs
Who doesn't want to fight with our iconic Tikbalangs, Sarangays, Kiwigs, and Siyokoys? They are the four Anito classes that may be purchased in gacha-style boxes!
What exactly are these creatures? Each description includes a comparison of realistic images of Filipino folklore monsters to Anito art renditions.
Tikbalang
Tikbalang, being excellent in defense, serves as powerful tanks to protect its allies. Their look is that of a bony humanoid with the head of a horse. Tikbalangs are unquestionably fast runners. They are noted for being strong and loyal, and they are eager to fight to protect their tribe.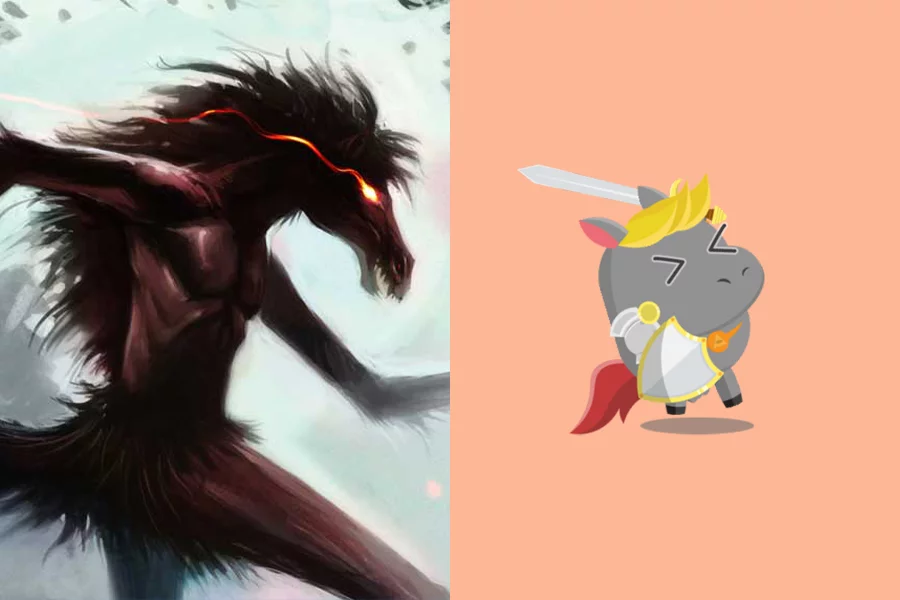 Sarangays
A Sarangay is the Philippine equivalent of the minotaur, a half-man, half-bull creature. In-game, they make for good front liners in the team because of their high Health Potion (HP).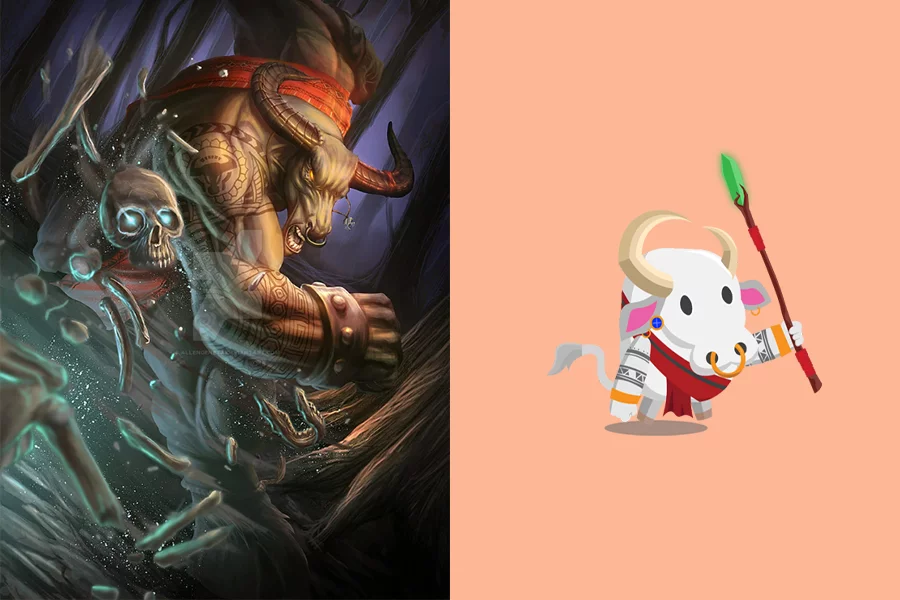 Kiwigs
In Philippine mythology, Kiwig is normally a human, but at night it can morph into a dog, cat, or boar and attacks humans from behind. In-game, their shapeshifting ability was stolen from them, making them stuck in one form. The Kiwig have a potent offense and are best protected in front by tough defenders.
Siyokoys
Siyokoys are known in Philippine mythology to be scaly creatures that pull people's legs while swimming. They can be found in rivers, lakes, and seas. In-game, Siokoys live in the deep, where they construct large and complex cities. You would love to have them on your team as they are fast and hard hitters against attackers.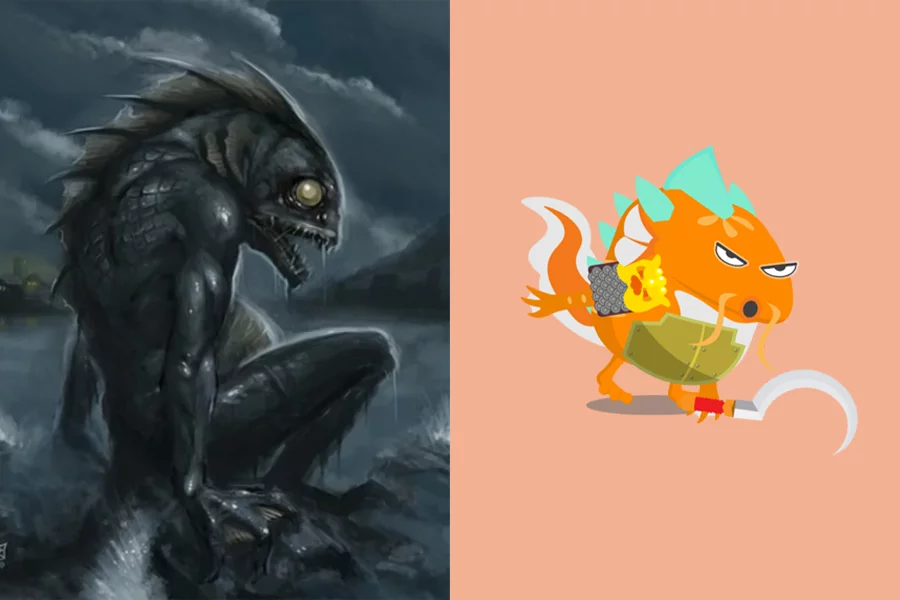 The first 10,000 Anitos are known as "Ang Sina Una," or "The First Ones," and are visually different due to the Genesis Glow effect. The First Ones may be purchased on the marketplace with BUSD and, in the future, with $LARO through secondary marketplaces.
Team members
Anito Legends is made by a team of developers from the Philippines with 20 years of experience in mobile game development.
The Chief Executive Officer is James Chua, a co-founder of Pixelkit & Popsicle Games with more than 10 years of leadership and management experience.
The Chief Operating Officer is Erick Garayblas. He has over 20 years of game development and design experience, is the creator of Streetfood Tycoon, which has 50 million downloads, and has won the International Game Developers Association's Game of the Year and Developer of the Year awards, as well as a Game Design Grand Winner in Storm the World.
The Chief Marketing Officer is Jayvee Fernandez, with more than 15 years of experience in digital marketing, media, and publishing for Manila Bulletin and Hinge-Inquirer Publications.
See the rest of the team members here.
How to start in the game?
The game will require you to form your team consisting of 3 Anitos. Gacha boxes can be purchased from the Anito Legends Marketplace using $LARO tokens. The gacha boxes will give you Anitos of random rarity and stats.
Follow these steps to start with Anito Legends
1. Go to Anito Legends Marketplace. Make sure that the browser you will use in accessing the marketplace has your MetaMask wallet. This is because the moment you go to their marketplace, you will be asked to connect your MetaMask wallet.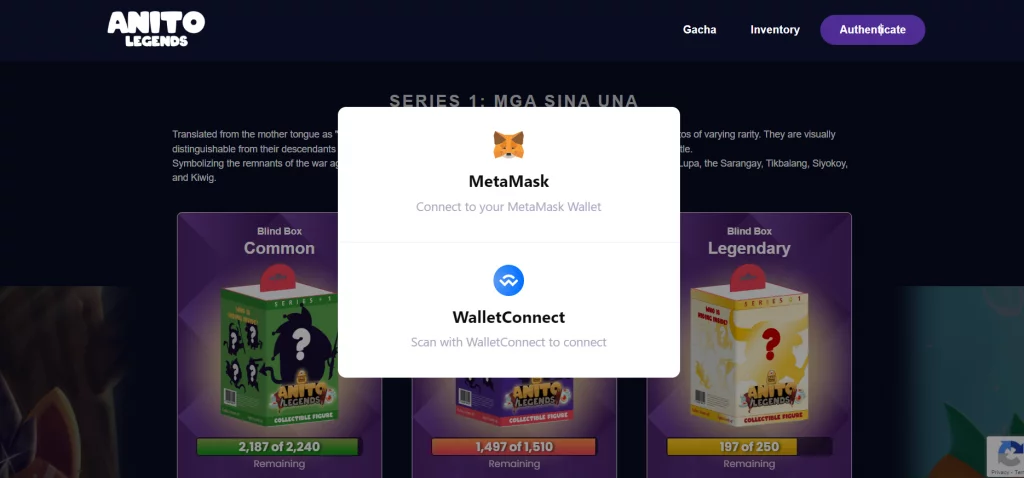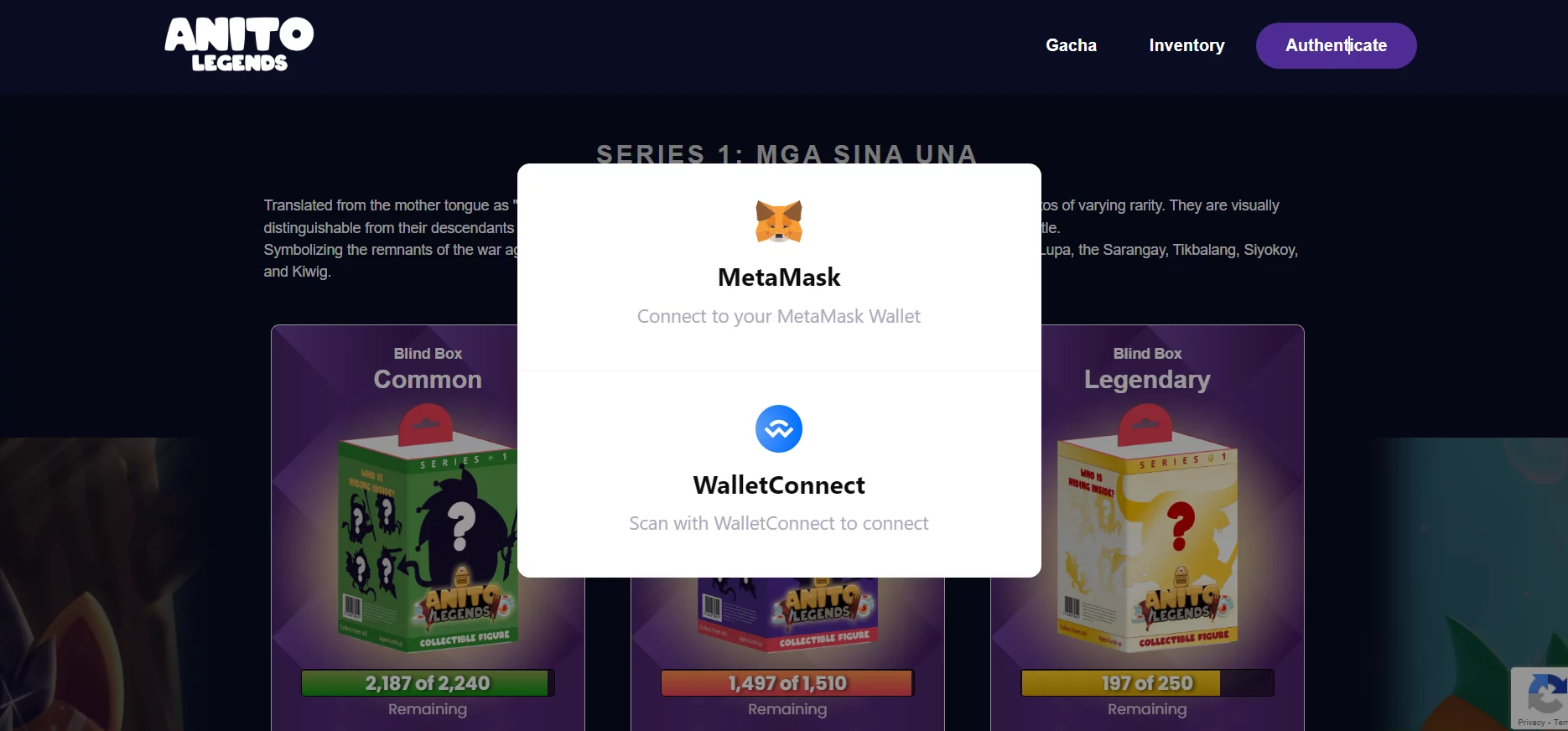 2. Once you have connected your Metamask wallet, you may now purchase gacha boxes. Click on the inventory tab found in the upper right-hand of your screen to reveal the Anitos from the gacha boxes.

3. Install the game client for your preferred platform on your device.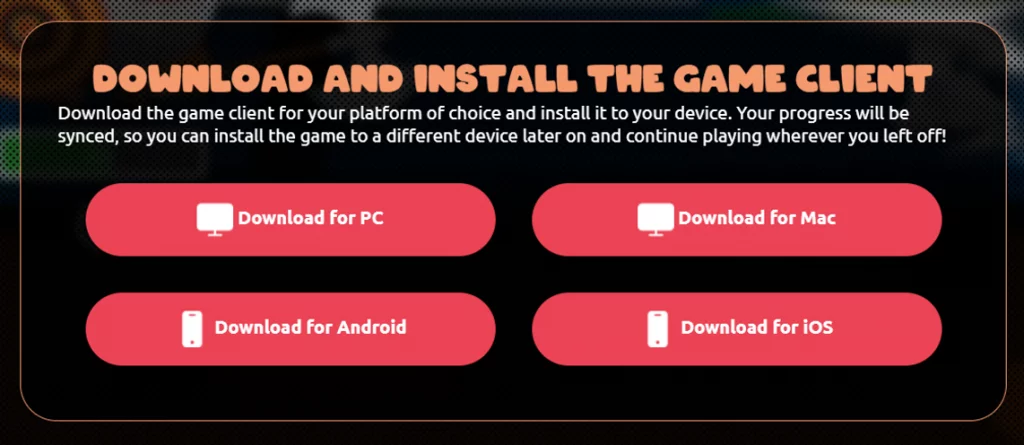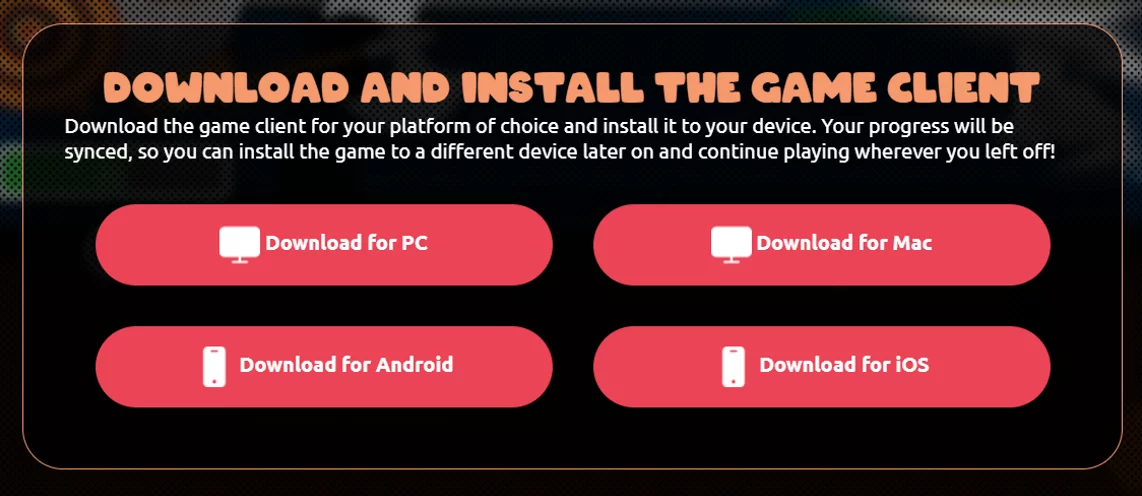 4. Connect your Metamask wallet after launching the game to begin playing. To load your assets, ensure that you are connected to the BSC Network.
Gameplay
The gameplay utilizes a rock-paper-scissors mechanic where one Anito class has a direct advantage and disadvantage over another.
There are two game modes: Adventure Mode (PVE) and Arena Mode (PVP).
The Adventure Mode features a roguelike gameplay mechanic. In this game, a group of three Anitos must build as many towers as they can in one life. When a team is entirely eliminated, they are returned to the game lobby. Anitos can heal or restore fallen companions by using campfires.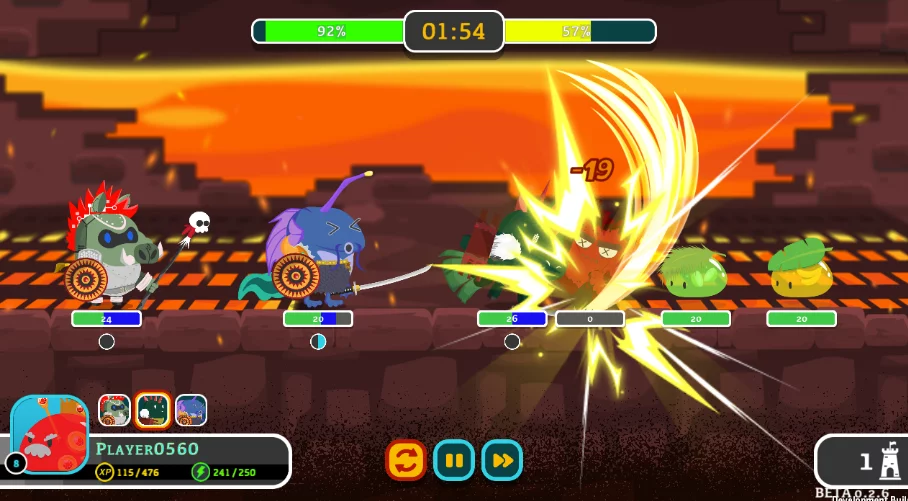 Arena Mode allows players to create two teams: one for attack and one for defense, and all battles are resolved asynchronously. If players want to compete against other player-owned Anito teams, they must purchase arena tickets.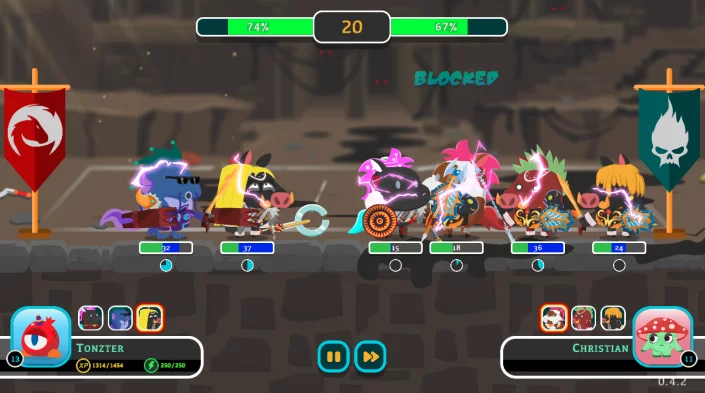 The game also offers "Anito Care". Each Anito has its own friendship meter, which you can fill by earning hearts for your Anito on a daily basis. Hearts can be earned by performing tasks and quests. Earing three hearts daily would increase the Anito Care meter.
Anito Legends includes a Merchant Shop where you can purchase consumable items and sell your unused or discarded in-game items. To purchase items, you will need $PEARLS.
A special shopkeeper makes an appearance in the game lobby every Friday (GMT+8) from 9 AM to 9 PM. Players can spend currency to exchange for rare crafting materials and other perks.
Tokenomics
There are three tokens in Alien Worlds: $GINTO, PERLAS, and $LARO.
$GINTO is the reward token for Anito Legends. To earn $GINTO, players should participate in PVE and PVP mode. Players will then be rewarded with PERLAS. PERLAS can be converted to $GINTO.
Reward tokens must have a well-designed burning mechanism. $GINTO is burned by crafting high-tier weapons and equipment, paying to enter special dungeons or tournaments, and auto-farming dungeon rewards for players to save time.
$LARO is a BEP-20 token that serves as Alien Worlds' governance token. The following are the use cases for $LARO.
Summoning — The breeding system for Anito Legends is a summoning process named "The Rite of Ipa Tawag," which requires players to spend $LARO in addition to two Anitos to summon a new fighter. Also, players can influence the summon's outcome by spending more $LARO tokens on stones that modify class, stats, and rarity.
Special Tower Access — To gain access to these towers, players must spend $LARO. As they advance in the game, players get access to special towers that contain rare rewards.
Arena Mode (PvP) Governance —$LARO can be used to influence Arena Mode (PvP) tournament seasons by buffing or nerfing equipment.
Battle Pass Access — Players can purchase this Battle Pass using $LARO.
In-House Marketplace —$LARO will be the main currency used to buy and sell Anitos.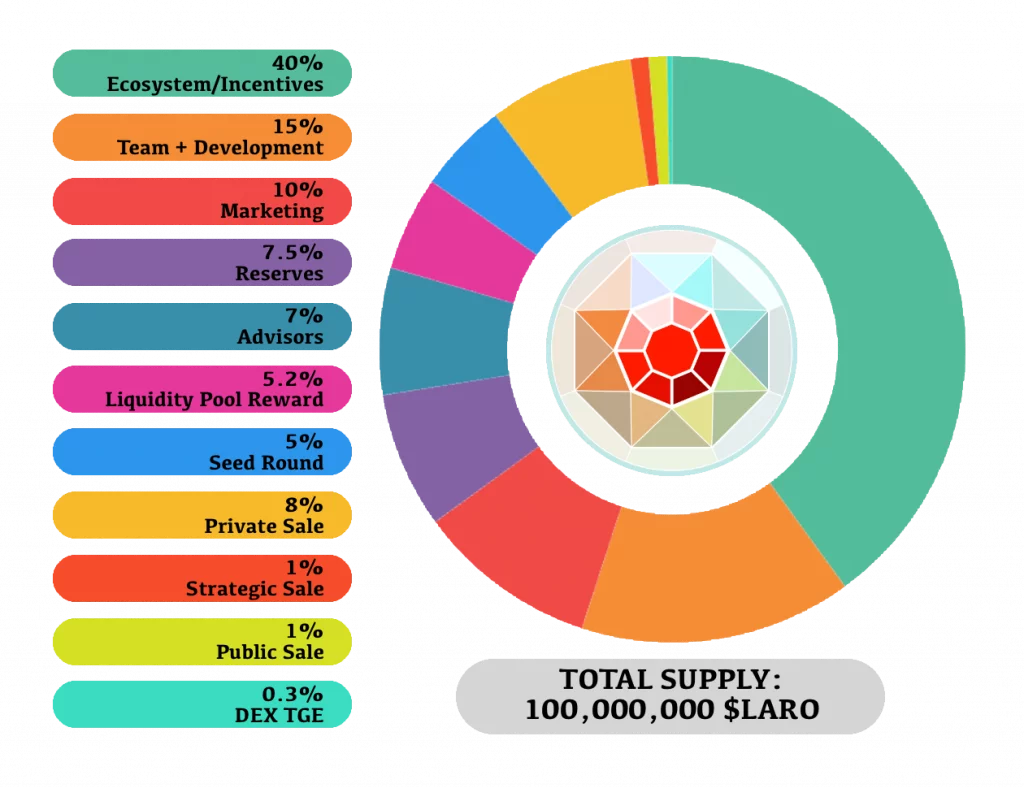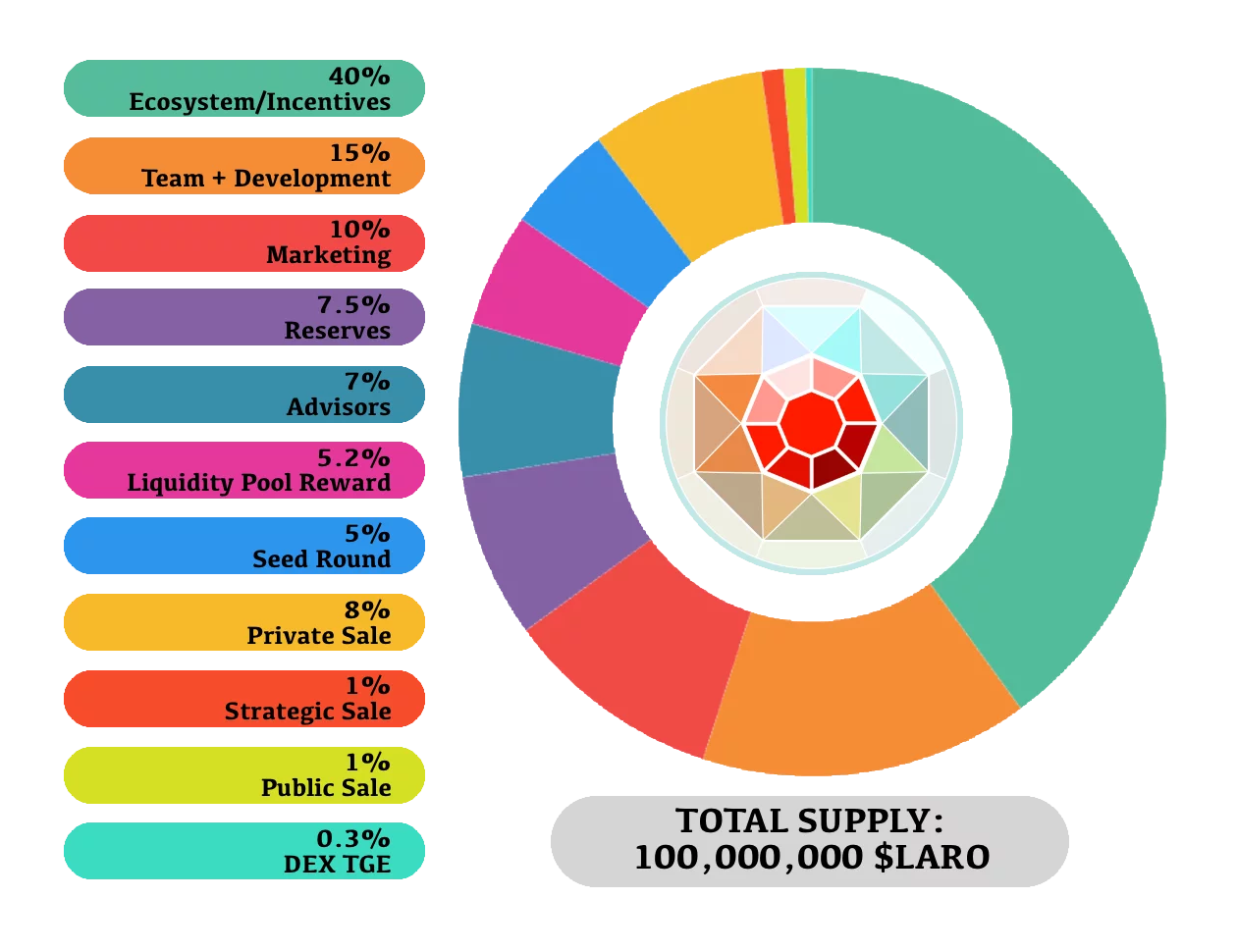 $LARO has a total supply of 100M. 40% of the total supply is allocated to Ecosystem and Incentives, 15% to team and development, 10% to marketing, 7.5 to reserves, 7% to advisors, 5.2 to liquidity pool rewards, 5% to seed round, 8% to private sale, 1 % to strategic sale, and 0.3% to DEX Token Generation Event.
PERLAS is another in-game currency that can be used for crafting items to improve your Anitos. You can acquire PERLAS by playing the Tower and Arena Mode.
How does play-to-earn work in Anitos Legends?
Anito Legends' play-to-earn feature is still in development. You will be able to swap $GINTO for real-world currency in the future. To withdraw $GINTO to your wallet, you will need to purchase "Anting-anting", a cash-out item. Note that the amount of $GINTO is dependent on player level.
The team intends to list $GINTO on a decentralized exchange alongside a stable coin pair. We will keep you informed about the development of Anito Legends.
Do you find Anito Legends interesting? Connect to their community by joining their Discord and Telegram and start playing this fun Filipino game.