The Undead Blocks Rental Portal is LIVE!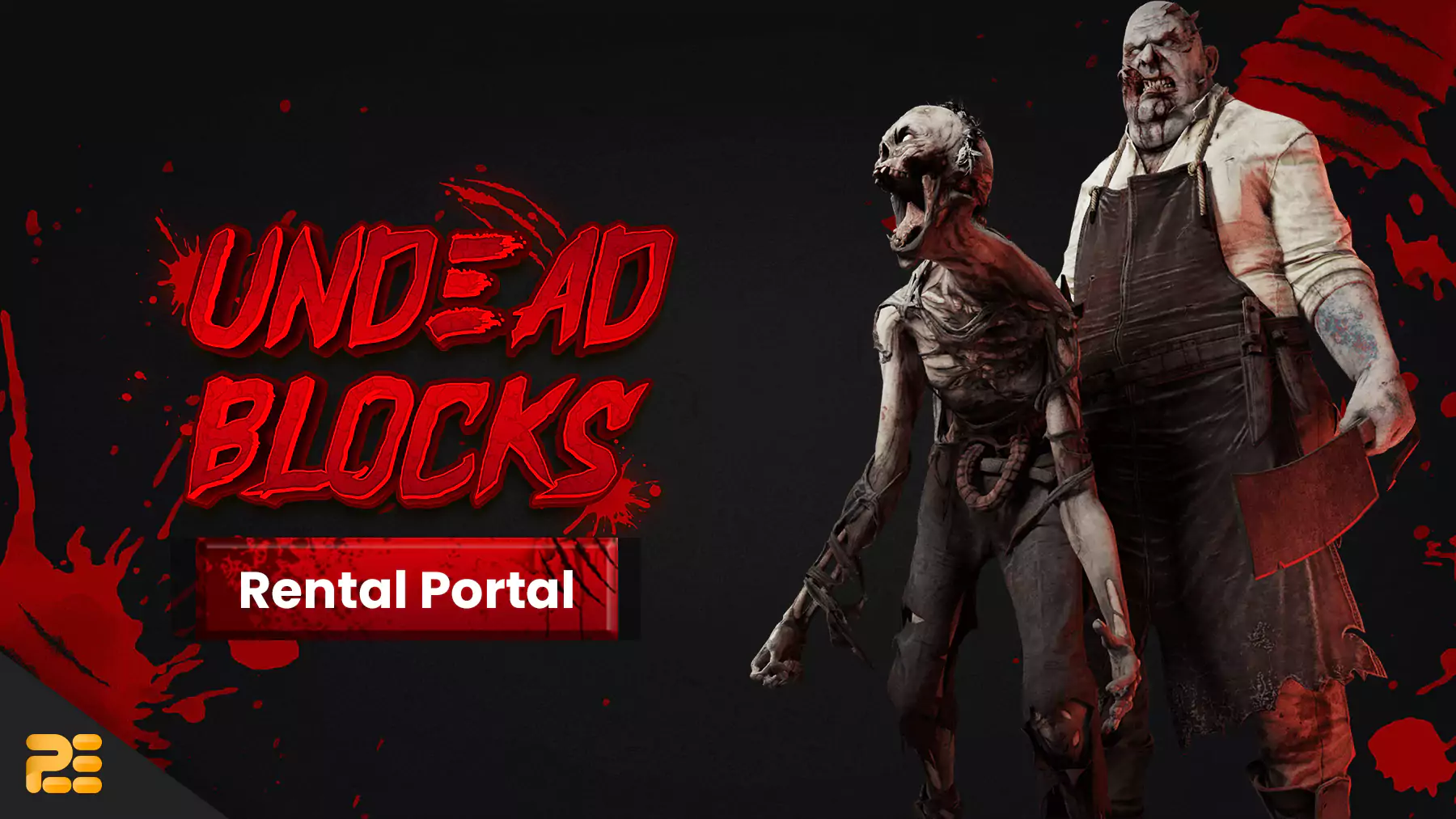 The Undead Blocks Rental Portal is now Live. This feature was highly anticipated by the community and offers a way to rent any NFT Weapon Pack in Undead Blocks! If you're a holder you can now rent your NFTs for passive income. If you're one of the Undead Blocks aspiring scholars you can now access the VIP Game mode and earn without spending a single dollar. Besides this, the team also did a few changes to the game making Undead Blocks more challenging than ever!
Renting weapons is now LIVE within the Undead Blocks ecosystem! 🔫

Head over to https://t.co/nPDaYJxr21 – choose an available Genesis or Apocalypse Weapon NFT and join the fight for Gold ZBUX in VIP Solo mode! 🎮@BluMint_

Play to earn is $UNDEAD 🧟‍♀️🧟‍♂️🧟 pic.twitter.com/luSUxVwbTp

— Undead Blocks (@UndeadBlocks) March 16, 2023
The Undead Blocks Rental Portal
After a successful soft launch, Undead Blocks has now officially released its rental portal. This new feature is powered by the cutting-edge BluMint Lending Protocol and promises to take gameplay to the next level. With the rental portal, players can now rent NFTs and gain access to the exclusive VIP mode, providing a new and exciting way to earn and take on even more challenging gameplay.
Updates to the Game Algorithm
In addition to the rental portal, Undead Blocks has also made some exciting updates to the game algorithm, which include removing low-end Gold ZBUX drops and increasing the rarity of ZBoxes. Zombies will drop fewer ZBoxes, but the rewards are going to be higher. Players can expect to see a minimum amount of 10 Gold ZBUX ($1) being dropped, providing a stable reward currency that can be used in-game or swapped for any other cryptocurrency.
A More Challenging Gameplay
Undead Blocks has always been known for its exciting and challenging gameplay, but with the latest updates, players can expect an even tougher challenge!
The Granny Zombie
One of the most significant changes is the introduction of a new zombie, the Granny zombie. This is a variant of the spear zombie that was previously used as a placeholder. This zombie poses a significant challenge due to its long-range melee weapon, which allows it to hit players with ease!
Although this scary Granny inflicts less damage than some of the other zombies, players must remain vigilant of its speed. The Granny zombie's ability to attack from a distance and its quick movements make it a formidable opponent.
Shortened Waves and Faster Attacks
Additionally, the Undead Blocks team has also shortened the waves of zombies making it difficult for players to keep up. To add to the challenge, the zombies attack faster, giving players less time to react and defend themselves.
Here are some additional changes:
End Match grants rewards. In the event of any potential issues, ending the match will now take players to the end screen instead of the lobby. This means that players can collect their earnings as they normally would.
Dr. Helper now has a cooldown period before it can be used again. The vending machine will display the remaining time until the perk is available once more.
The health scaling for zombies has been lowered, resulting in shorter rounds. Additionally, zombie attack hitboxes have been adjusted to cover their diagonals and sides more effectively. Finally, zombie hit detection has been improved.
How to Rent an Item on BluMint?
1. Sign in on your BluMint account on BluMint.com Important!
You need to connect your wallet in order to rent.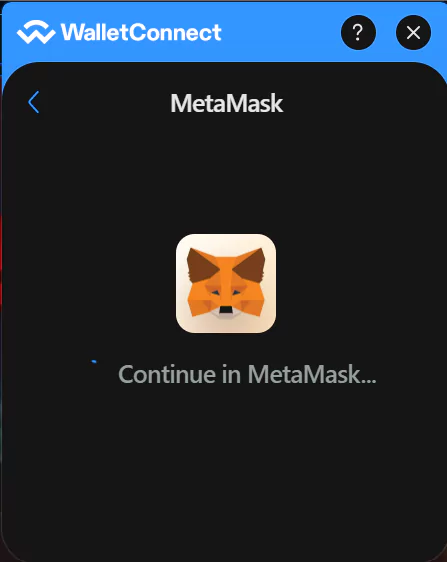 2. Scroll down to Weapons and click "Rent" to filter the items which are available for rent.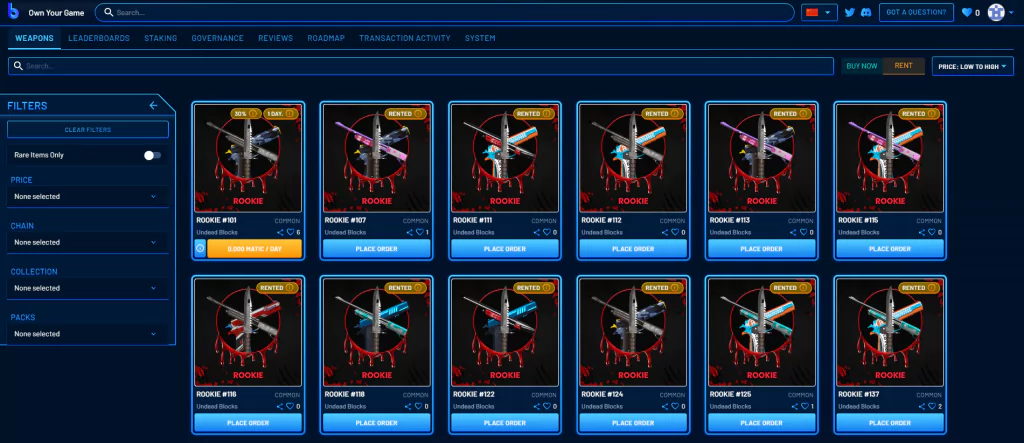 3. Choose the item you want to rent and click "Rent". You will be asked to choose how many days you want to rent the item. Once you have set the desired duration, you may now click "Rent Now".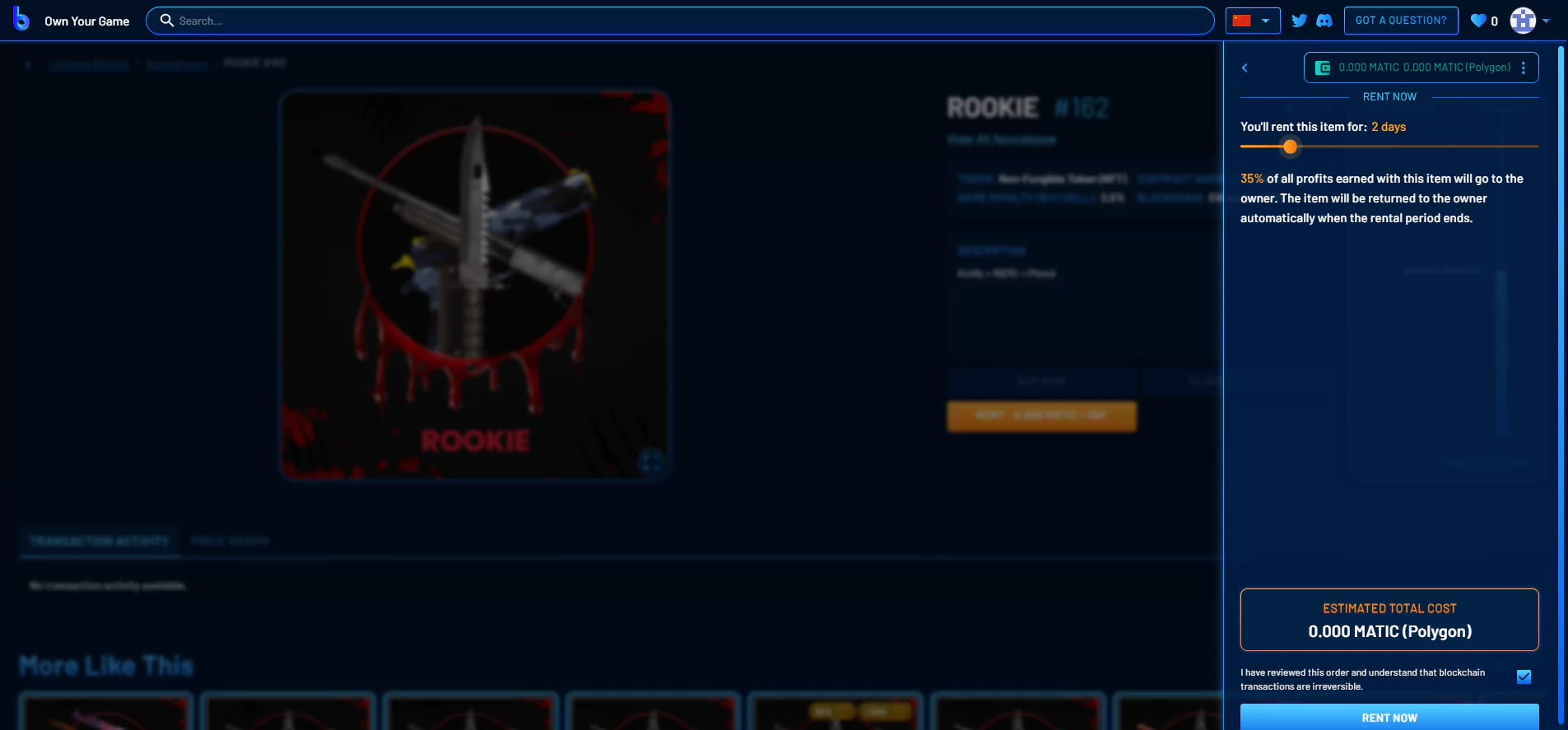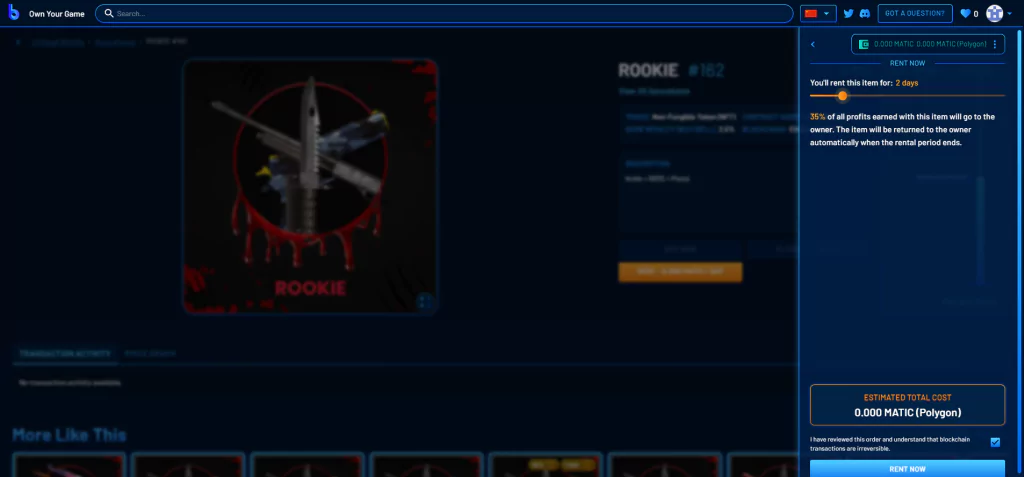 4. A confirmation will appear that you have successfully rented the item.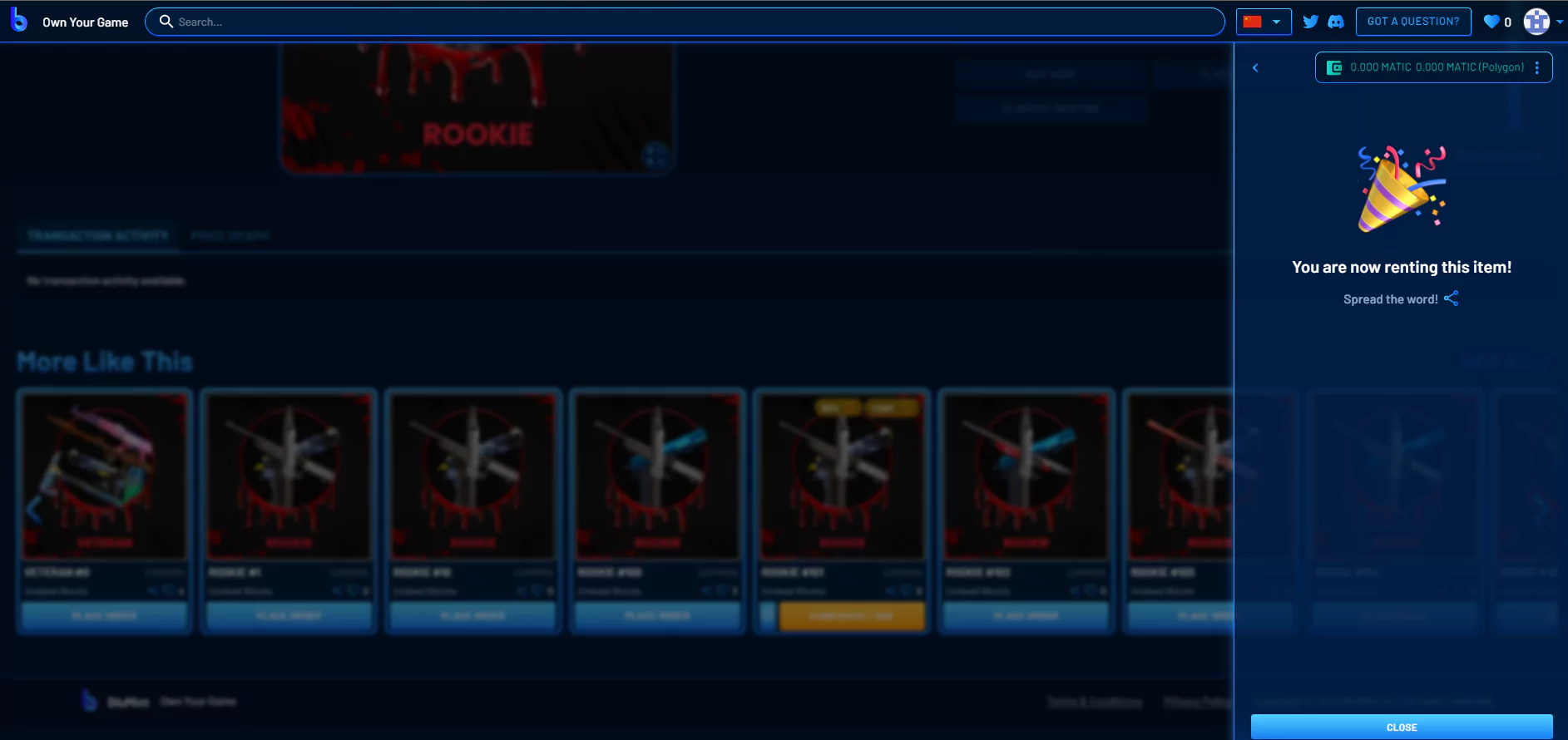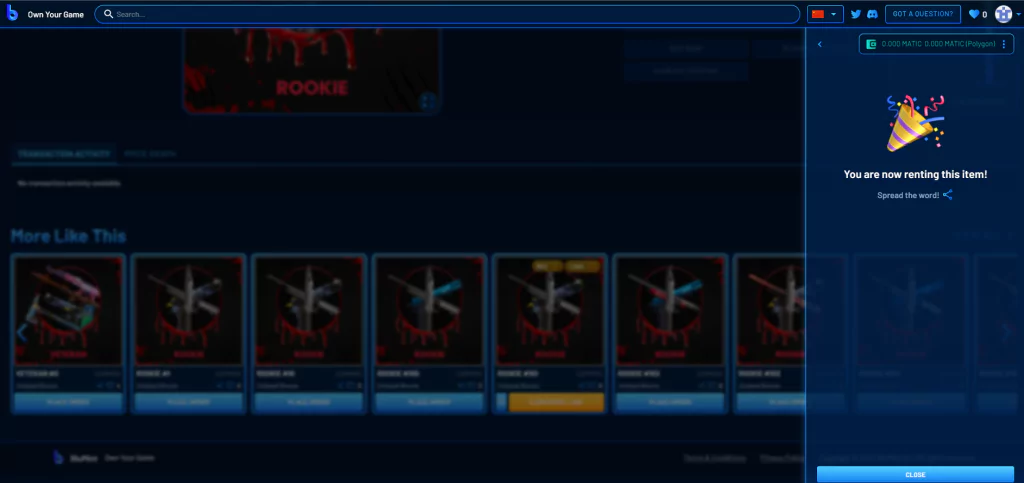 5. Start playing Undead Blocks using the item you rented! Note
If it's your first time paying UB, make sure to download the game client on BluMint. Click "Play Game" and follow the prompts. Then, create an account on Wagyu.io. Launch the game and start playing.

Your Wagyu account should be connected to your wallet that you rented the NFT with. When you go in the Armory section in the game you should see the skins that came with the weapon.
These changes are designed to make the gameplay even more exciting and intense. Players will need to think on their feet, strategize their attacks, and use their weapons wisely to survive. With the right tactics and skill, players can still earn rewards and progress through the game, but it won't be easy.
So get your scholars ready! If you don't own an NFT Weapon Pack you still can experience the thrill of the VIP mode thanks to the Rental Portal. Join the revolution and start playing today!