The Pegaxy Experience: A Bird's Eye View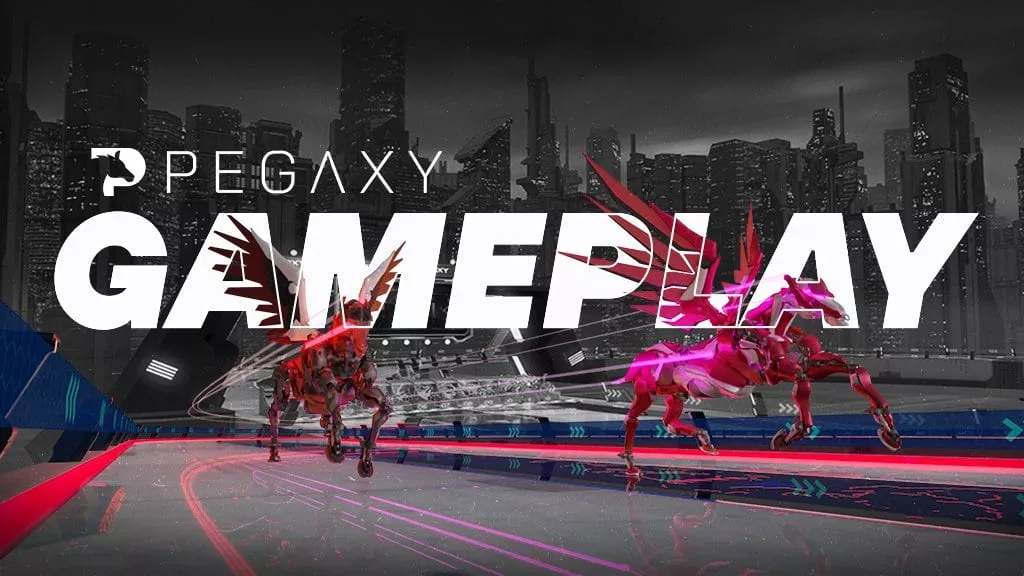 If you're wondering what the Pegaxy experience looks like, then this one's for you! Pegaxy is a play-to-earn blockchain game quickly rising in popularity. With a thriving community and an innovative scholar-focussed model, the game has been making some noise in the P2E and NFT gaming space. Here, we will talk about Pegas and will give you a general overview of the Pegaxy experience.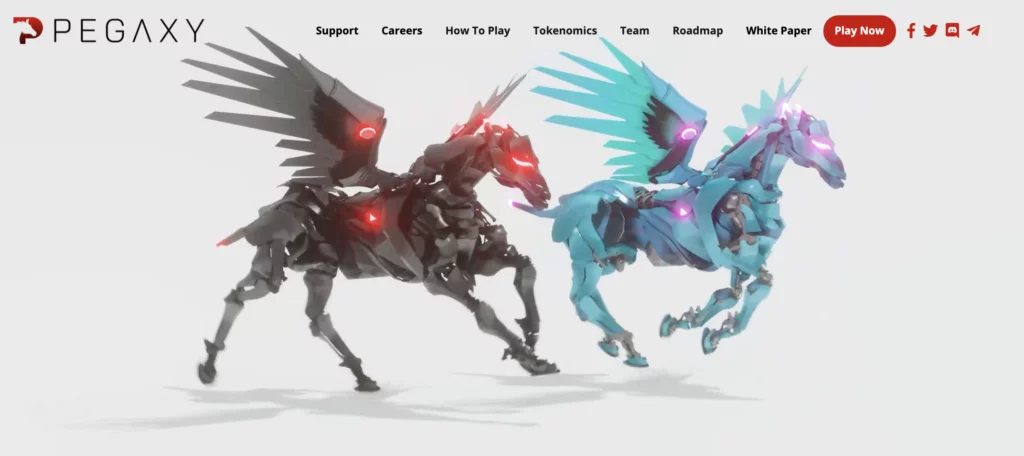 To start with, you have to be either an owner of a Pega (that's the name of the horse in this metaverse) or a renter/scholar to be able to play the game. This means you have to go through the usual rituals of connecting your Metamask wallet with the Polygon website, getting a Polygon address (to allow you to access your assets), and connecting your Metamask wallet with the actual Pegaxy website. Once set up, you're finally able to start playing and earning!
The Type of Pegas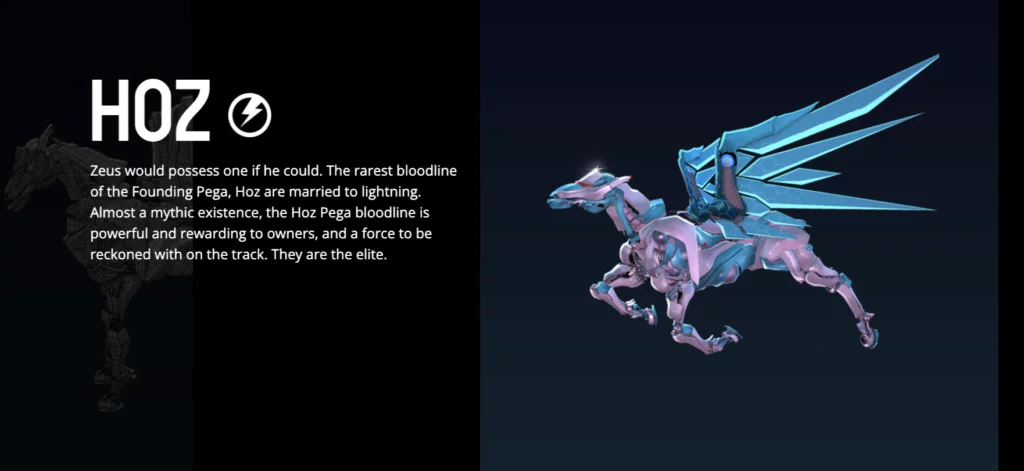 There are five tiers of Pegas in-game when it comes to their quality: Founding (refers to the first 5000 horses), Legendary, Epic, Rare, and Pacer. Meanwhile, there are four bloodlines of Pegas as far as basic rarity is concerned: Hoz (the rarest bloodline), Campona, Klin, and Zan (the most common bloodline).
Also, there's a fifth class of Pegas called "Crowned Pegas." Players have the chance of attaining them by using 5 Fabled Tokens (which could only be gained at the beginning of Pegasus Galaxy's history). However, the Fabled Tokens do not guarantee a Crowned Pega – only a possibility of it. There are different crown tiers, with "Penta Crowned" Pegas being the rarest (0.02% chance). As such, they are known to be "God" among all the Pegas out there.
Pegaxy has a relatively high entry barrier for owners. Buying the lowest-priced Pega inside the marketplace would cost around ~$1,100 USDT (~P55,000+) at the moment. The lowest-priced Founding Pega is at ~$3,000 USDT (~P150,000+). Still, considering the current track of the game and its potential future, one could surely consider getting a Pega. Especially if the player believes in the project and is an overall fan of horse racing!
Get Started and Connect!
Head to the Pegaxy website here and click the "Play Now" button. From there, you'll be redirected to a new tab taking you to the start of your Pegaxy gaming journey. This new website has a purplish aesthetic with a futuristic vibe.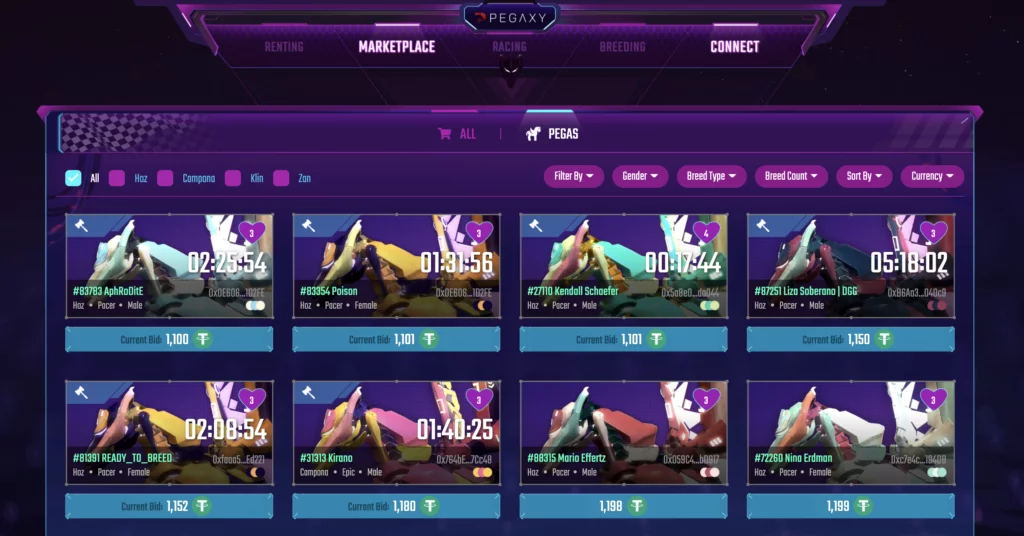 Here, you'll come across five main tabs:

Renting: where you can rent Pegas for a fee or a share of the profits.

Marketplace: where you buy, sell and bid on Pegas.

Racing: the main game where you play your automated races.

Breeding (as is), and; 

My Assets: which is your inventory of rented/owned Pegas.
The Pegaxy Experience
Each player starts with 25 energy, which allows the player to do at least 25 races on a single day. When you play, you are automatically placed into a matchmaking pool where you play with similar Pegas in your Class. Track distances may vary. At times, the track length was 3500 meters. Other times, it was 4000 meters.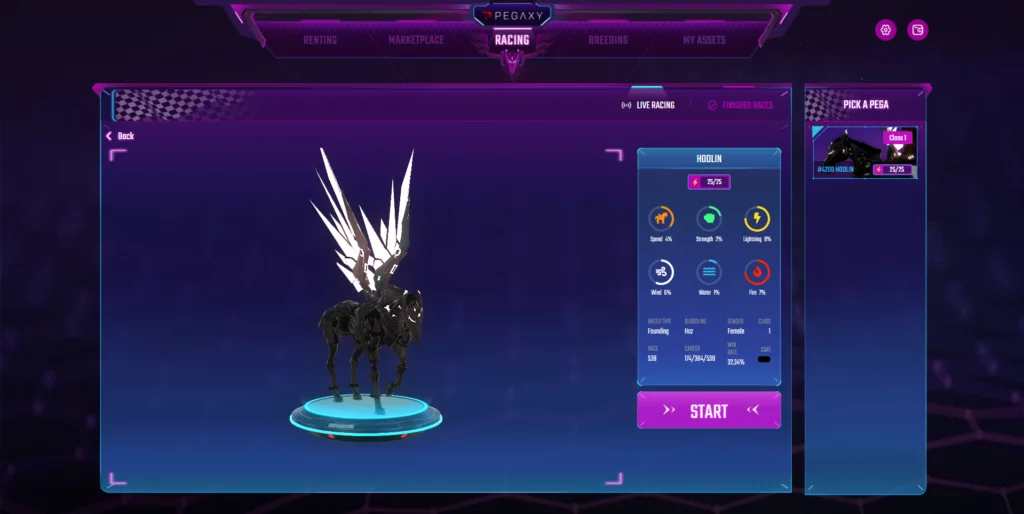 A complex combination of RNG, Pega, track statistics, and the Pega's own alignment with track attributes determines the race outcome. And no track is the same in Pegaxy! This allows players a fair chance at placing in the top three.
Generally, there's a lot of jostling in the first half of the round before the Pegas settle into their final positions. Based on my gameplay, it's extremely rare for the top three podium takers to switch positions towards the end.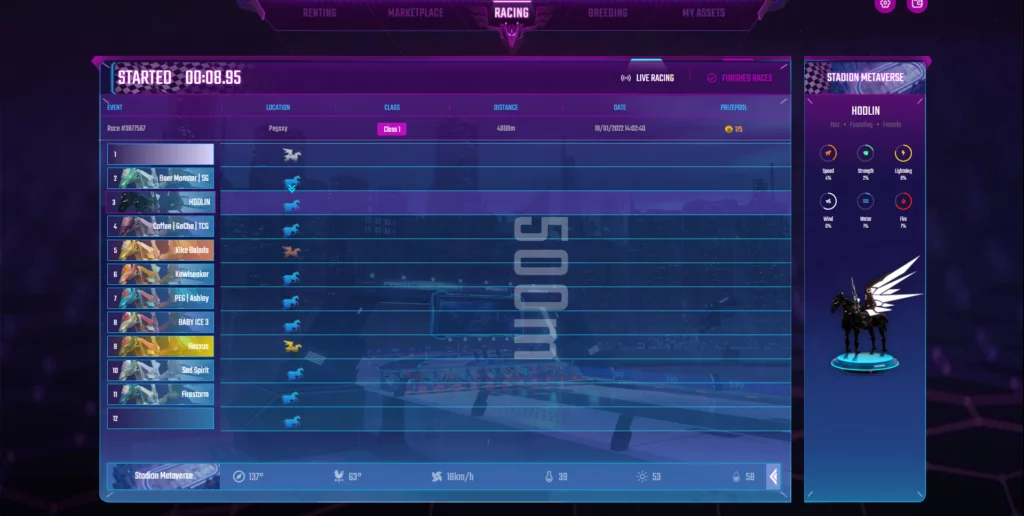 In less than an hour of playing, I won seven out of twenty-five times with six 2nd place finishes and one 3rd place finish, gaining a total of 290 VIS (Vigorus; ~$29/P1450 at the time of writing) in the process. Upon checking the profits table, it says that "You can claim VIS after XX days."
The experience was seamless for the most part! There was only one instance where I had to wait a little longer than 10 seconds for a match. Each round lasts about a minute, and you can follow along with the stats and current race status. As a gamer, it felt really laid back.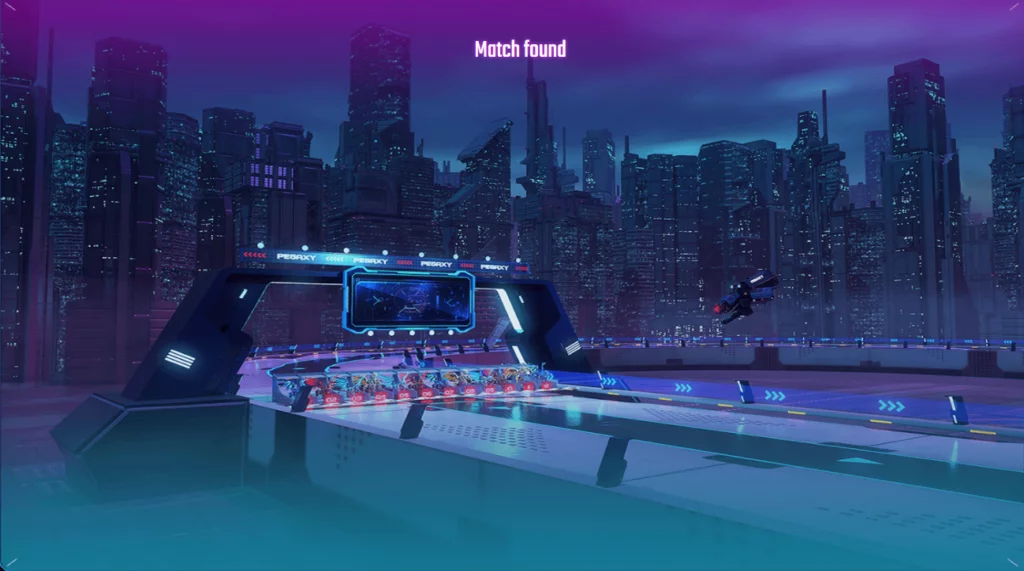 Future Developments
According to the whitepaper, the Pegaxy will soon release 3D racing. In addition to this, they will eventually migrate away from being an auto-racer to more traditional/manual skill-based game. This means that players will be required to manually control their Pega during a race!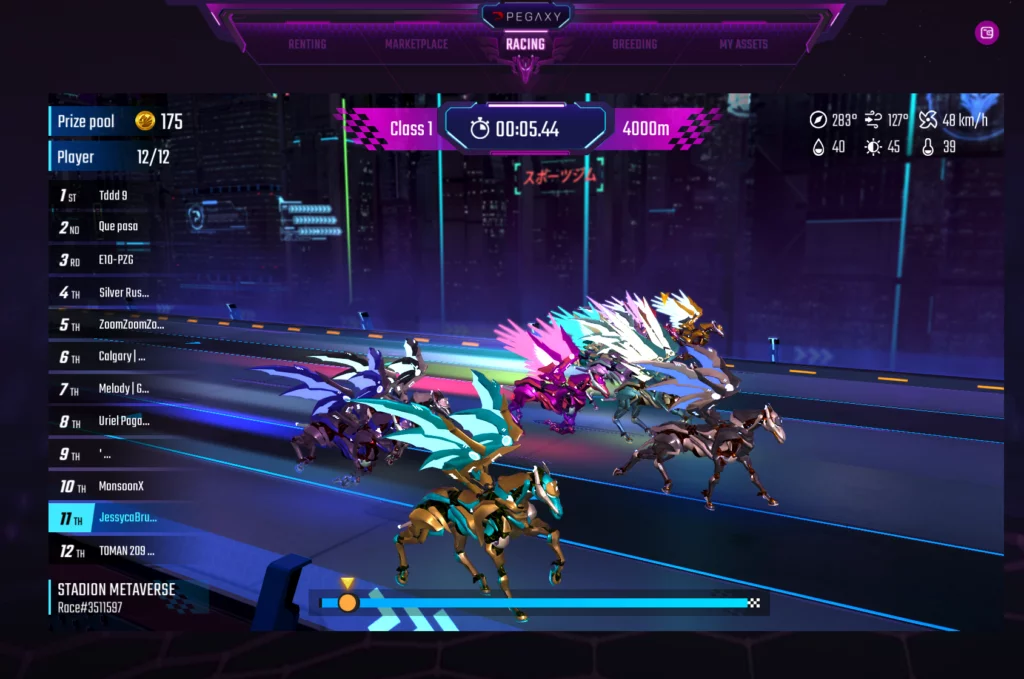 What Are Your Thoughts?
Pegaxy Galaxy is a very intuitive game to play. Get, rent or share a Pega, race on the track, and hope that you win a couple of podium positions along the way! 
Overall, Pegaxy is a relaxing way to play a play-to-earn game. And the earning potential is certainly there for scholars and managers alike! If you are interested in racing horses in the "digital space of the future," then this is a game that you should definitely play!
__________
DISCLAIMER: None of the writings on the website constitute financial advice: P2E News is intended to be a P2E gaming news and updates portal, discussion hub and content/opinion/review aggregator. Please do your own research before investing in any NFT/P2E game out there. Better yet, consult someone within the profession to form an informed stance on your possible investments. For more leaks, news, and tutorials, always check in at P2ENews.com and follow us on social media.