Pegaxy Skill-Based Closed Alpha is Coming Soon!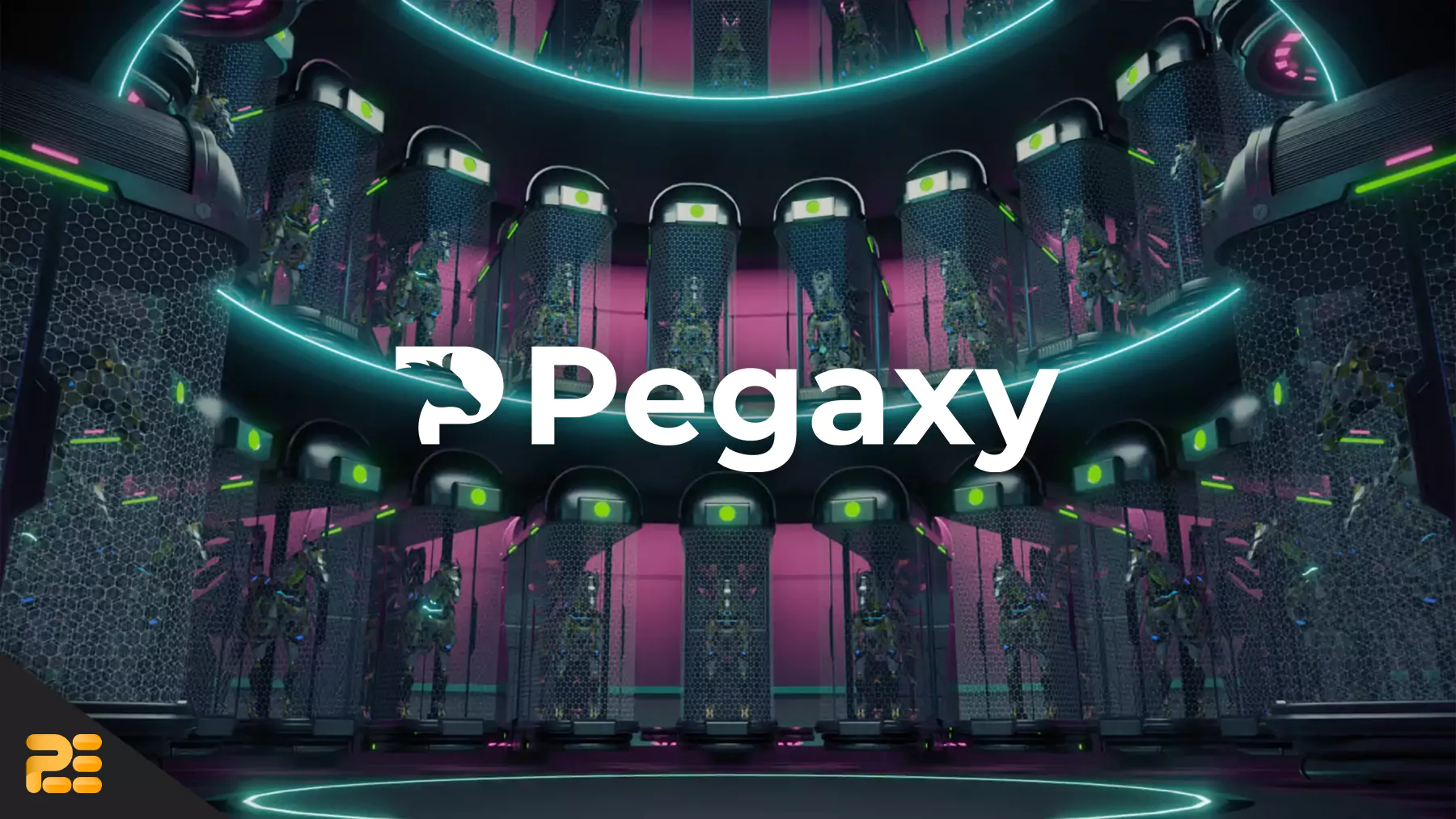 Pegaxy announced the release of their closed skill-based alpha in its previous Pega Insider 9. Said closed alpha is set to launch in the 2nd week of May 2023! Let's take a look at what is in store.
A Recap of the Current Status of Pegaxy
Pegaxy made a bold move in January by redirecting all its resources toward the development of its next stage: skill-based closed alpha. They sunsetted their current 2D/3D gameplay, including Racing Web & Mobile, Ares, Stable Management, Change Name of Pega, and more.
It's time to transition to a new level of gameplay and provide a more rewarding experience for players.🔥

We've been working hard on developing our mobile player-controlled 3D gaming and are thrilled to unveil this new exciting gameplay to the community soon 🎮 pic.twitter.com/I1AulkPo4I

— Pegaxy (@PegaxyOfficial) January 5, 2023
Some features like Breeding, Renting, Fusing, Token Swaps, Crafting & Items, Crowning of Pega, and Converting Silver VIS to Gold VIS are accessible but not usable. On the other hand, the Marketplace, Themis, Apollo, and My Assets remain accessible and usable.
Pegaxy Skill-Based Closed Alpha
The skill-based alpha will be available only to 100 selected alpha testers. The team will be selecting 80 closed alpha testers randomly from applicants, and choose another 20 testers randomly from the giveaway that will happen in the next coming days.
Players are encouraged to submit their details on this Google form to apply as an alpha tester.
Wondering what will be new in the game? We'll walk you through each of them!
Gameplay Changes and Features
1. Pre-Race Preparation
New players will receive one free locked Pega to compete with other players on a specified track. Players can select one of the modes offered on Pegaxy, match with players of their trophy points, and wait for the lobby to fill before the race begins. Note
The game modes are yet to be announced by the Pegaxy team.
2. Skill-Based Pega Racing
When racing, players must use their skills to activate unique Pega abilities to win against other racers. The final position of a player's Pega determines whether their trophies increase or decrease.
So, what skills are they talking about?
Players can use the "Nitro system" to accelerate their movement. The effectiveness of this skill is influenced by the rarity of the Pega and the skill's upgrade level. So far, this is the only skill that the team has mentioned.
3. Level-Up Pega
To upgrade a Pega and its skills, players will need the following:
VIS (Silver)
Pega Fragments (Part)
Skill Fragments (Card)
Another Pega
4. Pega Fusion
To enhance Pega's attributes and level, players must use VIS (Silver) and Pega Fragments. At level-up, Pega's base stats, including Main Stats and Sub-Stats, increase by 5%.
There's also a new feature called "Awaken", wherein upgrades will be made possible after reaching levels 10, 20, 30, and 40 by fusing two or more Pega together. Only Pega (Locked) can be fused with another Pega (Locked), and Pega NFTs can only be fused with other Pega NFTs.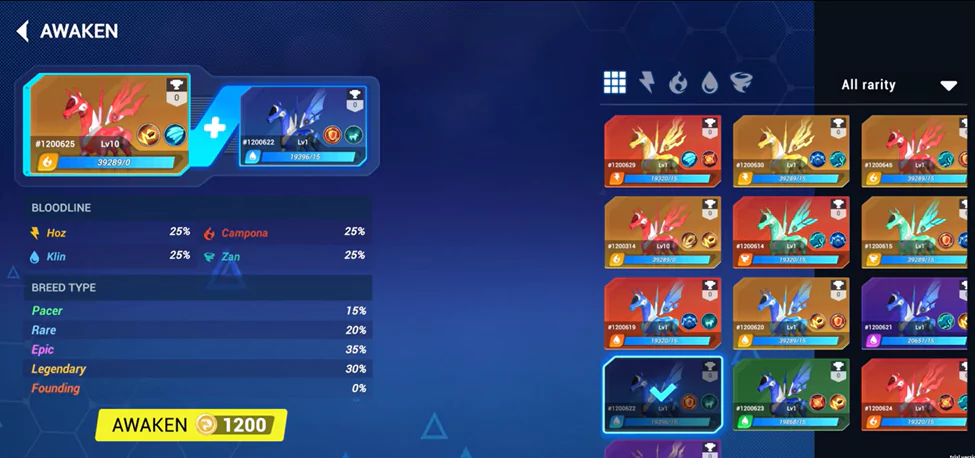 If fusing Pega with different Trophies, the Trophies of the Pega with higher points are taken. After the fusion process, one Pega will serve as the base and retain its level, while the other Pega will be lost in the process.
5. Pega Swap
With the upcoming revamp of the skill-based gameplay, swapping your old Pega is necessary. There are two ways to do so:
Utilize VIS (Silver) and an existing (old) Pega of the same rarity and bloodline to acquire a new Pega.
Swap your items or old Pega for points that can be redeemed for chests. Note
The term 'Old Pega' refers to the latest version of the Pega. Old Pegas will no longer be raceable in the skill-based gameplay.
6. Chest
Chest is a great way to bring additional excitement to a game. In Pegaxy, chests will include the chance to obtain:
Pega Fragments (Part)
Skill Fragments (Card)
Pega Skin
7. Pega Skins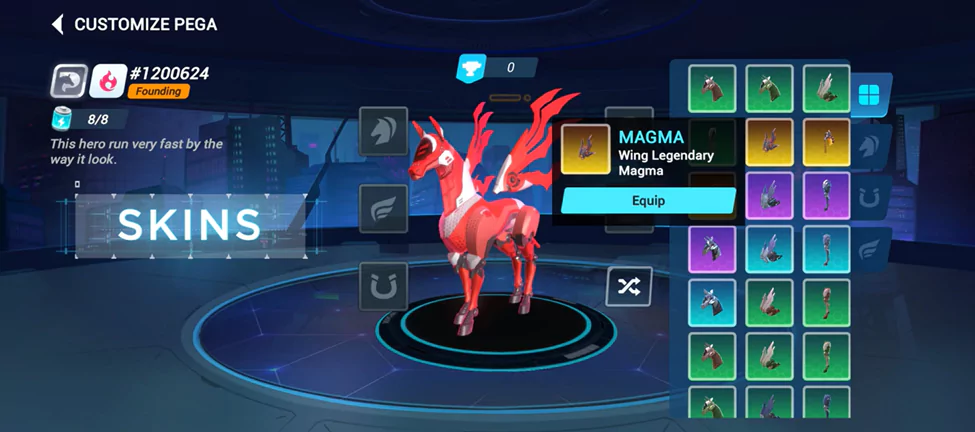 Pega Skins are a fun way to improve your Pega's appearance. You can use various cosmetic items to make your Pega look unique. There are three slots available for equipping skins:
Head
Wing
Leg Armor
In the future, there may be more slots for skins such as body Armor or Tails.
8. Items
Players can pick up items during the race contained in mysterious crates and use them to have a beneficial impact on their own Pega or a detrimental impact on other players' Pega. The pace at which items arrive on the track changes based on the lap number of the leading Pega. Note
We currently do not have information on what these items are. We will keep you updated as we receive more details.
9. Race Rules
Here are the rules that the team enumerated to establish a fair race for all Pega:
Race Start

All Pegas start at the same time from a single starting line when the countdown reaches "3, 2, 1, GO!"

Race Finish

A Pega that completes three laps and crosses the finish line is considered to have finished the race.
The finishing Pega's position and time are immediately updated and displayed.
The camera shows the Pegas in order of their positions.
After a 3-second delay, the player proceeds to the result screen to collect their rewards.
Upon receiving the rewards, the player returns to the main menu.

Disconnection Cases

If a player disconnects during the start of the race, they can still reconnect and participate, but their Pega will be placed at the starting line.
If a player disconnects during the race, their Pega will remain in the race and be affected by other game elements.
If a player disconnects after crossing the finish line but before seeing the position notification or reward screens, they can still reconnect and claim their rewards on the result screen before returning to the main menu.
10. Pega Stats
Stats are values that measure Pega's performance and skills.
The following are the 3 main stats that assess a range of race-specific qualities:
Speed – The higher the stat, the higher the maximum speed.
Acceleration – The shorter the acceleration time from 0 to maximum speed, the higher the corresponding stat.
Turn – Having a higher stat in turn speed gives an advantage in races with tight turns, allowing for quicker and more efficient navigation around corners.
On the other hand, the following are the sub-stats that affect the time when using items:
Fire – This stat increases the duration of speed-boosting items obtained during the race.
Water – Shorten enemy slowdown duration, lengthen own slowdown duration.
Lightning – This skill decreases the duration of being stunned for the player and increases the duration of stunned opponents.
Wind – Running behind another Pega increases the maximum speed value.
11. Matchmaking and Trophies
Matchmaking System
The matchmaking system will find players with similar Trophy levels and put them in the same room. If the system can't find a match, it will widen the Trophy range to make it easier to find players. If you can't find enough players, you can cancel the matchmaking process. Once the countdown is complete, the game will load, and you can start racing.
Trophy Points
Your Trophy Points determine your rating and each Pega has its own Trophies. Your Total Trophies are the sum of all the Trophies of the Pega you own. If you transfer a Pega to another player, you lose its Trophies which can cause a reduction in your ranking on the leaderboard. If a Pega is transferred, its Trophies will be reset to 0.
Elo Progression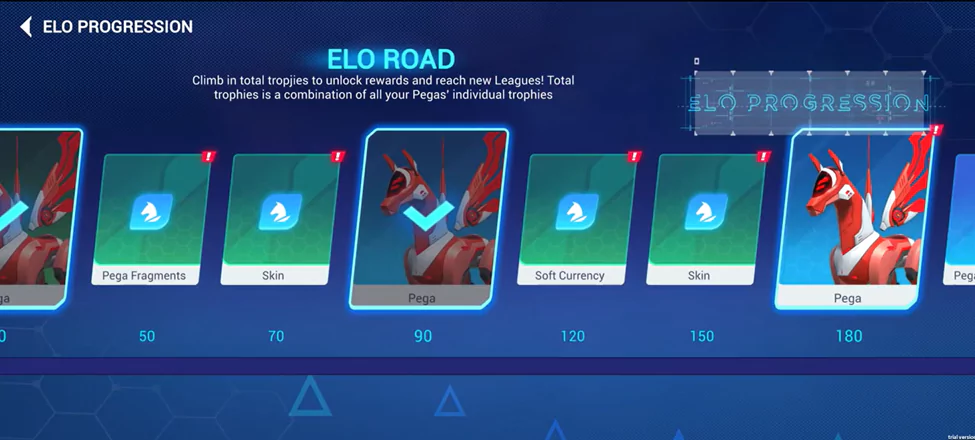 Elo Progression is a system that lets you earn new Pega items and rewards based on the number of Trophies you accumulate. As you hit certain milestones, such as achieving a specific number of Trophies, you'll unlock untradeable items such as:
Pega Fragments
Skill Fragments
VIS (Silver)
Pega Note
These untradeable items are not NFTs. You can use it in-game but you cannot sell it in the market.
Once you unlock a reward, it remains available, even if you lose Trophies later. You will be able to access the Elo Progression menu by clicking the button in the Main Menu. So, you can be assured that any rewards you unlock will be yours to keep, regardless of your future Trophy count.
12. Updated Roadmap
Pegaxy released its 2023 updated roadmap. In the new roadmap, there are some changes from the previous version.
The Battle Pass feature, originally planned for Quarter 2, has been removed and will now be implemented in Quarter 3.
The Event that was previously planned for Quarter 2 has been replaced with Daily Tasks.
The New Bloodlines feature that was planned for Quarter 2 has been removed entirely.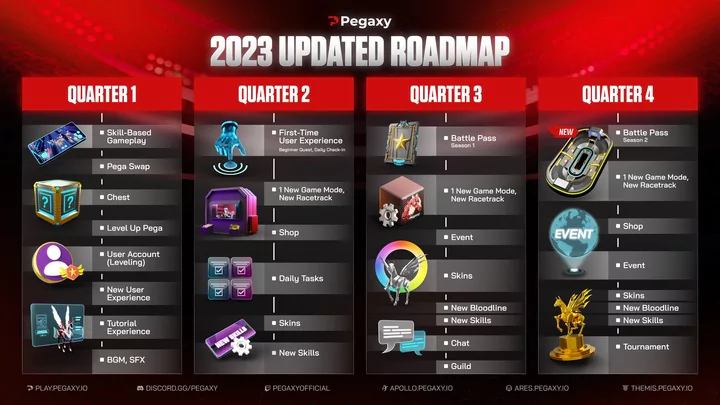 These changes show that the Pegaxy team is making adjustments to their plans and priorities, in order to provide the best possible experience for their players.
Other Important Details You Have to Know
We have compiled the answers to the FAQ from the previous Pega Insider for your convenience.
Currency Plan for V2
Pegaxy will continue to use VIS and PGX in their skill-based gameplay. Silver-locked VIS can be used to upgrade Pega and skills, while PGX can be used to buy hard currency for other in-game purchases.
No More Breeding Feature
There is no breeding feature in skill-based gameplay. However, you will be able to acquire Pegas thru chests in the future (more information will be released soon).
Retained Skills and Features
During the initial testing phase, Pegas involved will only retain their earned skills, and there will be a full reset once the game is launched for everyone to play.
Renting System and Stadium
Pegaxy may explore renting or scholar systems in the future. The team is also excited to explore the stadium feature, but they want to ensure that the game can give reasoning to ownership first.
Perks that NFT PFP holders will have in the skill-based game
PFP NFTs were a perk of having a founding Pega. Any perks that NFT PFP holders would get are likely would go to the founding Pega holders. The latter always gets the perks as how it's always been.
Future Airdrops
According to the team, there will be future airdrops and sales of items, so stay tuned for more!
Attracting Investors
Pegaxy is taking many steps to attract investors and ensure the sustainability of the game. The company recently hired a head of user acquisition to prepare for traditional marketing work. Also, the web3 strategy will start to come to fruition as the game gets closer to being playable by larger audiences. Pegaxy plans to hold exclusive items and access sales, referral bonuses, big cash rewards, leaderboards for sales events, and limited supply items.
Looking for a comprehensive and complete guide on how to play Pegaxy Skill-Based Closed Alpha? Don't worry, we got you covered! Our guide will come soon to provide you with all the information you need.