Pegaxy's Themis Christmas is Live with 50% Reduced PGX Requirements!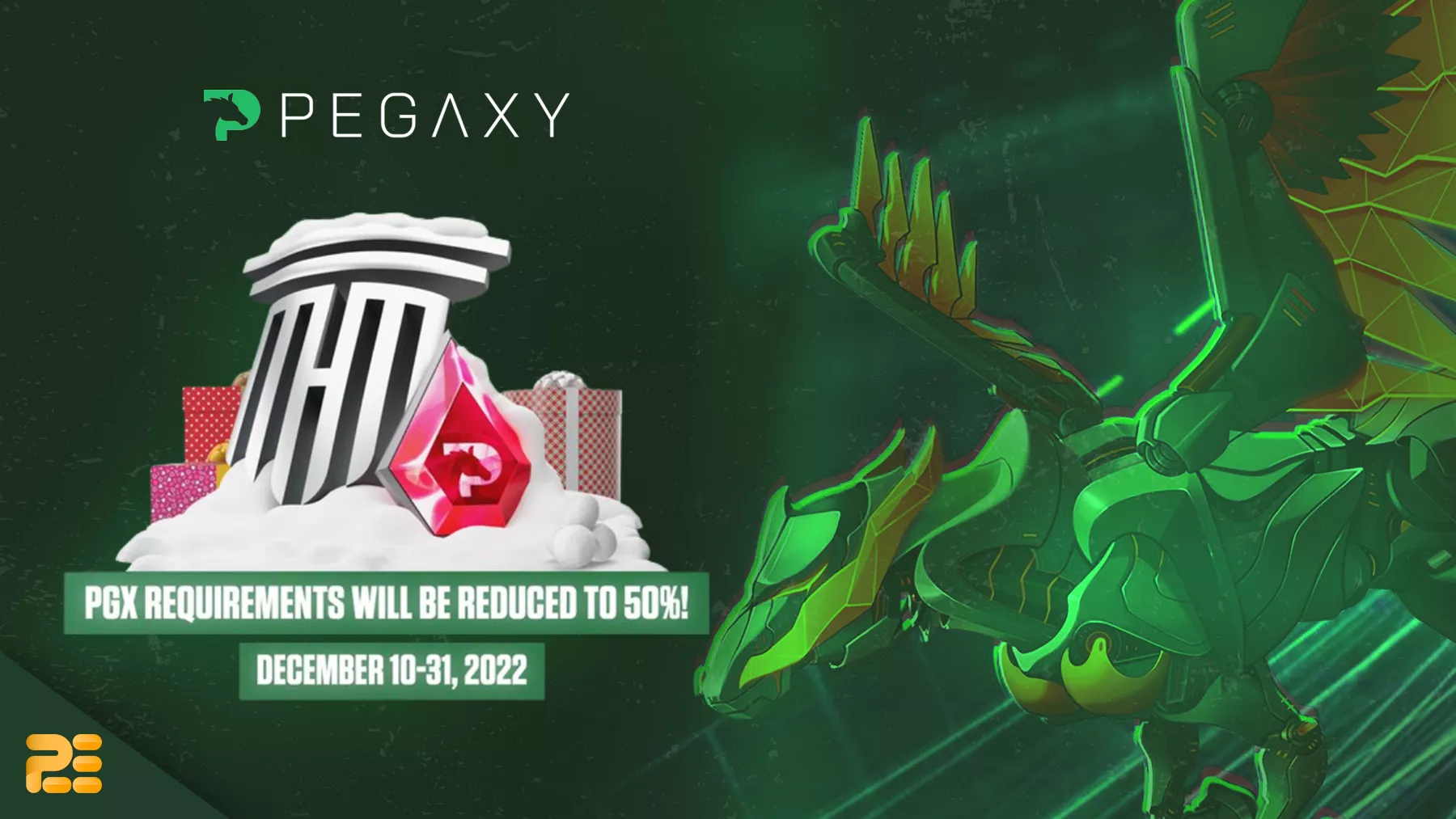 Pegaxy announced a Merry Themis Christmas event which will reduce 50% of the PGX requirements from December 10-31, 2022! Let us give you an overview of Themis as well as the details of the ongoing event.
It's gonna be a Merry Themis Christmas! 🎄✨

All PGX requirements will be reduced to 50% from December 10-31, 2022!

The following will be the temporary PGX requirements during the said dates:
1. Submit proposals: $250 worth of PGX
2. Comment: $50 worth of PGX pic.twitter.com/kWb872ixKz

— Pegaxy (@PegaxyOfficial) December 9, 2022
What is Themis?
Themis is a platform where $PGX Holders can submit suggestions for Pegaxy, comment on suggestions, and vote on the suggestions. It should be noted that community-approved suggestions don't guarantee implementation. These proposals are discussed by the team, and the team will still determine whether or not a particular community-approved suggestion is beneficial for the game and should be adopted.
Original PGX Requirements
As a Themis user, there are three (3) things or activities you can do in Themis: Submit a proposal, comment on submitted proposals, and vote. There is a corresponding PGX requirement in each activity. This means that you need to hold a specific amount of PGX to submit a proposal, comment, and vote.
Submit a proposal – $500 worth of PGX
When you submit a proposal, you will follow a pitch format consisting of a summary of the proposal, the problem you are trying to solve, the appetite, or the statement that answers the question like "If we only care enough to spend two weeks on this now, how does this specific solution look?", the solution to the problem, the rabbit holes where you provide the important aspects of the solution that should be addressed to avoid problems, and lastly the no-gos which something that must not be done relating to the concept that is worth mentioning.
Below is an example of a submitted and published proposal.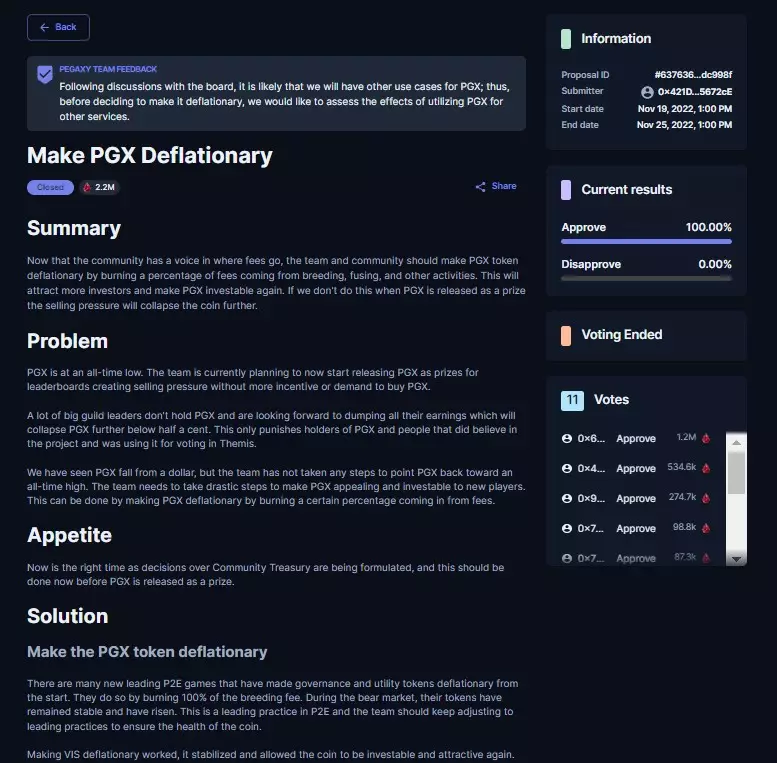 Comment – $100 worth of PGX
Below voting is an example of a comment section for the proposal "Make PGX Deflationary" as shown in the above picture.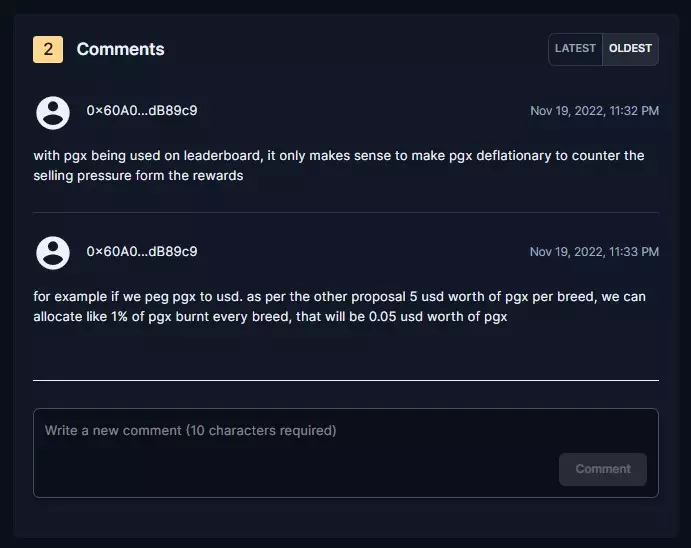 Vote – At least 1 PGX
The voting requirement is not pegged to USD unlike in submitting a proposal and commenting. With voting, you need at least 1 PGX to vote. Below is an example of votes displayed in a proposal.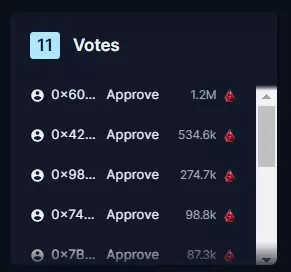 If you want more details about Themis, read here.
Temporary PGX requirements for the duration of Themis Christmas event
During the duration of the Themis Christmas event, the PGX requirements for submitting proposals and posting comments are reduced to 50%. This means, the temporary PGX requirements from December 10-31, 2022 will be as follows:
Submit a proposal – $250 worth of PGX
Comment – $50 worth of PGX.
Vote – The voting requirement remains the same. You still need at least 1 PGX to vote. Important!
For new Themis users, please note that you are required to hold these amounts of PGX to be able to perform the said activities. The PGX will not go anywhere, it will still be in your wallet!
It's indeed a Merry Themis Christmas! Will Pegaxy receive the next biggest concept for the game? We will all see! Themis is proof that the Pegaxy team values the input and the voice of the community.
If you've been lacking PGX, this is your chance to utilize Themis for a lower PGX requirement! Make sure to prepare your best ideas for the game. Avoid spamming, Themis is moderated and spam is deleted.
Aside from this Themis event, Pegaxy has prepared another Christmas event for everyone! This is called the Christmas Hangout! Want to join? Read more details here.