Axie DoLL: A Rogue-lite Survival Game in Axie Infinity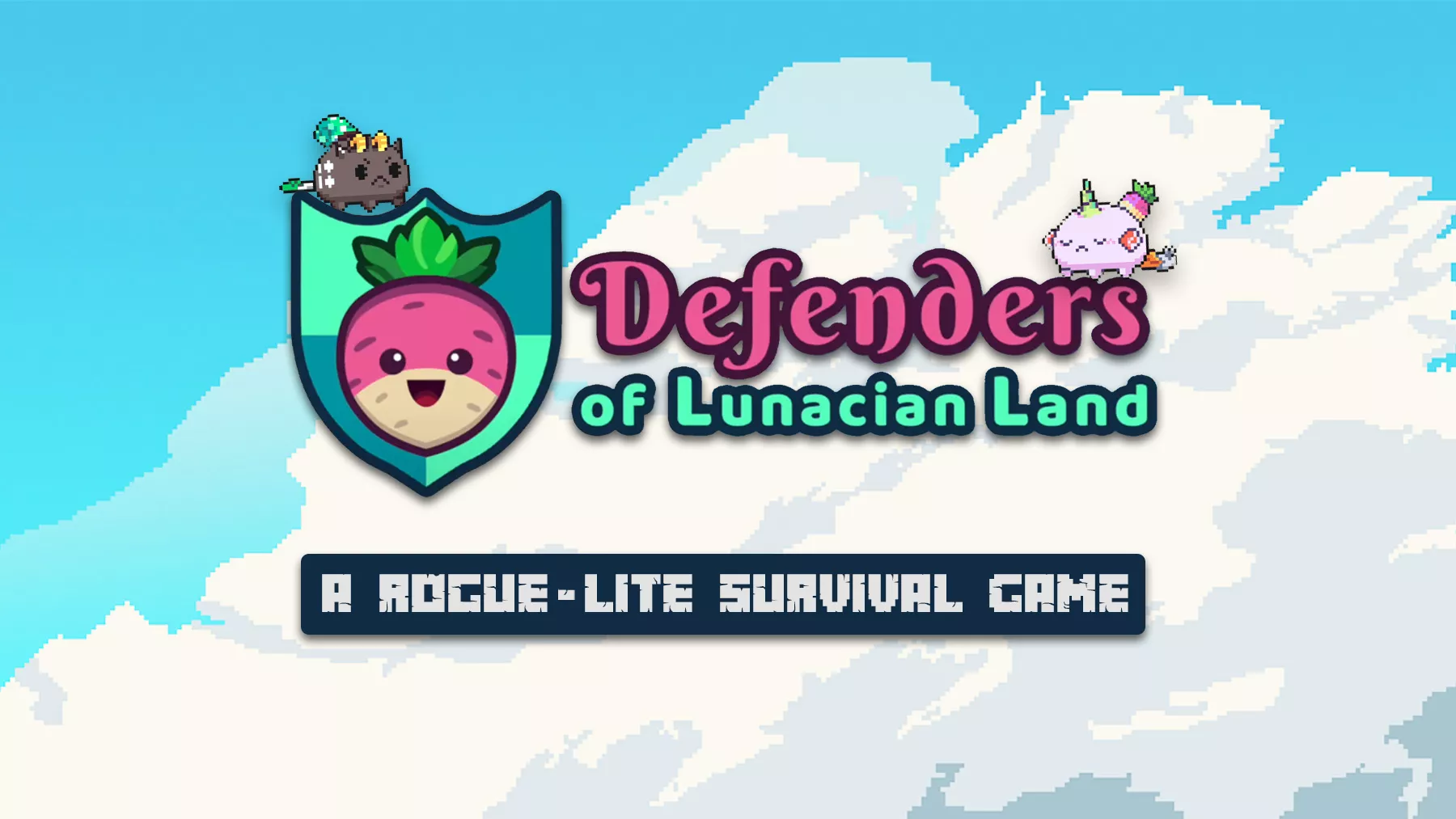 The world of Axie Infinity is continuously expanding through the Builders Program which features infinite possibilities in game studio partnerships and various game genre building in the game's universe. Among the recent additions to the Builders Program is Defenders of Lunacian Land or simply Axie DoLL.
Axie DoLL continues to deliver game updates and maintain community engagement through various social media platforms such as Twitter and Discord. But what exactly is Axie DoLL? And how can it diversify the world of Axie Infinity?
What is Axie DoLL?
Axie DoLL is a survival action game that will surely excite players and challenge the peaks of their abilities. In the game, players will be tasked to defend themselves against hordes of monsters in the Axie Infinity universe.
Axie DoLL is a game from the Axie Builders Program. It is based from the collection of the addicting traditional game genre of action and survival games with rogue-lite elements such as Vampire Survivors, Magic Survival, and Survival.io. If you have played and enjoyed any of these games in the past or still like playing them now, surely you will love playing Axie DoLL!
The core component of Axie DoLL would be the competition among its community. This is shown in the fact that even during the early stages of the game's development, there is already an existing leaderboard that players can climb through!
Of course, the game will have play-to-earn features and this will be done through leaderboard rewards through the Ronin blockchain.
The game will also feature SLP burning mechanisms through a leveling up system which will use SLP in exchange for upgrading the skill level of your favorites Axies' skills. To know more about the game's current SLP integration system, kindly view their designated litepaper section here.
Players will also witness a new system wherein Axie classes and body types will matter a lot more! In the game, the existing Axie classes and body types will differ in terms of Health Points, Move Speed, Recovery, and Armor. For the specifics, kindly refer to the tables below.
| | | | | |
| --- | --- | --- | --- | --- |
| Class | HP | Move Speed | Recovery | Armor |
| Bird | 75 | +30% | 0 | 0 |
| Bug | 90 | +20% | 0 | 0 |
| Aqua | 105 | +10% | 0 | 0 |
| Beast | 135 | -10% | 0 | 0 |
| Reptile | 150 | -20% | 0 | 0 |
| Plant | 165 | -30% | 0 | 0 |
| Dawn | 85 | +20% | +6 | 0 |
| Mech | 80 | +20% | 0 | +6% + 2 flat |
| Dusk | 135 | -20% | 0 | +6% + 2 flat |
Axie Class Type Stats
| | | |
| --- | --- | --- |
| Body Type | Armor | Recovery |
| Sumo | 4% + 1 flat | 24 |
| Wet Dog | 8% + 2 flat | 20 |
| Fuzzy | 12% + 3 flat | 16 |
| Normal | 8% + 2 flat | 8 |
| Curly | 16% + 4 flat | 12 |
| Spiky | 20% + 5 flat | 8 |
| Big Yak | 24% + 6 flat | 4 |
Axie Body Type Stats
All details presented above are based from the current data from the Axie DoLL litepaper. Any changes beyond the writing of this article may not be included in the data presented above.
Axie DoLL surely has a lot of potential in terms of competitive e-sports and deep game mechanics. So, you might be wondering, how exactly can you play this game?
How Can I Play the Game?
To play this game, head over to the official Axie DoLL website. Upon loading the website's main page, players will be greeted by the question "Are You Ready to Defend Lunacia?" and then, players will be able to choose whether they want to play the game in Windows or in Android Mobile.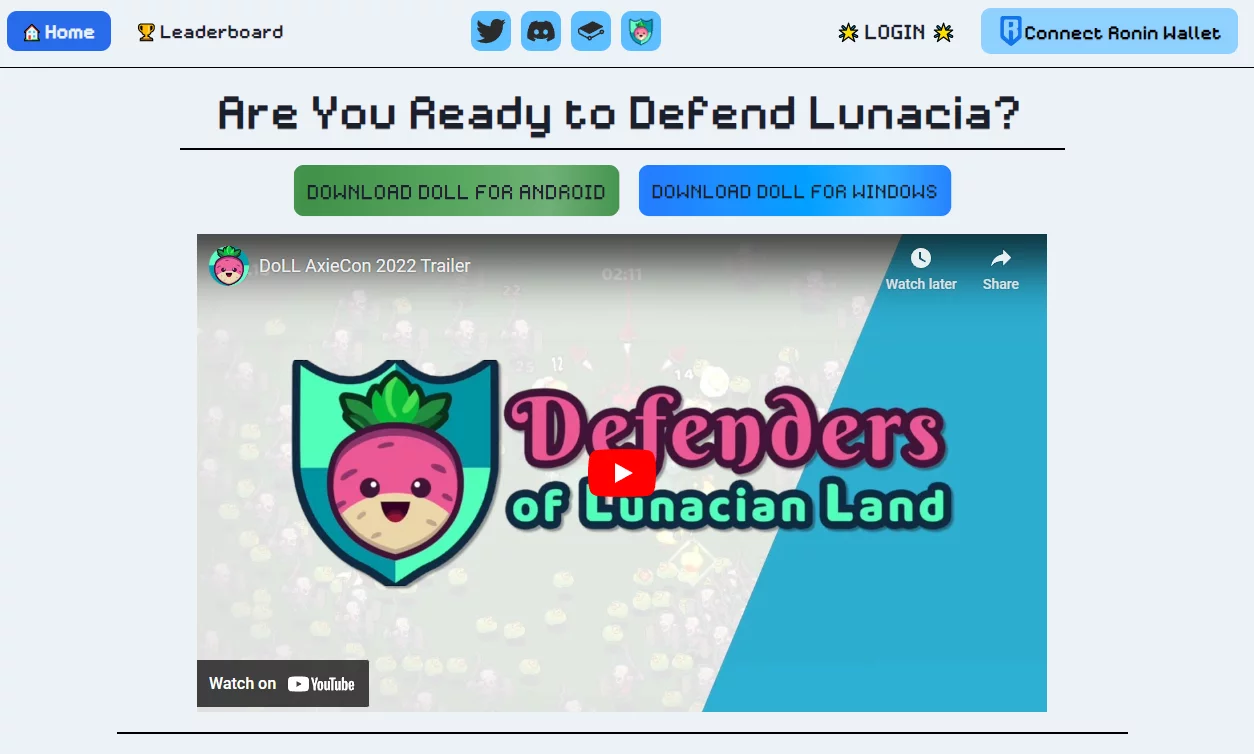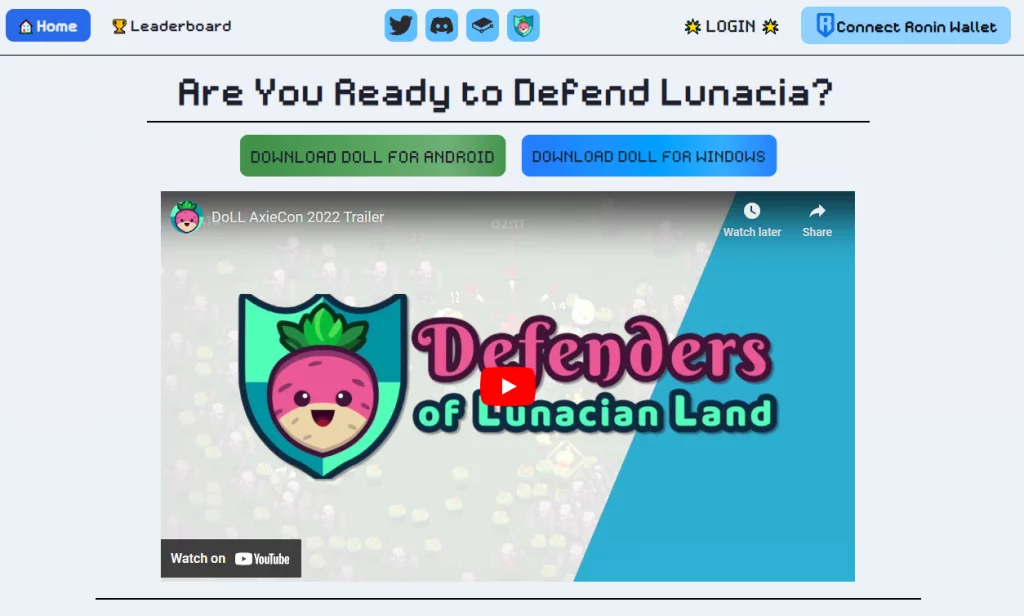 After that, the website tells you the steps to play the game. The steps are as follow:
Create Ronin Account
Create DoLL Account
Register Axies
Download the Game Client
Play Using DoLL Shields
Axies are required to play the game. Different Axie parts will mean different skills and different body types and classes will mean different stats. Kindly refer to the previous section of this article about the details of Axie stats.
You may purchase your Axies through the official marketplace of Axie Infinity once you are done creating your personal Ronin Account.
What are DoLL Shields?
DoLL Shields is a core component of the current version of the game. Players will not be able to play a game of Axie DoLL if they do not have DoLL shields left in their account. There are several ways to acquire DoLL shields and among them are the following:
Shield Drops by the Axie DoLL Team
Reporting Bugs and Feedback
Sharing the Game through Social Media Platforms
Posting Memes in Social Media Platforms (Twitter)
Tournaments
The whole point of DoLL shields is to enrich the community engagement of the players within the game specially during its early stages of development.
What is the Roadmap for Axie DoLL?
Currently, the shown roadmap for Axie DoLL has all been accomplished according to the game's official litepaper. However, the developers have confirmed that a new roadmap will be added to their litepaper to show new goals for the team to accomplish and their specific timeframes.
Final Thoughts
Axie DoLL is an exemplary game in the Axie Builders Program. The game is showing how community engagement can help uplift the spirit of the game and what the "infinity" means in Axie Infinity. Infinite possibilities and now we are going to venture through the genre of survival action games with the help of Axie DoLL.
We all know that this game has a lot of potential and we just have to trust the developers in delivering those gems to the community. While we are waiting for updates, let us play some Axie DoLL and climb the leaderboards!