RON Staking Rewards Now Live with a High APR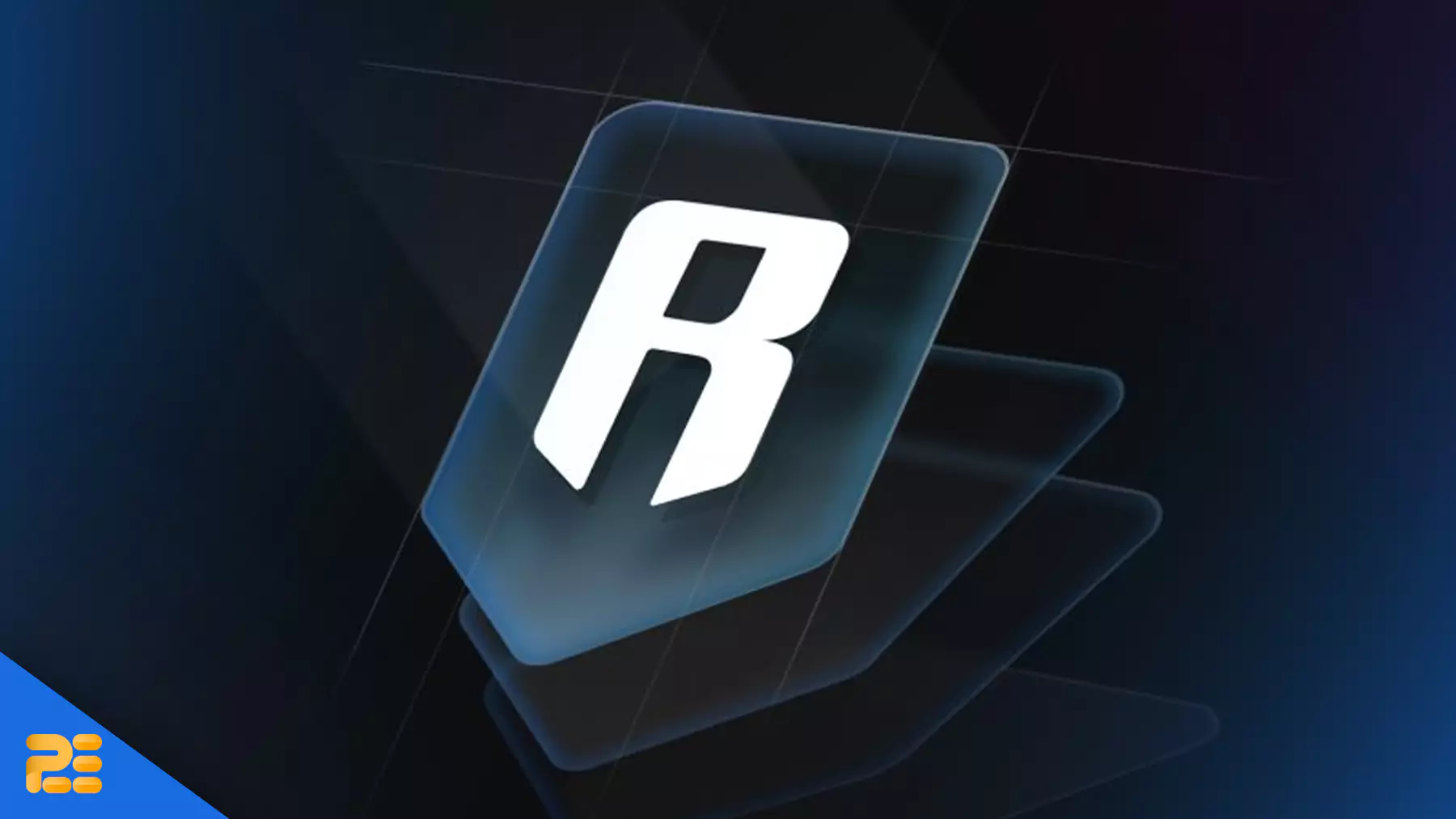 Ronin, an Ethereum Virtual Machine (EVM) blockchain crafted for gamers, has launched RON staking rewards! In this article, you'll discover everything you need to know about RON staking, its rewards, and how to get started.
$RON staking rewards are now flowing to stakers 🌊

• Over 100 M RON Staked ⛓️
• 8500 delegators (stakers) earning rewards 🛠️
• APR between 20-33% 🧿

Built for, owned, and secured by gamers 🤝

Stake RON to earn rewards now 👇

🥩 | https://t.co/H2tXb6LxzL pic.twitter.com/SuVggl47Na

— Ronin (@Ronin_Network) April 12, 2023
Staking with Ronin
Users can delegate their tokens to any of the 22 validators chosen based on their contributions to the community, uptime, and commission rate. With over 100 million RON staked and 8,500 delegators earning rewards, stakers can earn an annual percentage rate (APR) of 20-33% based on the validator they select and the amount they stake!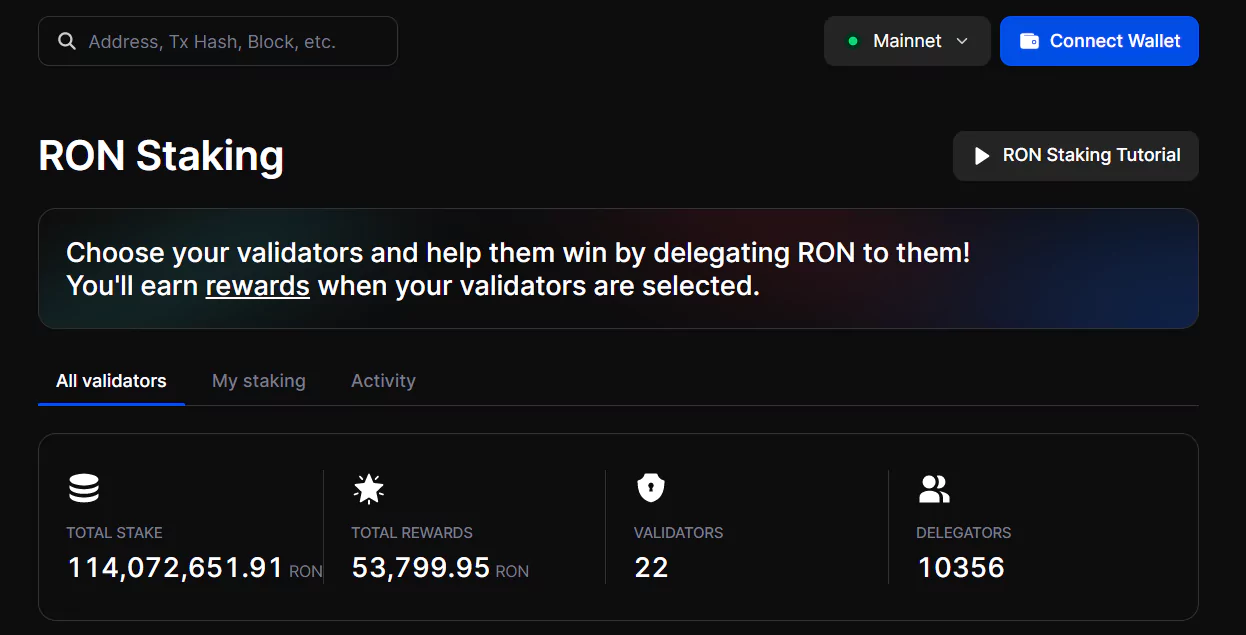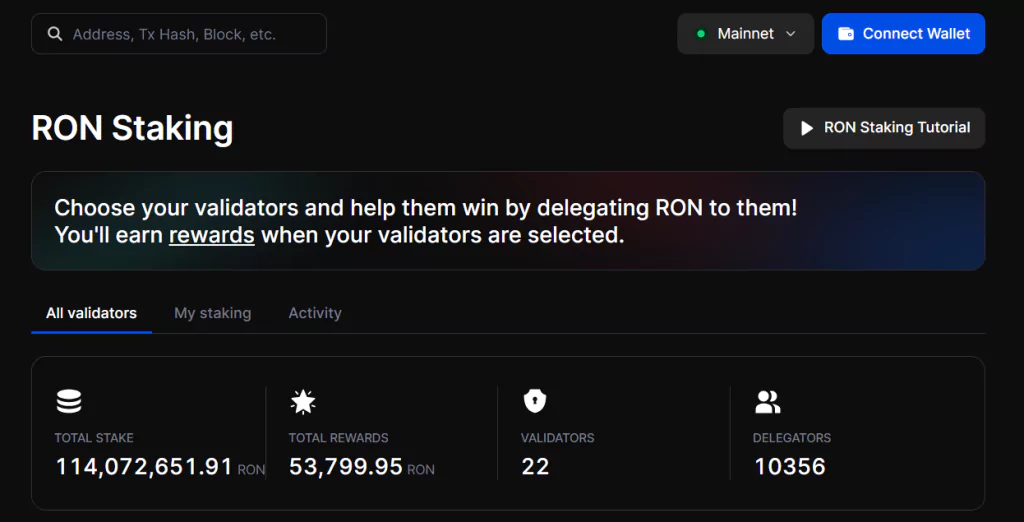 Currently, there are 114,072,651.92 total staked RON, 53,799.95 total rewards, and 10,356 delegators.
Staking Rewards
On Ronin, users who hold RON tokens can participate in validator selection by staking their tokens, and they receive rewards in exchange for their contribution. The rewards consist of two parts: staking rewards and bridge rewards. Ronin has allocated a total of 180,000,000 RON for staking rewards and 1,000,000 RON for bridge rewards to ensure that the network is sufficiently established until transaction fees become sustainable.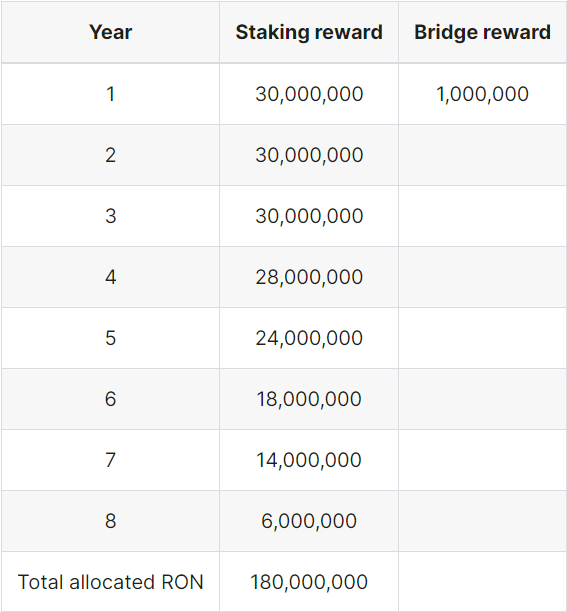 These rewards are intended to kickstart the network, while the protocol is expected to sustain itself through transaction fees. Validators are rewarded with staking rewards and transaction fees for generating blocks. The staking rewards and transaction fees are shared with delegators, who are token holders that delegated their tokens to the validator.
Validators can determine a commission rate, which indicates the percentage of the self-allocated reward they will receive. The remaining reward is divided among the delegators based on the amount of RON tokens they have staked.
Validator's Commission
Validators receive a commission for generating new blocks, which is independent of the staked amount. Wondering how much you can earn? Check out the sensitivity analysis below, which shows the expected annual commission for the first 8 years based on commission rates ranging from 5% to 20%.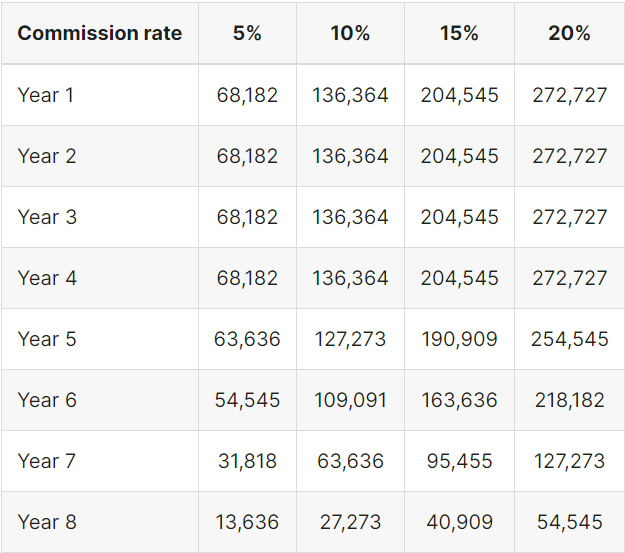 Delegator's Rewards
As a delegator, you get a share of the rewards based on your staked amount and the commission rate set by the validator. Take a look at the following sensitivity analysis, which shows you the annual percentage rate (APR) for the first 8 years with commission rates ranging from 5% to 20% and a staked supply of 50%.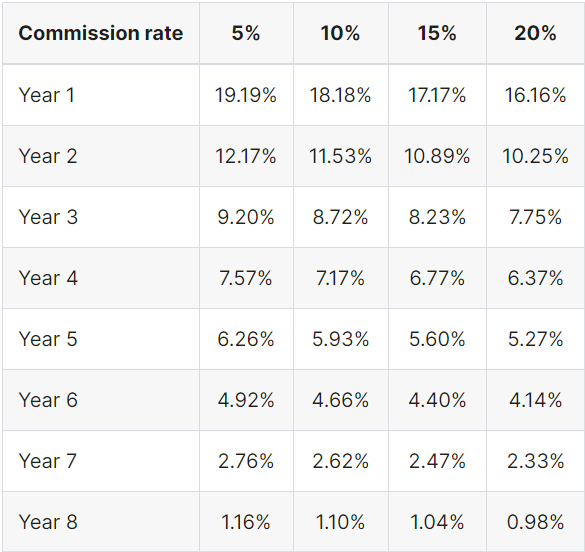 The image below shows the annual percentage rate (APR) for the first 8 years. With staked supply ranging from 40% to 60% and a commission rate of 5%, you can estimate how much you can earn.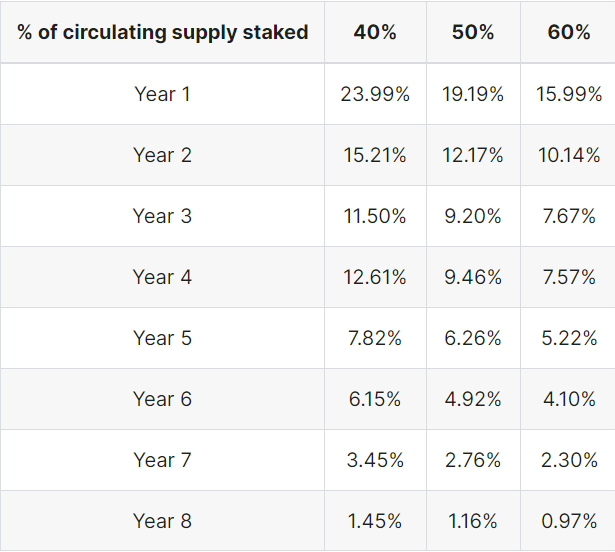 Bridge Rewards
To ensure the bridge runs smoothly, each validator requires a bridge operator. That's why the network has set aside 8 million RON for Bridge Rewards over an 8-year period, with 1 million RON committed to the rewards in the first year. As more sustainable bridge designs are explored, the plan is to separate the bridge from the consensus, freeing validators from the need to run bridge operator nodes.
The 22 Validators
The validators had until April 12th to set up their nodes, and they are all now available for delegation. Today, the 22 validators you can choose from are the following:
Sky Mavis GV
MysticNode
Coco_Bear
BYAC
Community Gaming
StableNode
Oxak.eth
Nansen
aur x artic x cloudwhite
Google
DappRadar DAO
Owl.eth
InfinityNode
Sky Mavis
Yield Guild Games
Metat8
Animoca Brands
NonFungible.com
QUEST
AxieChat
TheRonin.Tech
BlockAhead.Dev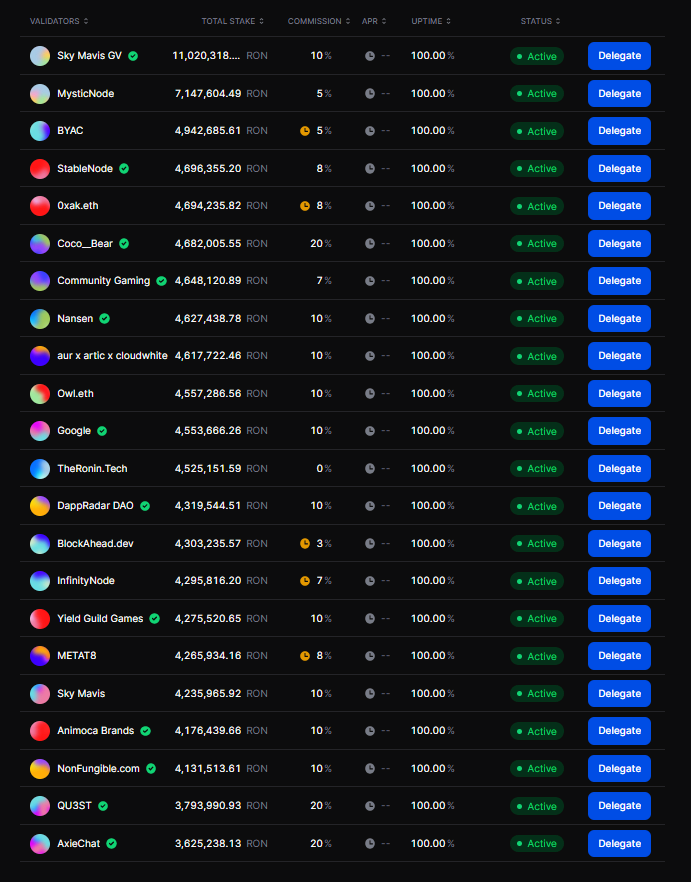 Who are the Validator Candidates?


You might have noticed that there are "Candidates" beside the "Today's Validators" as shown in the image above. Currently, there are 4 candidate validators. What does it mean?
Each day, 12 governance and 10 regular validators are selected to be active and earn rewards. The 12 validators with a green check mark are governance validators and are guaranteed to be selected each day. The other 10 regular validators are those ranked with the most RON staked.
The four candidate validators are the ones that were not selected for that day and they do not earn rewards until they belong to the top 10.
Now who is that validator with a red exit mark? Validators with the exit icon have renounced their rewards and will no longer generate rewards, meaning they will exit from being a validator.
By understanding validator candidates, stakers can make better decisions about where to delegate their tokens and potentially earn rewards through RON staking.
How to Stake?
If you want to get started with RON staking, follow the steps below:
Connect your Ronin Wallet
Choose a validator and click "Delegate" which is found beside the validator's name.
Input the amount of RON you want to stake and click "Delegate".
Confirm the transactions in your RON wallet.
Ronin's RON staking provides an opportunity for users to earn rewards while securing the Ronin network. If you have any questions, join the Axie Infinity Discord community. The moderators can provide you with the necessary guidance and support in regard to staking and any related queries.