How to Play Axie Infinity Origin on Android in 2023
The Season 2 of Axie Infinity Origin officially started. Competition is already brewing and a lot of players are grinding really fast. Now is the best time to start your grind and make sure that you keep up with other gamers!
If you are looking to start your journey for season 2 while still being on the go, playing on Android should do wonders for you. Here at P2E News, we bring you how to play Axie Infinity Origin on Android!
What is Axie Infinity Origin?
Axie Infinity Origin is the next iteration of the Classic version of the game that exploded in popularity back in 2022. The game is still leading the play-to-earn space in terms of player base and overall game and community activity.
The game revolves around collecting adorable creatures called Axies, breeding them and battling them against each other using their skills that reflect their unique body parts. Axie Infinity's community is extremely engaging, active, and competitive so make sure to get involved and be updated from time to time.
Below is a simple guide on how to play Axie Infinity Origin on Android!
How to Play on Android?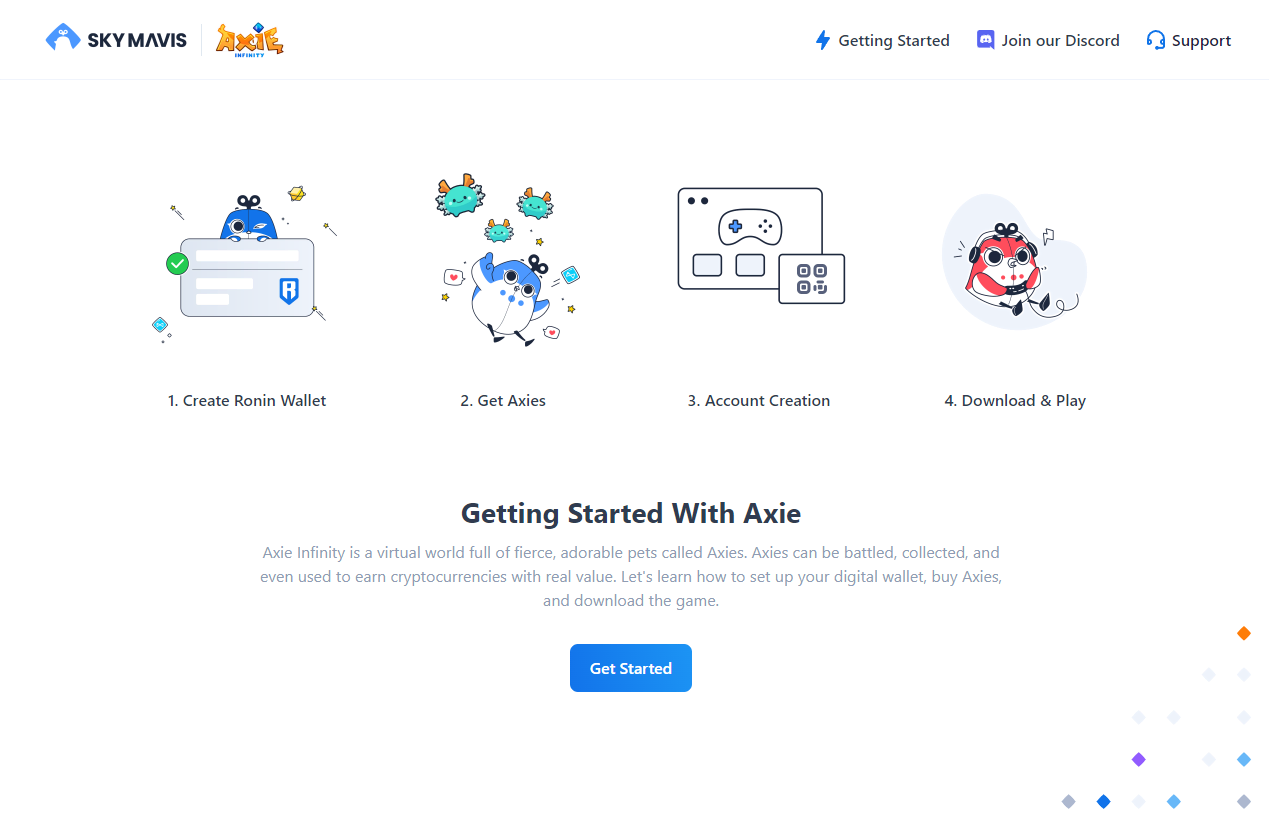 If you go over the official Axie Infinity website and click the 'Play Now' button, you will be redirected to a page that will introduce you on how to get started with Axie Infinity.
Creating Ronin Wallet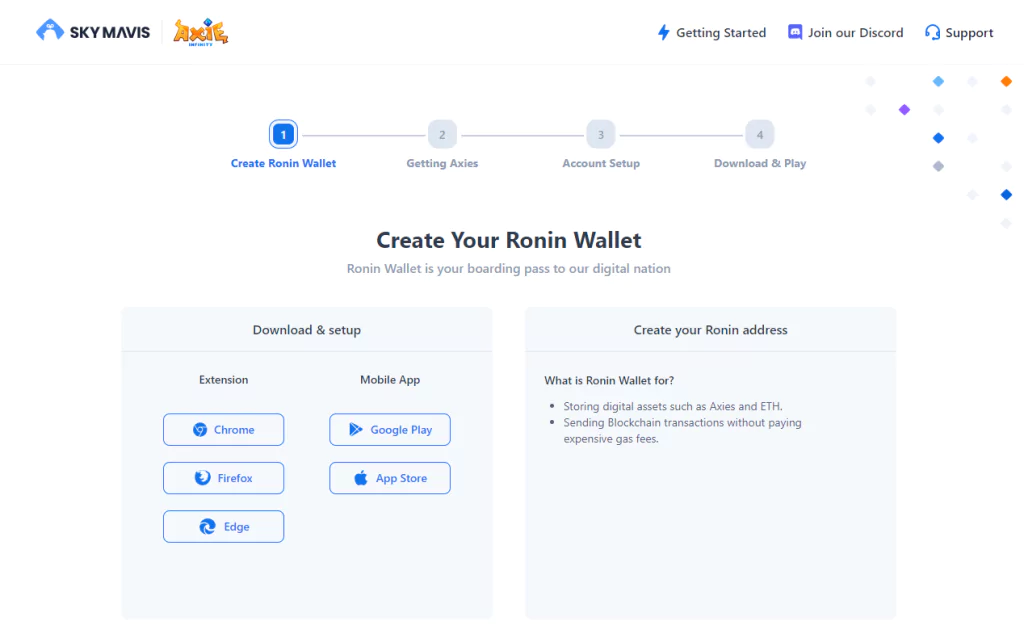 The first step in your Axie journey is creating your own Ronin wallet. As the image above suggests, the Ronin wallet extension is compatible with Chrome, Firefox, and Microsoft Edge. It can also be downloaded through Google Play and the iOs App Store.
The primary purposes of creating the Ronin wallet are:
To store digital assets and collectibles on the Axie Infinity ecosystem.
To send and process blockchain transactions through non-expensive gas fees.
In creating your own Ronin wallet, you will be asked to save your wallet seed phrase. This is the most important part of your wallet creation.
Make sure to save your seed phrase in a secured location. Losing this seed phrase could mean that you would not be able to recover your account in the future.
Also, make sure that no one else can know about your seed phrase because if they do, they can access your account and do unauthorized transactions for you. Be safe!
Acquiring Axies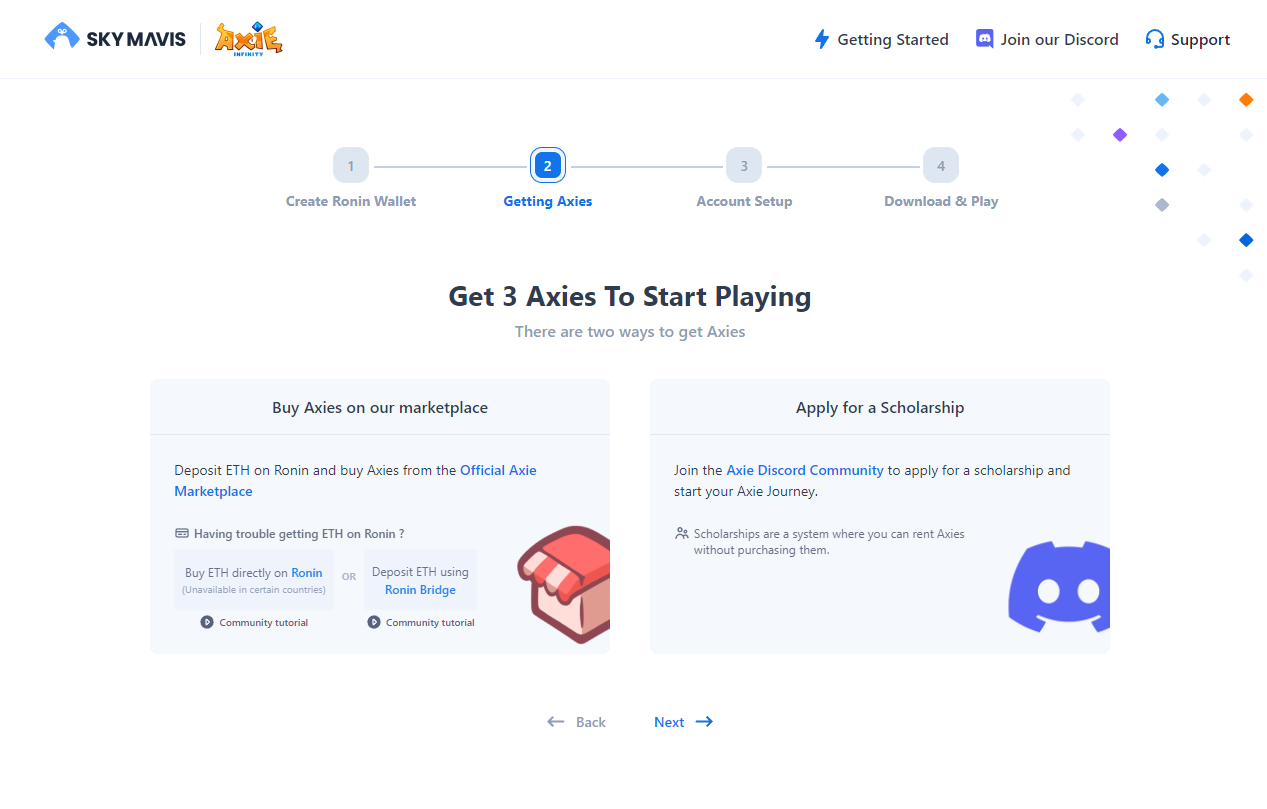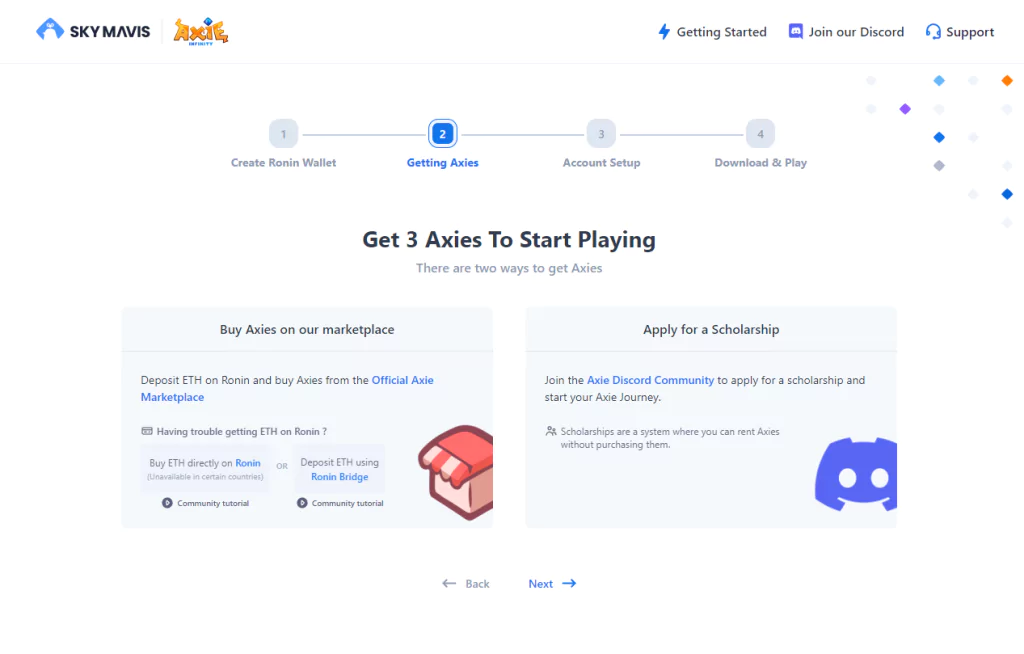 Next, historically, players need at least three Axies to start playing the game but since we are now in Origin, players can first try out the game using the free-to-play Axies! If you want to try out the game first before investing real money into it, skip this process and head over to the next step.
If you are looking to buy your own Axies, simply proceed to the official Axie Infinity marketplace and deposit some $ETH tokens to your Ronin wallet. Through the marketplace, you can buy, sell, and trade assets such as Axies, Accessories, Runes, Charms, and Land.
If you do not have funds yet to buy your own Axies, do not worry! The community also has a scholarship system wherein players or organizations can lend a set number of Axies to players. Make sure to join the Discord and get involved for a chance to get a scholarship from others!
Creating your Account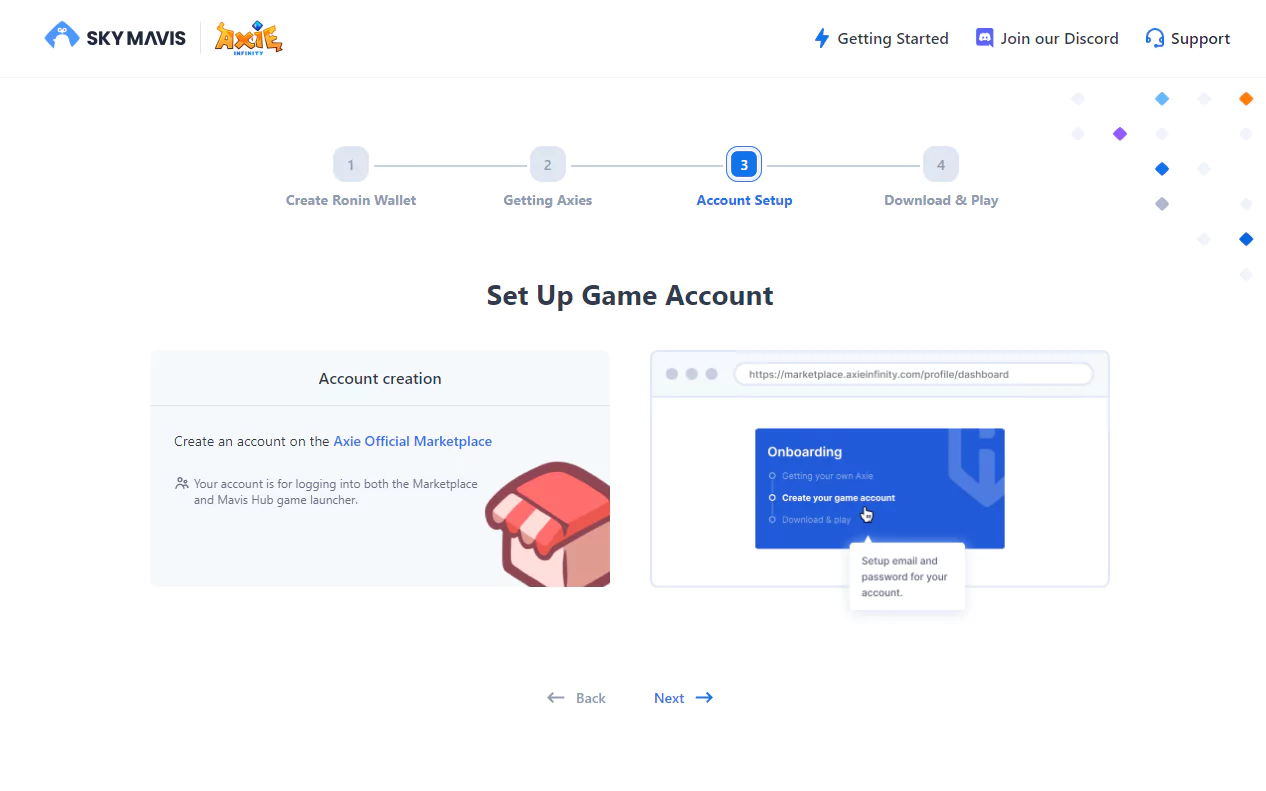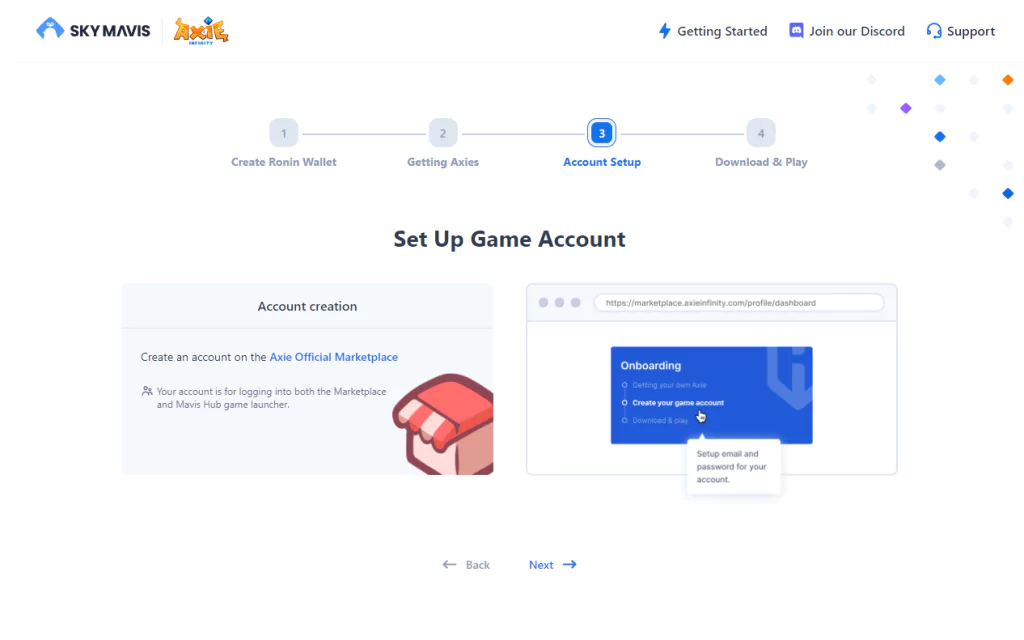 Then, you will need to set up your game account by creating an account on the marketplace. This account will be used for logging into both the Axie Infinity marketplace and the Mavis Hub where you will launch the game.
In creating your game account, you will need to setup an email and password. Make sure to also save this because it will be needed every time you log in to the marketplace or the game.
Download and Play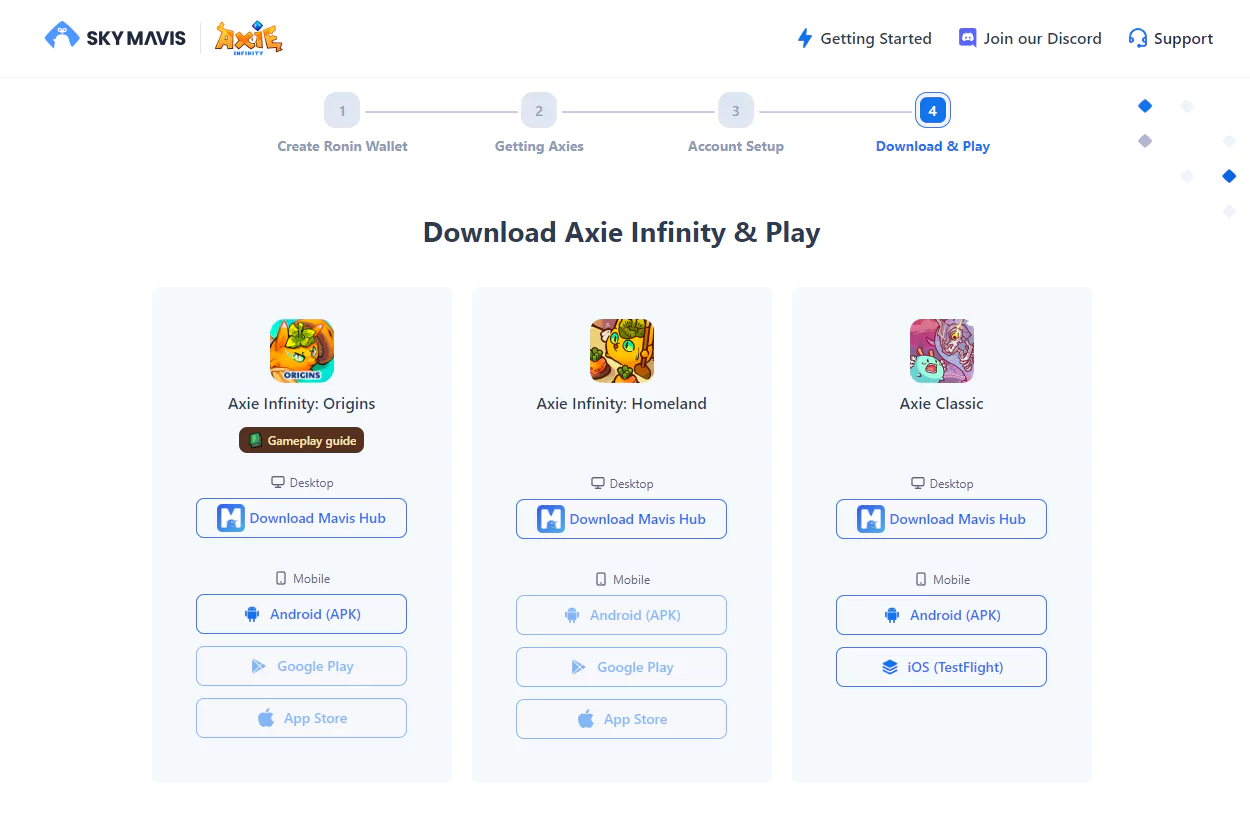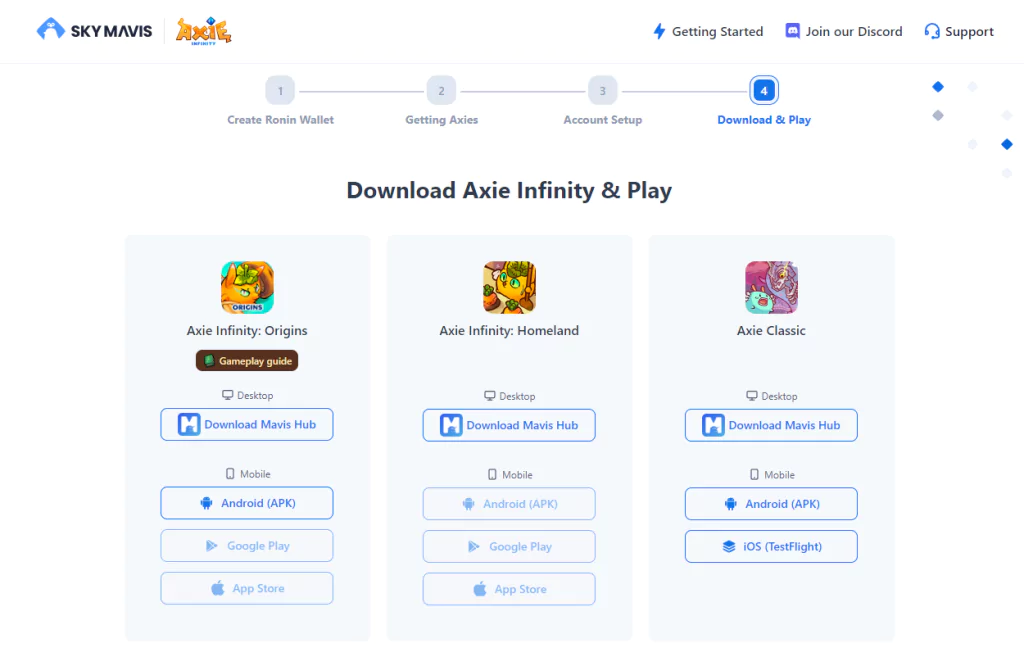 Finally, you can now download the game installer and play the game! Simply click the button of the particular Axie Infinity Origin game file that you want to download.
If you are looking to start your Season 2 journey in Axie Infinity Origin, make sure to download the Android (APK) for Mobile on the left!
Final Thoughts
Axie Infinity Origin is finally moving forward for another season. This is another big step towards perfecting the world of Axie Infinity as it involves a lot of balancing changes.
We hope this how to play Axie Infinity on Android guide helped you in starting your Axie journey. We will be delighted to see your name on the Axie Infinity Origin leaderboards! Good luck, Lunacian!