Scholarships Available in New P2E Game! | Pegaxy
By now, the name Pegaxy has crossed your screen once or twice. However, there are a few BIG reasons why the game is building a fanbase so quickly, let's go through them together.
What is Pegaxy?
Pegaxy is a horse racing game with futuristic mythological styling. Here, Pegas are descendants of the mighty Pegasus, the mythical winged horse. Within the game, players can breed, rent, sell, and of course, race their Pega to earn VIS tokens. These tokens can then be exchanged for fiat currency. 
Who are the founders of the game?
The founders consist of experts and experienced individuals in both gaming and blockchain-related industries. Steve Nguyen is the CTO. He currently also holds the CTO position within Appota Group, a company with a plethora of products and services that have over 55 million users. Appota developed Gamota, one of the biggest game publishers in Vietnam. 
Ken Pham, the CEO, has ten years of experience as a Business Establishment Consultant for numerous multinational corporations. He is highly experienced in the world of international business and regulations. 
Corey Wilton, the CMO, has several years of experience in digital marketing and customer relations management. Since 2017, his services have extended to over 20 cryptocurrency projects. 
Currently, the team comprises 30 members; 14 are on the development team. This number is still growing as they acquire more talent! Unlike many other blockchain gaming projects, the team at Pegaxy started development well before their initial raise. 
How does the game work?
In Pegaxy, players are encouraged to build guilds and utilize scholarship programs. At the same time, solo players will have the opportunity to earn a decent income through daily racing.
Built on the Polygon/Matic Layer 2 Solution, the game revolves around racing your Pega against 11 opponents of the same class. Winners will receive VIS token rewards. 
VIS tokens are used for breeding and creating more Pegas. You can also trade this token on the marketplace in exchange for fiat currency.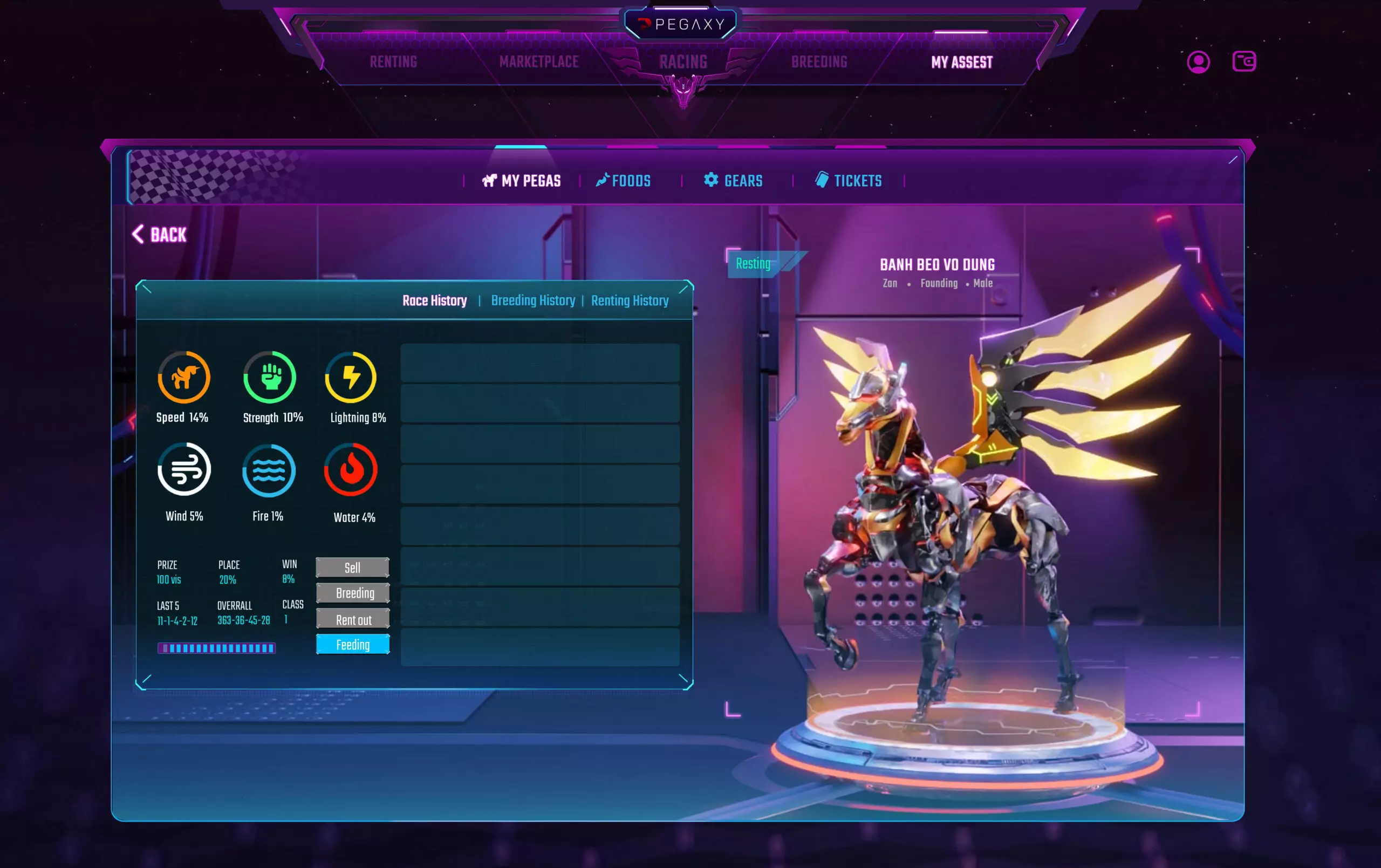 What are the in-game currencies?
The native in-game currencies are called PGX and VIS. 
You can compare PGX or Pegaxy Stone to the AXS of Axie Infinity, as it serves as the governance token of the Pegaxy ecosystem. You can also use this token for staking, operate race tracks, rewards, purchasing Pega or NFT's on the marketplace, and of course, it is used as a breeding service fee. 
VIS or Vigorus is used for in-game purchases, rewards, and breeding. You can compare this to the SLP (Smooth Love Potion) of Axie Infinity. 
Currently, PGX has a total supply of 1,000,000,000. At the same time, VIS is an uncapped utility token. 
How much does it cost to play?
Basically, you will need at least one Pega to play. The price of Pega ranges from $100-$600 at the public NFT sale, and it depends on its class, gender, and stats. You can refer to the price list of the Founding Pega below: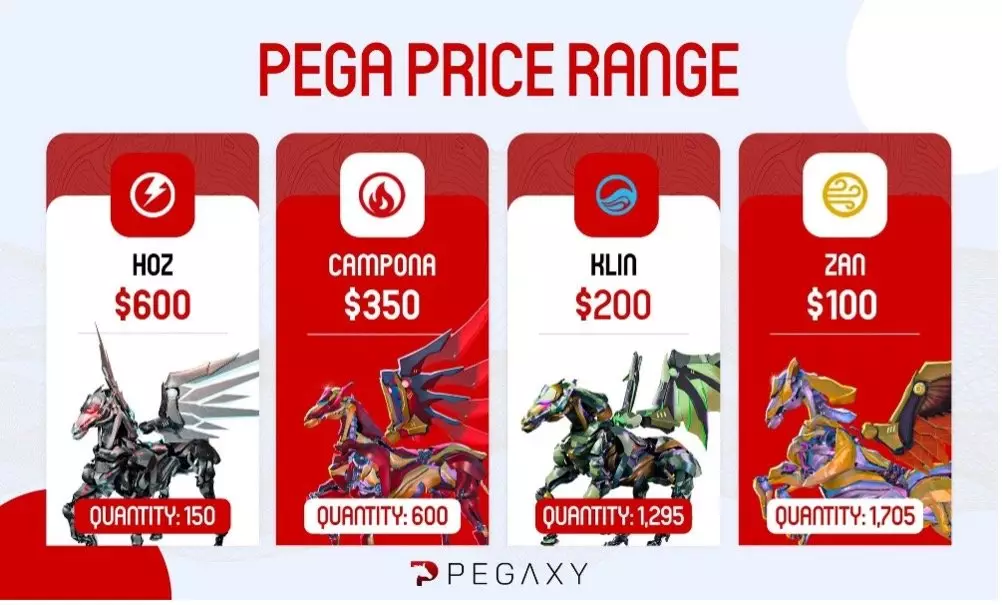 There are four main bloodlines of Pega: Zan (common), Klin (uncommon), Campona (rare), and Hoz (rarest). Each is unique and has different physical attributes of acceleration, pace, stamina, and weather adaptability.
Don't worry if you're unable to purchase your own Pega straight away! You can still play the game. How? Through scholarship programs! You could technically start playing straight away – for free!
What are Pegaxy Scholarships?
Scholarships allow players to "rent" a Pega. Through a scholarship, you could technically start playing the game for free! 
On the Pegaxy website, there are three scholarship types to choose from: fixed-fee renting, profit-sharing and direct rental. All rentals occur through escrow. 
How does the Profit Sharing method work?
With this option, a manager can list their Pega for rent on the official Pegaxy rental marketplace. The manager sets the percentage split (E.g., 60% to the Pega owner, 40% to the scholar), and then a scholar accepts the agreement. All VIS and rewards earned by the Pega in-game will be split accordingly and automatically via the escrow system. No communication between manager and scholar is required in this scenario.
What about Fixed-Fee renting?
In a fixed-fee renting agreement, the renter will pay a specific amount of PGX tokens (e.g., 1000 PGX) to use the Pega for a certain amount of time. In this type of agreement, 100% of the earnings will go to the renter over the course of the rental period. When the rental agreement has come to an end, the Pega will no longer be accessible to the renter.
What is Direct Rental?
This method is directly targeted towards guilds, to assist them with the management of their scholarship programs. With direct rental:
The manager selects "Direct Rental" in their account.
They create the rental terms, for example 70% to the scholar and 30% to the manager.
Then they click complete and a link is generated.
They send that link to their scholar in their guild.
The scholar accepts and the escrow rental process of automated payouts and management is initiated.
When will the game launch?
The Beta game will launch between November 2021. Check their road map here: https://pegaxy.io/#roadmap. 
How do I connect with Pegaxy?
You can refer to the following Pegaxy links:
What do you think about Pegaxy? Will it be the next big play-to-earn game? Please share your thoughts on our social media and make sure to always check in at P2ENews.com to stay updated on the latest news, leaks, and tutorials!