Vietnams Biggest Ever Axie Championship | Ancient8 Guild
In one of the biggest ever organised events, Ancient8 Guild plans to provide over $25,000 USDT in winnings to the top teams! To see more about the event and how you can enter, check the official announcement below!
The first Axie Infinity VN Championship for blockchain gamers
As the popularity of Axie Infinity grows, more and more players are eager to upgrade their skills, strategies, and challenge other players to conquer themselves. As the biggest blockchain gaming guild within the Play-to-Earn community in Vietnam, Ancient8 sees many excellent players looking for opportunities to shine. And many people are keen on lighting the fire to ignite their enthusiasm.
We are making history by hosting the first-ever Axie Infinity VN Championship for Vietnamese gamers with a total of 200 AXS prize pool (about 25,000 USDT at the time when this article is written). In creating this tournament, Ancient8 aspires to bring the most fascinating battles between Axie Infinity gamers together, create a playground for enthusiasts and build a better Play-to-Earn community.
Let's jump right in the Championship!
Who could join the Axie Infinity VN Championship?
All Vietnamese Axie players can register to participate in the tournament.
Axie Infinity VN Championship gathers 16 qualified teams (Each team contains one player) including:
8 slots for the players with the highest rank (MMR – Matchmaking Rating) from the registration phase.
4 slots for random players (at any MMR) from the registration phase.
4 slots for Ancient8 scholars(*) with the highest rank.
(*) Scholars will be qualified by internal Ancient8 ranking system
Axie Infinity VN Championship will take place in 20 days from Oct 18th to Nov 6th:
Group Stage
16 qualified teams are divided equally via pots to ensure equal strengths into 4 groups: Group A, Group B, Group C, Group D.
Teams in the same group will compete in 3 matches against opponents under a BO3 (Best of Three) format. The winner and the runner-up in each group will advance to the next round. Battle Difference is counted to ensure the accuracy of the group ranking.
For example:

Note: If two teams' won/lost ratios and battle differences are equal, a BO1 tie-break will be used to determine the final result.
Knockout Stage
Starting from the Quarter Finals, the Group Winners and Runner-ups will compete under a BO5(Best of Five) format to determine the top four teams.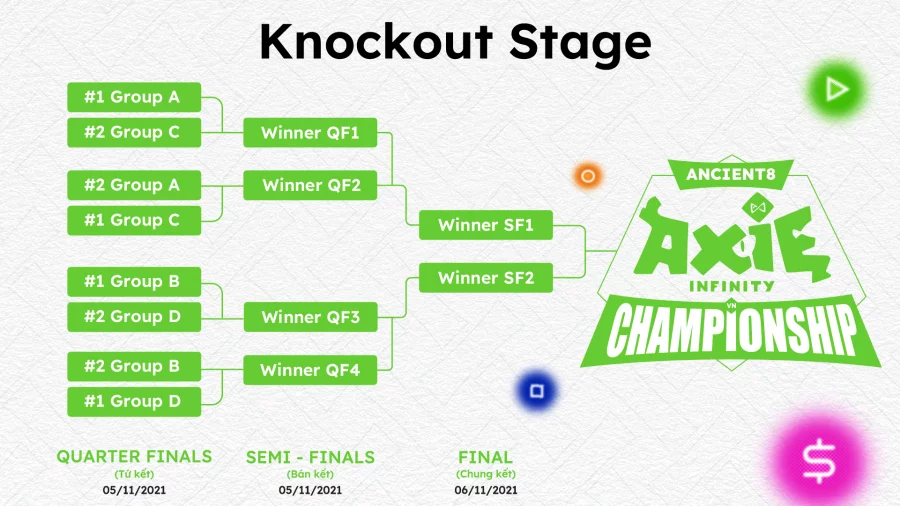 Tournament Timeline
The tournament will last 4 days from November 3rd – November 6th.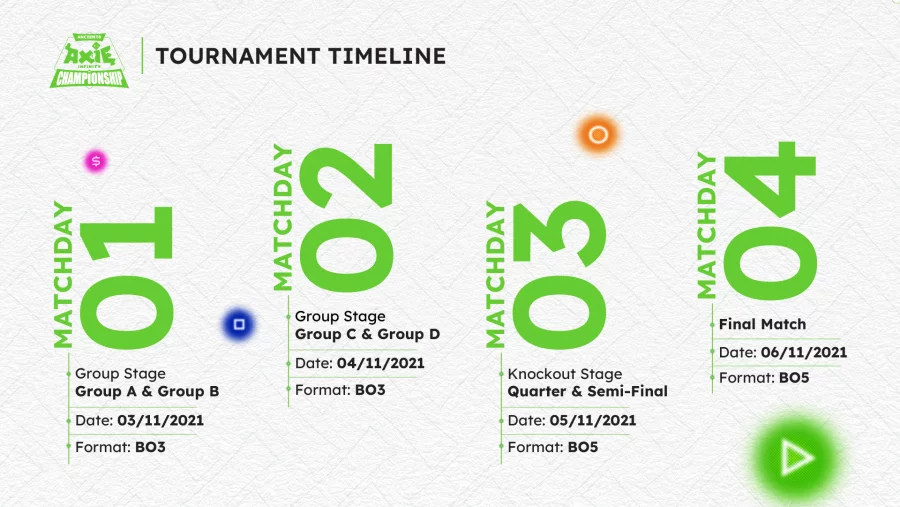 Prize Pool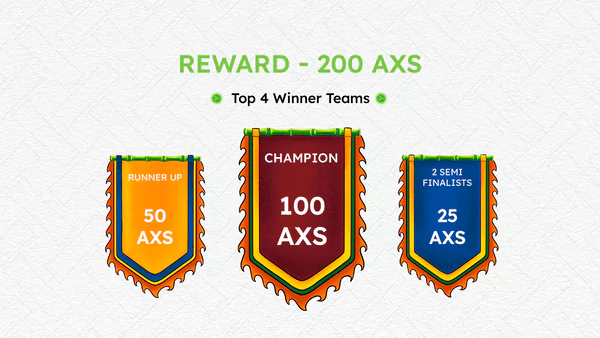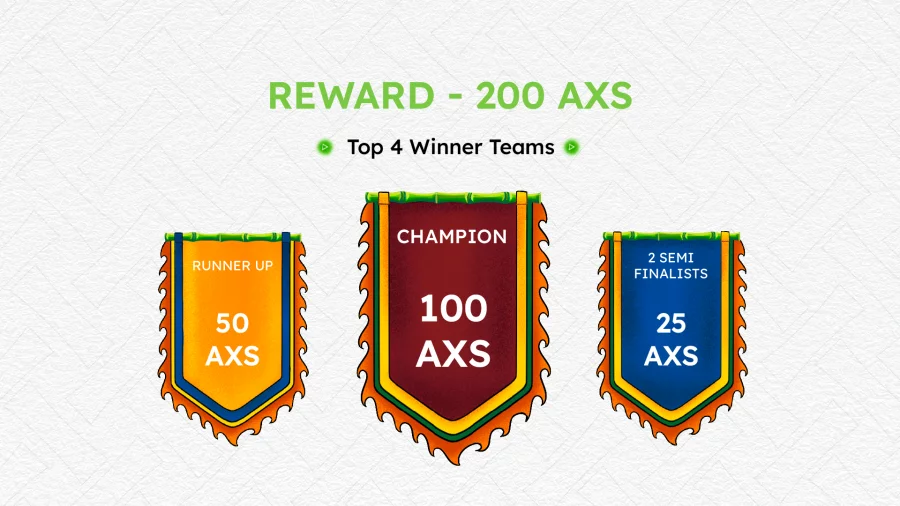 The Axie Infinity VN Championship's total prize pool is 200 AXS tokens. The winner will take home 50% of the prize pool and an exclusive Cup NFT, the rewards distribution will be as follows:

Ancient8 not only grants players rewards, but many attractive prizes are also exclusive to tournament followers and the community in the near future.
The most professional blockchain gaming championship for Vietnamese players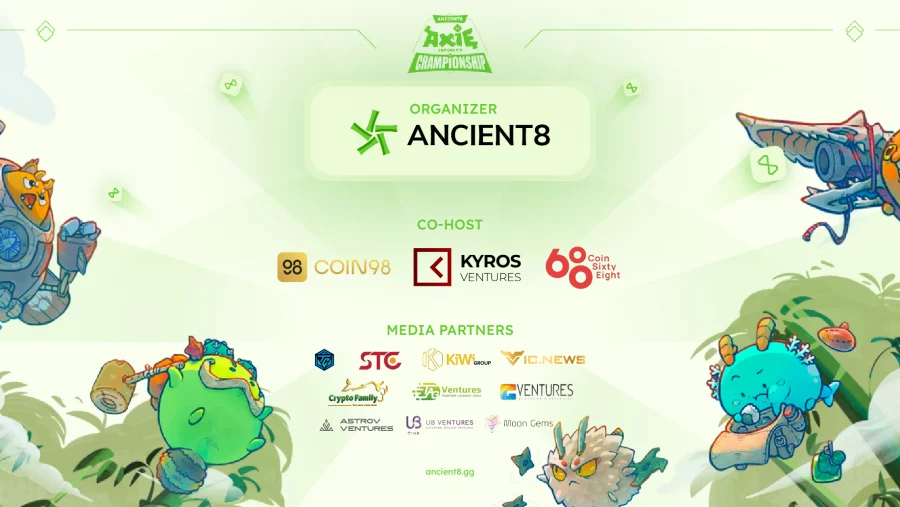 Axie Infinity VN Championship, organized by Ancient8, will be the first blockchain gaming championship streamed by experienced casters.
The tournament is co-hosted by Kyros Ventures, Coin98 Labs and Coin68 Media and promises to bring hot matches, outstanding talents and enthusiastic cheer from the Play-to-Earn Vietnamese community.
As one of the professional tournaments, Axie Infinity VN Championship is honored to collaborate with influential media units in the blockchain world in general and the GameFi industry in particular. We are very excited to cooperate with professional and strong communities in the blockchain industry in Vietnam: TradecoinVietnam, SaigonTradecoin, Kiwi Group, VIC, GTA, TAG, AstroV, UB Holding, Cryptofamily and Moongems.
Register now!
The registration portal opens from Oct 18th, 2021 to 11:59 PM (UTC+7) on Oct 23rd, 2021. Ancient8 will announce 16 qualified teams at least 3 days before the tournament starts.
About Ancient8
Ancient8 is Vietnam's biggest blockchain gaming guild built by Coin98 Labs, Kyros Ventures, Coin68 Media, and with the support of individuals from FTX. Ancient8 aims to recruit millions of gamers and communities into the GameFi, NFTs and Play-To-Earn Era. Ancient8's scholars will not only have a chance to play the latest and trending blockchain games, but also to earn an income for their contribution to the future of the Metaverse.