Axie Infinity vs Gods Unchained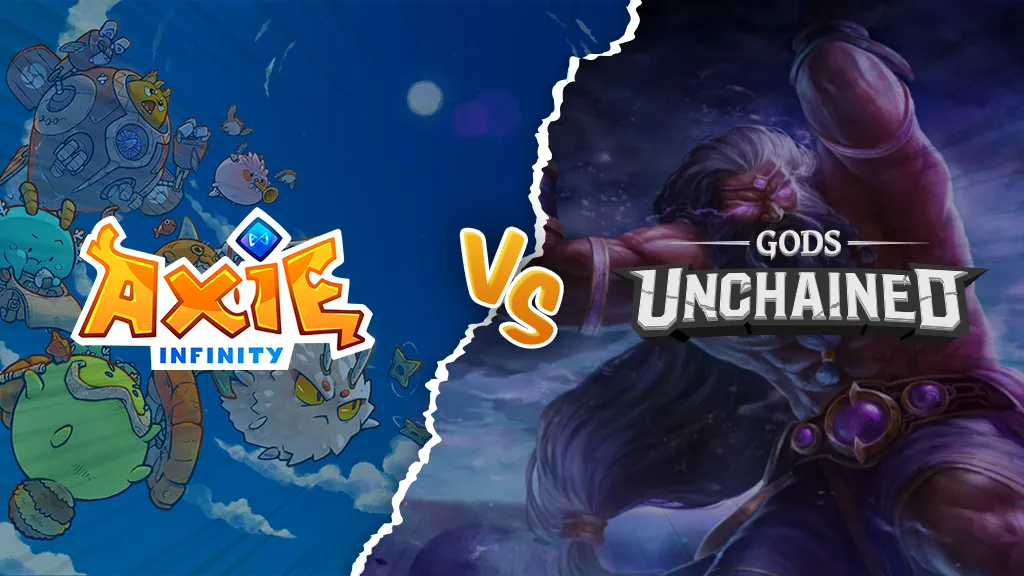 If you're into Axie Infinity, then you may be interested in Gods Unchained! Why's that? Well, they both have similar game attributes and features. In this article, we'll go through and compare the two. However, before we do that, let's have a quick look at some game fundamentals of Axie Infinity vs Gods Unchained.
About Axie Infinity
Axie Infinity is the most popular play-to-earn game currently in the market. It is a strategic card game where players can earn tokens through skilled gameplay and contributions to the ecosystem. You can battle, collect, breed, and trade fantasy creatures called Axies. You can also buy or sell these Axies on the Axie Infinity Marketplace.
The game centers around managing Axies and preparing them for battles against creatures called Chimera in a digital land known as Lunacia. You can also play in PVP mode, battling players online to earn rewards.
What about Gods Unchained?
Similar to Axie, Gods Unchained (GU) is also a play-to-earn strategic card game. It's free to start; however, players can trade, buy or sell cards on the Immutable X Marketplace.
New players will get a starter deck of cards, which allows them to battle and play the game straight away. Ideally, you would want to build your ideal deck of cards suitable to your gameplay style and strategy.
By playing and leveling up, you can unlock packs that provide you additional cards. You can fuse these cards to increase their quality which will mint them to the chain.
Similarities
1. Game Mode Features
Both Gods Unchained and Axie Infinity have two or more Game Modes available.
Gods Unchained has the following:
Solo Mode sets you against a computer opponent. Here, you can learn how to play at your own pace and try out a few decks.
Constructed mode lets you face other opponents online, which means you'll gain experience points that will help you level up and unlock card packs.
Ranked Constructed. Aside from playing against real opponents and leveling up, you can also unlock prizes, rise the ranks, and earn Flux for card crafting in the Gauntlet of the Gods.
Axie Infinity offers players the following:
Adventure Mode (PVE) sets you against a computer opponent, where you can earn experience points that will help you level up your Axies to unlock other Ruins.
Arena Mode(PVP) makes you battle with other players online and earn SLPs (rewards) depending on your Match Making Rate (MMR).
2. Nature of Gameplay
Axie Infinity and Gods Unchained are both card games.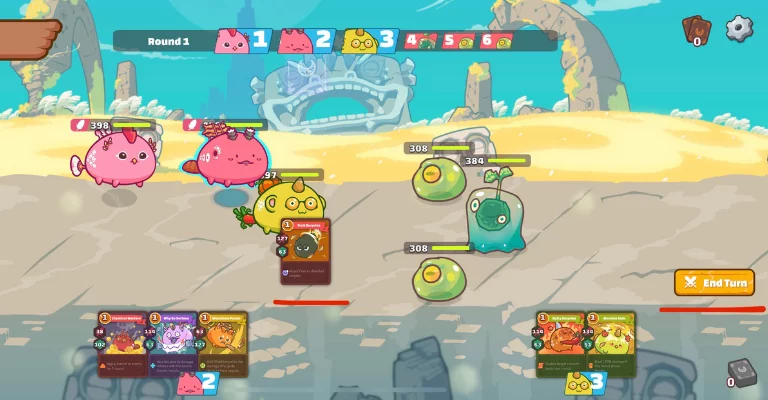 In Axie Infinity, there are nine total classes of Axies: the six primary classes (Bird, Aquatic, Plant, Reptile, Beast, Bug) and three secret classes (Mech, Dawn, Dusk). Each type has its own set of cards and abilities. During the game, you draw your cards strategically to defeat the opponent.
This is quite similar to Gods Unchained (GU). In GU, you must first select a god; there are six gods to choose from (God of Light, War, Magic, or Goddess of Death, Nature, and Deception). Once you have made your choice, you will then get a starter deck of cards. During gameplay, you also strategically draw these cards to beat the enemy.
Differences
1. In-Game Currencies
Axie Infinity
Small Love Potion (SLP) is one of the in-game currencies. Players earn SLP through winning battles or completing missions. It is needed to breed more Axies. Alternatively, players can sell earnt SLP on cryptocurrency exchanges like Uniswap or Binance for real currency.
Gods Unchained
Ether (ETH) is the official currency of the Ethereum network. But, this is not exclusive to Gods Unchained; it's an international currency used for in-game trading and purchases. ETH can be converted into your regional currency whenever you like.
Flux is an in-game resource earned by playing the new Ranked Constructed game mode. It's an essential in-game resource used to 'fuse' cards. What's so good about fusing cards? Merging two identical cards will result in a new singular and higher quality card, simultaneously adding it to the blockchain. However, Flux cannot be used and converted into real-world currency.
2. Gas Fees
Gods Unchained is the first marketplace to take part in Immutable X. Immutable X is the layer 2 NFT solution for Ethereum that allows free transactions.
In Axie Infinity, gas fees today will cost you roughly $20-$35 (PHP1012.77 – PHP1772.35) for MetaMask and some Binance Transactions. To view the latest gas fees in Axie Infinity, visit https://axie.live.
3. Play-to-Earn Mechanics
There are some differences when it comes to Axie Infinity vs Gods Unchained earning mechanisms.
Axie Infinity
Axie Infinity allows you to earn SLPs (Smooth Love Potions) by the following:
1. Completing the daily quest
2. Winning in Adventure
3. Winning in Arena
Converting SLPs into real-world currency requires a few processes in Ronin Wallet, MetaMask, and Binance trading. Click here to learn more.
Gods Unchained
In Gods Unchained, you can earn in-game items that may then sell for real-world cash. The play-to-earn processes are as follows:
1. Unlock more digital cards by playing the game. These are Common Core cards and are not minted to the Ethereum network.
2. You earn Flux by winning games in Ranked. Flux is a crafting tool that allows you to make Common Core cards more valuable.
3. Go to 'Forge' in the game launcher and fuse duplicate Core cards together to create higher quality cards that can be minted to the Ethereum network and have real-world value.
4. Trade these cards in the Marketplace for real-world currency. From there, you can buy new cards with your current earnings or convert them to your preferred currency.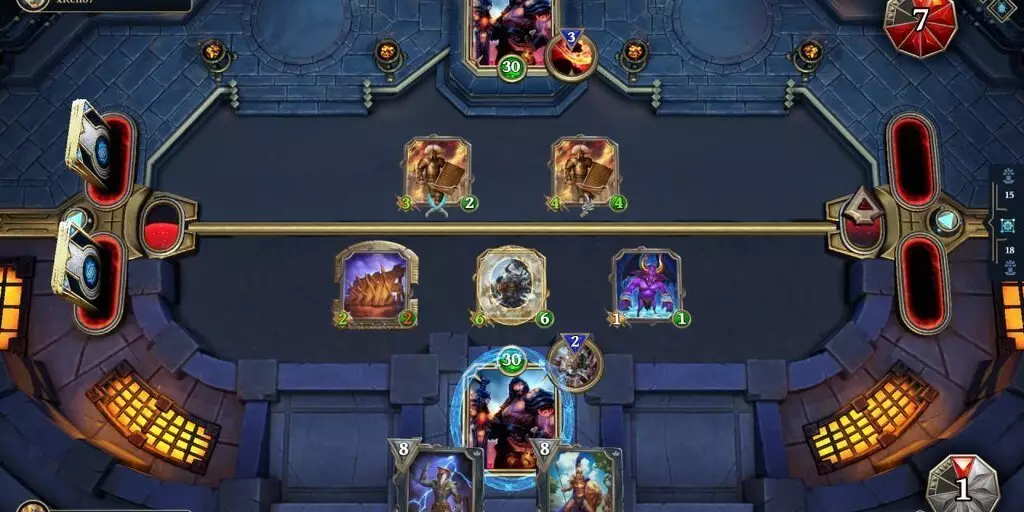 Now, Axie Infinity vs Gods Unchained – who do you think did it best? Would you try out Gods Unchained? If so, visit their website to learn more and start playing. Don't miss any play-to-earn news, latest updates, leaks, and gaming tips! Always check in at P2ENews.com.