How To Play ZED Run in 8 Easy Steps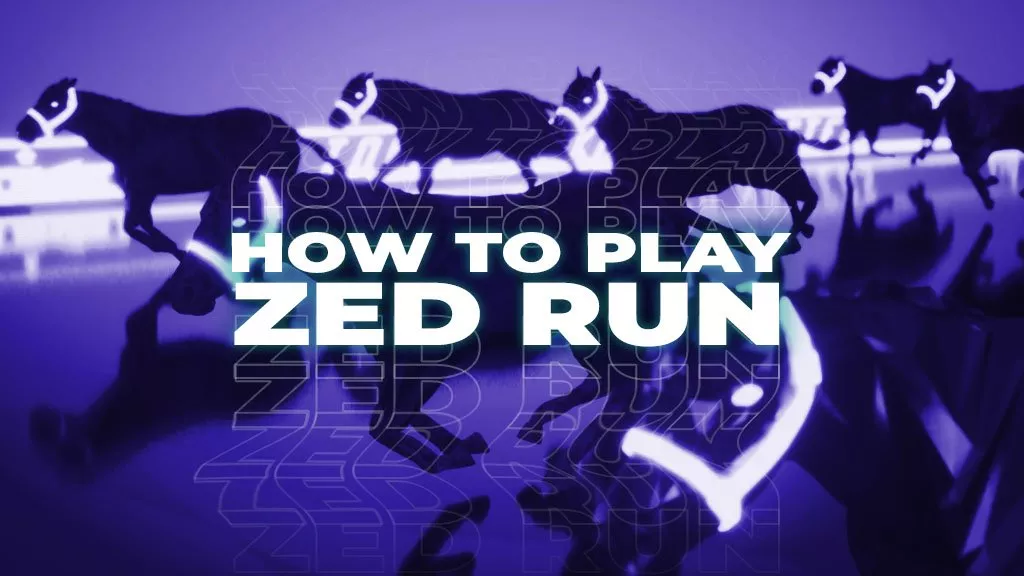 What is ZED Run?
ZED RUN is a digital horse racing game built on the Polygon Layer 2 Chain where players can build a stable of racehorses by buying them on the peer to peer (P2P) marketplace, horse sale events, or create their own through the games breeding system.
Each horse is unique and has its own characteristic and strengths. The horses have various tiers of speed, agility and gene purity, making the game complex, layered and fun.
How to Buy a Horse in ZED Run?
Follow this guide to buy your first racehorse!
1. Create a MetaMask Wallet
The first step to getting a horse is make a ZED RUN account — or stable. You can use your email, but the best way to sign up is by using a MetaMask wallet. MetaMask is an Ethereum crypto wallet commonly used by Non-Fungible Token (NFT) marketplaces, like OpenSea.
2. Transfer ETH to MetaMask
Send Ethereum (ETH) from Coinbase or another crypto wallet to your MetaMask. To get your MetaMask wallet address, click the Chrome extension, then click "Account 1" to copy your wallet address, or click account details, and take a photo of the QR code.
3. Create your Account
Go to ZED RUN and click "Start" in the upper right-hand corner. Then, select "Connect MetaMask" (not "Enter your email"). Follow the prompts to finish setting up your account then go into Settings and add your email and your Stable name to your account.
4. Wrap your ETH
Transfer Ethereum (ETH) to Wrapped Ethereum (WETH) so you can participate in the drop. Wrapped ETH is used so you don't have to pay gas fees for buying horses, racing, and breeding.
On ZED, go to your Zed Wallet in the top right, scroll down to WETH Balance and click "Deposit". Type in how much ETH you want to convert (Wrapping ETH does not affect its value, 1 ETH = 1 WETH) and click "Deposit to WETH Balance". The process can take up to 30 minutes.
There will be gas fees on this transaction so keep that in mind too. You will use WETH to buy horses, enter races, and breed. Also, important to keep some ETH in your wallet to convert WETH back to ETH when you want to start the withdrawal process.
5. Purchase your Horses
You can buy horses directly from the exclusive ZED genesis drops. However, if the horses are sold out, you can go on the secondary market from OpenSea. Click here: https://opensea.io/assets/zed-run-official.
You should know about the ZED RUN Drop Day. For the last drop, links were sent out to anyone with a Zed account to try and buy a horse during a specific time slot. You should be ready to click fast because demand is very high and traffic floods the site.
This is what the Marketplace looks like during a drop: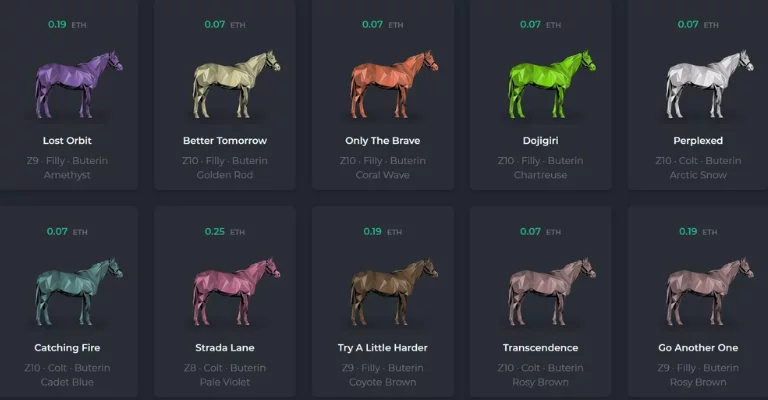 If the drop is the same as the last, once the drop opens, filter by Z type (such as Z9 or Z10) and then click through coat colors for fastest loading time. Click the horse you want to try and buy and follow the prompts from ZED and MetaMask. Once you've started the transaction, MetaMask will ask you to sign your transaction. You will get a message confirming your purchase.
Note: It can take a while for the horses to be minted on the blockchain and transferred.
Once you had a successful transaction, then you are good to race!
How to Play ZED RUN in 3 Steps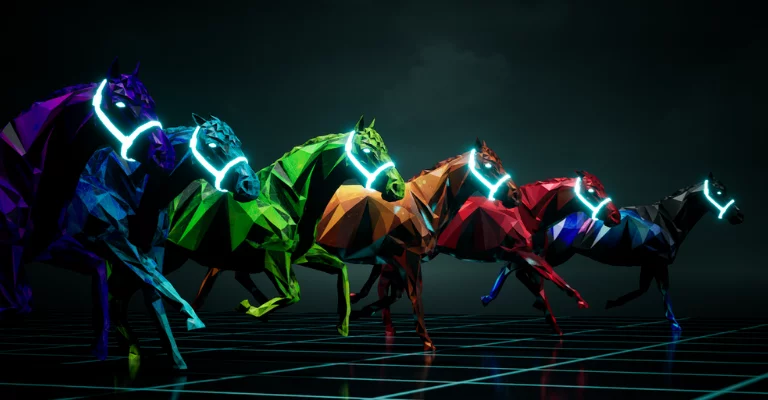 Now that you have a ZED horse, you can participate in racing! 12 horses enter every race, but only the top three will receive their share of the prize pool.
There are five classes for raced horses, Class 1-5 (with Class 1 being the highest and 5 being the lowest) and one class for unraced horses called Griffin. Every horse must race in a free Griffin race before entering ranked paid races, but will only be able to race Griffin once.
1. Enter Your First Race
To enter a race, select the class your horse is in (Griffin if unraced) then scroll down until you see the option to pick a gate and enter a racehorse. Follow the prompts to select your horse you want to race and sign the MetaMask contract.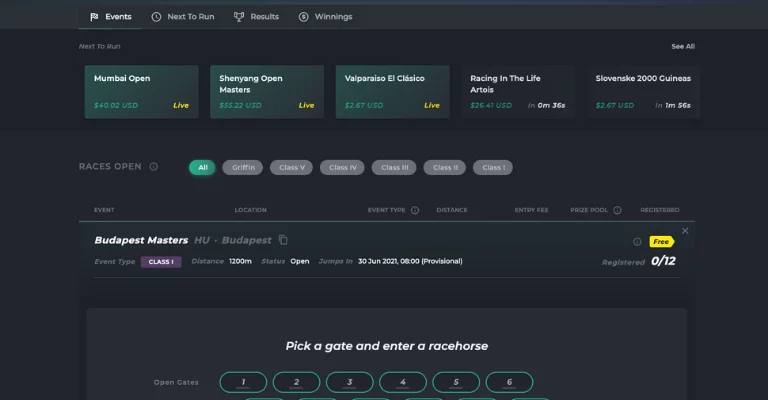 Note: After the Griffin race, you will be put into a certain racing class based on your genotype base rating and can only enter races in that race class until you move up or down in the rankings based on your race results.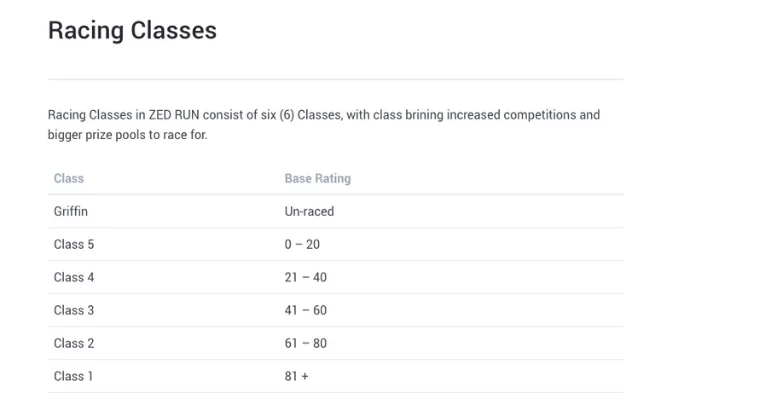 Class 1 is the highest rated Class in ZED RUN, with Class 5 being the lowest. All un-raced racehorses will begin as a Griffin classed racehorse. Each un-raced racehorse will have a base rating linked to its genotype as shown below:

Every racehorse will begin with a base rating of 17, 37 or 57. After each race, a racehorse will be awarded the following points based on its finishing position which will be added to its base rating.

Remember:
The base rating will be applied to all racehorses in the ecosystem including existing racehorses.
Griffin Class acts as an entry point or, as a grading race, to see how your racehorse performs.
All un-raced racehorses will be determined as Griffin Class. Griffin Class racehorses can only compete in Griffin Class races.
Once your racehorse competes in a Griffin Class race, it will be allocated into Class 2, Class 3, Class 4 or Class 5 depending on its performance in its first race.
If your racehorse has entered a buy-in race or a free race, it cannot be entered into any other future races. You must wait till the completion of the race your racehorse is in to enter another race.
2. Check the Time of Your Race.
You will be given a time as to when your race will be run, it could be a matter of minutes or you can book races hours in advance!
3. Watch the Incredible Race in 3D.
Races start from the Next to Run tab, you can watch them live as they are playing, or you can watch the replay later. Replay by selecting the race and pressing the replay button from the results tab. All live races and replays can be watched in 2D or 3D in the player back end. Once the race is complete, you can enter your horse into another race!
Start playing now! Play ZED RUN on https://zed.run