Immutable X Comprehensive Guide: What You Need to Know in 2023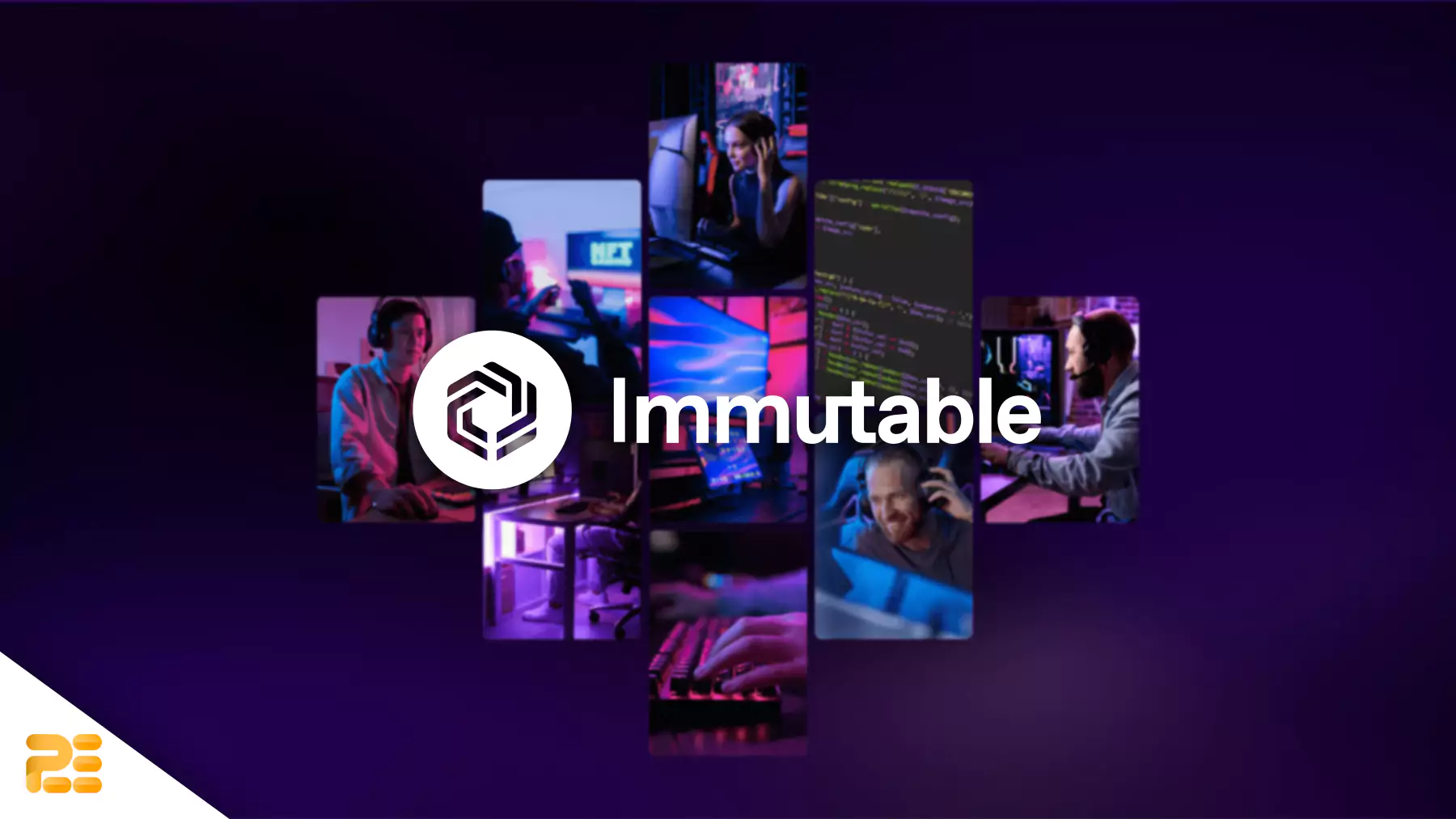 If you are into NFTs and cryptocurrency, then you've probably heard of Immutable X – a layer 2 scaling solution on Ethereum. Immutable X is a game-changer, offering instant trading, massive scalability, and zero gas fees for minting and trading, making it easier for users to buy and sell digital assets without worrying about high transaction fees.
But what exactly is Immutable X, and why is it significant in the world of cryptocurrency? Founded in 2018 by James Ferguson, Robbie Ferguson, and Alex Connolly, Immutable X is a protocol that enables fast, secure and low-cost trading of NFTs. The company has over 100 employees with backgrounds in blockchain, finance, fintech, and management consulting. They are also the developers and publishers of the popular NFT projects Gods Unchained and Guild of Guardians.
Immutable X has received significant backing from top investors such as Naspers, Galaxy Digital, Coinbase, Apex Capital, Nirvana Capital, and Continue Capital. This support highlights the potential of Immutable X in the world of NFTs, as it addresses one of the biggest problems facing NFTs – high transaction fees.
If you want to learn more about Immutable X and its features, then this article is for you. We'll provide a comprehensive overview of Immutable X, specifically discussing the following topics:
What is Immutable X
How Immutable X Differs from Other Blockchain Platforms
NFT Marketplace
How to Sell NFTs
$IMX
Buying $IMX
Staking $IMX
IMX Staking Rewards and the APR
5 Best Immutable X games
What is Immutable X?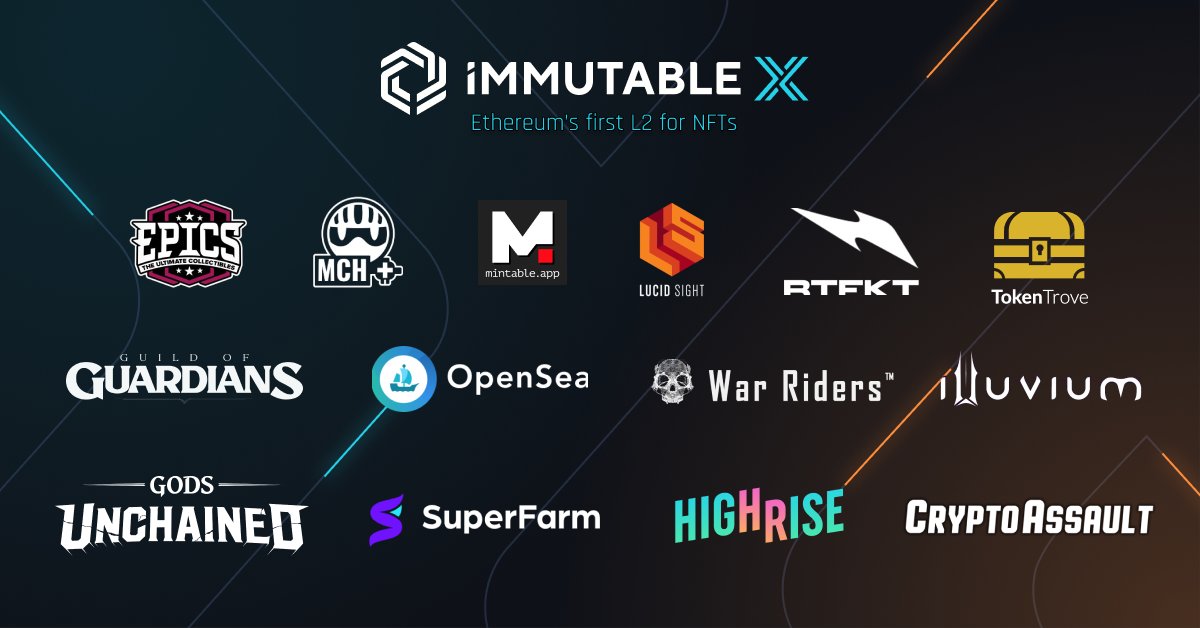 Immutable X is a layer two (L2) scaling solution specifically designed for non-fungible tokens (NFTs) on Ethereum. It boasts instant trading, massive scalability, and zero gas fees for NFT minting and trading, without compromising security. Developed with StarkWare's STARK prover and ZK-Rollup technology, Immutable X is the most advanced solution for NFT scaling ever built.
The rollup scaling engine allows for more than 9,000 NFT transfers, trades, and mints per second. It batches large numbers of transactions, generates a "validity proof" for those transactions, and submits that proof to an L1 smart contract, all while maintaining the underlying security of Ethereum. With this cutting-edge technology, Immutable X exceeds the scale required by mainstream NFT projects and offers a more affordable solution for users.
"The Ethereum ecosystem is likely to be all-in on rollups as a scaling strategy for the near and mid-term future."

Ethereum co-founder Vitalik Buterin
In addition, Immutable X also employs other innovative features that contribute to its scalability and cost-effectiveness. For example, it enables asset minting entirely in Layer 2, so assets can be traded without the need to move them back to Layer 1. This reduces gas fees and improves efficiency by eliminating the need for costly and time-consuming on-chain interactions.
Using Immutable X will give you multiple advantages as a user:
Fast and Cheap Transactions
Security by leveraging Ethereum's underlying security while still offering a world-class user experience.
Easy to use
Support for Third-Party Marketplaces
How Immutable X Differs from Other Blockchain Platforms
Uses ZK-Rollups for scalability and faster transaction speeds.
Focuses solely on NFTs, making it one of the first L2 solutions with this approach.
Utilizes an API abstraction layer that simplifies blockchain interactions.
Offers REST APIs for designing and trading NFTs without direct interaction with smart contracts.
Supports developers to create NFT products such as P2E games through the integration of its SDK, API, and wallet.
Offers a global order book for third-party NFT marketplaces, increasing the volume and liquidity of NFTs.
Supports all Ethereum wallets, allowing for seamless buying and selling of NFTs across multiple wallets without switching assets from one network to another.
NFT Marketplace
Immutable X provides an NFT marketplace that serves as the default trading hub for NFTs on the protocol. It offers users and developers a reliable platform for conducting trades, especially beneficial for content creators and smaller developers who lack the resources to create their own trading infrastructure. To promote trust and legitimacy in blockchain ecosystems, Immutable X provides a transparent space for anyone to view transaction records and historical data.


The presence of a shared global order book and liquidity system ensures that third-party marketplace developers need not worry about the displacement of the trading volume. Orders can be fulfilled on any marketplace, leading to more efficient bootstrapping and price discovery. This system enables the creation of NFT marketplaces without the need for a backend.
ERC-721 and ERC-1155 support provides users with flexibility and choice in managing their NFT assets. Additionally, users can easily mint assets on the Immutable X platform at no cost, whether they wish to mint one item or a large batch. These newly minted NFTs can be immediately listed for sale on the Marketplace, enabling users to distribute and sell their creations on a large scale.
Users can create listings from their accounts and easily manage their assets on the Immutable X Marketplace. The Marketplace also includes a separate section for displaying current orders, making it simple to trade NFTs.


Immutable X takes a 2% fee on all primary asset sales and a 2% fee on every NFT trade denominated in the purchase currency. Marketplaces can also add their own fees to every order, and an asset originator can apply a royalty to each NFT they mint to receive a fee from every subsequent purchase of that asset.
This alignment of incentives between asset originators and marketplaces opens up new revenue streams for businesses and individual creators, giving them a massive incentive to continue to make their assets valuable to those who hold them.
How to Sell NFTs
To sell NFTs on the Marketplace, the seller must:
Register and deposit their NFTs into their inventory; or
Purchase an NFT on the Marketplace and list it for sale by creating a Listing.
The NFT Price is determined by the seller based on their perceived value of the NFT, as Immutable X does not control or represent the pricing of NFTs.
$IMX
$IMX is an ERC-20 utility token created to accelerate the growth of the Immutable X protocol by incentivizing protocol adoption and trading activity. The token also rewards users and developers who contribute to building a scalable NFT ecosystem on Ethereum. The total supply of $IMX is 2 billion tokens.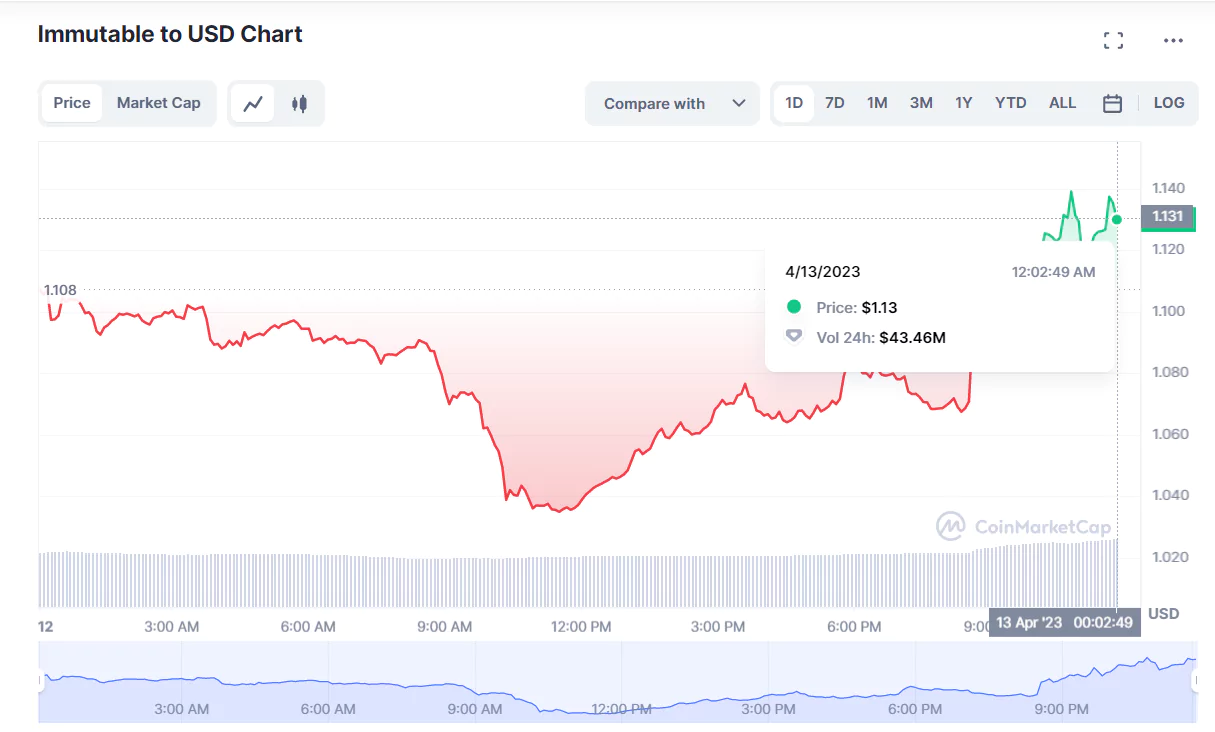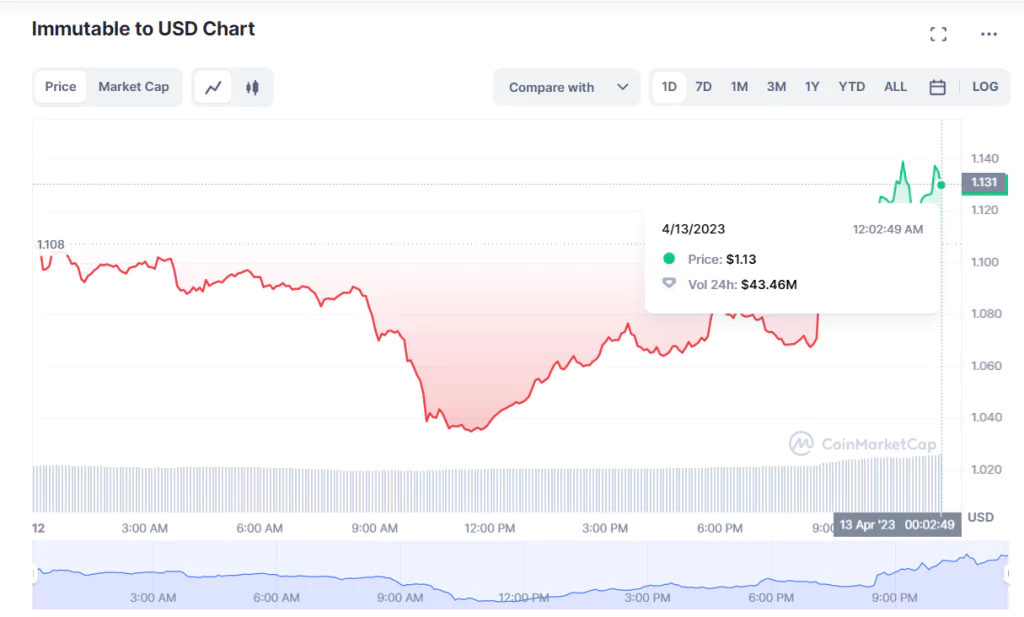 Buying $IMX
To buy $IMX, interested users can visit the following exchanges listed on Coinmarketcap:
With DEXes, you just need to connect your wallet to the exchange website, select the coin to be used in buying $IMX, then confirm the transactions in your wallet. With CEXes, you don't need to connect your wallet. Simply log in with your email and password and buy through your bank account. Note
Immutable X Global Orderbook charges a 2% protocol fee on trades, with 20% of the fee going to Staking Rewards. This is converted to IMX tokens and distributed to qualified stakers in the cycle.
Staking $IMX
Staking on Immutable X is not a new concept, but the team has made substantial efforts to improve the experience for its users by adding a Staking Rewards program.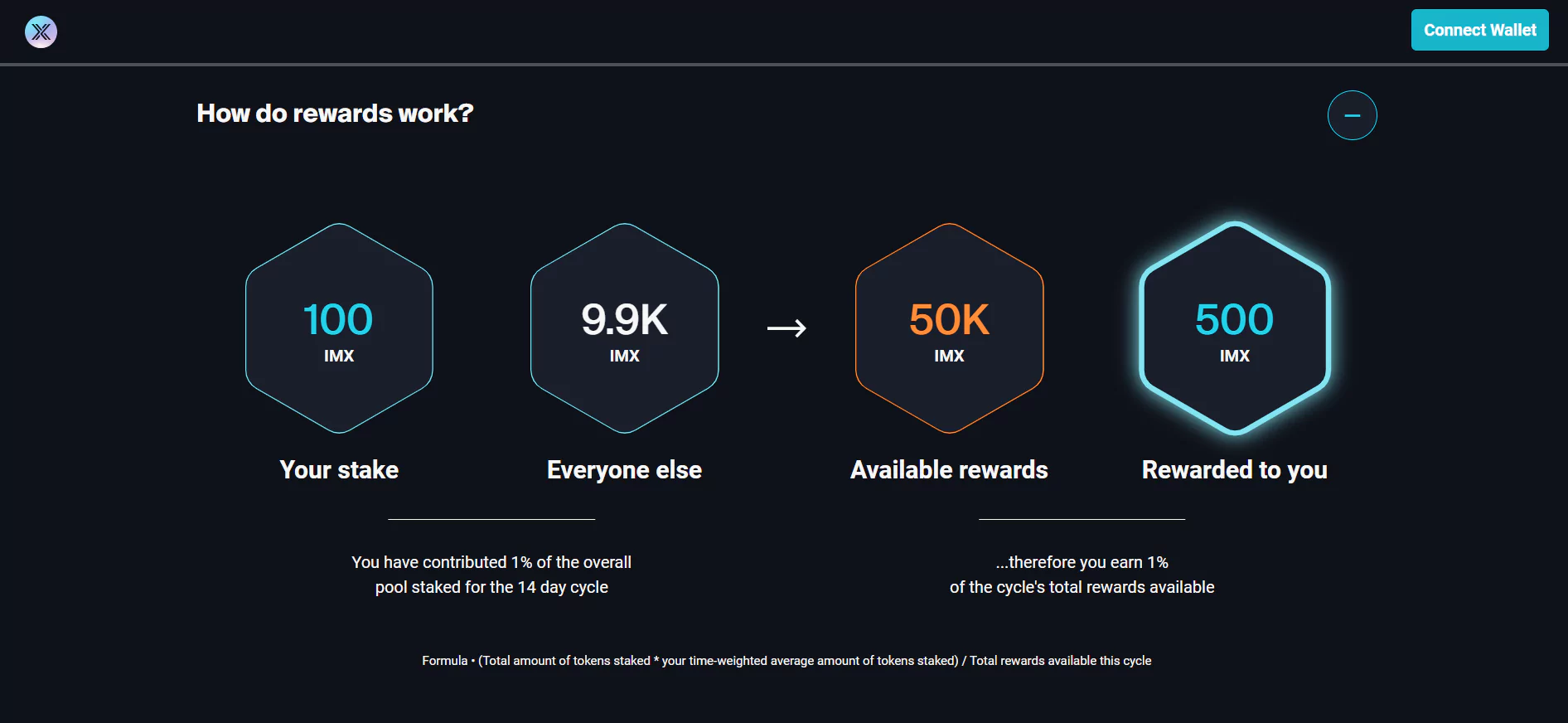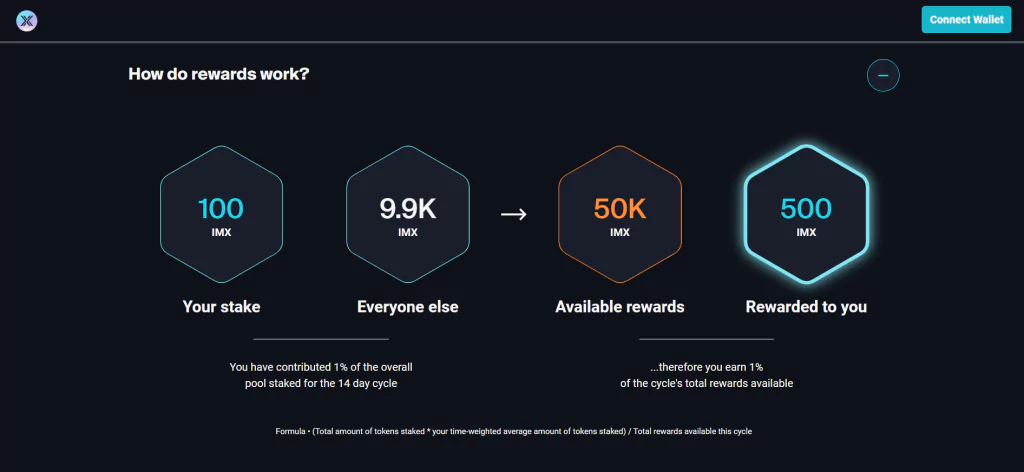 To be considered for staking, a user must:
Hold $IMX on L1 or L2 and have voted on a governance proposal in the last 30 days.
Either hold an NFT on Immutable X or have completed a trade in the last 30 days.
To stake IMX tokens, you can follow these steps:
Navigate to the Staking Rewards landing page and connect your wallet. Make sure that it is in Ethereum Mainnet.
Deposit funds into Layer 2 for staking.
Stake IMX tokens.
Trade at least once on the Immutable X Global Orderbook during a staking cycle.
Receive rewards, which will be deposited into your wallet at the end of each cycle.
$IMX Staking Rewards
IMX tokens received from the fee capture mechanism will be sent to the "staking rewards pool". This pool will be distributed proportionally between all users who are actively staking their IMX tokens on Immutable X at regular monthly intervals. The rewards will be proportional to the amount of IMX they have staked during the month relative to all other active stakers.
Since rewards are distributed on L2, users need to have an L2 wallet linked with their L1 wallet to be eligible for staking rewards. Note that staking reward terms are subject to change via protocol governance or a similar process.
To calculate staking rewards, the amount of IMX tokens staked and the length of time staked over a 14-day cycle is measured proportionally against the total amount of IMX staked in the pool for that cycle. This means that the longer and the more a user stakes, the greater their rewards may be.
APR
The APR (Annual Percentage Rate) in staking IMX is variable and depends on the percentage of the stakeable token supply that is being staked. Staking Rewards ensures a minimum of 5% annual rewards rate when at least 30% of the stakeable token supply is staked.
5 Best Immutable X games
1. Gods Unchained
Gods Unchained is a trading card game that allows players to engage in epic duels using fantasy cards. The game is designed to revolutionize traditional gaming by using Ethereum technology to provide players with true digital ownership of their in-game items. Moreover, players have the opportunity to earn valuable items that can impact their gameplay experience. Here, players can amass a collection of unique cards to build the most powerful deck possible for competitive play.
2. Undead Blocks
Undead Blocks is the world's first AAA zombie shooter game on Immutable X that allows players to earn rewards by killing zombies. Undead Blocks provides players with 6 various game modes to select from, each with its own distinct difficulty and rewards.
3. Cross The Ages
Based on the rich and thrilling universe of the Cross The Ages saga, Cross The Ages: Trading Card Game involves the conquest of territory. The usual gameplay mode consists of one-on-one matches between a player and a randomly chosen human opponent.
Players can also compete against acquaintances with the "friendly duel" option, which pits two players against each other in a rapid and tactical game. The game is designed in a "blitz" format where each player has a total of five minutes to play their turn, resulting in a maximum game duration of ten minutes.
4. Illuvium
Illuvium is an open-world RPG adventure game built on the Ethereum Blockchain. Players journey across a vast landscape, hunting and capturing deity-like creatures called Illuvials. With community-based governance and a variety of collectibles, players can earn $ILV through play.
5. Guild of Guardians
Guild Of Guardians is a multiplayer, fantasy, action RPG where players build their dream team of Guardians and compete in a guild to earn epic rewards. Players take their team of heroes through dungeons to collect resources and earn experience, which they can use to craft items or summon heroes for real money. With the help of their guild, players can top the leaderboard and earn seasonal prizes.
Final Thoughts
Immutable X indeed has a significant impact on the cryptocurrency ecosystem as it offers a solution to one of the biggest problems facing NFTs, high transaction fees. As more NFT platforms adopt Immutable X, we can expect the use of NFTs to grow, opening up new revenue streams for businesses and individual creators.