Top 5 Axie Infinity Youtube Channels for 2021!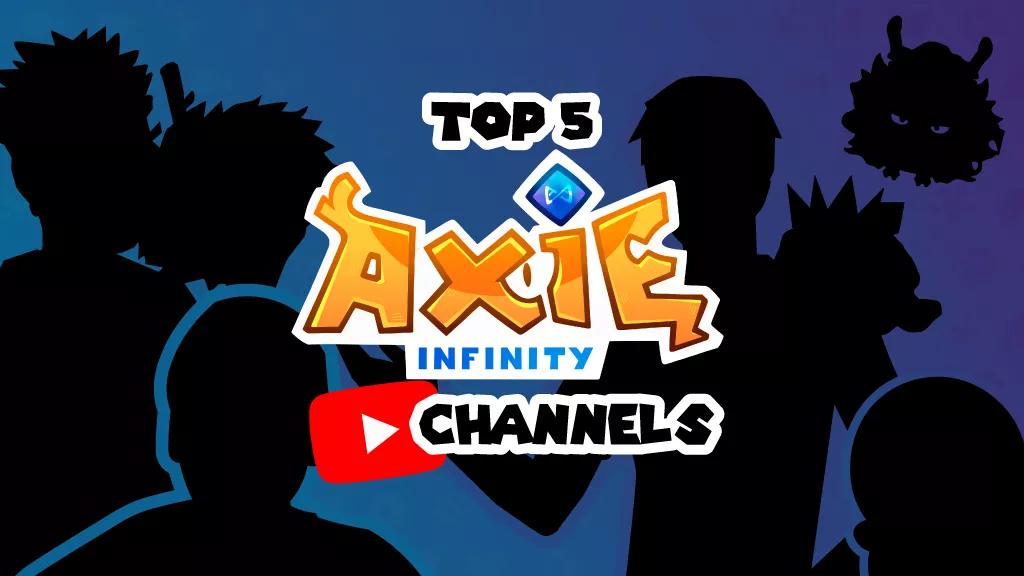 Playing Axie Infinity requires an understanding of its gameplay, marketplace, updates and especially how to play so that you maximise your earnings and fun.
If you're looking for videos that may help you gain and expand your knowledge about Axie Infinity, then check out the Top 5 Axie Infinity YouTube Channels below!
1. Kookoo Crypto TV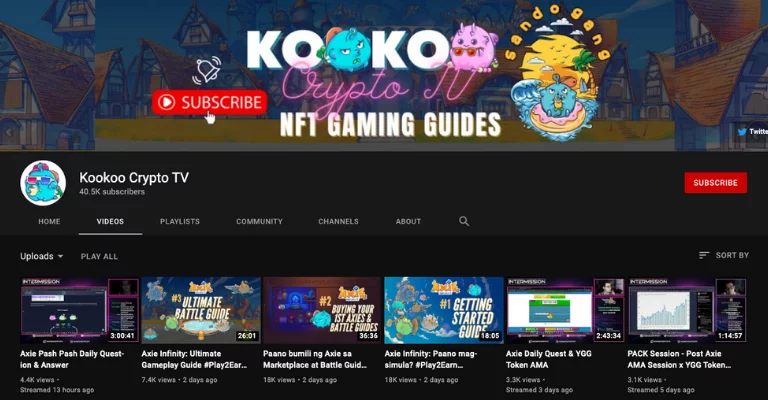 Unlike other Axie Infinity YouTubers that center on instructional videos on how to buy, breed, and sell Axies, Kookoo Crypto also discusses relevant information about Play-to-Earn gaming as a whole, especially the cryptocurrencies involved in them.
Kookoo Crypto has close to 35,000 subscribers and for the record, the most popular video on their channel has over 224,500 views!
You can also watch live streams on Kookoo YouTube Channel: https://www.youtube.com/c/KookooCryptoTV/videos.
Subscribe to them now and be prepared for your P2E journey!
2. Axie on the Moon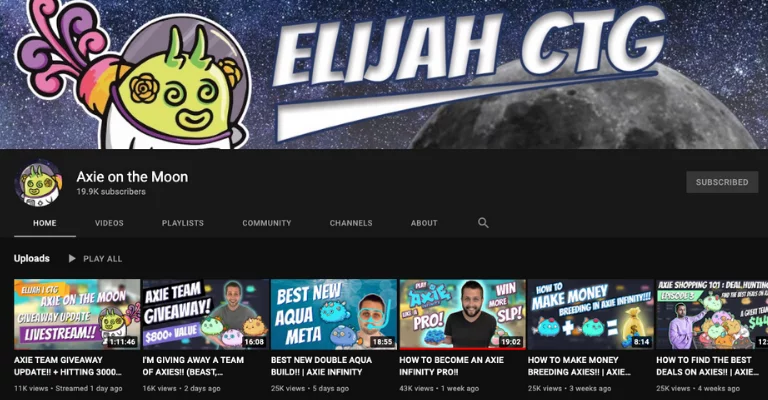 Axie on the Moon has 14,000 subscribers as of June 2021 and is managed by Elihah CTG. Elijah published his first video on January 23, 2021 (5 months ago). In his first video, Elija mentioned that he had been playing Axie infinity for a month and made it to spot #107 on the PVP leaderboard, garnering a 2215 Matchmaking Rating (MMR).
His content also centers around his other achievements in breeding Axies, advice for purchasing a team, tips on how to become a pro, and even an Axie Infinity buying guide which is his most popular upload, having gained 66,700 views in only 4 months.
Subscribe to Axie on the Moon and watch his videos here! https://www.youtube.com/c/ElijahCTG/videos
3. On Chain Gaming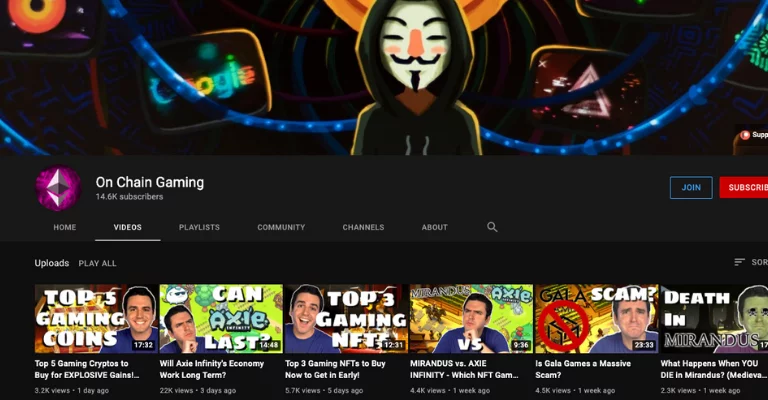 On Chain Gaming has the largest number of video uploads in this top 5 list! His channel has 13,500 subscribers as of June 2021.
The channel recently discussed Axie Infinity's new NFT land Metaverse, Lunacia and whether or not the game's economy will work in the long term.
On Chain Gaming is not created for Axie Infinity specifically and it features many other play to earn games. He also discusses his predictions on the NFT space, his opinions on certain projects and various gameplays. We highly recommend his channel!
Watch On Chain Gaming on Youtube here: https://www.youtube.com/c/OnChainGaming/videos
4. Brycent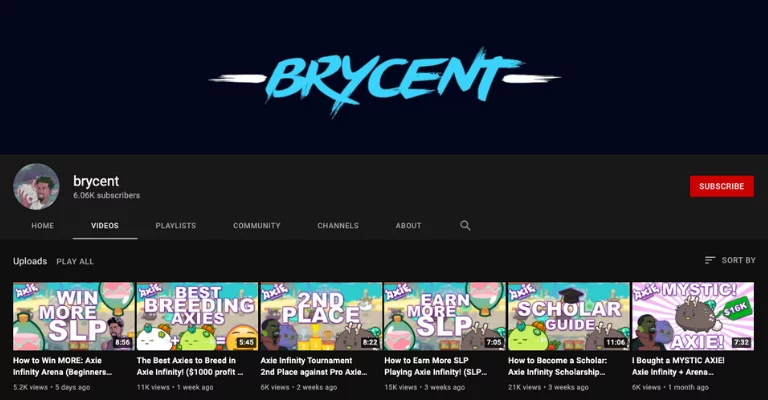 Brycent has become and local celebrity in the Philippines and is current sitting at 5,610 subscribers. His content is highly educational and directed to Axie Infinity beginners. His most viewed uploads are those where he teaches how to breed Axies, how to earn more Smooth Love Potion (SLP), how to become a scholar, and how to buy your first Axie, which is his most popular upload!
Brycent's instructional videos are very clear and straightforward, helping aspiring players and even those that are experienced, but want to learn more strategies for Axie Infinity. Subscribe to his channel and reap the rewards of being a master in Axie!
Click here: https://www.youtube.com/c/brycent/videos
5. Method to the Mythos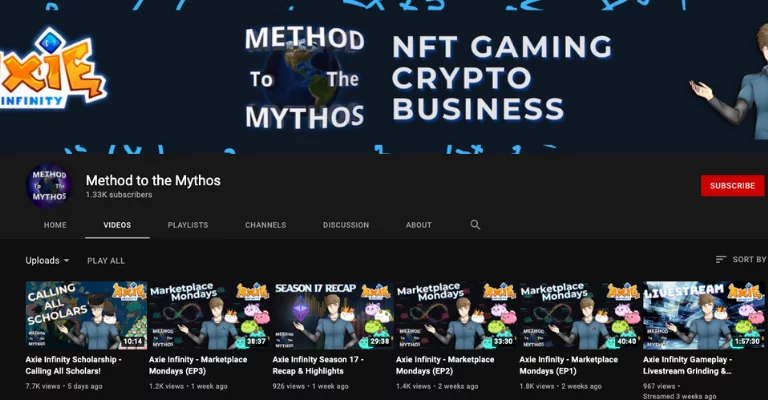 Method to the Mythos is a new yet very useful channel. They have many videos ranging from "Zero 2 Hero Pro Guide" and others that include Axie Infinity strategies and instructions. They also feature discussions about Axie Marketplace, breeding and even occasionally live stream Axie battles.
If you wanted a clear and concise channel that doesn't waste your time, this is the one for you!
Click here: https://www.youtube.com/c/MethodtotheMythos/videos