App.axie Now Allows You To Equip, Buy, and Sell Fancy Accessories!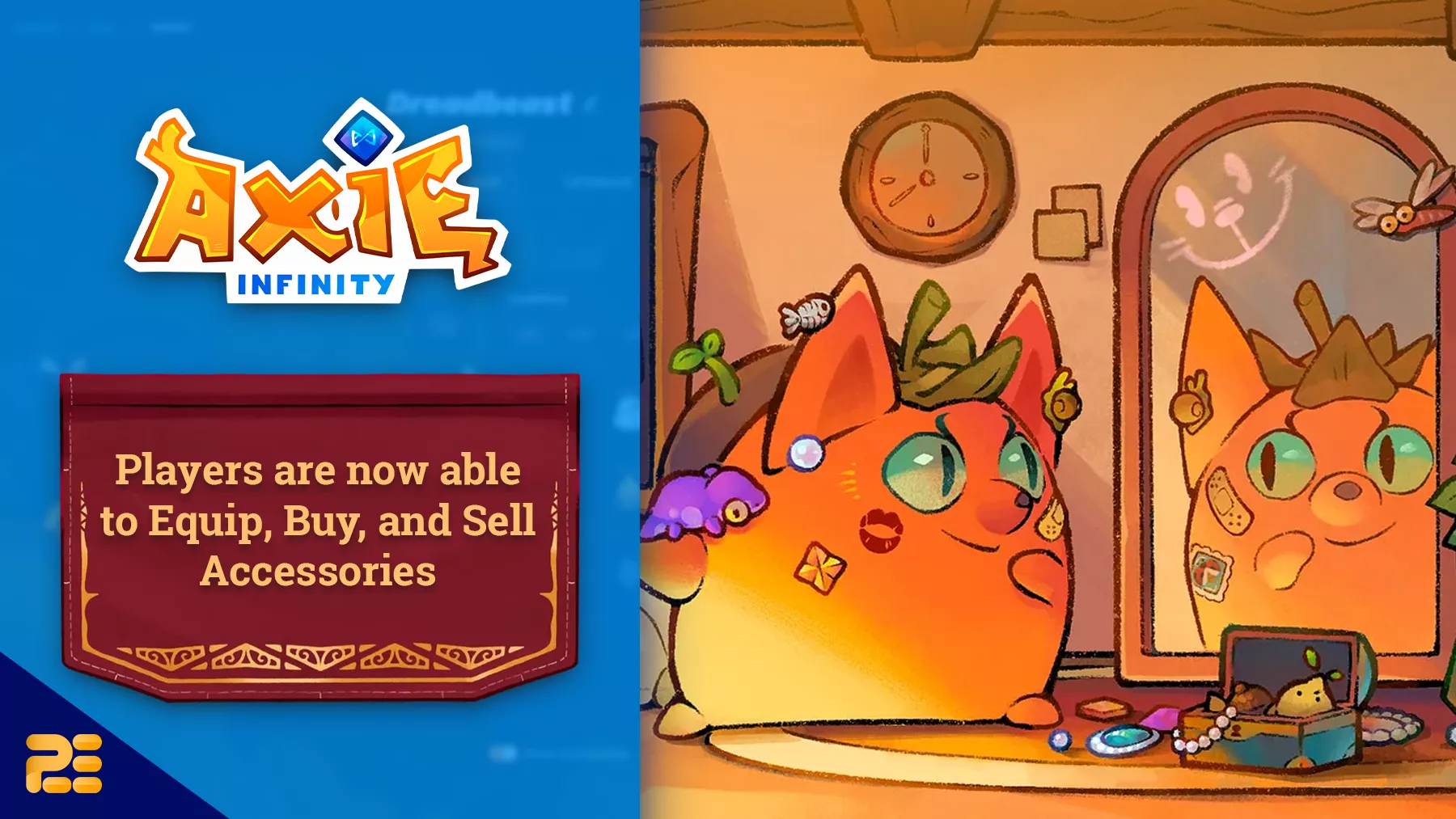 Good news, Lunacians! Axie Infinity announced today on Twitter that you may now equip, buy, and sell fancy accessories through App.axie! In addition, Axie Infinity will hold an #AxieLookBook competition to select Lunacia's most fashionable Axies! As a reward, they have reserved some early ID accessories and AXS.
Accessories can now equipped, bought, and sold through App.axie!

To celebrate, we're hosting an #AxieLookBook competition to find Lunacia's most stylish axies.

Full details 👇

📜 | https://t.co/t36arrbOVf pic.twitter.com/ZS4ZdYP1j6

— Axie Infinity | #AxieOrigins, #AxieHomeland (@AxieInfinity) January 3, 2023
Axie Infinity's accessories are also known for their high-quality designs. The virtual clothing and accessories are all beautifully crafted, with intricate details and textures that make them look just as good as the real thing. This attention to detail is one of the reasons why so many players will be drawn to Axie's Accessories line.
Equip Fancy Accessories to Your Axie thru App.axie!
The new update provides an easy way to equip, buy, and sell accessories to your cute and amazing Axies!
App.axie's Accessories is a line of virtual fashion items that can be used to customize and personalize the appearance of Axies, the virtual pets that are a central part of the Axie Infinity game. These accessories range from different rarities and placements such as in the neck, ground, hip, cheek, and air, and they allow players to give their Axies a unique look that reflects their own personal style!
One of the standout features of App.axie Accessories is the sheer variety of items that are available. There are many different accessories to choose from, each with its own unique design, so players are sure to find something that suits their taste. Whether you want to give your Axie a sleek and stylish look or a more whimsical and playful appearance, there is an accessory that can help you achieve it.
To equip some fancy accessories to your Axies, you just need to visit your App.axie inventory, hover over the Axie you want to accessorize, click "Manage Axie", and then click "Equip" and assign the accessories you want to the 6 possible slots!
If you don't have any accessories yet, buy them in their marketplace.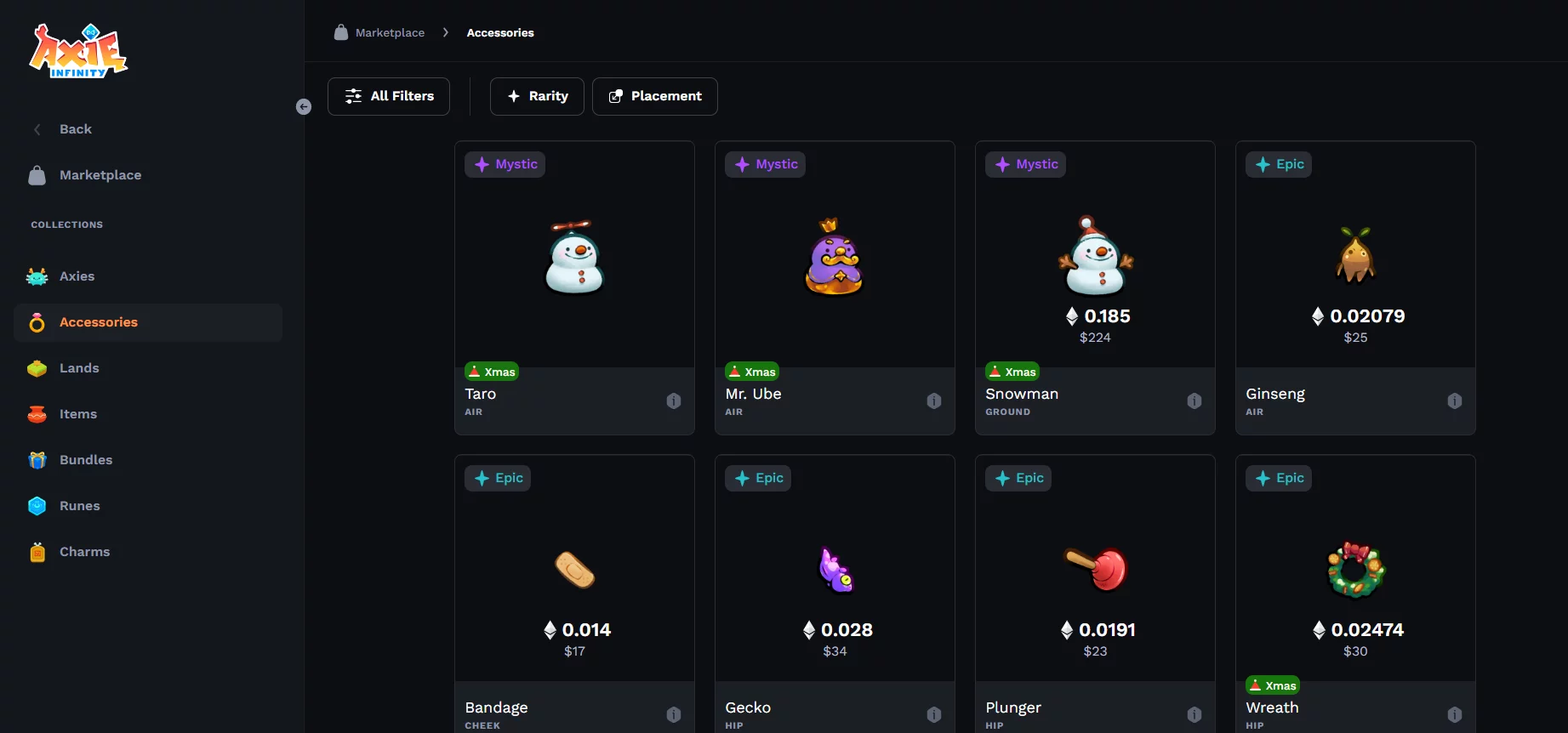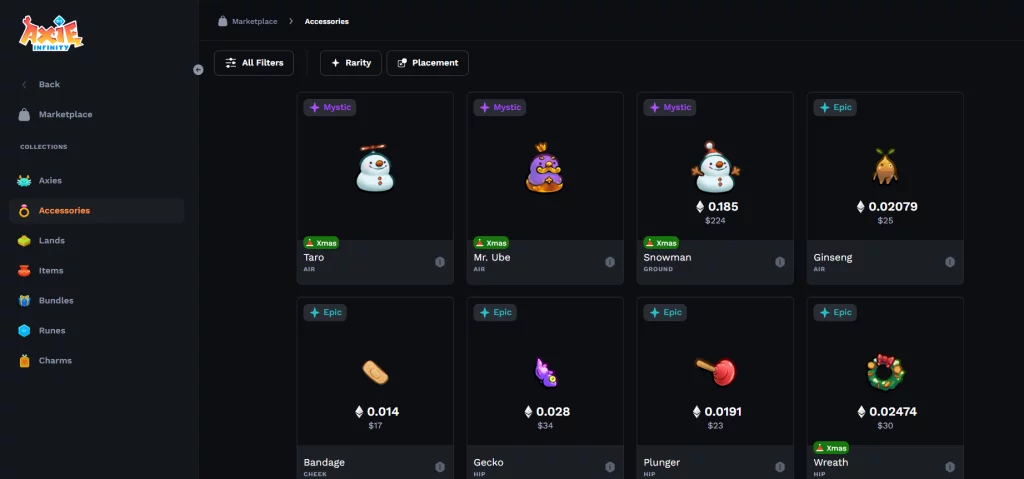 Note
Each accessory can only be worn on one Axie at a time.
The fancy accessories you attach to your Axie will appear in the Origins arena and may be offered for sale and bought on App.axie.
As previously stated, Axie Infinity will organize an #AxieLookBook contest with some amazing prizes to celebrate the launch of accessorized axies. The top submissions will be collected in a digital lookbook!
How to Join the #AxieLookBook contest?
Joining the #AxieLookBook contest is not hard at all! Just follow the instructions listed below:
Upload a picture of one of your accessorized Axies on Twitter using the #AxieLookBook hashtag.
Include your Axie's ID + your Ronin address. Please keep in mind that you may only submit Axies wearing your own accessories.
Include a summary of your thought process when matching accessories to your Axie.
You can submit as many entries as you like, but you can only win one prize. The deadline is one week from today, at 2 a.m. EST on Tuesday, January 10th. Save the date!
Win Exciting Prizes!
Now hold your breath for some big prizes! You can win Early ID Accessories + AXS! You know that early IDs are collectors' dreams, so make sure you do your best to be one of the lucky winners!
In draft style, the first five winners will be allowed to select one of these accessories. Sky Mavis, together with community judges, will select the winners. The following will be the rewards structure:
1-5: 25 AXS + winners will choose a low ID accessory from Sky Mavis's accessory stash based on their order of placement.
6-10: 25 AXS each
11-25: 10 AXS each
26-50: 5 AXS each
Overall, the accessories are a must-have for any Axie Infinity player who wants to fully customize and personalize their virtual pet. With its wide range of fashionable and functional items, it's the perfect way to make your Axie stand out from the rest. So, it is a great way to express your creativity and personality in the game.