The Axie Infinity: Origins Season 3 Is Finally Here!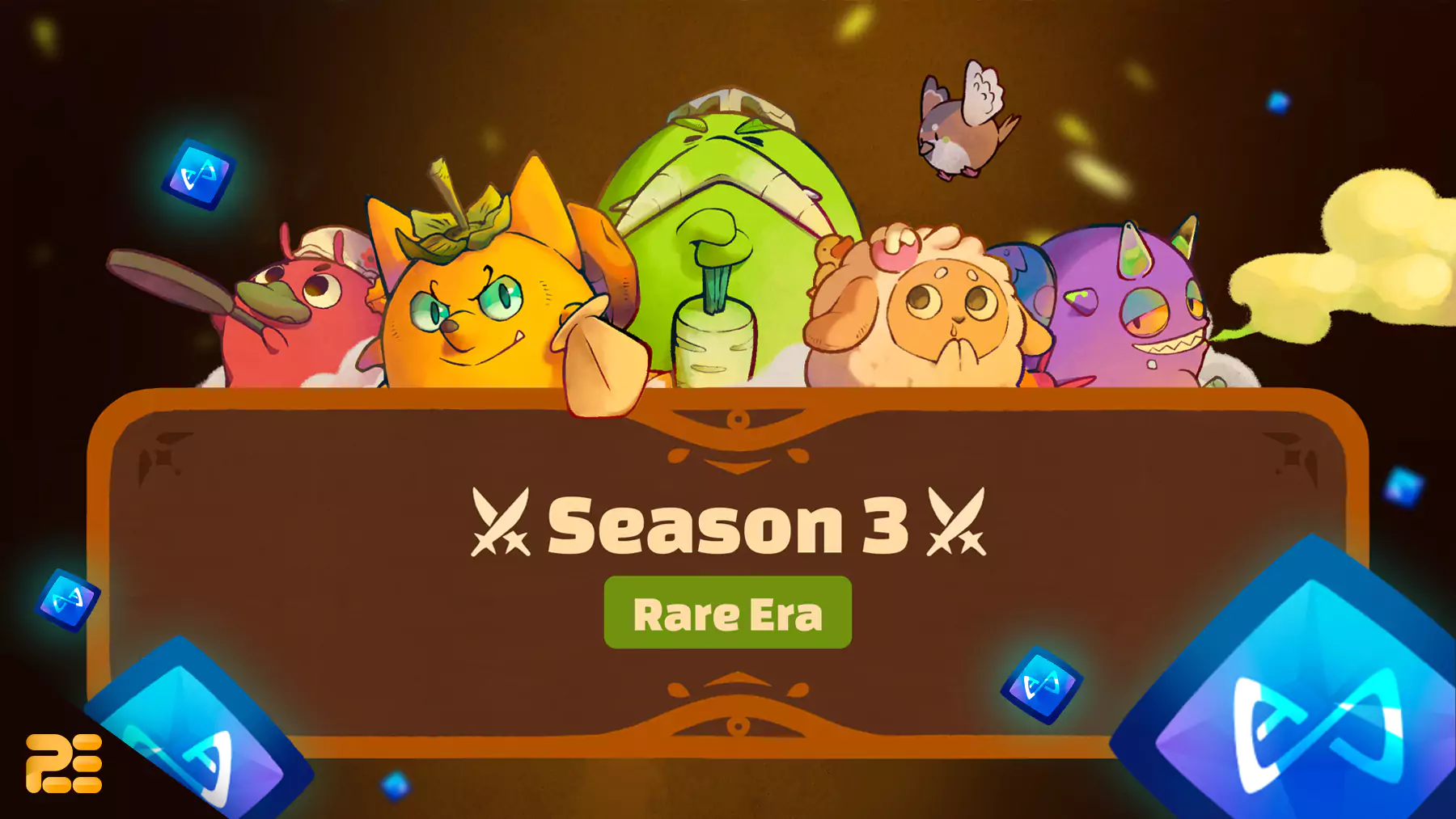 The highly anticipated Axie Infinity: Origins Season 3 has arrived, bringing with it a range of updates and changes designed to make the gameplay experience even more engaging and rewarding for players!
Axie Infinity: Origins Season 3 is live!

• More SLP/Moonshard rewards 🌕
• New Runes/Charms 🧿
• Daily login bonus ⏰

+ more!

📜: https://t.co/GADCYeHRaE pic.twitter.com/ZvHj42TeiP

— Axie Infinity | #AxieOrigins, #AxieHomeland (@AxieInfinity) March 8, 2023
What's New In Axie Infinity: Origins Season 3?
With double SLP rewards, extended ELO systems, and daily login bonuses, there's never been a better time to jump into the world of Axies and battle it out for the top spot on the leaderboard. Get ready to experiment with new strategies, and collect amazing rewards in the Rare, Epic, and Mystic eras.
Shall we delve into the details of each change for this season?
Juiced-Up SLP/Moonshard Rewards System
One of the most exciting updates is the new and improved SLP/Moonshard rewards system. Players will now earn double the SLP rewards and 50% more Moonshards per victory at all ranks. Additionally, the newly adjusted stamina system allows players to continue earning Moonshards even after they have run out of stamina, making it easier to accumulate rewards.
Balancing Changes
Season 3 also comes with a variety of balancing changes, including the introduction of new Runes and Charms. All Axies now have 15 Potential Points, which gives players more options when equipping Charms, contributing to a more diverse meta.
To have a comprehensive view of all the changes, be sure to check out this sheet.
AXS Leaderboards for S3
The total Origins Season 3 prize pool is an impressive 112,476.88 AXS, with half of it on the line during the Mystic Era! This gives players the chance to explore various metas during the Rare and Epic Eras before competing for the massive Mystic Era prize pool at the end of the season.
In Season 3, players will need to place in the top 20,000 to earn AXS rewards instead of the top 40,000, which means bigger rewards for the most passionate Origins competitors.
Here's the AXS Leaderboard distribution for this season: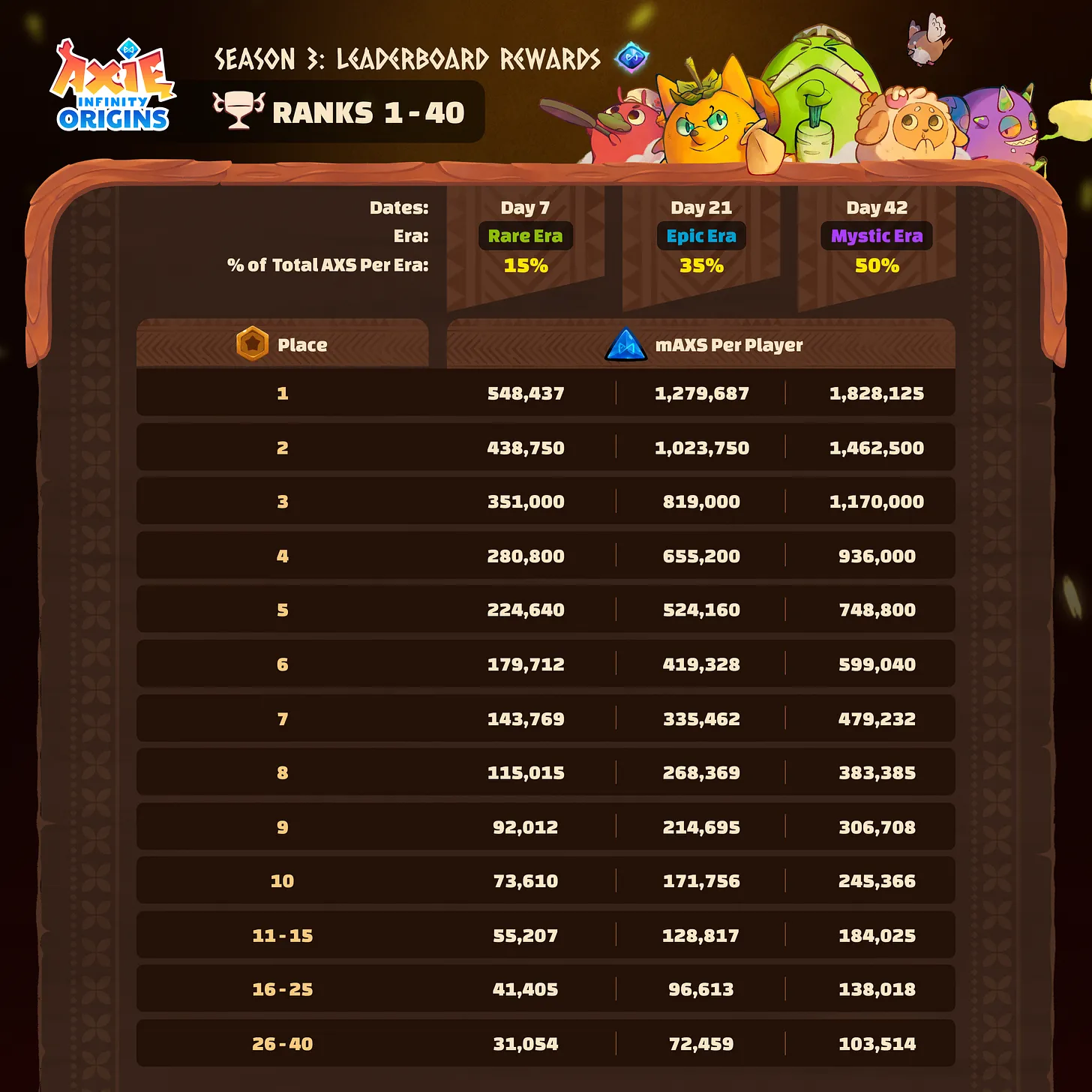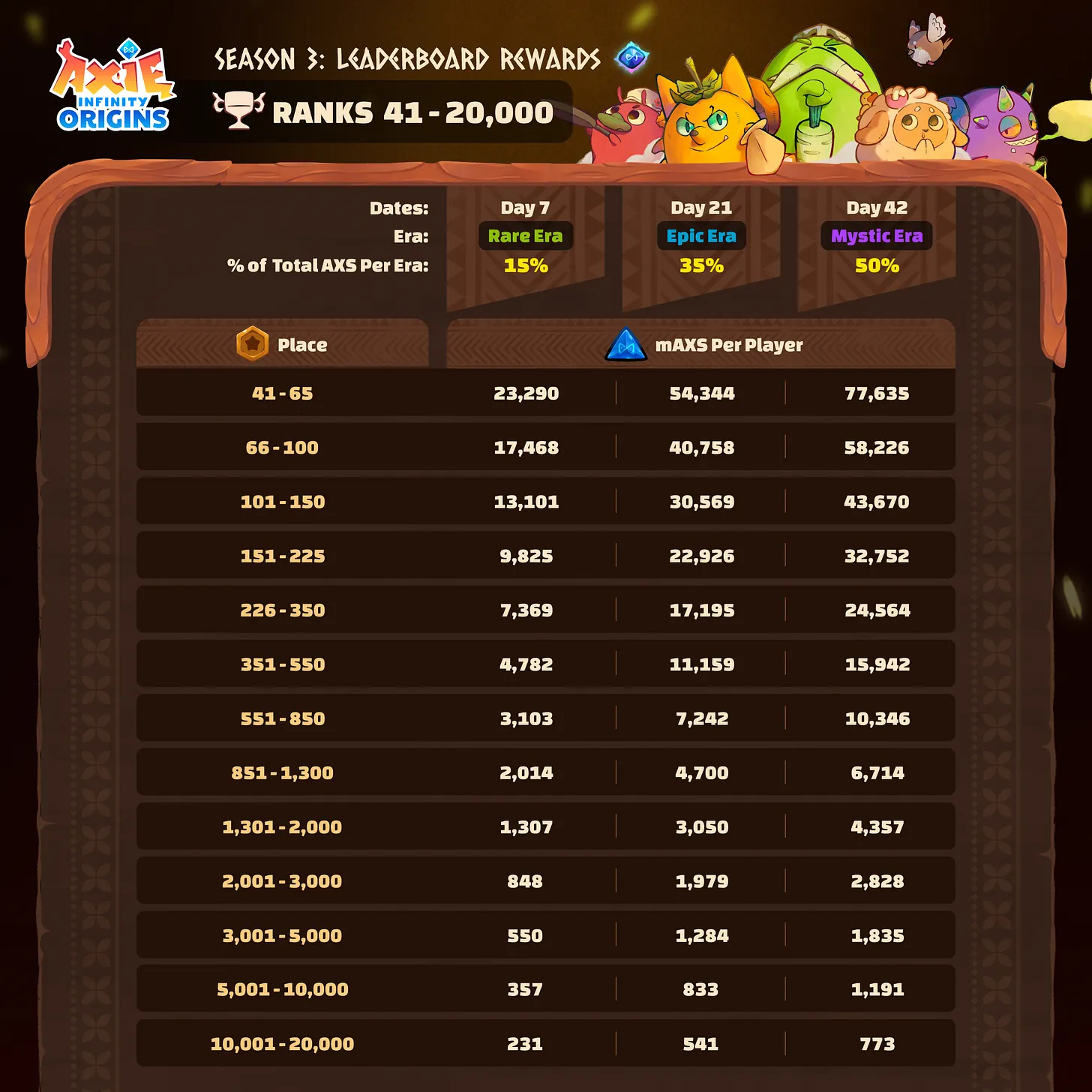 Extended ELO System and Updated Challenger Decay
Origins gameplay is set to become even more competitive in Season 3 with two new changes – an extended ELO system and an updated Challenger Decay. When a match includes at least one Challenger, the ELO system will apply to both players, allowing non-Challengers to receive the full MMR gain on a win and reduced MMR reduction on a loss.
To avoid decay, players in the Challenger rank now need to play five games instead of one. With higher rewards per victory, it is expected that queue times will speed up, and more players will achieve the coveted Challenger level this season.
Stamina and Match Reward System Rework
To balance the new rewards system, the stamina and match reward system has also undergone some changes based on player feedback. The maximum stamina has gone from 60 to 30, and the new formula for calculating stamina is Total Stamina = 10 + (Number of Personal Axies).
Players can now earn up to 30% of Moonshard rewards without stamina, with 10% unlocked per Ronin Spirit*. This means that using three NFT Axies can earn you 30% of Moonshard rewards while using one NFT Axie will earn you 10%.
Consistency Is Key: Daily Login Bonuses Are Back!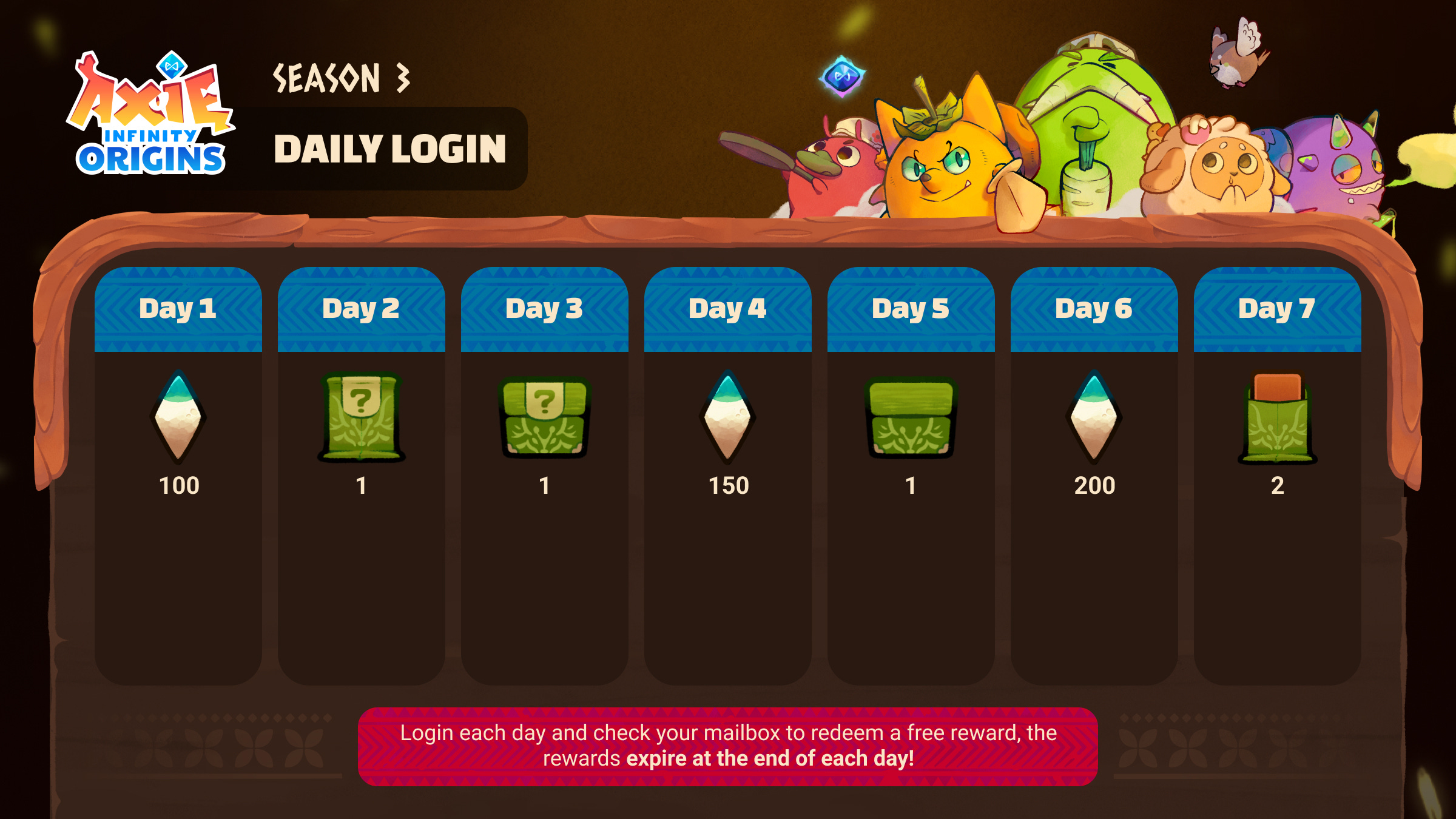 Get ready to reap daily rewards in the Rare Era with the return of the highly-anticipated Daily Login Bonuses! Make sure to be consistent. By logging in every day, players can now earn Moonshards and Rare Charm/Rune boxes, taking one step closer to achieving their desired leaderboard position.
S3 Rank Up Rewards
Axie Infinity: Origins Season 3 brings more opportunities for players to earn rewards. As players rank up, they will receive valuable rewards that allow them to craft additional Runes and Charms.
But that's not all – those who reach the Level 4 Chick status will earn a special "Oops" sticker as a reward! This exclusive reward adds a touch of personality to players' profiles and showcases their dedication to the game.
About Axie Infinity
Axie Infinity is a Play-to-Earn card game featuring collectible creatures called Axies. Players can fight through dungeons or climb the PvP ladder. The latest version features a new interface, unique mechanics, engaging storylines, and an expansive onboarding experience.
The updates and changes in Axie Infinity: Origins Season 3 provide a more engaging, rewarding, and competitive gameplay experience for players. With the increased rewards, balancing changes, and extended ELO system, this season promises to be one of the most exciting yet.
Read more news about Axie Infinity here.