Engines of Fury | P2E MetaRadar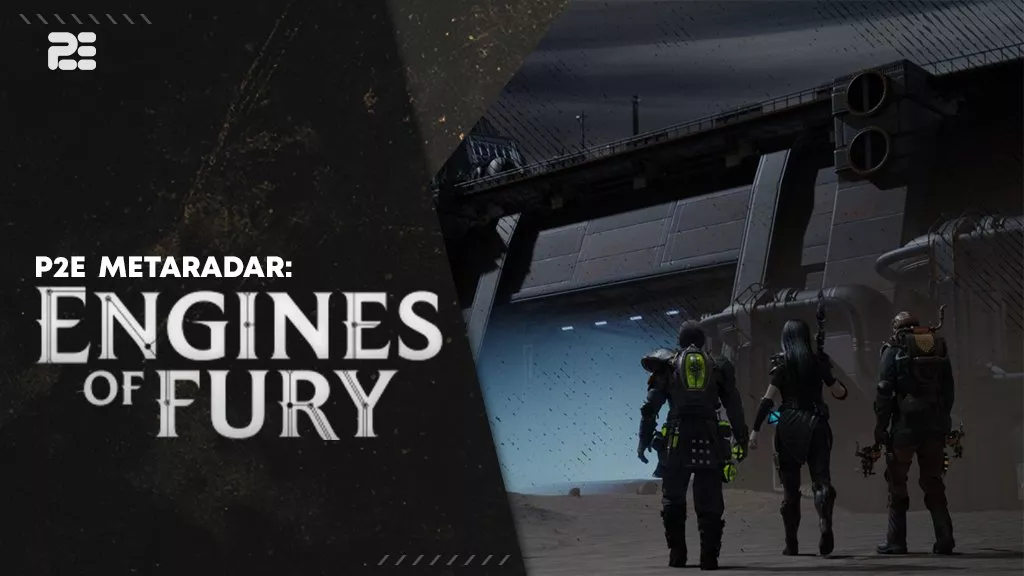 It seems that more and more games are coming to the forefront of the P2E gaming space this year as an arena battler project called Engines of Fury starts to earn its chops and develop into a full-fledged title.
Curious to see how this new title will differentiate itself from the rest of the competition? Without further ado, we dive into some information on the new game! 
Engines of Fury
A Brief Summary
Engines of Fury is a retro-futuristic world 3D ecosystem on its own. The auto battler IP is just one of the phases of the said project.
Here is how the developers defined the game briefly:
Duel: 

Engage in exciting PVE and PVP duels and tournaments

Win & Earn:

 Win tokens, forge items (NFTs), and earn profits

Upgrade:

 Buy, customize, and upgrade champions

Host: 

Buy arena lands, host fights for other players, and earn passive income
While not in the above description, the developers are also planning to introduce a sprawling marketplace where players can sell their NFTs to make a profit. Given that this was mentioned separately from the rest of the items on the above list, we could infer that the developers want the marketplace to be a central part of the game's economy.
According to the developers, the game will eventually transition later on to a "full-blown open-world MMORPG" later on in its lifespan.
A Commitment to Players
According to the project's developers, they are committed to delivering the following promises to their players and investors alike:
Replayability, variety, and complexity through having different game modes. This is so that players don't get fed up with having to grind through the same thing again and again.

Smooth, seamless integration of the game's economic ecosystem. Thus creating a natural need for tokens and NFTs. This one is challenging, but if they pull this off correctly, this will turn the game into a powerhouse in the blockchain gaming space.

Deep lore, stunning 3D visuals, and animations that are similar to AAA games. This is a clear message that the developers want the game to be playable even on its own (without the play-to-earn aspects).

A well-defined scope of development with clear deliverables and reasonable buffers for game development. The developers are making it clear that while they want to move fast, they also want the development timeframe to be realistic.
Considering their relative progress, the developers could be said to have indeed stuck with their written commitments so far.
Massive Goals for this New NFT Game!
In addition, they have committed to delivering a real game that is "fun, addictive, and interesting." And they aim to curb the typical cycle of MMORPG development by bringing it quickly to the masses.
You could sum up the rest of their intentions in the following quoted paragraph:
"We will implement a governance model in the Y2 of game development, so our players and token holders would be able to influence the MMORPG game direction and decisions in the building of Engines of Fury open world."
The developer's vision for the project is to make it one of, if not "The Game" that bridges the crypto world and non-crypto world. They aim to make history by being one of the key names that will bring mass adoption from standard gamers. This, to be honest, is a very bold claim to make considering the scope and diversity of the P2E and NFT gaming spaces nowadays.
But then, fortune has always favored the bold, no?
The Roadmap
Engines of Fury has a very fast-paced level of development based on its public roadmap. They plan to launch the IDO, DEX, and CEX within this quarter, along with key gameplay, champion, and arena features (they have done the reveals on their social media so far). In addition, they plan to launch staking and presales down the line. This is followed by wallet and smart contract integrations somewhere in the next quarter.
Based on the roadmap, they will launch the NFT marketplace and the public build of the game during the third quarter of 2022.
On top of this, they plan to list their token on centralized exchanges during that time. Whilst simultaneously creating more levels and MMORPG settings, along with a possible mobile version of the game, sometime before 2022 ends. That's a lot of milestones packed in one year indeed.
Who's behind this project? Who is backing them?
A core team of 36 developers working in different fields and 4 advisers are working on the project. It seems they are indeed committed to finishing the project and shipping it within a reasonable amount of time. Doing as much as possible to make the project an attractive game to play for their respective players and investors.
With a dazzling lineup of multiple investors such as: Animoca Brands, Double Peak, Kyros Ventures, Icetea Labs, and Metix Capital, among several others out there, the game has clearly attracted a lot of attention and financial backing. The fact that many of these big names are willing to risk a certain amount of resources (and attach their names to this title) is a clear indicator of the title's future potential.
Social Media Presence
On the surface, they have a website and a whitepaper. Plus links to Telegram, Twitter, Medium, Discord, Instagram, and TikTok. Upon checking online, most developers have their public credentials available online. This means that the people working behind the project aren't anonymous. Of course, this is not a guarantee that the project will not fail. Still, rather it is a relative proof of the authenticity of the developers' public identities and an implied commitment that they will see the project to its completion.
Final Thoughts
What do you think about the future of Engines of Fury? Do you think it will thrive in the increasingly competitive space of blockchain gaming?
__________
DISCLAIMER: None of the writings on the website constitute financial advice: P2E News is intended to be a P2E gaming news and updates portal, discussion hub and content/opinion/review aggregator. Please do your own research before investing in any NFT/P2E game out there. Better yet, consult someone within the profession to form an informed stance on your possible investments. For more leaks, news, and tutorials, always check in at P2ENews.com and follow us on social media.