Join the Town Star Competition by Gala Games!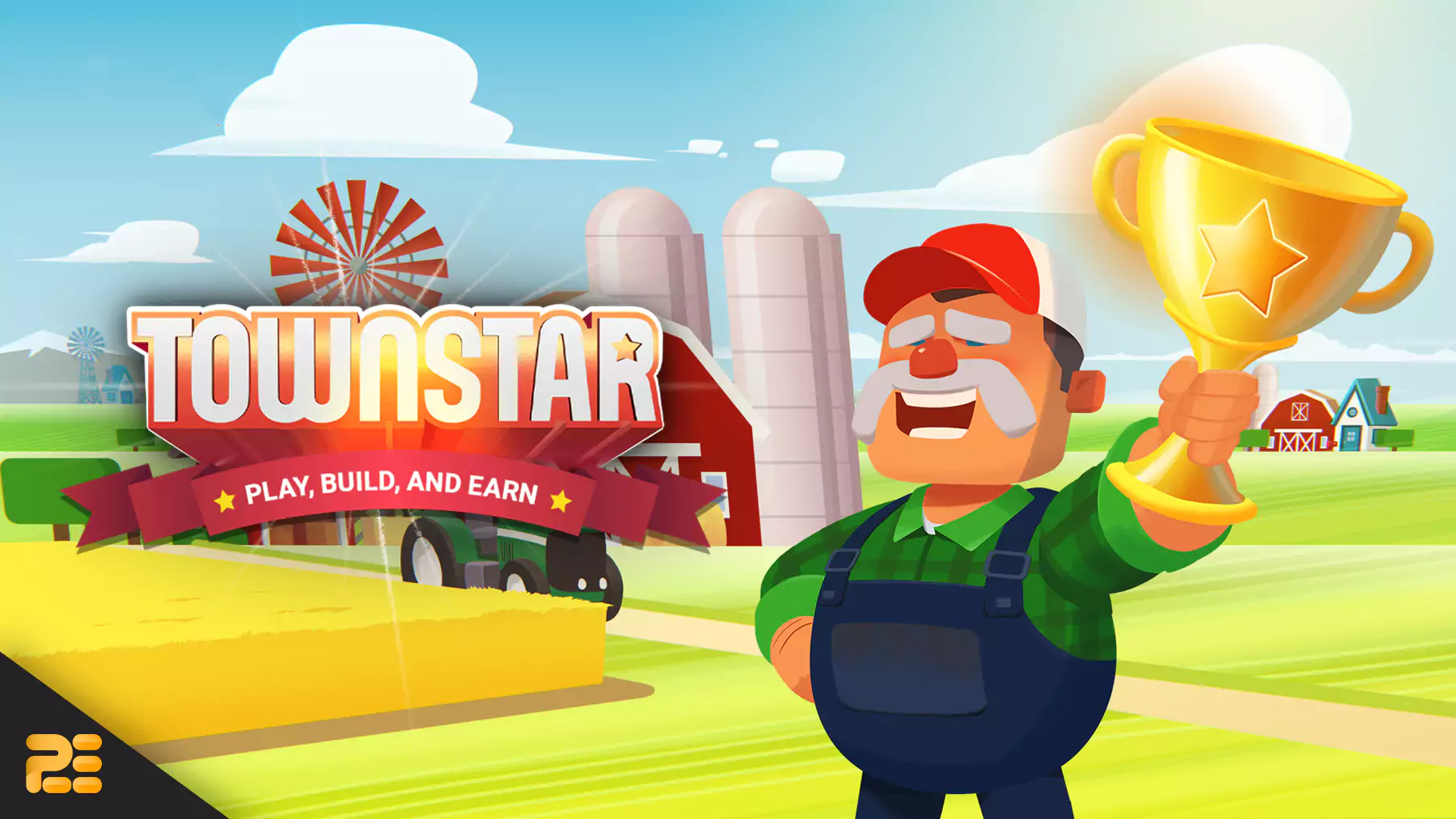 The ultimate farming challenge is here! Gala Games is thrilled to announce its Town Star Competition starting on April 5, 2023, at 1:00 AM. This time around, players can win big with two sets of rewards up for grabs: GALA Rewards and Leaderboard Skins!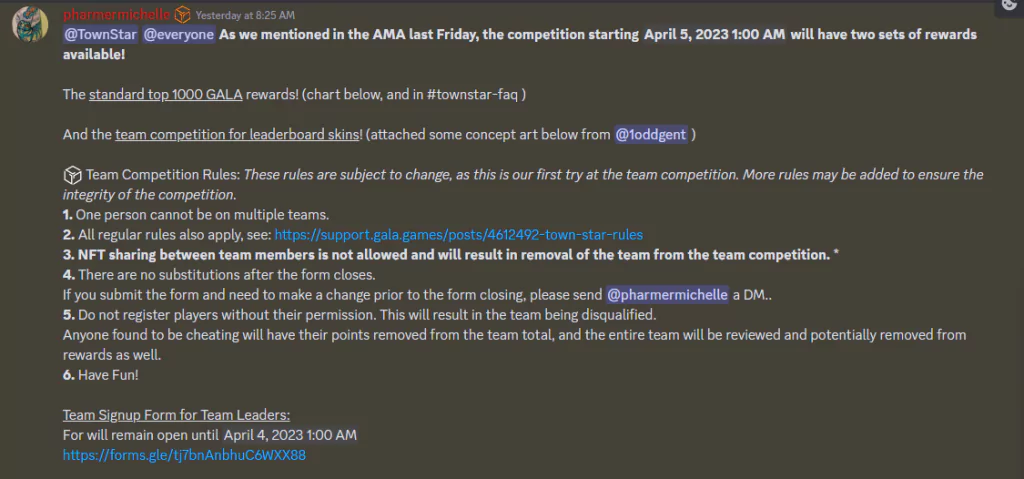 What Happens in Town Star Competition?
Town Star Competition is an exciting event in Gala Games that allows players to compete against each other for a chance to win prizes. The competition is all about playing the game to the best of your abilities and trying to outdo other players with your builds.
To participate in the competition, players simply need to sign up, and it's completely free! The competition involves building and managing virtual towns, and players are ranked based on the number of stars.
How long will the competition last?
The competition lasts for four days, giving players enough time to build up their town and earn as many stars as possible. After the competition, there is a one-week break before the next competition starts. Note
The competitions take place biweekly, with two separate events. The first event offers players the chance to win an NFT, and there are 4500 ranks available. The second event gives players the opportunity to win GALA coins, and there are 1000 ranks available.
Selection of Winners
The leaderboard determines the winners. Players must earn the most stars they earn from product sales and by burning in-game currency in the portal. This in-game currency appears to be in a Dollar icon. This is what you use to build towns. Tip
Players need to focus on following the changing meta of the game to ensure that they are maximizing their earning potential.
Every product receives a unique number of stars, and for every competition, a specific product is assigned a higher number of stars than the others. Note
To access the leaderboard, players simply need to click on the game, select the server, and go to the Competition server.
GALA Reward Structure
The team invites players to use creativity and critical thinking to be among the top 1000 GALA awards! See the Gala Reward Structure below. Note
The GALA token is currectly valued at $0.04111.
Leaderboard Skins
The team competition will also feature exciting leaderboard skins. The team presented the concept arts below in their Discord announcement.
Team Competition Rules Important!
The team advised that they may add more rules to ensure fair play and the integrity of the competition. The rules stated below are also subject to change.
A participant cannot be a member of multiple teams.
All regular rules, as stated in https://support.gala.games/posts/4612492-town-star-rules, are applicable.
Sharing of NFTs among team members is strictly prohibited.
Any violation of this rule will result in removing the team from the competition.
No substitutions are allowed once the form is closed. If you need to make any changes before the form closes, please DM pharmermichelle#7002 on Discord.
It is not permitted to register players without their explicit consent. Any such activity will lead to the disqualification of the entire team.
Any participant found to be cheating will have their points deducted from the team total, and the entire team will be evaluated for potential removal from the rewards as well.
Above all, the team encourages all participants to have fun and enjoy the competition!
What's New in the Competition Meta?
The occurrence of "meta changes," which may modify numerous gameplay aspects on a weekly basis, is one of the most exciting parts of Town Star's competition that keeps players involved. Wages, production costs, proximity bonuses, dollar and point values for particular items, and other factors can vary.
This time, get ready for the Salmon Nigiri! This is crafted with 1x White Rice, 1x Salmon, and 3x Energy. This delicious sushi will be made in the Sushi Restaurant and stored in the Storehouse.
But wait, there's more! Town Star players can expect new buildings, crops, crafts, and workers.
New Buildings
Wild Net Fishing
Places on Water or Salt Water town edges only
Craft: Salmon
Craft Timer: 180s – 720s (Affected by Dirty)
Salmon Reqs: 1x Fish Chum, 4x Energy
Build cost: $ 150k
Build Reqs: 20 Lumber, 10 Wood, 10 Energy
No wages casts no shade
Fishing Platform
Places on Land town edges only
Craft: Salmon Craft Timer: 30s – 120s (Affected by Dirty)
Salmon Reqs: 2x Fish Chum, 8x Energy
Build cost: $ 300k
Build Reqs: 30 Water 10 Lumber, 10 Energy
No wages casts no shade
Shrimp Farm
Craft: Shrimp
Craft Timer: 20s – 80s (Affected by Dirty)
Shrimp Reqs: 2x Seaweed
Build cost: $ 45k
Build Reqs: 10 Seaweed, 20 Water
No wages casts no shade
Seafood Warehouse
Capacity: 20 (Will be doubled by Diamond Warehouse)
Build Reqs: 5x Ice Blocks, 10x Lumber, 10x
Energy Stores: Salmon, Shrimp & Fish Chum
Mixing Tent
Craft: White Rice & Fish Chum
Building Cost: $ 550k Build Reqs: 10 Lumber, 10 Energy, 10
Wood Wages: $ 500/ minute
Casts 1 Shade
Not affected by Dirty or Shady
Sushi Restaurant
Craft: Salmon Nigiri
Building Cost: $850k
Build Reqs: 10 Lumber, 10 Energy, 10
Wood Wages: $ 1200/ minute
Casts 2 Shade
New Crops
Seaweed Farm
Craft: Seaweed
Storage: Silo
Craft Time: 10s Green Timer (in Salty), 40s Red timer (Affected by Dirty and Shady)
Craft Reqs: 2 Water
Harvested by Seaweed Farmer
Rice Field
Craft: Husk Rice
Storage: Silo
Craft Time: 20s – 80s (Affected by Dirty and Shady)
Craft Reqs: 8 Water
Harvested by Farmer/ Farm Tractor
New Crafts
White Rice
2x Rice Husk & 1x Energy
Stored: Storehouse
Craft Time: 30s
Fish Chum
2x Shrimp & 1x Seaweed
Stored: Seafood Warehouse
Craft Time: 20s
Ice Blocks Note
This is now available in the Water Facility
3 Cold, 2 Water Drums
Stored: Storehouse
Craft Time: 600s (at Water Facility)
New Workers
Fish Farmer
The fish farmer can only harvest shrimp for now.
Seaweed Farmer
The seaweed farmer can only harvest in the seaweed farm for now.
Fisherman
The fisherman currently collects salmon by dropping off Fish Chum and Energy and picking them up from Wild Net Fishing and Fishing Platforms, exclusively.
Sign Up Now!
Team leaders can sign up for the team competition until April 4, 2023, at 1:00 AM, using the signup form on this link: https://forms.gle/tj7bnAnbhuC6WXX88
Don't miss this opportunity to show off your skills and join the Town Star community in the ultimate farming challenge!
About Town Star
Town Star, an initial game on the Gala Games platform, is a competitive web3 town simulation game. Despite its apparent simplicity, the game has extensive mechanisms and interactions that appeal to players who appreciate puzzle-solving and building complex systems with a competitive bent. Town Star was released on March 28th, 2020, with "Play-to-Earn v1" launching in late 2021.