YGG Just Surpassed 3,000 Axie Infinity Scholars! 🚀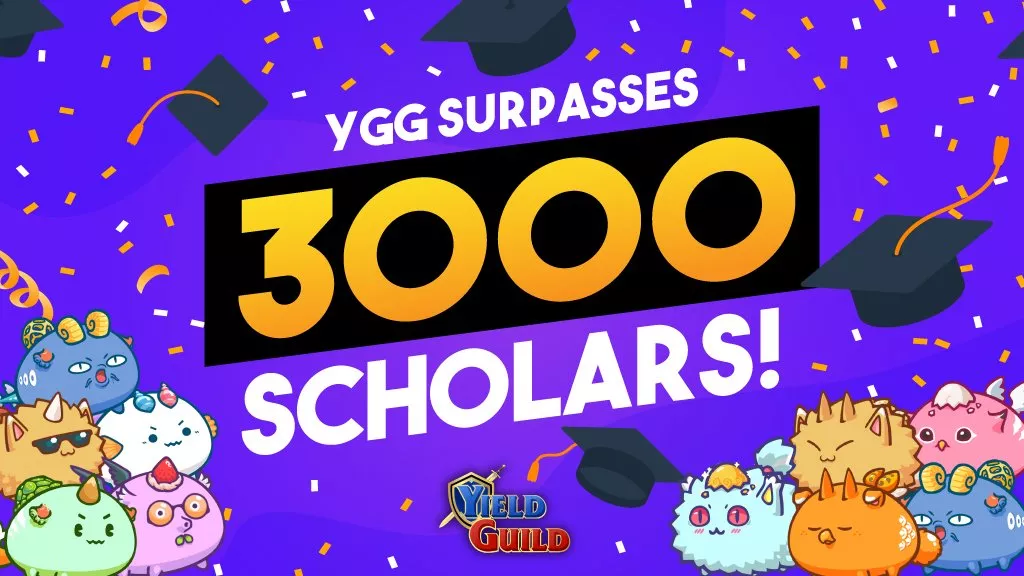 Yield Guild Games (YGG) announced on Twitter that they have exceeded 3,000 Axie Infinity Scholars as of June 14, 2021. To date, it is believed YGG is the largest scholar guild in Axie Infinity.
This figure has seen them produce millions of SLP inside the game, a total of 26M at time of writing. Converted to USD, this comes to $7,800,000 USD with managers taking at maximum 30% of total earnings. This is $5.5M USD distributed to scholars, which is enough to lift many thousands out of poverty.
What is YGG?
YGG is a decentralized autonomous organization (DAO) for investing in non-fungible tokens (NFTs) used in virtual worlds and blockchain-based games. The organization aims to create the biggest virtual world economy, optimizing its community-owned assets for maximum utility and sharing its profits with its token holders.
The team is currently working hard to acquire new players, ambassadors, community managers, and game masters that wish to be part of their growing DAO. Players are able to participate in many programs including the 'Level-Up' reward program, 'Max-Level' reward program, class leaders, guild events, tournaments, and voting on guild decisions.
YGG is indeed a team that leads a great example for the entire industry, and is changing thousands of people's lives. Learn more about YGG, visit their website here: https://yieldguild.io/
YGG Social Media:
Twitter: https://twitter.com/YieldGuild
Facebook: https://www.facebook.com/yieldguildgames/
Discord: https://discord.com/invite/aHj92yfQBe