CyBall Genesis NFT Sale Set for October 19th | P2E News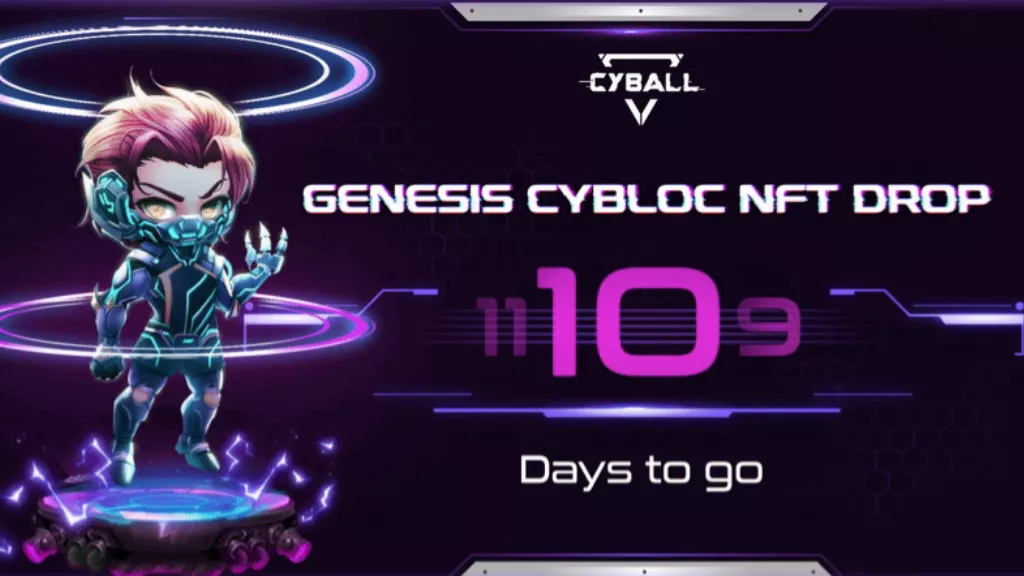 The team at CyBall have just announced their Genesis NFT sale! The sale is set to take place on the 19th of October 2021. CyBall is said to be one of the biggest upcoming P2E games of 2021, with an extremely talented team and very unique gameplay. Taking on a similar economic model to that of Axie Infinity, with "renting" and the dual token model, we anticipate it to bring massive waves upon release.
Below, we have attached the entire statement released by the team:

TL:DR
Three types of packs: Common ($150), Rare ($1,000) and Epic ($12,500).
The Drop will happen on Binance Smart Chain (BSC). The purchase currency will be BNB.
Tuesday, October 19th 1:00 PM UTC @ Genesis Event Page.
Purchase limits apply (1 type of packs with maximum amounts per transaction).
2-step process: Purchase Packs → Reveal NFTs.
NFT marketplace and game alpha launch to follow soon after.
Half of Genesis NFTs up for sale during public Drop. Remaining supply will be distributed to partnered Guilds (same terms as public) and via giveaways.
What do you need to be aware of?
A step-by-step walkthrough article and also an instructional video will be released closer to the sale date.
To join our Genesis Drop, users are recommended to buy using Metamask on a PC for a smooth experience. With that in mind, we have also integrated other platforms (WalletConnect, Coin98 Wallet, Binance Wallet) for non-Metamask users.
Remember, CyBall will initially launch on Binance Smart Chain (BSC), this means you need to connect your wallet (e.g. Metamask) to the BSC network to participate.
The sale will be in BNB. You will need slightly more BNB in your wallet than the total cost in order to cover gas fees for both the purchasing and opening steps.
What's on the menu?
Our Genesis NFTs will be sold in packs of 3 i.e. all packs will contain exactly 3 CyBlocs. This is because users will need at least 3 CyBloc NFTs to enjoy the CyBall game alpha launch later this year.
There will be 3 different tiers of packs up for sale. The higher the tier, the higher the chance of a pack containing more prestigious CyBlocs (there are 5 Classes in total).
Details on each pack can be found in the table below. The prices will be converted to equivalent amounts in BNB prior to the sale. BNB/BUSD price snapshot will be taken 2 days before the sale time for the conversion i.e. we will lock in the price of BNB at 1:00 PM UTC on October 17th.

The chance to obtain at least 1 CyBloc of a certain Class from each type of packs is displayed in the table below.

When will the sale start?
Genesis CyBloc NFTs will be up for purchase from 1:00 PM UTC on Tuesday October 19th 2021 until they are sold out.
Where is it taking place?
The sale will occur on our own platform: Genesis Event Page.
The countdown banner will be removed and replaced with a purchase section on the sale date. Please feel free to explore the site and learn more about our CyBlocs in the meantime.
How will the Genesis NFT sale work?
The packs will be sold using a fixed price, instant-sale format on a first-come-first-serve basis.
In any 1 transaction, users are only allowed to buy 1 type of packs (up to the purchase limits per transaction for that type).
After purchasing, users will need to head to their 'Stash' and reveal the packs. Up to 10 packs of any 1 single type can be revealed per transaction. The reveal step can be done anytime after purchasing the packs.
Note that packs are not transferable. Only the NFTs in the packs are (i.e. you must reveal the packs you have bought yourself).
What next? What else?
Trading
Genesis CyBloc NFTs will be tradeable on CyBall's native NFT Marketplace very soon after if not immediately after the sale.
Play-to-Earn
CyBall game alpha launch is planned to be towards the end of Q4 2021 on Binance Smart Chain (BSC) followed by Solana in the next phase right after, so you won't have to wait long to start using your newly obtained CyBlocs in-game.
Genesis NFTs Supply
A total of 9990 packs or 29,970 Genesis CyBloc NFTs will be minted.
As mentioned in the sections above, roughly half of the supply (4550 packs) will be available for public, FCFS purchase during the Genesis event.
From the remaining supply, hundreds of packs will be distributed to whitelisted community members, competition winners and early supporters.
The rest will be sold in a dedicated Drop for our partnered Guilds who have committed to onboard scholars and support CyBall game right at launch. (In this second Drop, the packs' pricing and chances to obtain different Classes of CyBloc NFTs for Guilds will be exactly the same as the terms of the public Genesis Drop).
Tokens
There will be no public sale for CyBall's tokens (CYB or CBT). Beware of any scams out there.
More details on our tokens shall be revealed in due course. Rest assured that CyBall team always appreciates and remembers our early contributors and supporters along the way.
Join us and become our early adopters!